Grilled Paneer Sandwich Recipe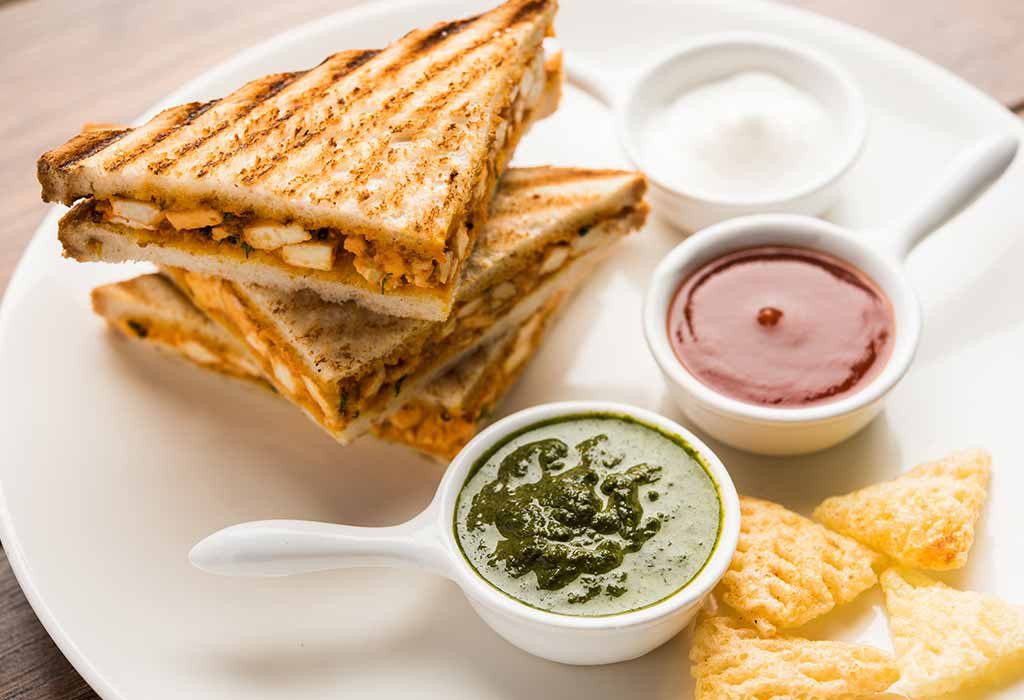 In this Article
Sandwiches are one of the great meal options for your growing toddler. This versatile food option can be prepared in many ways. In this post, we shall share a simple Grilled Paneer Sandwich recipe that your little one will enjoy for sure. This paneer delicacy is ideal for toddlers who like relishing soft texture of paneer or cottage cheese. Feed this yummy meal option that is power-packed with the goodness of protein and other vital nutrients!
Cooking Time
| | |
| --- | --- |
| Type | Time |
| Preparation Time | 00:05:00 |
| Cook Time | 00:15:00 |
| Total Time | 00:20:00 |
Cooking Method
Grilling or Gas stove
Type of Meal
Vegetarian
Suitable For
Toddlers over 16 months of age.
Meal Schedule
Breakfast or Lunch
Recipe Type
Main Dish
Ingredients
To make Grilled Paneer Sandwich, you need the following ingredients:
| | |
| --- | --- |
| Ingredient | Quantity and Volume |
| Bread slices | 2 |
| Cottage cheese or Paneer | 1/2 cup |
| Cumin Powder | 1/2 tsp |
| Butter | 1 tbsp |
| Salt | To taste |
| Coriander leaves (finely chopped) | 1 tbsp |
Instructions
Follow the following step by step directions to make this recipe:
Take paneer and shred it with your hands.
Put shredded paneer in a bowl. Add salt, cumin powder, and chopped coriander leaves and mix well.
Take the bread slices and spread butter on one side of both the slices.
Take one slice and evenly spread the paneer mix on the buttered side of the slice.
Keep the other slice on top and press gently.
Heat the grill and grease it with butter.
Place the sandwich on the grill and grill it until it turns nice and brown.
Let the sandwich cool down before serving it to your baby.
You can serve the sandwich with any homemade dip!
Recipe Tips
Here are some tips for making homemade Grilled Paneer Sandwich baby food recipe:
Using brown bread is a better option than using the white one as brown bread has more fibre content in it. However, for younger babies, white bread may be easier to digest.
You can add more vegetables to the recipe to add more nutrition and taste to the sandwich. Some vegetables that go well with this sandwich include shredded spinach, grated carrots, boiled peas, chopped bell peppers, tomatoes, etc.
You can substitute the butter layer with homemade mayonnaise too.
Do not grill the sandwich for long as it may get too crisp and chewy for your baby.
Nutrition Information (Per 100 Grams)
| | |
| --- | --- |
| Nutrient | Value |
| Energy | 150 Cal |
| Carbohydrates | 15 g |
| Protein | 6 g |
| Sodium | 300 mg |
| Potassium | 150 mg |
| Calcium | 7 mg |
| Fats | 3 g |
The values mentioned in the above-table indicate tentative values present in 100 grams of grilled paneer sandwich. The actual nutritional content can vary slightly.
Health Benefits
Here are some of the many health benefits that your baby can get from this Grilled Paneer Sandwich for toddlers:
Bread is a good source of calcium, which is essential to maintain healthy bones and teeth in kids.
A fortified source of iron, bread not only provides ample energy to your munchkin, but it helps in maintaining a healthy immune system too.
Cottage cheese or paneer is an excellent way of providing the much-needed dose of protein. Protein is an essential nutrient for growing kids as it helps in strengthening the bones and teeth.
Paneer has a substantial amount of potassium, which helps keep the digestive system in place.
A good source of folate, consuming paneer can prove to be helpful in the production of red blood cells in the body.
Buying Guide
You should keep the following tips in mind while picking up ingredients to make homemade Grilled Paneer Sandwich baby food recipe:
It is best to make paneer at home when making a grilled paneer sandwich, however, if you are buying paneer from the market, make sure you check the best before date or the date of packaging.
When buying bread, make sure you check the manufacturing date or the best before details on the pack.
Buy bread, paneer and other ingredients from renowned brands only. Do not pick up products from the brands that you do not know. Tried and trusted brands are best, especially when it concerns your munchkin's well being.
This yummy grilled paneer sandwich recipe is not only a healthy option, but you can also add your own variations as per your toddler's taste preferences.