Rose Milk Recipe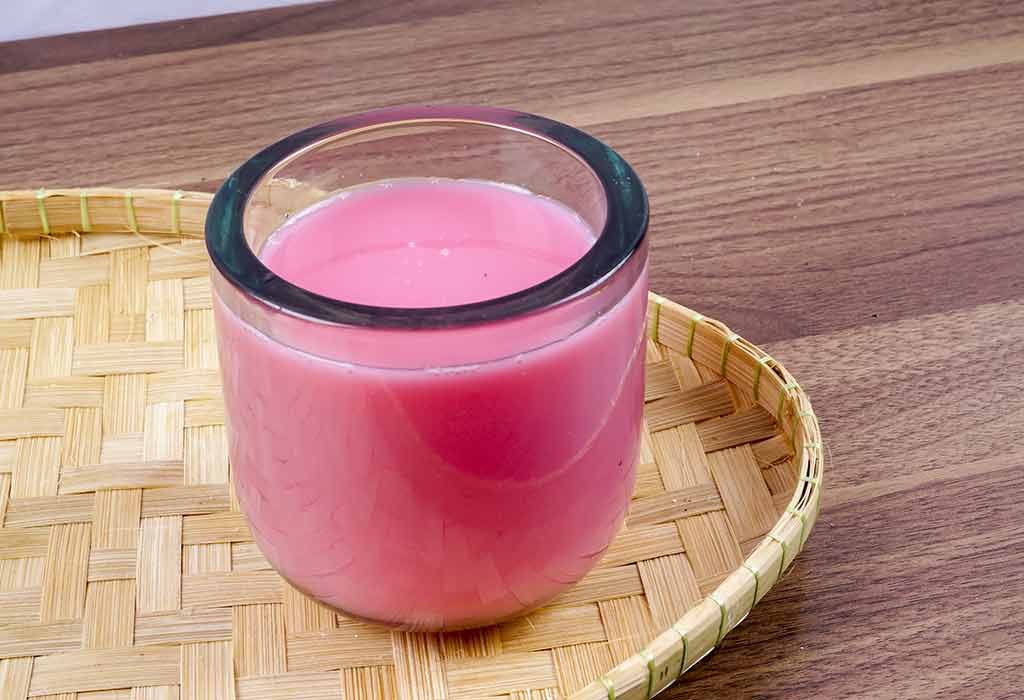 In this Article
If making your little one drink a glass of milk is a challenge for you, then rose milk can be a better idea. This fragrant summer drink cools the body and energises your child for the entire day. If we dig into the rosy history of this Parsi drink, it originated from falooda and is consumed on Navroz or New Year. It is made from the addition of scented rose essence and sugar to milk, and forms a luscious, foamy and bubble-gum coloured beverage that can be served to your entire family. This easy-to-make recipe can be served with the addition of crushed ice, ice-cream or falooda. Include the goodness of milk to your baby's diet and watch him finish the glass in a jiffy. The detailed recipe given below outlines how to make rose milk in the simplest way and points out its benefits.
Cooking Time
| | |
| --- | --- |
| Type | Time (hh:mm:ss) |
| Preparation Time | 00:05:00 |
| Cooking Time | 00:10:00 |
| Total Time | 00:15:00 |
Cooking Method
Stove
Type of Meal
Vegetarian
Suitable for
Any Toddlers above 16 months of age
Meal Schedule
Post-Lunch, Snacks
Recipe Type
Drink
Ingredients
| | |
| --- | --- |
| Ingredient | Quantity |
| Rose syrup | 2 ½ Spoon |
| Cold Milk | 2 Cup |
| Sugar | 1 Cup |
| Water | ¾ Cup |
| Pink food Colour | ¾ Spoon |
Instructions
Follow the step by step directions given here to prepare this all-time favourite drink that helps to beat the summer heat.
Add sugar and water in a heavy-bottomed vessel and heat it. Stir well and dissolve the sugar.
Boil the water for 4 minutes in medium flame. Add a few drops of food colour to it.
Let the syrup become a thick, sticky liquid.
Switch off the flame and add rose essence.
Cool down the water and pour it into a bottle to store it.
Boil milk and let it cool for some time.
Add 1 cup boiled cooled milk and 3 tablespoons of rose syrup in a glass.
Stir well with a spoon and serve.
Recipe Tips
This super simple rose milk recipe can be made tastier by adding pre-soaked falooda seeds to enhance its goodness.
Use full cream milk for the perfect taste.
This homemade rose milk baby food recipe can be made healthy by adding natural food colour and original rose water.
This syrup stays good in the fridge for about a month.
Rose milk tastes better with cold milk or by the addition of ice. However, make sure that your child doesn't catch a cold by taking this drink.
Rose essence is different from rose water. Rosewater is not edible.
It is advisable not to give rose milk to babies who are lactose intolerant or have any other allergy.
You can add honey, unbleached brown sugar or palm rock candy instead of sugar.
Add a pinch of saffron for extra flavour.
Instead of using artificial rose essence, boil rose petals and use the water extract to make this recipe.
Put crushed almonds on top for some added nutrition.
Soy milk can be used instead of cow milk.
Nutrition Information (Per 100 Grams)
| | |
| --- | --- |
| Ingredient | Value |
| Carbohydrates | 30.9 g |
| Calories | 315 kcal |
| Protein | 8.6 g |
| Sodium | 38 mg |
| Cholesterol | 32 mg |
| Fat | 13 g |
| Vitamin A | 320 mcg |
| Calcium | 420 mg |
| Vitamin C | 2 mg |
| Calcium | 420 mg |
| Iron | 0.4 mg |
| Magnesium | 38 mg |
| Phosphorous | 260 mg |
| Potassium | 180 mg |
| Vitamin B10. | 0.1 mg |
| Vitamin B2 | 0.2 mg |
| Vitamin B3 | 0.2 mg |
| Folic Acid | 11.2 mcg |
Health Benefits
Aromatic rose milk has exceptional health-promoting properties for a baby. Disguised in the colour of pink, this delightful confection is the best choice for intensifying the experience of happiness while supporting the overall well-being of your kid.
The scent of rose soothes the heart and emotions of a child on a sultry day.
It has anti-inflammatory properties that keep problems like acidity at bay. It keeps your child's skin and hair healthy due to the presence of antioxidant properties.
Milk is high in calcium which is important for bone and teeth of babies.
High in protein, milk is good for increasing body mass. Whole milk fat meets the energy requirements of the body of a growing baby.
Buying Guide
The buying guide is an essential guide for all mothers who want to get only quality products for making this rose milkshake.
Buy milk at the end of your grocery shopping to ensure it stays fresh until the time you reach home. Check the best before date on the packet.
You can choose between toned, half, cream or full cream milk. It is important to buy only pasteurised milk.
Examine the milk carton for leakage or tear in packaging. Make sure the product is cold.
Check the expiry date of the rose essence bottle as well.
Homemade rose milk for babies is an ideal summer drink to quench their thirst while satisfying their sweet tooth. Make sure your child stays adequately hydrated in summer and well-nourished by preparing this easy recipe that is a healthy substitute to aerated drinks that are harmful to the body.