Multigrain Dosa Recipe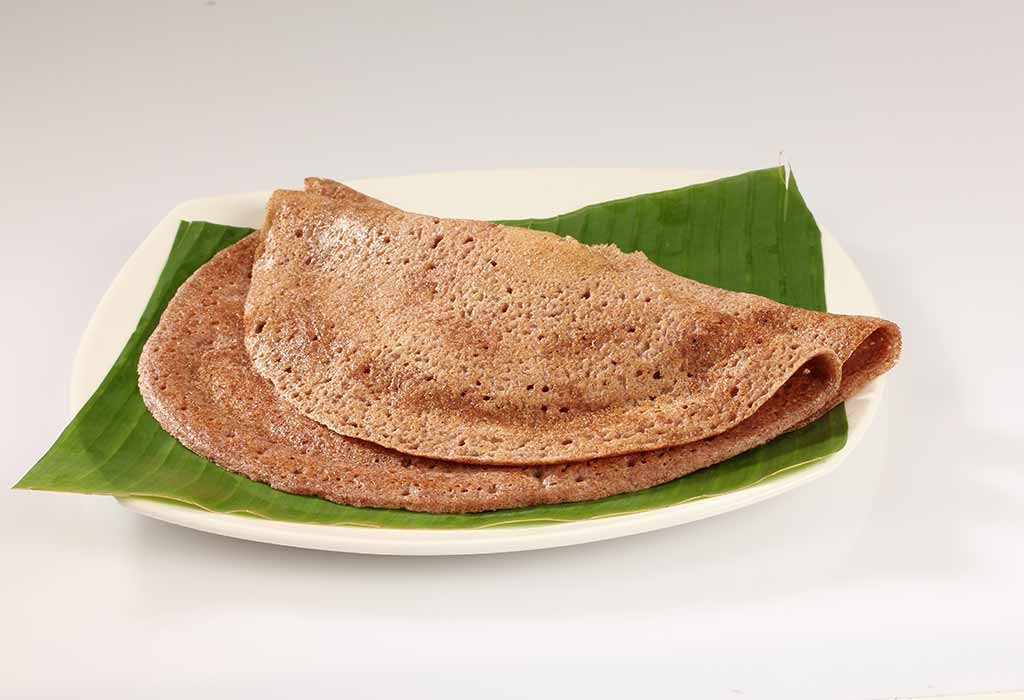 In this Article
Breakfast is an important meal of the day and it should be healthy. If you're looking for some new breakfast recipes so that your child has his breakfast without making a fuss, give multigrain dosa a try! Multigrain dosa for babies is easy to make and this dosa is high in nutrition. The recipe of multigrain dosa that we're going to provide you here will help you learn how to make delicious and crispy dosas for your little one. By making multigrain dosas for your child, your baby will get the nourishment of different millets. So read on to know how you can make multigrain dosa for your little one.
Cooking time
| | |
| --- | --- |
| Type | Time(hh:mm:ss) |
| Preparation time | 00:05:00 |
| Cooking time | 00:06:00 |
| Total Time | 00:11:00 |
Cooking Method
Gas Stove
Type of Meal
Vegetarian
Suitable For
Toddlers above 20 months
Meal Schedule
Breakfast or Dinner
Recipe Type
Main Dish
Ingredients
| | |
| --- | --- |
| Ingredients | Quantity and Volume |
| Finger millet (ragi) flour | ¼ cup |
| Sorghum (jowar) flour | ¼ cup |
| Wheat flour | ¼ cup |
| Rice flour | 1/2 cup |
| Ground oats | 2 tbsp |
| Salt | As per taste |
| Cumin seeds (jeera) | 2 tsp |
| Corriander leaves | 1 tbsp chopped |
| Curry leaves | 1 tbsp chopped |
| Curd | ¼ cup |
| Water | As required to mix the batter |
Instructions
Make this flavorful and nutritious dosa for your little one once or twice a week to ensure that he gets all the essential nutrients for his healthy growth. Follow the instructions given below on how to make multigrain dosa:
Sieve all the flours in a large mixing bowl; add in the salt, coriander leaves, curry leaves, and cumin seeds, and mix well.
Now whisk in the curd then gradually add water to get the consistency of dosa batter.
Let the batter rest for about 30-40 minutes as it will help in fermenting the batter.
Heat a non-stick dosa tawa and pour a ladle-full of batter onto it and swirl the tawa a bit so that the batter spreads evenly on it.
You can add in a little more batter on the tawa if needed.
Pour some oil from the edges if needed.
Once the dosa is cooked from one side, gently flip it and cook for a couple of minutes and serve hot. Once it is properly cooked from both the sides, transfer it to a plate and serve warm!
Recipe Tips
In order to ensure that your homemade multigrain dosas taste delicious, keep a note of the following recipe tips:
You can add finely chopped onions to the batter to enhance the taste of the dosas.
The consistency of the dosa batter should be thin so that the dosas turn out to be crisp.
You can also add some semolina flour for crispier dosas.
Any millet flour can be added to this recipe to make it more nutritious.
Mix the batter completely before making each dosa as this batter tends to settle at the bottom.
Nutrition Information (Per 100 Grams)
| | |
| --- | --- |
| Nutrient | Value |
| Energy | 130 cal |
| Carbohydrates | 18.5 g |
| Calcium | 72 mg |
| Iron | 2.7 mg |
| Protein | 3.2 g |
| Magnesium | 35 mg |
| Fibre | 4 g |
| Phosphorus | 82 mg |
| Sodium | 4.5 mg |
| Potassium | 123 mg |
| Zinc | 1.1 mg |
| Vitamin A | 59 mcg |
| Folic acid | 13.3 mcg |
Health benefits
This simple multigrain dosa recipe has immense health benefits, some of which are listed below:
Ragi is a rich source of calcium and is one of the non-dairy sources of calcium which is essential for the healthy development of bones and teeth in kids.
Ragi has an abundance of iron in it which helps prevent anaemia.
Jowar has all the essential vitamins and minerals that boost your baby's immune system and improves heart health.
Multigrain flours used in this recipe are rich in high-fibre which helps in preventing overeating and keeps obesity at bay for your munchkin.
Buying guide
Make this delectable dosa for babies healthier by choosing the best of ingredients available in the market. Now that you know the step by step instructions to this recipe, here are some tips to note down before you head towards shopping:
Buy the flours from an organic shop to make sure you feed your baby with chemical-free produce.

Also, remember to check the expiry date of the flours in the pack.

Select fresh curd over sour curd while buying for better taste.

Buy coriander leaves that are bright green and avoid the ones which have turned pale yellow.

Select curry leaves which are a little small as they are more flavourful than the bigger leaves.
Dosas are healthy and a staple in South India and by using multigrain flours you can make it even healthier for your toddler. Choosing recipes like this for breakfast or dinner over store-bought instant dosa mixes or other quick fix ensures better growth and development for babies.
?>