Kadhi Recipe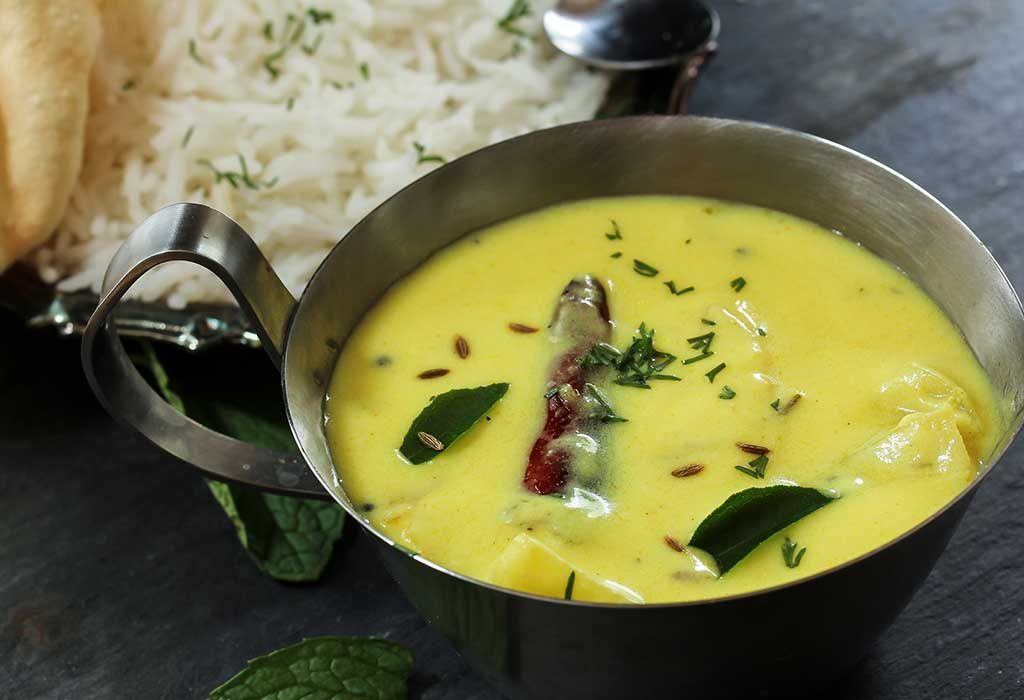 In this Article
Kadhi is a traditional Gujarati dish, it is quite famous in Maharashtra too. Its sweet and tangy taste makes it a great side dish to be had with rice or chapattis. Here we will look at a variation of this recipe as Kadhi for babies has to be tailored for the needs and digestive system of a growing child. For an older child, you could also add pakoras in it to make it more filling. The consistency of the Kadhi can be changed depending on your kid's liking. When your baby first starts eating solids, this is a great recipe to ease them into the weaning process. This recipe has some ingredients which are not part of the typical Kadhi but improvised to make it more nutritious for babies.
Cooking Time
| | |
| --- | --- |
| Type | Time (hh:mm:ss) |
| Preparation Time | 00:05:00 |
| Cook Time | 00:10:00 |
| Total Time | 00:15:00 |
Cooking Method
Gas stove and blender
Type of Meal
Vegetarian
Suitable For
Babies above 11 months of age
Meal Schedule
Lunch
Recipe Type
Side Dish
Ingredients
| | |
| --- | --- |
| Ingredients | Quantity and Volume |
| Ghee | 1 tbsp |
| Buttermilk | 3 cups |
| Spinach | 1 cup |
| Gram flour / Besan | 2 tbsp |
| Roasted groundnut powder | ½ tbsp |
| Cumin seeds | ½ tsp |
| Cumin powder | ½ tsp |
| Grated ginger | 1 tsp |
| Garlic | 3-4 cloves chopped |
| Asafoetida | ¼ tsp |
| Turmeric powder | ¼ tsp |
| Salt | As per taste |
| Jaggery | 1 tbsp |
Instructions
Below is the detailed step by step procedure to prepare this delicious Kadhi. It is highly probable that this Kadhi is a hit with the adults at home as well:
Blanch the spinach and puree it in a blender.
Heat ghee in a pan and add the cumin seeds.
Once seeds start spluttering, add hing, turmeric powder, grated ginger, and chopped garlic into the pan.
After mixing it for a few seconds, add the pureed spinach and sauté on low heat for 5 minutes.
Meanwhile mix gram flour, groundnut flour, jeera powder, salt and jaggery into the buttermilk. Stir it well so that the flour has adequately combined without lumps.
Once the spinach is cooked for 5 minutes, turn off the gas and allow it to cool.
After the spinach has cooled off, add the buttermilk mix into it and whisk it with a spoon or spatula.
Put back this mixture on gas and cook it on low flame for a couple of minutes till it comes to a boil.
Turn off heat.
Recipe Tips
An easy Kadhi recipe for a baby to cook and serve in a jiffy, it can be used as a soup also:
You could replace the buttermilk with curd too.
You can make it of thicker consistency by increasing the amount of gram flour used.
It is essential to mix the flours well into the buttermilk; you can use a hand blender for this purpose too.
Take a big pan or use a kadhai as Kadhi tends to boil and might overflow if using a small pot.
Sauté the cumin seeds with a spoon else it might burn.
Make sure you are cooking on low or medium flame else the mix might curdle.
Nutrition Information (Per ½ cup)
| | |
| --- | --- |
| Nutrient | Value |
| Energy | 241 Cal |
| Protein | 8.2 gm |
| Carbohydrates | 24.2 gm |
| Fat | 10 gm |
| Cholesterol | 16 mg |
| Sodium | 32.7 mg |
| Calcium | 220.5 mg |
| Iron | 1.2 mg |
| Potassium | 225 mg |
| Magnesium | 43.4 mg |
| Phosphorous | 192 mg |
| Zinc | 0.3 mg |
| Vit A | 206.7 mg |
| Vit B1 | 0.1 mg |
| Vit B2 | 0.1 mg |
| Vit B3 | 0.6 mg |
| Vit C | 1.2 mg |
| Folic acid | 33.3 mcg |
Health Benefits
This home-made Kadhi baby food recipe is full of taste, flavour and also has nutritional benefits for your tiny tot.
Rich in protein, calcium and other vitamins and minerals, Kadhi is an excellent dish for growth and body functions.
The probiotics in curd are great for maintaining gut flora.
We have used jaggery here to give this Kadhi that sweet taste and jaggery comes with its benefits and avoiding sugar is good for your kid.
Gram flour and buttermilk are both excellent for bone health which is much needed for developing babies.
Buying Guide
The best way to ensure your child is having a nutritious and safe meal is by buying all organic stuff.
Either buy organic curd or make it at home.
When buying jaggery look for dark-coloured ones which are aged as they have minimal chemical residue.
We hope this recipe clearly explained how to make Kadhi for a child with easy steps.