Ragi Moong Dal Soup Recipe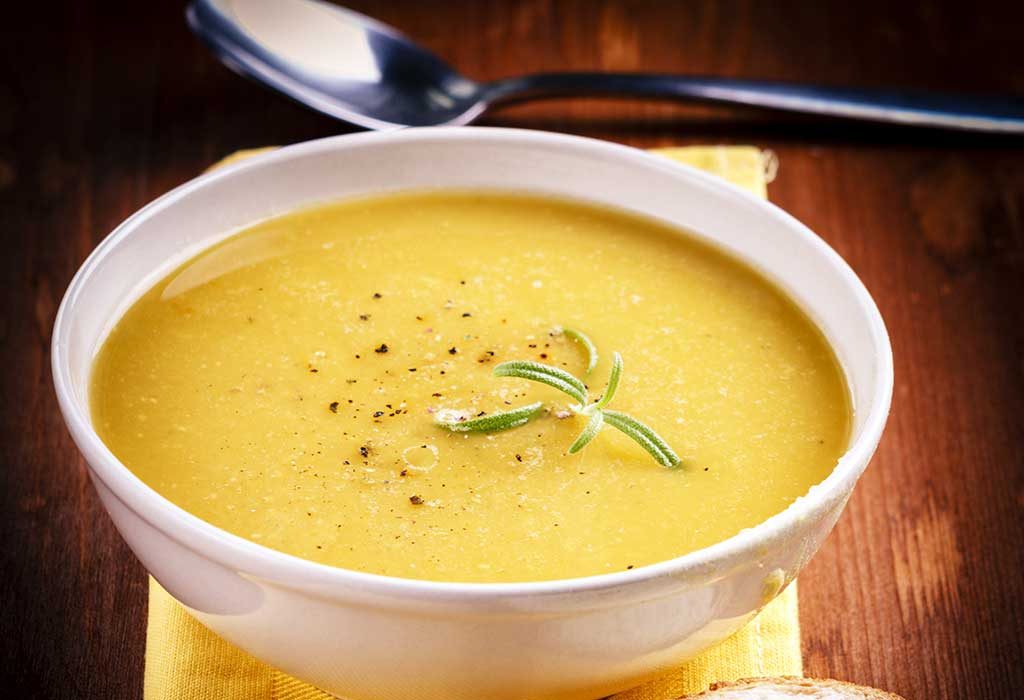 In this Article
Ragi moong dal soup for babies is a simple recipe that is delicious and nutritious. Give it a try for a meal packed with proteins, carbohydrates, and plenty of vitamins. Combining ragi and moong dal into one meal is a sure way of ensuring your baby's health throughout their formative years. Their bodies will delight eating this easy to digest meal and will benefit greatly by the presence of plenty of nutritious ingredients. Read on to learn how to make ragi moong dal soup.
Cooking Time
| | |
| --- | --- |
| Type | Time (hh:mm:ss) |
| Preparation Time | 00:05:00 |
| Cook Time | 00:20:00 |
| Total Time | 00:25:00 |

Cooking Method
Gas stove or induction.
Type of Meal
Vegetarian
Suitable for
Weaning Babies older than 6 months old
Meal Schedule
Breakfast or Lunch
Recipe Type
Soup
Ingredients
| | |
| --- | --- |
| Type | Quantity and Volume |
| Moong dal | ½ cup |
| Ragi flour | 1 tablespoon |
| Freshly grated ginger | ½ teaspoon |
| Ghee | 1 tablespoon |
| Cumin | ½ teaspoon |
| Water | 1 ½ to 2 cups |
| Chopped vegetables | ½ to ¾ cup |
| Salt | As per taste |
| Chopped coriander | 2 tablespoons |
Instructions:
Step-by-step directions for making Ragi moong dal soup:
Wash moong dal under running water until the water becomes clear.
Soak the dal for about half an hour to an hour.
In a pressure cooker, heat ghee.
Add the cumin seeds and wait until it starts spluttering.
Add the grated ginger and sauté it well to prevent burning.
Add the dal to the mix and fry it for about two to three minutes. Keep the flame on low during this time.
Next, add the mixed vegetables and the ragi flour and saute the mix.
Pour water into the mixture and put the lid on and allowing it to cook for two whistles. Keep the flame low or medium.
Mash it well with a masher or wait for it to cool and then blend it until it is smooth.
Recipe Tips:
Make sure to always soak the dal before you cook it. This will prevent colic. It is best to soak it for three hours, but if you cannot leave it for that long, you should soak it for at least thirty minutes.
You can add vegetables such as carrots, spinach, pumpkin, and bottle gourd.
If your baby is being weaned, it is best to use only moong dal that has been soaked for a minimum of one hour. Pressure cook two tablespoons of it along with a cup and a half of water, half a tablespoon of ragi flour and two tablespoons of chopped carrots. This simple recipe will be easier for babies to digest and consume, if they have recently started the weaning process.
Nutrition Information:
| | |
| --- | --- |
| Type | Value |
| Calories | 141 kcal |
| Carbohydrates | 21 gm |
| Protein | 7 gm |
| Fat | 3 gm |
| Saturated fat | 1 gm |
| Cholesterol | 6 mg |
| Sodium | 33 mg |
| Potassium | 325 mg |
| Fibre | 9 gm |
| Vitamin A | 2310 IU |
| Vitamin C | 58 mg |
| Calcium | 30 mg |
| Iron | 2.7 |
Health Benefits:
This simple ragi moong dal soup recipe has numerous health benefits for your little one.
Ragi is more commonly known as finger millet and it has many health benefits. This superfood is considered to be a great addition to your baby's diet, especially once you are starting to wean your child. Since the immune system of a baby is still developing, they will need all the important nutrients in their diet to help them grow.
Ragi has the ability and nutrients that your child needs to strengthen their delicate bones since it is rich in calcium and Vitamin D. It also provides ample protein, prevents anaemia, and is easy to digest. Adding ragi to your baby's diet will boost the overall immunity of your child.
Moong dal is also a great ingredient to add to your baby's diet, especially during the first few years. It is a great source of vegetarian protein.
With moong dal, your baby's system will be able to digest the food easily and will learn to cope with more solid foods.
Buying Guide:
When buying ingredients to make homemade ragi moong dal soup for your baby, always ensure that you buy unpolished dal. Dal that is polished has an oily substance that gets released when it is cooked or rinsed. Always opt for organic as this is the healthiest choice for your little one.
When giving ragi to your baby, it is preferable to buy it in powdered form, as this will make it easy for your baby to consume. Ragi flour is available, or you can buy whole ragi and powder it in a coffee grinder or a dry blender.