Dal Fry Recipe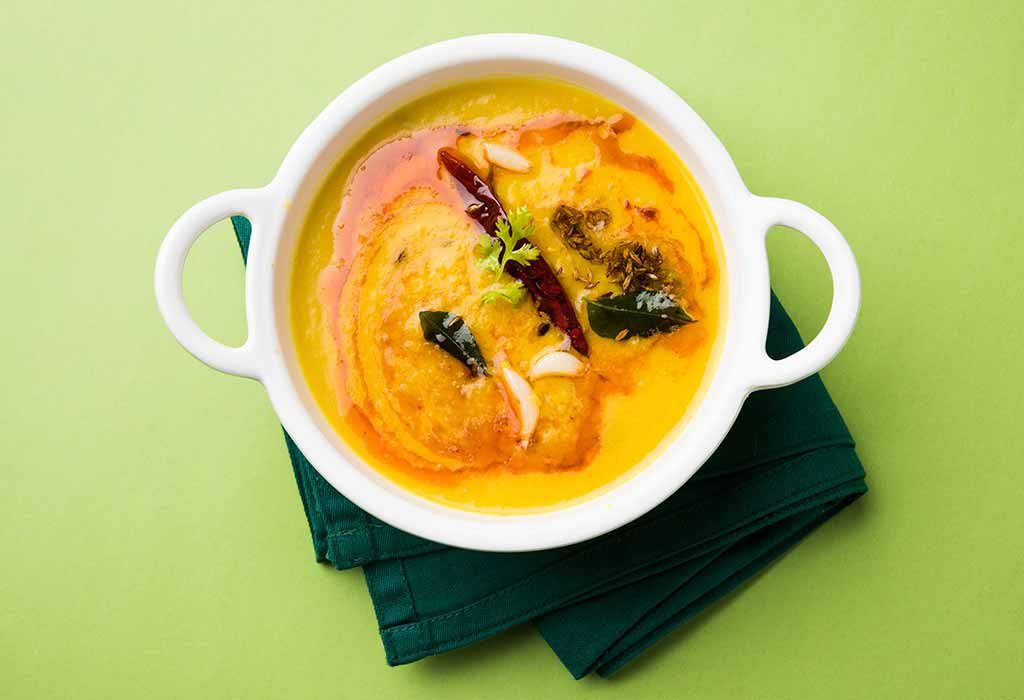 In this Article
Dal fry is consumed widely across the northern part of India and is also a staple food in many households. Dal fry tastes delicious and can be made in no time. But it is not to be confused with the plain dal you make every other day. If you want to learn how to make dal fry for your little one, here's a simple dal fry recipe that you can try! Well, if you are thinking about what all goes into making this tasty dal, you will have to browse this post for the same!
Cooking Time
You can make this recipe in anytime and the time that you may require is depicted in the table below:
| | |
| --- | --- |
| Type | Time |
| Preparation Time | 00:10:00 |
| Cook Time | 00:15:00 |
| Total Time | 00:25:00 |
Cooking Method
Gas
Type of Meal
Vegetarian
Suitable For
Children over 12 months of age
Meal Schedule
Lunch or Dinner
Recipe Type
Main Dish
Ingredients
| | |
| --- | --- |
| Type | Quantity/volume |
| Toor dal | ¾ cup |
| Moong dal | ¼ cup |
| Onion, finely chopped | 1 medium-sized |
| Tomato, finely chopped | 1 large |
| Ginger-garlic paste | 1 teaspoon |
| Turmeric powder | ½ teaspoon |
| Coriander powder | ½ teaspoon |
| Cumin seeds | ½ teaspoon |
| Mustard seeds (optional) | ½ teaspoon |
| Garam masala | ¼ teaspoon |
| Kasuri methi | ½ tablespoon |
| Asafoetida (hing) | A pinch |
| Salt | As per taste |
| Ghee | 1 tablespoon |
| Coriander leaves, finely chopped | 1 tablespoon |
| Water | 2 cups |
Instructions
Follow this step-by-step guide to make dal fry at home:
Wash toor and moong dal together until the water runs clear.
Pressure cook both the dals with water, turmeric powder, and salt on a medium flame for 3 whistles or until cooked.
Heat some ghee in a pan, then add cumin and mustard seeds. Once the mustard seeds splutter and cumin seeds change colour, add the asafoetida and sauté for a few seconds.
Add in the chopped onions and cook until they turn translucent.
Next, add in the ginger-garlic paste and sauté for a minute or two.
Add chopped tomatoes to the pan, cook on medium flame until they turn mushy and soft.
Add coriander powder and garam masala, give it a nice stir and cook for a few seconds.
Add boiled dal to the pan and cook on a medium flame for 3 to 4 minutes.
Sprinkle some crushed kasuri methi and mix well. Let it cook for a couple of minutes.
Garnish with freshly chopped coriander leaves and serve at room temperature with boiled rice, chapati or paratha!
Recipe Tips
If you wish to learn how to make dal fry with perfection for your little one, keep in mind the following recipe tips:
Soak dal for at least 15 to 20 minutes before cooking to reduce the cooking time.
To add an extra punch of nutrition, you can add blanched and chopped spinach leaves, finely chopped carrots, bell peppers, etc to the recipe.
To make this recipe vegan, you can skip ghee and use mustard or sunflower instead for cooking.
Use freshly made ginger-garlic paste for the enhanced taste and aroma to the dish.
Nutrition Information (Serving Per 100 Grams)
Here is the nutritional content present in this dal fry for toddlers.
| | |
| --- | --- |
| Type | Value |
| Energy | 120 calories |
| Carbohydrates | 17 grams |
| Protein | 6 grams |
| Fat | 3 grams |
| Potassium | 302 milligrams |
| Sodium | 6 milligrams |
| Sugar | 1.5 grams |
| Fibre | 7 grams |
| Vitamin C | 13 milligrams |
| Vitamin A | 240 Iu |
| Iron | 2.2 milligrams |
| Calcium | 20 milligrams |
The above-table indicates approximate nutritional content; however, the actual figures may vary slightly.
Health Benefits
Here are some health benefits of dal fry for your little one:
As toor and moong dals are high in carbohydrates, it will keep your baby feel energized and satiated for long.
Loaded with dietary fibre, a combination of these dals is great for keeping any digestive issues and ailments at bay.
A powerhouse of protein, toor dal can be added in your baby's daily diet to help him meet his daily requirement of protein.
Including dals such as toor and moong can keep iron deficiencies at bay in young kids as they are power-packed with iron.
Buying Guide
Here are some buying tips that you should keep in mind while shopping for ingredients for this recipe:
Buy unpolished dal, preferably organic to avoid any kind of chemicals or pesticides.
Buy fresh and organic vegetables for the recipe.
Make sure that you check the date of packaging before picking up dals for the recipe!
You can make your variations and make this recipe to suit the taste and preference of your munchkin!