Palak (Spinach) + Grapes + Apple Juice Recipe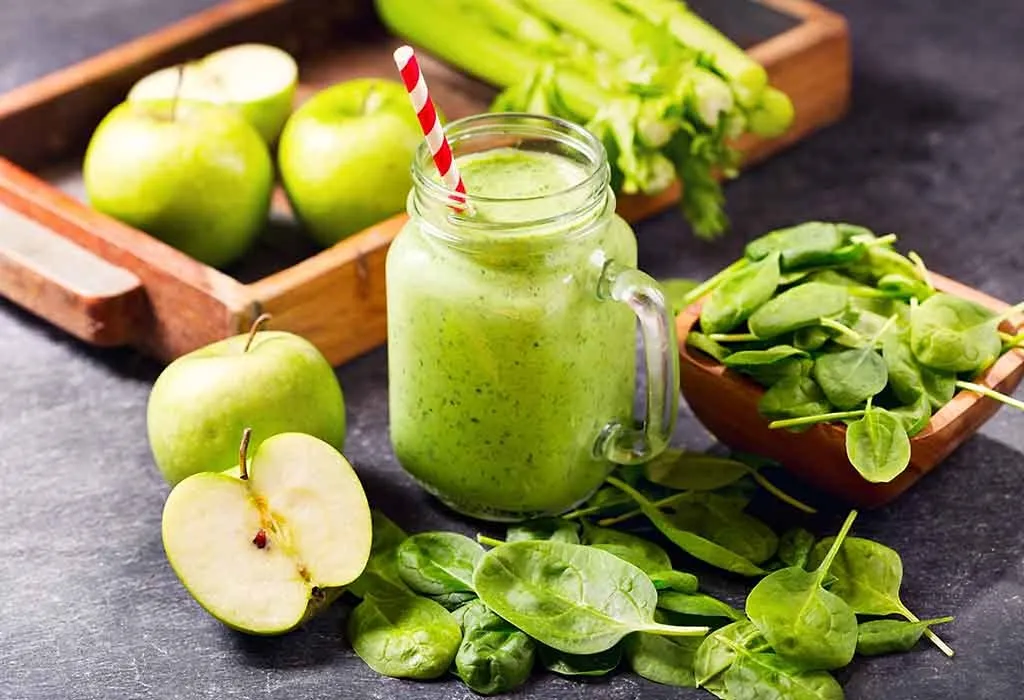 In this Article
If you are looking for a healthy drink for your child, how about you make palak-grape-apple juice? This tasty juice can serve as an all-in-one breakfast and you can give it to your child on days when he refuses to have breakfast and milk. This juice is also a tasty summer breakfast recipe. If you want to know how to make spinach-grape-apple juice at home, check out the recipe here!
Cooking Time
| | |
| --- | --- |
| Type | Time (hh:mm:ss) |
| Preparation Time | 00:10:00 |
| Cook Time | 00:10:00 |
| Total Time | 00:20:00 |
Cooking Method
Blender, Mixer Jar
Type of Meal
Vegetarian
Suitable For
Babies above 13 months of age
Meal Schedule
Breakfast
Recipe Type
Drink with meal
Ingredients
| | |
| --- | --- |
| Ingredients | Quantity and Volume |
| Spinach leaves (blanched) | 1 ½ cups |
| Grapes | 10 |
| Green apples (peeled and chopped into pieces) | 2 |
| Ginger peeled and grated | 1 ½ inch |
| Celery (optional) | 1-2 large stalks |
Instructions
Follow this step-by-step guide to learn how to make palak-grape-apple juice for your toddler.
Blend the spinach leaves and grapes in a blender.
Add the chopped apple pieces to the blender and blend again.
Follow it up with grated ginger and celery, and blend. Do not add water.
Pour it into glasses and serve immediately.
Recipe Tips
Follow these recipe tips to make a tasty palak-grape-apple juice.
Chop the spinach finely. Try to chop it in a food processor so that it blends well with the grapes and apples.
Make sure you peel the apples as the peel may not always blend in well.
Chop the grapes horizontally and then blend it well.
Do not add any water while blending these ingredients.
Do not add any salt or sugar to this mixture. The juice should be consumed as is without adding any sweetener or salt.
Nutrition Information (Per 100 Grams)
| | |
| --- | --- |
| Nutrient | Value |
| Energy | 55 kCal |
| Protein | 1 gm |
| Carbohydrates | 13 g |
| Fibre | 1 g |
| Cholesterol | 33 mg |
| Sodium | 60 mg |
| Potassium | 150 mg |
| Sugar | 10 gms |
Health Benefits
A smoothie or juice is packed with health benefits. This home-made palak (spinach)-grape-and-apple juice is packed with nutrients that can benefit a child.
Spinach is a powerful antioxidant. It is also rich in Vitamin K, Vitamin A, and folate. Vitamin K is essential to improve the health of the bones.
Spinach has all the essential vitamins and minerals needed for good skin, hair, and health.
Spinach is a rich source of iron and helps improve the energy levels of the body.
Grapes are high in antioxidants and can help repair the cells and the damage caused by free radicals.
Apples being a rich source of fibre can aid digestion.
Ginger can help cure indigestion.
Ginger is also good to improve immunity and provides resistance from cold, cough, and flu-like symptoms.
Buying Guide
Keep the following in mind when you go shopping for ingredients required to make this juice.
Buy organic spinach as they are cultivated with natural ingredients. Make sure the bundle of spinach you buy has tender and fresh leaves.
Buy apples that are ripe and firm.
Buy grapes that are sweet and ripe.
It is advisable to buy organic fruits and vegetables as they are free from chemicals and pesticides.
Spinach-grape-apple juice packs in a load of nutrients and minerals in their purest forms and can prove to be healthy breakfast or evening drink. Juices are a great way of introducing your child to different tastes and flavours. Try to serve this juice to your child – it is sure to refresh him and he will be more than willing to try new recipes after trying out this one.