Missi Roti Recipe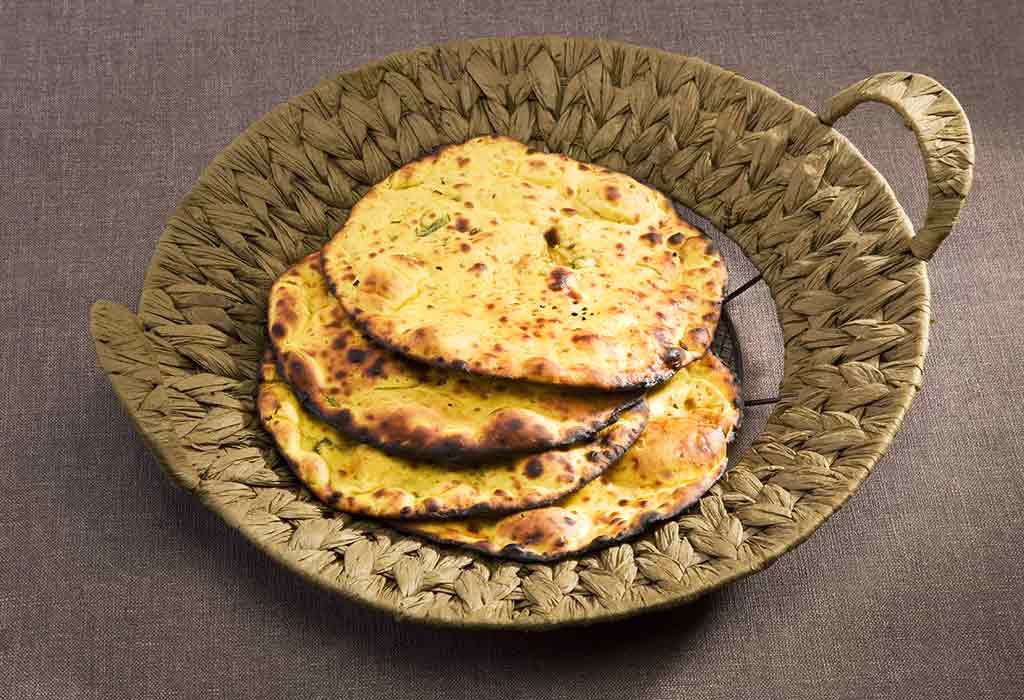 In this Article
A popular North Indian bread, missi roti is a perfect blend of flavours and is widely consumed in Northern India. It is very healthy and tastes delicious, just like all other types of chapatis. Missi roti can be served along with dal and sabzi in lunch and dinner. It is a perfect choice when you want to offer something delectable to your toddler without putting in many efforts. If you want to learn how to make missi roti, then don't go anywhere: we will give you a simple recipe for missi roti right here! Let's see the ingredients and recipes, shall we?
Cooking Time
| | |
| --- | --- |
| Type | Time (hh:mm:ss) |
| Preparation Time | 00:15:00 |
| Cook Time | 00:25:00 |
| Total Time | 00:40:00 |
Cooking Method
Gas Stove, Induction
Type of Meal
Vegetarian
Suitable For
Toddlers above 17 months of age
Meal Schedule
Breakfast, Lunch, or Dinner
Recipe Type
Main Dish
Ingredients
| | |
| --- | --- |
| Type | Quantity |
| Whole wheat flour | 1 ½ cups |
| Gram flour | ¼ cup |
| Moong dal | ¼ cup |
| Red chilli powder | 1 teaspoon |
| Cumin powder | 1 ½ teaspoon |
| Garam masala | 1 teaspoon |
| Coriander powder | 1½ teaspoon |
| Turmeric | ¼ teaspoon |
| Salt | As per taste |
| Water | 2 cups |
| Ghee | 5-10 tablespoons |
Instructions
Missi roti is mostly served with curries or curd in North India. To learn how to make missi roti for babies, just follow this simple step-by-step guide:
Heat about 1 cup of water in a pan or a vessel.
Turn off the flame once the water starts boiling; add the moong dal to this boiling water then cover the pan with a lid. Keep aside for 20 minutes.
Then strain the water, keeping it in a separate bowl.
Take the soaked moong dal in a bowl, then add the whole wheat flour, gram flour salt, turmeric powder, 1 teaspoon oil, red chilli powder, cumin powder, coriander powder, garam masala powder to it. Add a teaspoon of ghee to this mixture and mix well.
Now add the water from the drained moong dal in parts to knead into a dough.
When it is ready, divide the whole dough into small balls. Roll these balls into round medium-sized chapatis.
Heat a tawa and cook the rotis on a medium flame until they turn golden brown on both sides. Use ghee to cook the rotis.
Serve hot with a dollop of unsalted butter, curry, or curd.
Recipe Tips
Follow these simple recipe tips to make the tastiest missi rotis at home.
Make sure you boil the water well and then soak the moong dal. The moong dal will be partially cooked and the rest will cook when you cook the rotis.
Knead the dough into a soft pliable form so that you can roll the rotis.
Always use ghee to make these rotis as it enhances the flavour.
Nutrition Information (Per 100 Grams)
| | |
| --- | --- |
| Type | Value |
| Calories | 1365 kCal |
| Carbohydrates | 218.2 grams |
| Protein | 58.3 grams |
| Fat | 28.9 gms |
Health Benefits
Missi roti for babies is not just easy to make but is packed with loads of health benefits too. Read on to find out more:
Whole wheat flour is rich in carbohydrates, vitamins, and minerals. It is a source of Vitamin B6, iron, calcium, and thiamine.
Gram flour is full of protein and is more filling than whole wheat flour. It is also rich in fibre.
Moong dal is rich in protein, Vitamin A, Vitamin C, and Vitamin E. The presence of protein helps in building muscle strength.
Moong dal is easily digestible and light on your baby's tummy.
Moong dal provides energy and also helps in strengthening the immune system.
Moong dal is a good source of folate and one of the key things to include in a baby's diet. Foods rich in folate are good for the neurological development of the baby.
Buying Guide
When sourcing ingredients for missi roti, keep the following tips in mind:
Buy branded whole wheat flour or use flour that you grind after buying wheat grains. If you're buying any branded whole wheat flour, make sure you check the expiry date before using it.
Try to buy gram flour in packaged form and check the expiry date before use.
Buy an organic variety of moong dal as it is not polished and processed using natural means. Organic variety of moong dal is also free from any chemicals.
Missi roti tastes delicious and you can include in in your toddler's diet. It ticks all the boxes when it comes to nutrition and can be consumed with dal, curd, or just like that. The addition of ghee makes it an enriching and fulfilling meal. So make missi roti at home and enjoy it with your loved ones.