Mashed Sweet Potato Recipe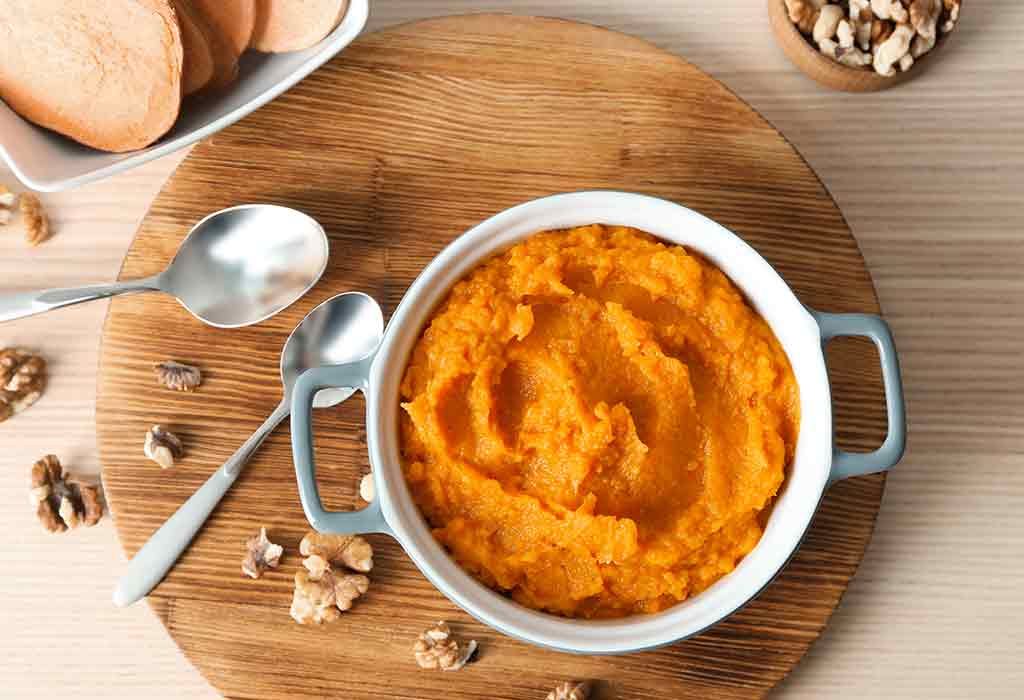 Mashed sweet potato puree is easy to make and extremely healthy for babies and toddlers! One of the most versatile and healthy vegetable sweet potatoes is a great option that you can introduce to your little one during the initial months. The soft and creamy texture accompanied by a delicious sweet taste makes it yummy for babies. So, let's begin with how to make mashed sweet potato for your little munchkin! It can serve as a wholesome meal or a great snack option too in between meals.
Video: Healthy Mashed Sweet Potato Recipe for Babies (Recipe Tips & Buying Guide)
Cooking Time
| | |
| --- | --- |
| Type | Time (hh:mm:ss) |
| Preparation Time | 00:10:00 |
| Cook Time | 00:20:00 |
| Total Time | 00:30:00 |
Cooking Method
Gas Stove
Type of Meal
Vegetarian
Suitable For
Weaning babies older than six months of age
Meal Schedule
Breakfast, Mid-Morning Snack, Lunch, or Evening Snack.
Recipe Type
Main Dish
Ingredients
| | |
| --- | --- |
| Type | Quantity |
| Sweet Potato | 1 medium-sized |
| Butter or homemade ghee | 1 to 2 teaspoons |
| Cardamom powder (Optional) | 1/4 teaspoon |
Instructions
Here are step by step directions to make mashed sweet potato:
Once you get all the ingredients ready, clean and wash the sweet potato thoroughly under running cold water. Make sure that you peel off the skin before washing the sweet potato.
Cut the sweet potatoes into 3-4 pieces depending upon its size.
In a pressure cooker, add the sweet potato and enough water and cook for 2-3 whistles. Once the pressure is released, open the pressure cooker.
Shift the sweet potato into a large bowl and let it cool. Once it's cool peel off the skin using your hands.
Now, mash the sweet potato into a fine creamy texture using a fork and set aside. You may also use a blender or a mixer jar to get a fine puree. Also, add a little water to make it soft and creamy.
Heat the butter or ghee in a pan and add the mashed sweet potato and cardamom powder to it. Fry them for 2-3 minutes on a low to medium flame.
Once the sweet potato is well mashed with the butter or the ghee you may switch off the flame.
It's ready to serve. You may adjust the consistency with water or breastmilk or formula while feeding the baby.
Recipe Tips
This simple mashed sweet potato recipe is easy to make and best had fresh and warm. You can also store the leftovers in an airtight container and refrigerate it for 2-3 days.
For homemade mashed sweet potato baby food recipe, choose sweet potatoes that are fresh and organic.
Adding ghee and cardamom powder to this recipe is optional, but it can be added to enhance the flavor and for ease of digestion. But you can always skip this if you don't prefer it.
For very small babies you can just puree the sweet potato with a blender by adding a little bit of water.
It is highly recommended to always consult with the paediatrician before you introduce any new food to the baby.
Nutrition Information (Per 124 Grams)
| | |
| --- | --- |
| Type | Value |
| Energy | 198 Cal |
| Carbohydrates | 18.7 grams |
| Sugar | 6.77 grams |
| Calcium | 50.8 milligrams |
| Iron | 0.7 milligrams |
| Protein | 02 grams |
| Fat | 03 grams |
| Fiber | 2.48 grams |
| Magnesium | 19.8 milligrams |
| Phosphorous | 50.8 milligrams |
| Potassium | 259 milligrams |
| Sodium | 306 milligrams |
| Vitamin C | 12.8 milligrams |
| Folate | 7.44 milligrams |
| Vitamin A RAE | 823 micrograms |
| Beta-carotene | 9470 micrograms |
| Vitamin K | 5.1 micrograms |
| Choline | 14.4 milligrams |
| Selenium | 0.9 micrograms |
| Cholesterol | 1.24 milligrams |
Health Benefits
This yummy and delicious mashed sweet potato is loaded with immense health benefits for babies:
Sweet potatoes are rich in natural sugars and help in healthy weight gain in babies.
A very rich source of iron and calcium, sweet potato is beneficial in the growth of babies.
Rich source of vitamin A, it helps improve eyesight.
It is rich in vitamins C and E that enhance the glow of the skin.
High in fiber that helps relieve constipation and maintains a healthy digestive system.
Buying Guide
Below mentioned are certain buying tips while choosing the sweet potato for baby food recipes:
Pick up sweet potatoes that are thick, round, and have least brown spots on them. These are ideal for baby food recipes and comparatively fresh than the more spotted ones.
Try to buy organic fruits and vegetables when it comes to making recipes for babies, as they are free of harmful chemicals and pesticides.
Try making this super-easy mashed sweet-potato for babies at home. They can be made with little effort and can be had by kids as well as adults!