Soya Patty Recipe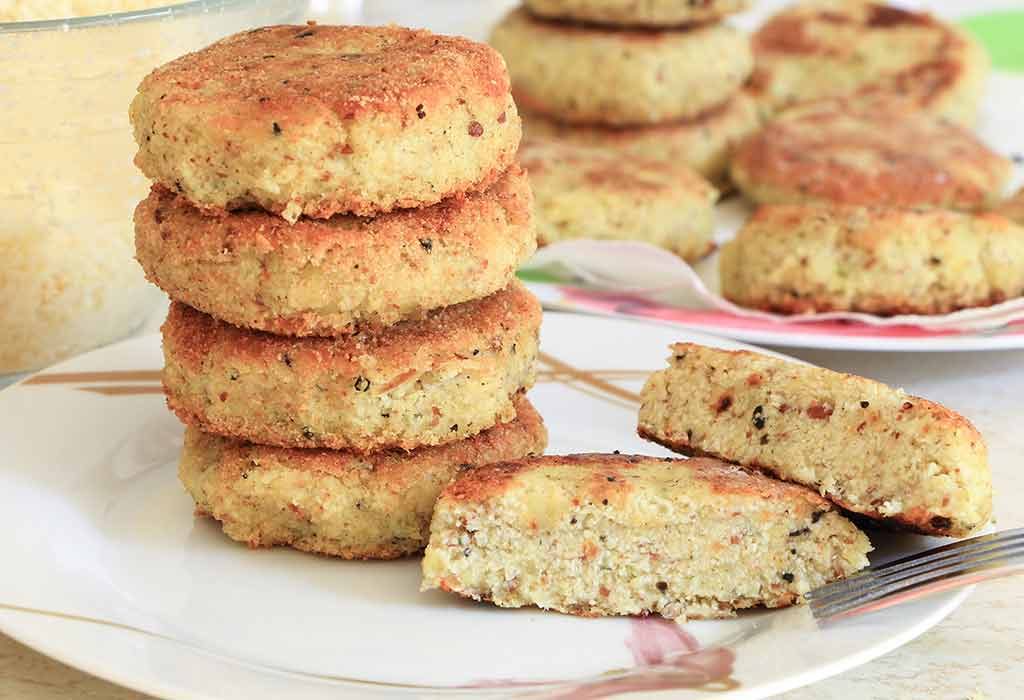 In this Article
Soya beans belong to the species of legume native to East Asia. Eating soya bean-based foods may reduce a wide range of health problems. Soya is rich in high-quality protein (like meat), fibre, iron, folate which makes it ideal for vegetarians and vegan diets. The whole soybean is the most friendly form for kids than tofu, soymilk etc. Consuming soybeans provides all the amino acids we need to get from food to build proteins in the body. They are said to regulate sugar levels and bowel movements, and relieve constipation. It is commonly used for evening snacks/starters. You can mix with many other ingredients to make a delicious snack. One of the healthiest and easy to prepare snacks, soybean patty or tikki and can be munched anytime. Overflowing with iron and Protein, this energy-giving snack is ideal for kids for above 1 year as it takes time to digest.
Cooking Time
| | |
| --- | --- |
| Type | Time (hh:mm:ss) |
| Preparation Time | 00:25:00 |
| Cook Time | 00:15:00 |
| Total Time | 00:40:00 |
Cooking Method
Gas Stove
Type of Meal
Vegetarian
Suitable For
Toddlers above 23 months
Meal Schedule
Morning / Evening
Recipe Type
Snack / Appetizer
Ingredients
| | |
| --- | --- |
| Ingredients | Quantity |
| Boiled Soya beans | 1 cup |
| Mashed Potato | 1 |
| Chilli powder(optional) | 1 tbsp |
| Turmeric powder | ½ tbsp |
| Coriander finely chopped | 2 tbsp |
| Onions | ¼ cup |
| Salt | 1 tbsp |
Instructions:
Let us see how to make soya patty with these easy to follow step by step directions.
Soak the soybeans for about 12 hrs.
Pressure cook the soybeans and potato for about 5 whistles in a pressure cooker.
Now, in a large bowl mix, the pressure cooked soybeans and potato, red chilli powder (optional), turmeric, coriander and salt.
Mix well to form a dough.
Divide the dough into equal portions.
Shape each portion into circular/round balls and gently flatten them until they're about ½ an inch thick.
Heat the tawa and spread some oil/ghee on it.
Place 4-5 patties on the tawa and roast till the bottom surface of the tikki turns golden brown.
Flip the tikki and drizzle some oil/ghee along the sides of each tikki.
Let the tikkis turn golden brown on the other side too.
Follow the same process for remaining patties.
Serve with chutney/sauce or have it as it is.
Recipe Tips
Make sure you remember the below-mentioned points before you start preparing the healthy and simple Soya bean patty recipe for toddlers.
Soak soya beans for not less than 12 hours else it is difficult to digest if left under-cooked.
You may add green peas, sweet corn, carrot according to taste and preferences.
You can customize these tikkis with additional veggies and spices according to your kid's preferences.
Make sure to roast the tikkis on low heat so that it cooks well and are crisp.
These tikkis remain fresh for a week if stored in an airtight container in the refrigerator.
Can have it when desired.
Nutrition Information Per Serving
| | |
| --- | --- |
| Nutrient | Values per bar |
| Energy | 50 Cal |
| Protein | 1.5 g |
| Carbohydrates | 10.4 g |
| Fibre | 1.2 g |
| Fat | 0.3 g |
| Cholesterol | 0 mg |
| Vitamin A | 130.7 mcg |
| Vitamin B1 | 0.1 mg |
| Vitamin B2 | 0 mg |
| Vitamin B3 | 0.5 mg |
| Vitamin C | 8 mg |
| Folic Acid | 12.6 mcg |
| Calcium | 12.7 mg |
| Iron | 0.4 mg |
| Magnesium | 15.7 mg |
| Phosphorus | 31 mg |
| Sodium | 7.5 mg |
| Potassium | 114.3 mg |
| Zinc | 0.5 mg |
Health Benefits
Homemade Soya bean patty recipe is a healthy protein-rich snack for kids. Soy is rich in protein, calcium and iron that provide numerous health benefits. These yummy treats provide the daily requirement of protein in just one serving.
Soya beans are rich in protein.
Soy is hundred per cent vegetarian.
Soy provides all vital nutrients, minerals, fibre and protein.
Soy bean can provide positive results on the people and normalize blood pressure and blood sugar.
Provides protection against several cancers like breast, skin.
Reduces the risk of osteoporosis.
Provides great elasticity of artery walls.
Buying Guide
If purchasing canned beans, check for those that do not contain additives.
Cooked soya beans can be stored in the refrigerator for up to 3 days.
Soya beans should be consumed in limited quantity as it can cause allergen.
When kids begin to eat, exposing them to different tastes and textures like soya tikki which are packed with proteins and all vital nutrients, minerals help them in optimal growth and development. So, giving your kid a tasty and nutrient-rich patty at least 1-2 times a week would be ideal.