Multigrain Muffin Recipe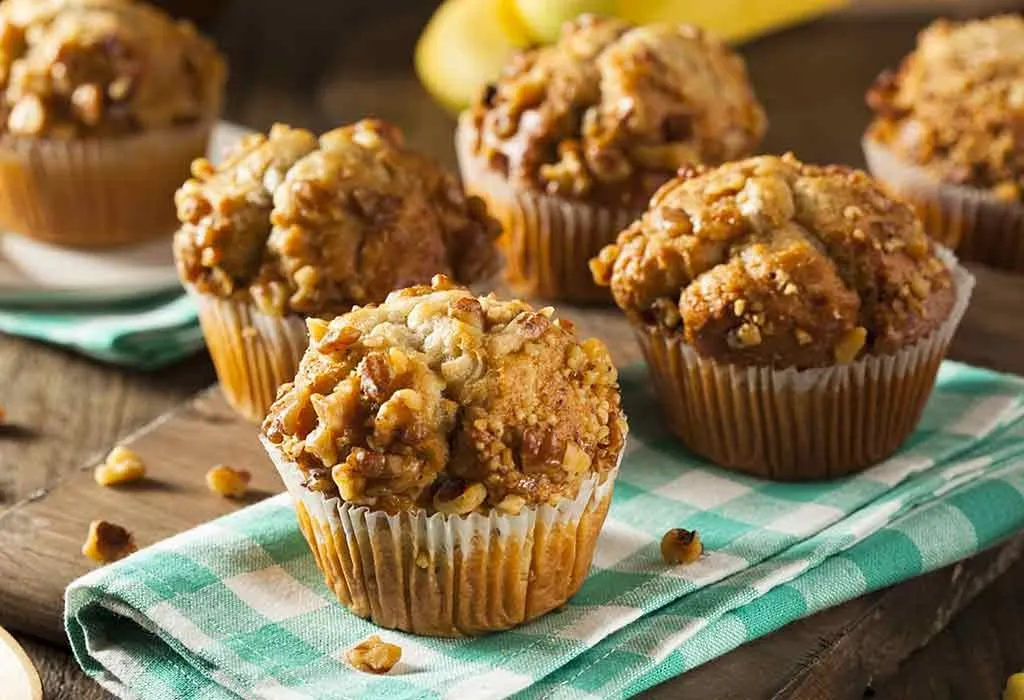 In this Article
Snack time can be a bit tricky with our little daredevils. There is packaged food like crackers, chips, puree pouches, which are easy to give but have processed content. Giving them something homemade feels like a lot to do. Multigrain muffins for babies will ease that pressure for you. Mostly being a side dish, one can always make it into a breakfast meal with a few additions. When your kid is used to having pureed food, these muffins will help in a smooth transition to solids. They taste delicious and are easy for those who cannot chew hard food.
Cooking Time
| | |
| --- | --- |
| Type | Time (hh:mm:ss) |
| Preparation Time | 00:05:00 |
| Cooking Time | 00:15:00 |
| Total Time | 00:20:00 |
Cooking Method
Oven
Type of Meal
Vegetarian
Suitable For
Any toddlers above 16 months of age
Meal Schedule
Breakfast
Recipe Type
Snacks
Ingredients
| | |
| --- | --- |
| Ingredients | Quantity and Volume |
| Oats | 1 cup (powdered) |
| Sprouted ragi (powdered) | ½ cup |
| Banana | 3 |
| Cinnamon powder | 2 tsp |
| Apple sauce (unsweetened) | 1/3 cup |
| Baking soda | ½ tsp |
| Maple syrup (optional) | 2 tbsp |
| Salt | Just a pinch |
| Coconut oil | 4 tbsp |
| Vanilla extract | 1 tsp |
| Nuts | Chopped nuts of any variety |
Instructions
Let us now look into the step by step procedure to prepare multigrain muffins.
Preheat the oven to 175* Celsius.
Put all the ingredients into the blender or food processor, except the nuts and blend it all into a smooth paste.
Add the nuts into the above paste.
Grease the muffin tray with coconut oil.
Divide the muffin batter into the grooves of the muffin tray, evenly.
Put it inside the oven and bake for 12-13 minutes.
To make sure the muffins are done well, insert a fork or toothpick into the muffin, and it should come out clean.
You can store them at room temperature for two days or refrigerate them in airtight containers for one week.
Recipe Tips
This is a very easy multigrain muffin recipe; it does not require much of cooking, just mixing and baking.
This is an eggless and dairy-free recipe. This takes care of any allergies your child may have to dairy products. One can always add milk and eggs into it as an option.
Maple syrup is optional since the use of bananas and apple sauce in this gives the muffins ample sweetness for a young child. But if your child wants a sweeter version, then maple syrup can be added.
One can also freeze the muffins, which would make them last six months. The best way to do that is to use parchment paper to stack them in tupperware.
One can also add wheat flour in it. We have kept it gluten-free, but it depends on the kind of diet you want to follow for your baby.
The batter should be a thick one, like idli batter. Adjust the consistency with milk if you need to make it thinner or thicker.
Different ovens operate differently. Keep a watch on the oven temperature.
If you do not have sprouted ragi flour, then you may use the regular ragi flour.
Nutrition Information (per muffin)
| | |
| --- | --- |
| Nutrient | Value |
| Energy | 150 cal |
| Protein | 5 g |
| Carbohydrates | 27 g |
| Fat | 2.5 g |
| Fibre | 2 g |
| Calcium | 80 mg |
| Iron | 1 mg |
| Sodium | 160 mg |
| Trans fat | 0 |
| Cholesterol | 0 |
| Potassium | 90 mg |
Health Benefits
This homemade multigrain muffin baby food recipe is bound to be tasty as well as free from all preservatives which outside food may possess. You have the option to deep freeze them, which would ease the stress of making them fresh always. This is a good option for people who travel.
The sweetness in these muffins comes 100% from fruit.
The fibre content in the muffins comes from the apple sauce which helps in the baby's digestion.
Ragi is rich in calcium, which is crucial for good bone health of your developing baby.
It is a good source of essential minerals like potassium and sodium.
Buying Guide
Try to use mostly organic ingredients.
It is preferable to buy a silicon muffin tray since the non-stick ones can be coated with harmful toxins.
If you ever wondered about how to make multigrain muffins for a child, then this recipe would make it look all easy and done in a jiffy!