Mix Veg Khichadi Recipe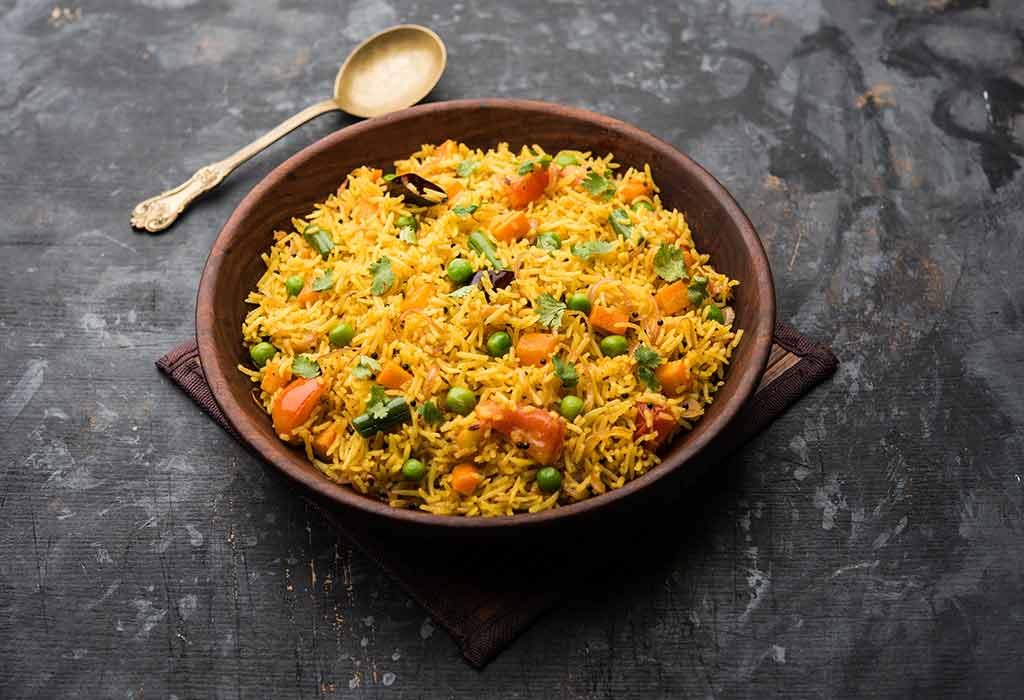 In this Article
Khichdi is known to be a healthy, tummy-friendly and nutritious meal. And when we talk about babies, adding fresh veggies to it not only increases its nutritional value but makes it easily digestible for little ones. Mothers always worry about baby's nutrition intake and what better than 1 bowl of nutrition which is filled with veggies. So let's have a look at how to prepare Mix Veg Khichdi for babies in a few simple steps.
Cooking Time
| | |
| --- | --- |
| Type | Time (hh:mm:ss) |
| Preparation time | 20-25 minutes |
| Cooking time | 5-7 minutes |
| Total time | 30-35 minutes |
Note-Time taken to soak dal and rice has not been counted in the preparation time.
Cooking method – Gas Stove
Type of meal – Vegetarian
Suitable for – Any Toddlers Above 12 months age
Meal schedule – Lunch or Dinner
Recipe type – Main dish
Ingredients
Here are the ingredients to make this easy mix veg khichdi for babies
| | |
| --- | --- |
| Type | Quantity |
| Rice | ½ cup |
| Yellow Moong dal | ½ cup |
| Pumpkin | ½ cup (cut in cubes) |
| Carrot | ½ cup (small pieces) |
| Peas | ¼ cup |
| Spinach | 4-5 leaves |
| Turmeric powder | ¼ tablespoon |
| Ajwain Powder | 1 pinch |
| Salt(only for babies above 12 months) | As per requirement |
Instructions:
Here is the step by step procedure to make mix veg khichdi for babies
1. Soak Rice and Dal in water for 45-60 minutes. Soaking can be kept as an optional thing because it just helps to cook the meal faster. Even if you don't have time to soak, you can cook the khichdi. You just need to give it a little extra cooking time.
2. Cut carrot and pumpkin in small cubes.
3. Take ¼ cup of green peas and 4-5 leaves of spinach.
4. Wash all the veggies properly.
5. Add the soaked dal, rice and all veggies into a pressure cooker.
6. Add 2 cups of water, turmeric powder, ajwain powder and salt (if required).
7. Cook these for two whistles and wait for the steam to get out. You can even overcook the mixture a bit because that will make it easy to mash it.
8. Mash the mixture properly with a spoon so that the baby can eat with ease.
Recipe Tips:
The below mentioned Recipe tips help in adding extra ting to the dish.
-You can use any seasonal veggies available. Avoid using colic causing vegetables like potato, cauliflower, beans.
-Methi or any other green vegetable can be used if spinach is not available.
-Avoid using salt as much as possible for infants below 12 months of age.
-You can add 1 tablespoon of Desi ghee after the preparation. Desi ghee is known to have many benefits for the babies.
Nutrition Information (per 100 gms):
Here is the table that provides the Nutritional values of all the ingredients used in the dish
| | |
| --- | --- |
| Type | Value |
| Energy | 218 Cal |
| Carbohydrates | 22.85 gm |
| Fats | 1.19 gm |
| Sodium | 53 mg |
| Protein | 4.08 gm |
| Calcium | 28 mg |
Health Benefits:
Khichdi has numerous health benefits. It also nutritious and has the goodness of veggies which is a cherry on top. Carrots used to provide a rich source of vitamin A, green leafy vegetables have iron content loaded in them.
A bowl of mix veg khichdi is a complete meal in itself for the babies.
The goodness of rice and daal integrated with the vitamins loaded in the vegetables added to provide a complete package of health benefits. Apart from nutritional benefits, infants with no teeth can consume it easily without fuss.
Ajwain powder helps to remove colic from the little tummies and turmeric is known to be the best antiseptic ever, which helps in curing and avoiding many problems in the bodies of babies.
Buying Guide:
To make this homemade Mix Veg Khichdi for babies, here is the buying guide:
Make sure that the veggies are fresh. You can use organic vegetables available in the market. It is best to use organic ingredients so that you avoid pesticides and also cleaning them is easy.
Spices used can be purchased from the market or you can prepare these at home.
Buy Ajwain and turmeric (preferably organic) and powder them at home. This enhances the taste as it is freshly powdered.
Mix Veg Khichdi Recipe is an easy and healthy option for babies as it ensures very less effort to feed varied power-packed foods to your child.
?>