Dhansak Recipe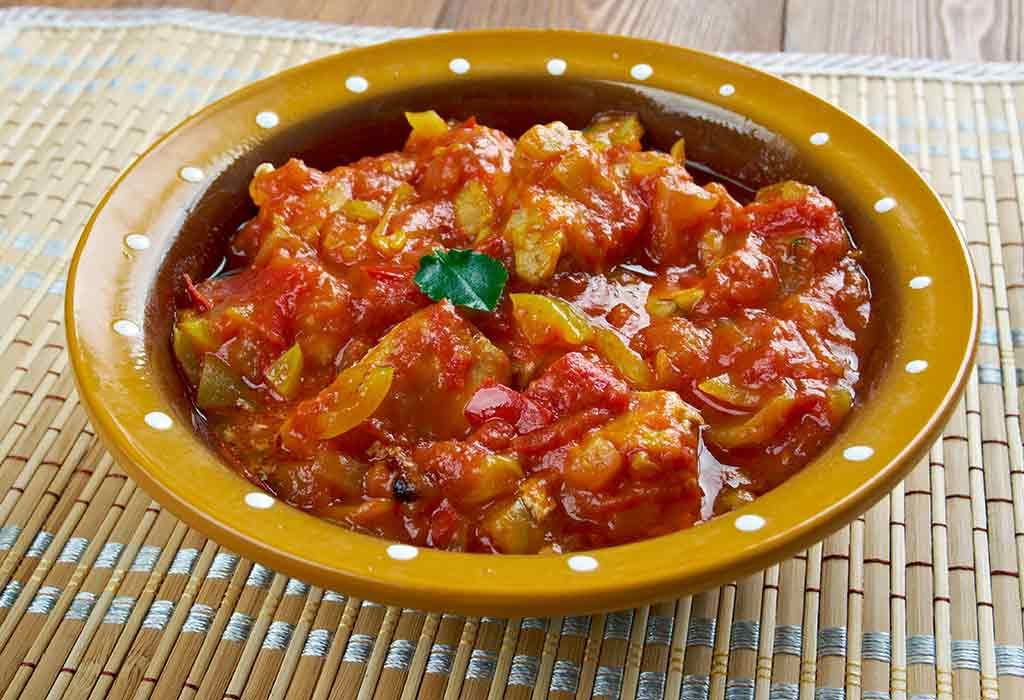 In this Article
Dhansak is a popular Parsi dish prepared on a Sunday. Most Parsi households whip this up in their kitchen and eat as a family together. It is an interesting dish that combines dals and vegetables with spices to make a mouth-watering meal. This simple Dhansak for babies can be served with brown rice and makes for a gratifying meal. Traditionally, it is made with meat but we have given the recipe for a vegetarian variety.
Cooking Time
| | |
| --- | --- |
| Type | Time (hh:mm:ss) |
| Preparation Time | 00:15:00 |
| Cook Time | 00:20:00 |
| Total Time | 00:35:00 |
Cooking Method
Gas Stove, Induction
Type of Meal
Vegetarian
Suitable For
Toddlers above 20 months of age
Meal Schedule
Lunch or Dinner
Recipe Type
Main Dish
Ingredients
Ingredients
Quantity and Volume
Toor Dal
½ cup
Moong Dal
2 teaspoons
Masoor Dal
2 teaspoons
Udad Dal
2 teaspoons
Potatoes (finely chopped)
¼ cup
Brinjals (finely chopped)
¼ cup
Bottle Gourd or Dudhi (finely chopped)
¼ cup
Red Pumpkin (finely chopped)
¼ cup
Spring Onion's whites (finely chopped)
¼ cup
Tomatoes (finely chopped)
½ cup
Salt
As per taste
Oil
1 teaspoon
Tamarind pulp
2 teaspoon
TO BE GROUND INTO A SMOOTH PASTE ( in about 2 tablespoons of water)
Garlic Cloves
4
Whole red chilies
1
Coriander seeds
1 teaspoon
Cumin Seeds
½ teaspoon
Green Chilli
1
Peppercorns
2
Cloves
3
Cardamom or Elaichi
2
Coriander (finely chopped)
2 tablespoon
Instructions
A Parsi dish may sound daunting to make. But just follow this step-by-step guide to learn how to make Dhansak:
Combine the toor dal, masoor dal, moong dal, urad dal, potatoes, tomatoes, brinjals, bottle gourd, red pumpkin, and spring onions whites and greens in a pressure cooker.
Add salt and pressure cook it for about 3-4 whistles.
Let the steam escape before you open the lid.
Once cooled, pour the contents into a blender or mixer jar and blend into a smooth puree. Keep aside.
Now add oil to a kadhai and pour the prepared paste and sauté for about 2-3 minutes on a low flame. Keep stirring continuously.
Add the dal-vegetable puree and ½ cup of water. Mix it well and cook on a slow flame for about 3-5 minutes.
Now add the tamarind pulp and mix well. Cook for another 2 minutes on a medium flame. Keep stirring occasionally.
Once done, serve with rice.
Recipe Tips
Follow these tips to perfect this home-made Dhansak baby food recipe:
Make sure to wash and rinse the vegetables and dal before use.
Allow the cooked dal and vegetables to cool before blending it in the mixer jar.
Do not add too much water while making the spice paste. It should be finely ground as a thick paste with just enough water content.
Nutrition Information (Per 100 Grams)
| | |
| --- | --- |
| Nutrient | Value |
| Energy | 127 kCal |
| Protein | 7.2 g |
| Fiber | 0.8 g |
| Fat | 1.8 g |
| Cholesterol | 20.2 mg |
| Vitamin A | 177.3 mcg |
| Vitamin C | 9.4 mg |
| Vitamin E | 0.2 mg |
| Folic Acid | 37.9 mcg |
| Calcium | 34.4 mg |
| Iron | 1.2 mg |
Health Benefits
Here are the health benefits of home-made Dhansak baby food recipes.
Dals are a powerhouse of protein and essential vitamins and minerals. This recipe combines the goodness of moong dal, toor dal, urad dal, and masoor dal. All these dals help in giving the body adequate amounts of protein needed for muscle growth.
Tomatoes are rich in antioxidants, lycopene and Vitamin C. It helps to boost immunity and also protects the skin.
Brinjals are rich in antioxidants and nutrients essential for healthy growth.
Red pumpkins are rich in Vitamin A, calcium, and magnesium. They are rich in antioxidants too and fiber which aids in digestion.
Bottle gourd is full of water content and helps to maintain the hydration level of the body.
Spring onions are excellent sources of dietary fiber, Vitamin C, and calcium.
Buying Guide
Buy organic dals and vegetables as they are free from chemicals and pesticides.
Buy dals that are unpolished as they are more nutritious.
Buy ripe and firm tomatoes as they cook well.
Buy ripe brinjals as they enhance the taste of the dish.
Make sure the skin of the bottle gourd is light green and free from cuts and blemishes. It should be firm to touch.
Dhansak is a wholesome dish that combines the nutrients in vegetables and proteins in dal to make a nourishing meal. The pureed form makes it easier to serve it to your baby too. It tastes best with rice and can be served just as it is too.