Mathri Recipe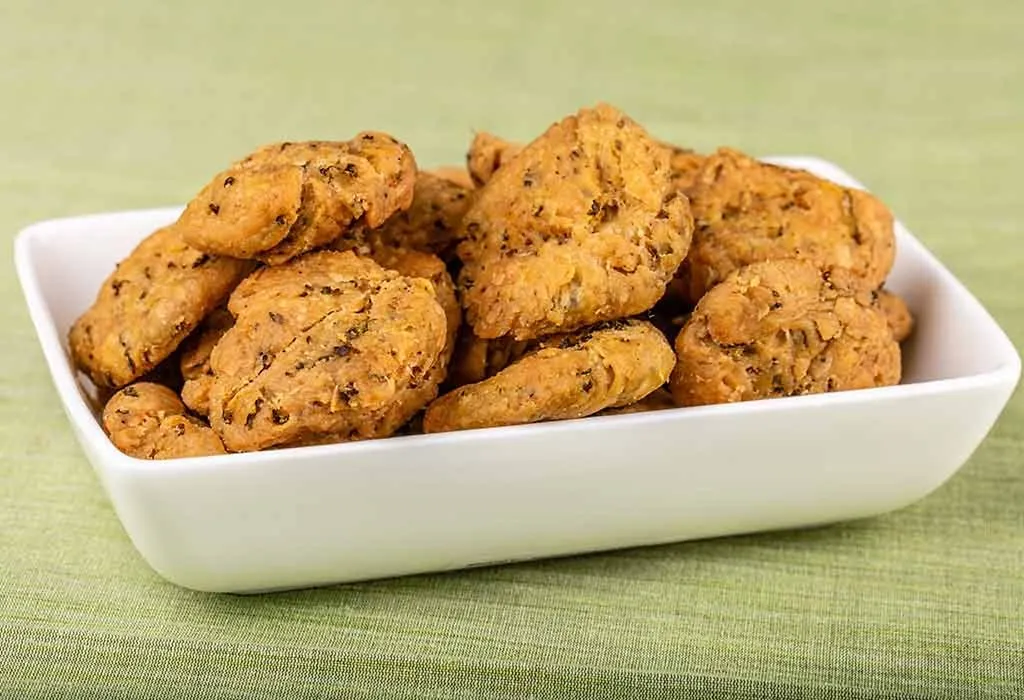 A traditional tea-time snack, mathri is a delectable snack to be carried while travelling or to be enjoyed at home. This salty cracker has a crispy texture that will be loved by any toddler or any other family member. You can introduce homemade mathris to children as finger foods that they can comfortably munch on during playtime. Made from maida, spices and ghee, mathris are extremely healthy for your baby. Wondering how to make mathri? Get creative with your culinary skill and prepare the yummiest mathris that would surprise your children even if they are fussy eaters.
Cooking Time
| | |
| --- | --- |
| Type | Time (hh:mm:ss) |
| Preparation Time | 00:10:00 |
| Cook Time | 00:30:00 |
| Total Time | 00:40:00 |
Cooking Method
Gas
Type of Meal
Vegetarian
Suitable For
Weaning babies older than 16 months of age
Meal Schedule
Mid-Morning Snack, Evening Snack
Recipe Type
Snack
Ingredients
| | |
| --- | --- |
| Type | Quantity |
| Maida (all-purpose flour) | 1 cup |
| Semolina (sooji or rava) | ¼ cup |
| Ajwain | ½ tsp |
| Kasuri methi (dried fenugreek leaves) | 1 tsp |
| Ghee | 4 tsp |
| Salt | ½ tsp |
| Water | 4-5 tablespoon |
Instructions
Here are step-by-step directions to make the best mathri savoury crackers that can be relished by your child at any time of the day. Making mathri is easy and in less than 30 minutes you can make 20 or more pieces of crackers to last you for 3 to 4 days.
Since mathri is made using ingredients of regular use, you most likely will find that the items listed below are already available in your kitchen.
A measuring cup or any other cup that will hold 200ml to 250 ml of water
A mixing bowl, a deep frying pan and a table spoon
Add all the ingredients to the mixing bowl and mix them well
Heat 3 to 4 tsp of ghee (clarified butter) in the pan and add to the mixture
Mix the content till everything is evenly spread
Add very little water to the mixture and make a crumbly dough
Remember the dough should not be smooth like the roti or poori dough
Make 20 small balls out of the dough
Flatten the balls with your palm
Heat ghee in the deep frying pan
Start frying the mathri
Store the fried mathri on kitchen paper towel to drain out excess ghee
Recipe Tips
You can use this simple mathri recipe to make an appetizing snack for your child.
Make sure the ingredients are from a reliable source and have not expired.
Use medium heat and start frying only when the oil is hot and is not smoking.
This homemade mathri baby food recipe can be made more interesting by playing with the shape – triangle, square, rectangle etc.
Substitution of ghee with vegetable oil would make it dairy free and vegan as well.
Baking the mathri instead of deep frying is another way you can make this tasty snack for your baby.
For older babies you can use rough ground black peppercorns instead of jeera.
Use of sesame seeds or fresh fenugreek leaves (instead of kasuri methi) will give the mathri a different flavour.
To make gluten free mathri, try replacing all-purpose flour and semolina with buckwheat flour, almond flour or amaranth flour or oat flour.
Nutrition Information (Per serving – 2 pieces of fried mathri)
| | |
| --- | --- |
| Type | Value |
| Carbohydrates | 14 grams |
| Sugar | 0 gram |
| Protein | 2 grams |
| Sodium | 148 grams |
| Fibre | 0.6 gram |
| Fat | 13.8 grams |
| Calories | 187 kCal |
| Potassium | 25 mg |
Health Benefits
Here are some health benefits of a snack consisting of crispy mathris for babies.
Packed with plenty of calories and rich in flavour, the mathris will keep your baby's hunger pangs away till the main meal time.
Ghee is a rich source of healthy fat, Vitamin A, D and E needed for well-rounded development of your child.
Ajwain is known to settle an upset stomach and improve digestion, they are also rich in fibre.
The baby's diet plan gets a makeover as often as needed since the flavour and shape of the mathris can be changed in many different ways saving you from feeding time tantrum.
Buying Guide
The buying tips given here are to be kept in mind by modern consumers who can make an informed decision about what ingredients they pick for your baby.
When using organic products for your recipe do look for certification by national and international bodies.
The spices used need to be pre-cleaned.
It is always better to use homemade ghee or products that are certified by reputed organisations.
You can use roasted rava that are sold in sealed packets.
These mouth-watering mathris for babies can be the quick bites that will keep your children happy and hunger-free at any time of the day.