Rice Cracker Recipe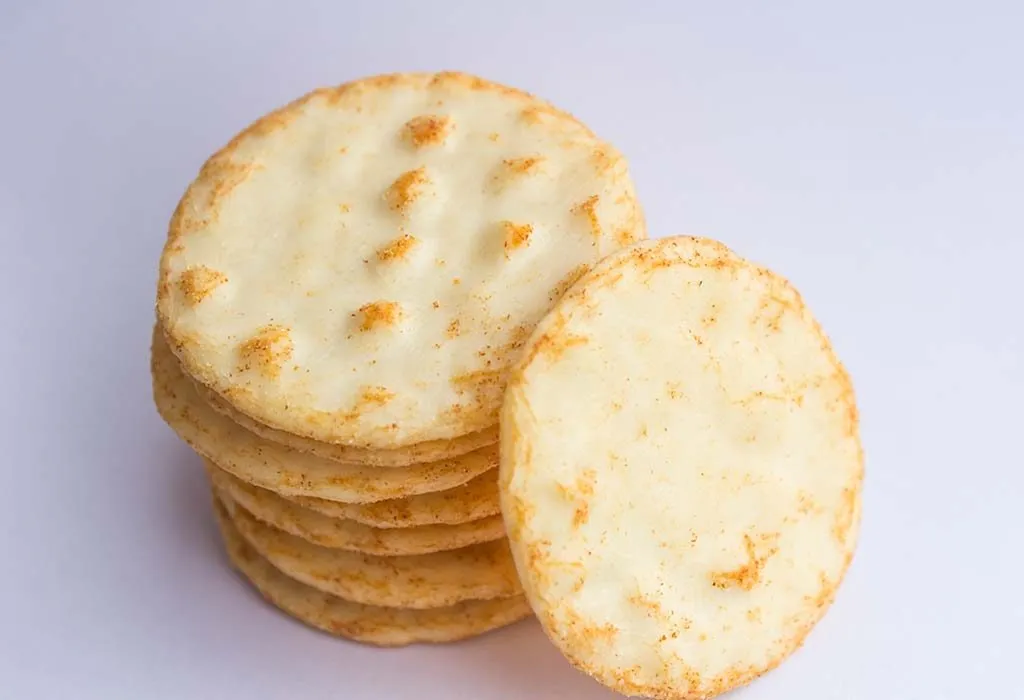 In this Article
Rice cracker is a great kid-friendly healthy snack that is easy to prepare and easy to carry. This simple rice cracker recipe can be made with leftover rice. It is a gluten-free, egg-free, dairy-free, nut-free and preservative-free recipe, which can be prepared in a couple of minutes at home.
Cooking Time
| | |
| --- | --- |
| Type | Time (hh:mm:ss) |
| Preparation Time | 00:05:00 |
| Cook Time | 00:20:00 |
| Total Time | 00:25:00 |
Cooking Method: Microwave
Type of Meal: Vegetarian Snack
Suitable For: Any toddler above 21 months of age
Meal Schedule: Mid-Morning or Evening Snack
Recipe Type: Snack, Starter or Appetizer
Ingredients
| | |
| --- | --- |
| Ingredient | Quantity |
| Cooked Rice | 2 Cup |
| Coconut Oil (Extra Virgin) | 1 Tbsp |
| Salt | A pinch/ according to taste |
Instructions
Here's the step by step procedure to make some delicious rice crackers for your little one.
Wash the rice properly and boil it in filtered water. You can also use leftover cooked rice.
After the rice is cooked, strain the remaining water (if any) and add coconut oil and salt in a bowl. If you already have some cooked rice, you can simply add the coconut oil and salt.
Grind the rice in a grinder till you get a dough.
Preheat the oven to 180°C.
In a baking tray, lay some baking paper.
With the help of a spoon, take some rice mixture and roll it into a ball.
Keep making these rice balls and place them on the baking tray.
Once all the balls are kept on the tray, put another sheet of baking paper over the top of the balls.
Now flatten each ball with your fingers or a rolling pin.
Remove the top layer of baking paper and bake for 20 minutes (until it turns golden and slightly crispy).
Allow the crackers to cool on the tray.
Once cooled, you can store the crackers in an airtight container in the refrigerator. They can be stored for 1 to 2 days.
Although simple, the recipe might not turn out the way you want it. These tips will help you make some perfect rice crackers.
Recipe Tips
Here are few points to remember before you start preparing the rice crackers at home.
This dish is perfect for babies under one year. You can start feeding them rice crackers once you introduce them to different textures.
You can choose your usual rice to maintain a consistent taste or experiment with other varieties of rice including brown rice.
If you want round crackers, you can use a glass or a cookie cutter to shape the rice dough after it has been flattened.
Keep an eye on the crackers when they are being baked. When they start turning golden brown, switch off the microwave.
Use Salt according to your baby's taste.
Use oven mittens/ gloves while putting or removing the baking tray inside the microwave.
Wash your hands properly before preparing any food for your baby.
Wash the utensils along with the baking tray properly before making the dish.
Nutrition Information (Per 100 Grams)
The best part about feeding rice crackers to your baby is that you don't divert from the healthy diet you have planned for him. Read on to know the nutritional value and health benefits of rice crackers for babies.
| | |
| --- | --- |
| Nutrient | Value |
| Energy | 416 Cal |
| Protein | 10 g |
| Carbohydrates | 83 g |
| Fiber | 0 g |
| Fat | 5 g |
| Cholesterol | 8 mg |
| Vitamin E | 1.26 mg |
| Vitamin K | 2.1 mg |
| Magnesium | 156 mg |
| Phosphorus | 362 mg |
| Sodium | 233 mg |
| Potassium | 243 mg |
| Zinc | 2.20 mg |
Health Benefits
Below are the health benefits of home-made rice cracker baby food recipe.
Rice is a good source of vitamin B, fiber, thiamine, niacin, riboflavin, and iron. These nutrients help boost metabolism and reduces high blood pressure.
Rice is a great source of manganese and magnesium, which also protect against chronic illnesses and dysentery.
Coconut oil is good for hair and skin.
Coconut oil aids in liver health and boosts energy.
The dish does not contain sugar and you can choose to skip the salt; thus, making it a healthy treat good for the heart.
Rice is easy to digest and it contains good carbohydrates and polyunsaturated fats.
Buying Guide
Buy good quality or organic rice from the market.
Use pure or extra virgin coconut oil while cooking.
Check the expiry date of the salt before buying, and use refined salt.
The recipe is simple to make and safe to consume. Mothers get very little time between feeding, playing, sleeping, driving, cleaning, etc., and so such simple recipes using easily accessible ingredients can really prove to be helpful for them. These are time-saving recipes and can be easily stored and carried along while taking babies out. Instead of depending on the packaged snacks, serve your babies such healthy home-made snacks.