Homemade Lassi Recipe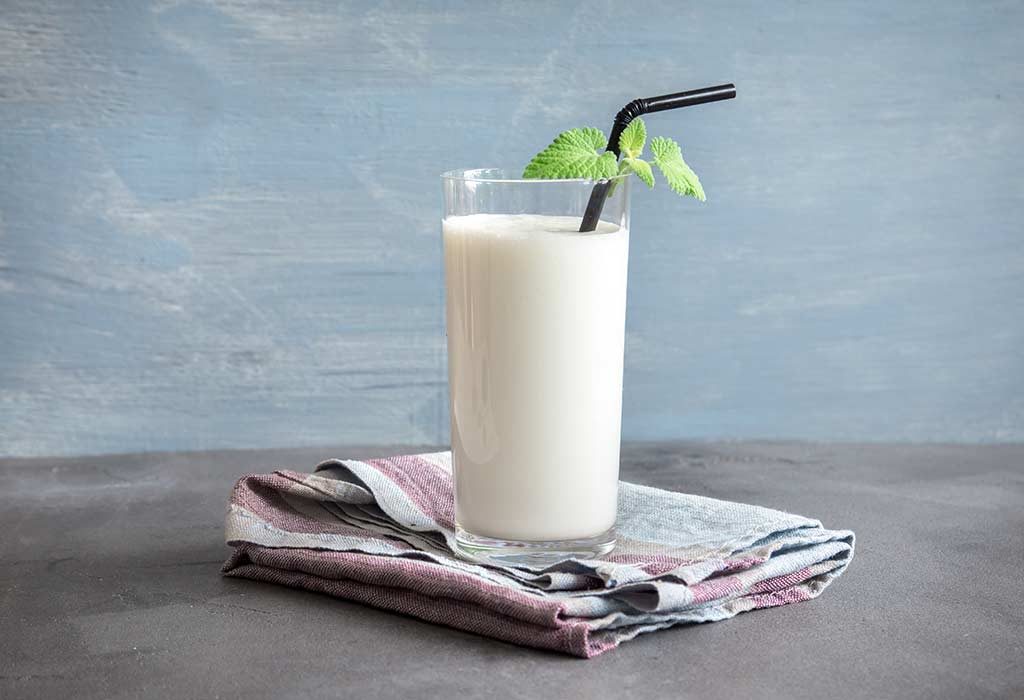 In this Article
Most babies love the creamy texture of curd and relish eating this yummy food option. Curd can be used in many versatile ways and can be turned into various sweet and savoury delights. In this post, we will share an easy Homemade Lassi recipe that can be whipped anytime with very few ingredients. Apart from quenching thirst, this tasty beverage is also loaded with umpteen health benefits too. Browse this post to learn this super simple recipe!
Cooking Time
| | |
| --- | --- |
| Type | Time (hh:mm:ss) |
| Preparation Time | 00:05:00 |
| Cook Time | 00:10:00 |
| Total Time | 00:15:00 |
Cooking Method
Gas and Blending
Type of Meal
Dairy
Suitable For
Babies over one year of age.
Meal Schedule
Mid Morning Snack
Recipe Type
Beverages
Ingredients
Before you learn how to make Homemade Lassi, you should know what all you need to make this simple beverage:
| | |
| --- | --- |
| Ingredient | Quantity and Volume |
| Curd | 1 cup |
| Water | 1 cup |
| Cumin | 1/2 tsp |
| Salt | A pinch |
| Mint leaves | 6 to 7 |
Instructions
Here is the step by step procedure to make homemade lassi:
Heat a flat plan, spread cumin seeds and roast on low flame until they turn aromatic and crispy.
Let the cumin seeds cool down, then grind them to make a fine powder and keep it aside.
In a blender jar, put curd, water, mint leaves, salt and cumin powder. Churn all the ingredients together for a few seconds.
Serve tasty homemade lassi to your munchkin.
Recipe Tips
Keep note of the following tips when making Homemade Lassi for babies and toddlers:
You can replace salt with sugar or jaggery to make sweet lassi if your baby relishes sweet taste. Adding cardamom powder and few strands of saffron can enhance the flavour of sweet lassi.
You can also add fruit pulp such as mango, strawberry, kiwi, etc. to add a fruity twist to the sweet lassi.
Skip adding salt or sugar when making lassi for a baby who is less than one year of age.
Use homemade curd for making lassi. Also, the curd should not be sour as it may irritate your baby's throat.
Adding salt or sugar is absolutely a personal choice; you may also skip it altogether. However, whenever giving curd or other dairy products to your munchkin, always check with your paediatrician before that.
Nutrition Information (Per 100 Grams)
The following table shows what all nutrition is there in homemade Lassi baby food recipe:
| | |
| --- | --- |
| Nutrient | Value |
| Calories | 150 Kcal |
| Carbohydrates | 30 g |
| Protein | 3 g |
| Vitamin A | 100 IU |
| Calcium | 130 g |
| Sodium | 50 mg |
| Potassium | 170 mg |
| Fat | 3 g |
| Vitamin C | 0.8 mg |
The table-above mentions approximate nutritional content present in 100 grams of homemade lassi. Actual values may slightly vary.
Health Benefits
Lassi comes with an impressive nutritional profile, and in this section, we will be discussing how your baby can benefit from this yummy recipe:
Lassi contains lactic acid, which is great for balancing the acid-alkali balance. It is great for keeping any gastric troubles and stomach irritation at bay.
Lassi is loaded with lactic acid and good bacteria. Both these qualities help in building better immunity in babies and thus better ability to fight with infections and diseases.
Lassi is made from curd, which is made through the process of fermentation and thus just like curd, it is easier to digest and light on your baby's tummy too.
The calming and soothing properties of lassi help babies' to sleep better.
Including lassi in your baby's regular diet can help in keeping skin allergies and other skin conditions such as eczema at bay.
Loaded with all the essential nutrients such as carbohydrates, protein, calcium, potassium, etc., lassi is a great wholesome meal option for your little one.
Buying Guide
Here are some tips that we would like to share when you go to buy ingredients to make lassi for your munchkin:
Homemade curd is best for making healthy recipes, especially for your baby. However, if you need to buy curd from the market, make sure you check the best-before-date to know the date of packing.
Always buy curd from well-known brands and the ones that are organic. This is because you do not want to expose your baby to the harmful effects of chemicals by not buying organic products.
Lassi is a very simple recipe that you can make in absolutely no time! So, next time you wish to give something refreshing and nutrition-laden to your munchkin, try this yummy homemade lassi recipe!