Turai (Snake Gourd) Moong Dal (Green Gram Split) Sabzi Recipe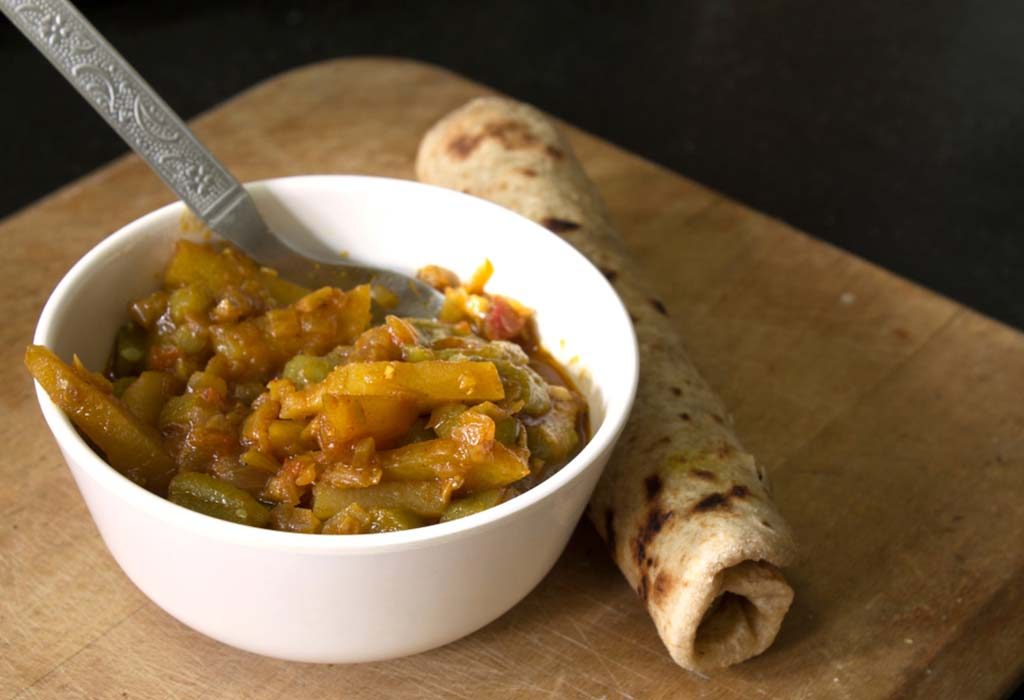 In this Article
Getting kids to eat green vegetables is a task for parents but it's not impossible. To get your kids to eat healthy veggies and other foods, you need to try something new. Here we bring you a recipe of turai and moong dal ki sabzi, which is healthy and tastes yummy. Yes, with this recipe – your little one is sure to eat turai. It's a nutritious sabzi and a must include in your little one's diet. Moong is of the tastiest dals and combined with turai, the delicious sabzi you get will offer different flavours and textures to your baby. Browse this post to learn how to make this turai (snake gourd) moong dal (green gram split) sabzi recipe.
Cooking Time
Here is the amount of time that you need at hand to make this tasty recipe:
| | |
| --- | --- |
| Type | Time |
| Preparation Time | 00:20:00 |
| Cook Time | 00:20:00 |
| Total Time | 00:40:00 |
Cooking Method
Gas
Type of Meal
Vegetarian
Suitable For
Kids above 11 months of age
Meal Schedule
Lunch or dinner
Recipe Type
Main dish
Ingredients
| | |
| --- | --- |
| Type | Volume / quantity |
| Moong dal | ¼ cup |
| Turai, peeled and chopped | 1 cup |
| Onion, finely chopped | 1 medium-sized |
| Tomato, finely chopped | 1 medium-sized |
| Ginger, finely chopped | ¼ inch |
| Garlic, finely chopped | 3-4 |
| Coriander leaves, finely chopped | 1 tablespoon |
| Turmeric powder | ½ teaspoon |
| Coriander powder | ½ teaspoon |
| Cumin seeds | ¼ teaspoon |
| Asafoetida (hing) | A pinch |
| Salt | To taste |
| Oil, for tempering | 1 tablespoon |
| Water | 1 cup |
Instructions
Follow these step-by-step guide on how to make turai and moong dal ki sabzi:
Wash and soak moong dal for 5 minutes then strain.
Take the chopped turai in a pressure cooker, add the soaked moong dal, turmeric powder, salt and water. Cook on a medium flame for 2 to 3 whistles or until the dal gets cooked. Keep aside.
Heat oil in a wok, add in the asafoetida and cumin seeds. Sauté until they turn brown and fragrant.
Add in the chopped ginger and garlic and sauté for about a minute.
Add chopped onions and cook until they turn brown.
Add chopped tomatoes and coriander powder. Cook until tomatoes turn mushy.
Add the cooked dal and turai and cook covered on a low flame for a few minutes.
Garnish with chopped coriander and serve at room temperature with rice or paratha.
Recipe Tips
Follow these simple recipe tips to make this recipe yummier:
Use ghee in place of oil for better flavour and aroma.
You can add a pinch of garam masala and pepper powder to enhance the flavour and make it spicy. But add these only if your kid is a little older.
If you wish to replace split green moong with yellow moong dal, you can do so.
Add a pinch of sugar to add an earthy flavour to the dish.
Mash the dish with the spoon if feeding it to younger babies.
Nutrition Information (Serving Per 100 Grams)
| | |
| --- | --- |
| Type | Value |
| Energy | 120 calories |
| Carbohydrates | 16 grams |
| Protein | 7.5 grams |
| Fibre | 4.5 grams |
| Fat | 4.4 grams |
| Sodium | 12 milligrams |
The above-mentioned values are for reference purposes only. Actual values may vary slightly.
Health Benefits
Here are some health benefits of turai (snake gourd) and moong dal (green gram split) sabzi:
Ridge gourd and moong dal are loaded with dietary fibre, which keeps digestive issues at bay and regulates bowel movements in kids.
Being a good source of beta-carotene, adding ridge gourd in your baby's regular diet may help in ensuring better vision and eyesight.
Moong beans are loaded with antioxidants, which may help in reducing the harmful effects of free radicals in the body.
High amounts of water and cellulose in ridge gourd may help in preventing constipation.
Buying Guide
After mastering how to make turai (snake gourd) and moong dal (green gram split) sabzi, make sure you keep the following tips in mind while buying ingredients for the dish:
Make sure you pick food-grade, preferably organic dals of a well-known brand. Do not buy loose dal from any place.
Do not forget to check the date of packaging or the best before date on the label.
When buying green vegetables, prefer picking up organic ones to avoid exposure to harmful pesticides or chemicals.
This lentil and veggie combo is a wholesome meal option for your growing baby. So do try this nutritious recipe – your little one will enjoy eating it, if not today, he will develop a liking for it eventually!