Palak Paneer Recipe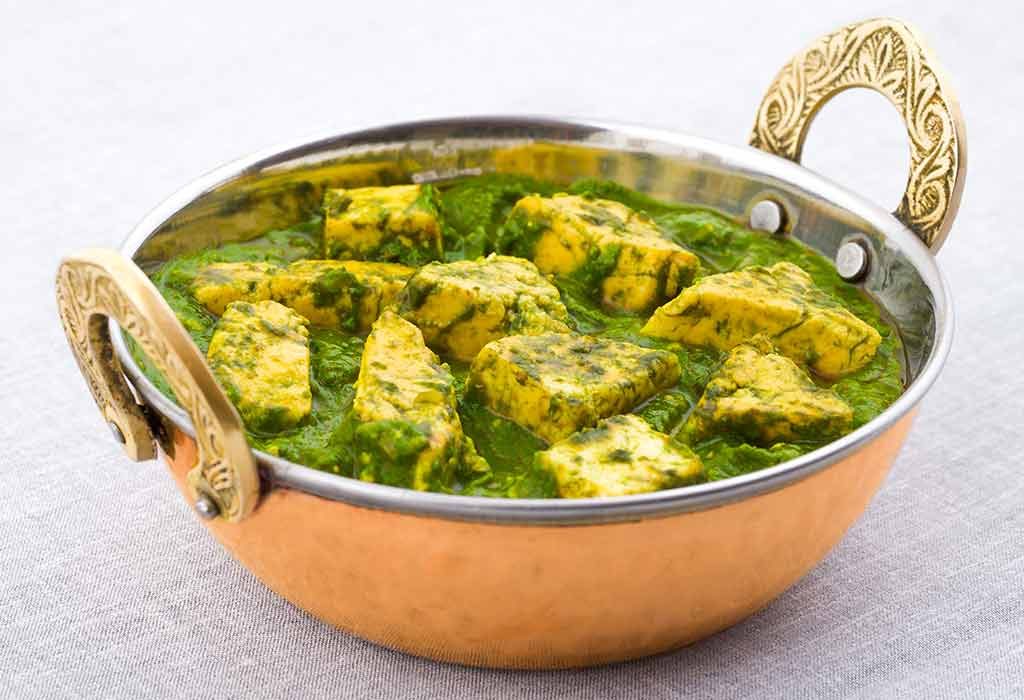 In this Article
Palak paneer is a traditional dish that has been quite popular in Indian households. This Punjabi style recipe can be made by cooking cottage cheese in a smooth lentil-based gravy. This mild-spiced delicious dish not only has an irresistibly taste but meets the daily nutrition needs of your child. The combination of spinach, herbs, and spices in this rich gravy makes a humble accompaniment for your steamed rice, paratha, or hot chapatti. Bookmark this recipe of how to make palak paneer easily and see how it becomes a staple in your weekly meal plan for the entire family.
Cooking Time
| | |
| --- | --- |
| Type | Time (hh:mm:ss) |
| Preparation Time | 00:15:00 |
| Cook Time | 00:30:00 |
| Total Time | 00:45:00 |
Cooking Method
Stove
Type of Meal
Vegetarian
Suitable For
For toddlers older than 15 months of age
Meal Schedule
Lunch or dinner
Recipe Type
Side Dish
Ingredients
| | |
| --- | --- |
| Type | Quantity |
| Paneer | 150gram |
| Palak | 2 Cup |
| Ghee/Butter | 2 tbsp. |
| Salt | As Per Taste |
| Onion | ¾ Cup finely chopped |
| Ginger-Garlic Paste | 1 tsp |
| Garam Masala | ½ Tsp |
| Turmeric Powder | 1/8th tsp |
| Tomato | ½ Cup |
| Cashewnuts | 8-10 |
| Cumin | 1/8 Tsp |
| Cardamom | 2 |
| Cinnamon | 1 Inch |
| Cloves | 2 |
| Kasuri Methi | 2 Tsp |
| Fresh Cream | 2 Tbsp |
Instructions
This specific step by step directions of making palak paneer will help mothers to follow the guidelines and complete the task at hand successfully.
Select the tender palak leaves and discard the stems as they may have a bitter taste.
Rinse the lentils well and put it in a pan of boiling water. Add a little salt and blanch the leaves for 3 minutes until wilted. Immerse in cold water and strain out the water completely.
Add the spinach in a blender with ginger, garlic cloves and blend into a smooth paste.
Puree to a smooth paste. Take butter in a pan and melt it in a low flame.
Add the whole spices like cardamom, cinnamon, cloves, ½ tsp cumin, and bay leaf to the pan. Add finely chopped onion and ginger-garlic paste to the pan and sauté till the raw smell goes away.
Fry tomatoes and sprinkle salt. Stir till it turns mushy.
Add ¼ tsp of turmeric powder, kasuri methi, and sauté the gravy well.
Pour half cup water and cook in low flame for 10 minutes with the pan covered.
Stir at regular intervals to avoid sticking at the bottom.
Throw in the paneer cubes and add garam masala on top.
Add fresh cream and serve hot.
Recipe Tips
This simple palak paneer recipe can be used to spicier with the addition of green chillies or chilli powder for older children.
Add lemon juice or curd to make the gravy to make it tangier.
Wash the palak thoroughly to remove the soil in them completely.
Put some salt to the palak leaves and boil it in advance to remove its raw smell.
This homemade palak paneer food recipe can be made tastier by adding ½ tsp of sugar.
You can use tofu if your child has lactose intolerance towards dairy products.
Store-bought paneer can be soaked in a bowl of lukewarm water for 15-20 minutes to keep it soft. Choosing good quality paneer is the key to a tasty gravy.
Nutrition Information (Per 1 Serving)
| | |
| --- | --- |
| Type | Value |
| Carbohydrates | 10gram |
| Calories | 412 Kcal |
| Protein | 15gram |
| Sodium | 486mg |
| Fibre | 2gram |
| Fat | 34gram |
| Potassium | 235mg |
| Calcium | 484mg |
| Vitamin C | 12mg |
| Vitamin A | 1960IU |
| Iron | 1.1mg |
| Cholesterol | 61mg |
| Sugar | 2gm |
Health Benefits
Palak paneer is one of the yummiest choices for mothers for providing nutrition to your baby. Here are some of the health benefits of eating palak paneer:
Spinach protects the liver from infections and reduces gastric problems in children.
Rich in protein and calcium, paneer strengthens bones and teeth of babies.
The folic acid in paneer assists in brain development. Vitamin B in paneer helps in better concentration and memory.
Palak provides instant energy to children and keeps them active all day.
The dietary fibre in paneer improves the baby's metabolism and boosts the immune system.
Buying Guide
This buying guide can be followed before heading out to purchase the ingredients for making palak paneer.
Buy fresh tender and leafy palak from an organic store to ensure that's it is naturally grown.
Consider its strong smell and vibrant colour of whole spices to determine the quality of whole spices.
Use homemade clarified butter for cooking. Refined oil can also be used.
Check the expiry date of the pre-packed frozen paneer bought from the store. Three are less-fat versions that can be tried.
Homemade palak paneer for babies is a convenient and healthy dish to make that can make your child excited at the sight of it. This flavourful combination of palak and paneer is sure to tempt your child's taste buds when they are ready for solids. Try any new food in small quantities and consult your paediatrician in case of any allergic reactions in babies.