Paneer Fruit Chaat Recipe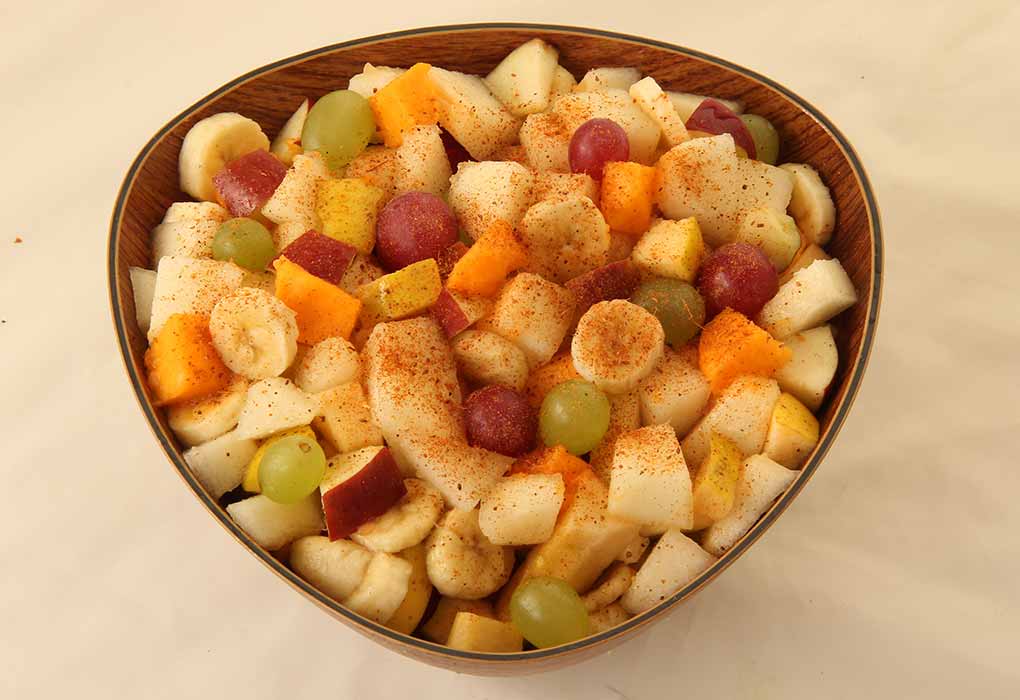 In this Article
Paneer fruit chaat is a cheerful summer bowl that keeps the body cool in the sultriest hot day. This assortment of fruit and paneer chaat is sure to perk up a child's mood with its rainbow of colours. Its spicy, savoury and tangy taste makes it a perfect pick to satisfy a child's snack cravings. Created by combining chilled fresh fruits and nutrient-rich paneer sprinkled generously with salt and mild spices, this North Indian style recipe has a trove of health benefits and can be easily digested and keeps the children active during summer. Note down how to make paneer fruit chaat most quickly and refresh the taste buds of your growing baby.
Cooking Time
| | |
| --- | --- |
| Type | Time (hh:mm:ss) |
| Preparation Time | 00:10:00 |
| Cook Time | 00:00:00 |
| Total Time | 00:10:00 |
Cooking Method
No cooking required
Type of Meal
Vegetarian
Suitable For
Any Toddlers above 13 months of age
Meal Schedule
Breakfast, Brunch, Evening snack
Recipe Type
Side Dish
Ingredients
| | |
| --- | --- |
| Type | Quantity |
| Rock Salt | ½ teaspoon |
| Black Pepper | ½ teaspoon |
| Chaat Masala | ½ teaspoon |
| Roasted Cumin Powder | ½ teaspoon |
| Lemon Juice | One teaspoon |
| Fruits (Banana, Grapes, Apple, Pomegranate, Pear) | 3 Cup |
| Paneer | 40 grams |
| Black Pepper Powder(optional) | ¼ teaspoon |
Instructions
The step by step directions given here are easy to follow and develops your culinary skills to present the yummiest snack your family has ever tasted.
Wash all the fruits and dice them into chunky cubes. Keep them aside in a large mixing bowl. Bananas and papayas can be peeled and chopped as per the desired size.
Take the paneer (Cottage cheese) and cut them into small cubes.
Add the paneer cubes along with rock salt, black pepper powder, chaat masala and pre-roasted cumin powder to the fruits.
Sprinkle some lemon juice on top.
Mix all the ingredients well by tossing them.
Wrap a cling film over the fruit bowl and chill in the fridge for 2-3 hours before serving.
Recipe Tips
Boiled chickpeas can be added to this simple paneer fruit chaat recipe to enhance its nutritional value.
Tempering with red chillies (optional), curry leaves followed by simmering with some sweet and sour tamarind sauce gives it a mouth-watering flavour.
Jaggery syrup, honey or date syrup can be used for added sweetness.
Avoid cutting the fruits too small as they might get mushy. Leftovers can be used as a salad if stored in an airtight container in the refrigerator.
A few mint leaves or coriander leaves adds a dash of fresh aroma to it.
This homemade paneer fruit chaat baby food recipe is high on flavour. So make sure it has the right balance of sweetness, spices and tangy taste.
Keep the extra paneer in a bowl of water in the fridge. Likewise, if it is too hard, you can soften it by submerging it in warm water for some time.
It is better to use freshly ground pepper than pre-packed ones.
Home-made paneer is always better than packaged ones.
Nutrition Information (Per 1 Serving)
| | |
| --- | --- |
| Type (Fruits) | Value |
| Carbohydrates | 23.1 gm |
| Energy | 101 Kcal |
| Protein | 1.3 gm |
| Sodium | 2939.3 mg |
| Fibre | 3.4 gm |
| Fat | 0.4 gm |
| Calcium | 112 mg |
| Vitamin C | 0.7 mg |
| Calcium | 112 mg |
| Iron | 1.5 mg |
| Potassium | 0.9 mg |
| Fat | 7.54 gm |
| Carbohydrates | 4.96 gm |
| Energy | 103.15 Kcal |
| Folates | 37.32 mcg |
| Calcium | 190.4 mg |
| Phosphorous | 132 mg |
Health Benefits
Packed with all the essential vitamins and minerals, paneer fruit chaat has a naturally good taste, crunchy texture and offers significant health benefits to your child.
It is essential to eat a variety of bright coloured fruits as the carotenoids present in them offers antioxidants and anti-inflammatory benefits for the body.
Not only does this fresh fruit chaat detox your body but can be the ideal food for prevention of diseases, healthy weight control, and maintaining youthful energy.
The high level of water content in fruits like watermelons hydrates the body and nourishes the skin.
Paneer is rich in protein that helps to build body mass. It provides instant energy for your ever-active kid. It also helps to develop healthier teeth and bones. Growing toddlers need to consume this dairy product regularly as it improves concentration and memory.
Buying Guide
Consumers can follow the shopping guide to buy the best quality products for preparing the paneer fruit chaat and ensure that their children get benefited from this dish.
Make sure that you buy fruits and lemons that are grown organically from reputed stores.
Purchase spices in small quantities and within the expiry date. Sniff and check if the spices are still potent.
It is always better to choose full pasteurised milk for making paneer at home.
Check for the best before date on the pack of frozen paneer.
Homemade Paneer fruit chaat for babies are a healthy substitute than eating commercially produced junk food that has adverse effects on your child's growth. Serve up this all-time favourite, anytime chaat with love to your entire family who can relish it as many times they want in a week.