Potato Cheese Lollipops Recipe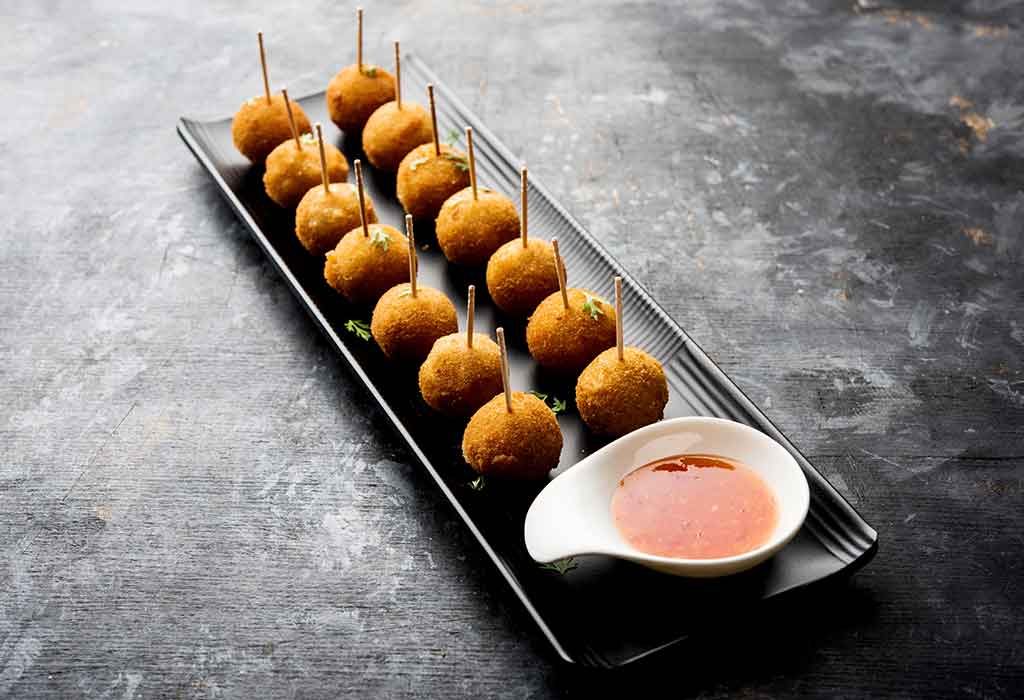 In this Article
Kids have smaller stomachs and high energy needs. Hence snacks have been billed as an essential part of a child's diet. Potato cheese lollipop is one such quick vegetarian appetizer for your child's lunch box that your child will find hard to resist. This lollipop consists of dry and crispy covering of breadcrumbs that conceals a spicy stuffing of potato and cheese inside it. These deep-fried golden brown lollipops have a delectable taste and can be ideally served with any dip or ketchup. The ingredients used in this easy to cook recipe include the goodness of essential nutrients that are needed for the physical and mental growth of babies and toddlers. Note down how to make potato cheese lollipop most simply and prepare the yummiest finger food your child has ever eaten.
Cooking Time
| | |
| --- | --- |
| Type | Time (hh:mm:ss) |
| Preparation Time | 00:15:00 |
| Cook Time | 00:10:00 |
| Total Time | 00:25:00 |
Cooking Method
Gas Stove
Type of Meal
Vegetarian
Suitable For
Toddlers older than 16 months of age
Meal Schedule
Evening
Recipe Type
Snacks
Ingredients
| | |
| --- | --- |
| Type | Quantity |
| Potatoes Boiled | 2 Medium |
| Bread Crumbs | ½ Cup |
| Onion | 1 Small Finely Chopped |
| Coriander Leaves | 1 tbsp |
| Salt | As Per Taste |
| Coriander Powder | 1 tsp |
| Lemon Juice | 1 tsp |
| Ginger Garlic Paste | ½ tsp |
| Oil | 1 cup |
| Oregano | ½ tbsp |
| Maida | 3 tbsp |
| Water | 5 tbsp |
| Amchur or dry mango Powder | 1 tbsp |
| Grated Cheese | 2-3 tbsp |
Instructions
The step by step directions listed here will guide all mothers to prepare potato cheese lollipops in a jiffy and surprise their little ones.
Boil potatoes in a pressure cooker until three whistles.
Take the mashed potatoes in a mixing bowl and add onion, dry mango powder, grated cheese, coriander powder, salt, ginger, lemon juice, oregano and chopped coriander leaves.
Mix everything well and form a firm dough. Keep them in the dough in the fridge for some time to set.
Grease your palms, take the potato mixture in your hands and make small balls.
Dust them with some flour.
Mix 2 tbsp of refined flour with water to make a slurry with flowing consistency.
Take breadcrumbs in a plate and add oregano seasoning to it. Mix it well.
Roll the balls in the breadcrumb mixture and deep fry them in oil in medium flame.
Turn the balls occasionally till they become golden brown.
Drain these lollipops into a paper tissue.
Insert toothpicks into them and serve them hot.
Recipe Tips
This simple potato cheese lollipop recipe can be spiced up using green chillies or crushed pepper or chilli flakes for older children.
You can dip them in egg cover and then coat them with breadcrumbs.
You can add crushed red chillies into the potato mixture for extra spice for older toddlers.
Instead of amchur, you can use chaat masala.
You can choose between cheddar cheeses, mozzarella cheese as a filling.
This homemade potato cheese lollipop baby food recipe can be made healthier by adding boiled corns chopped capsicum or even boiled peas.
Use homemade cottage cheese instead of commercially produced cheese.
Avoid cheese if your child is allergic to dairy products.
Nutrition Information (Per 1 Serving)
| | |
| --- | --- |
| Type | Value |
| Calories | 95 Kcal |
| Carbohydrates | 10.2 grams |
| Protein | 1.5 grams |
| Sodium | 14.6 mg |
| Fibre | 0.6 mg |
| Fat | 5.5 grams |
| Potassium | 46.9 mg |
| Calcium | 16 mg |
| Vitamin C | 7.3 mg |
| Calcium | 16 mg |
| Iron | 0.4 mg |
| Vitamin A | 105.9 mcg |
| Folic Acid | 9.3 mcg |
| Cholesterol | 1 mg |
| Zinc | 0.1 mg |
Health Benefits
Potato Cheese Lollipops can be an excellent way to include the goodness of potatoes and cheese in your child's meal. The spices present in this snack also tickle the developing taste buds of children who can benefit from the nutrition that they provides:
Potatoes are an excellent source of Vitamin C, calcium, magnesium, potassium that help the body build and maintain bone structure and strength. Vitamin C improves skin and reduces the severity of a cold.
The fibre content in potatoes helps to prevent constipation while promoting digestion.
As potatoes provide bulk, they satiate your child's hunger for an extended period.
Cheese is a good source of calcium, fat, vitamin and protein. It offers the required energy that your child needs to stay active all day. It is also good for healthy teeth and bones.
Buying Guide
The ingredients for making lip-smacking potato cheese balls must be carefully selected for ensuring the optimum taste and health benefits for your child.
Buy vegetables from a reputed organic store to make sure that they are grown naturally without the use of harmful pesticides.
Fresh spices have a strong aroma.
It is always better to check the expiry date of the ingredients that are used in the recipe. Buy sealed packs that have a certified mark of quality.
Choose the best-selling brands while selecting processed cheese cubes.
A popular dish for birthday parties and post-playtime snack, homemade potato cheese lollipop for babies can be ephemerally delicious and un-put-downable. So make sure that this finger-food is hygienically prepared and served as occasional treats for your tiny tots.