Homemade Ragi Cake With Milk Recipe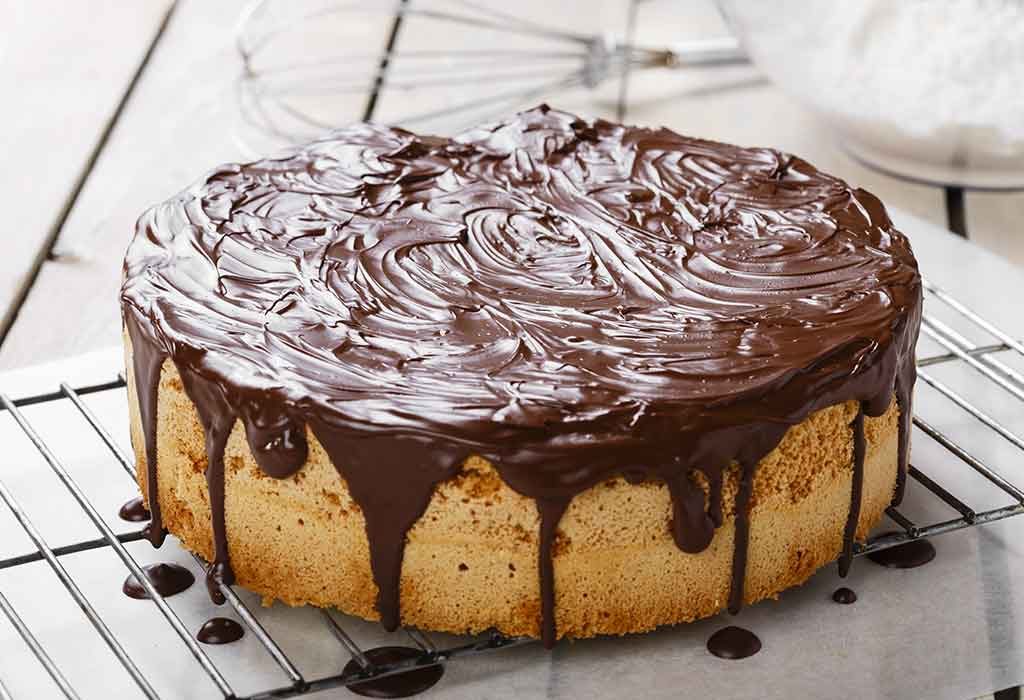 In this Article
A popular grain in India, ragi or finger millet is often used to make porridge or roti. This homemade ragi cake with milk for babies is a different recipe that can be given to toddlers as they start exploring different foods with their unique taste buds. Delicious, light, fluffy, and soft it is a great snack to offer to your growing toddler.
Cooking Time
| | |
| --- | --- |
| Type | Time (hh:mm:ss) |
| Preparation Time | 00:20:00 |
| Cooking Time | 00:30:00 |
| Total Time | 00:50:00 |
Cooking Method
Gas
Type of Meal
Vegetarian or vegan
Suitable For
Weaning babies older than 17 months of age
Meal Schedule
Dessert after lunch or dinner or in-between meals snack
Recipe Type
Dessert or snack
Ingredients
Type
Quantity
Ragi flour
¾ cup
Wheat flour
¾ cup
Cocoa powder
2 tbsp
Sugar or Jaggery or Palm Sugar
1 cup
Yoghurt
1/3 cup
Butter
2/3 cup
Milk
¾ cup
Vanilla extract
1 tbsp
Baking powder
1 tsp
Baking soda
½ tsp
Salt
1/8 salt
For Frosting ( Optional )
Full-fat milk ( for frosting)
1 cup
Vanilla extract
1 tsp
Cocoa powder
2-3 tbsp
Sugar
¼ cup
Instructions
This homemade ragi cake with milk baby food recipe is divided into three sections to make it easier to bake. Follow the step-by-step instructions to make the perfect ragi cake with milk.
For The Ragi Cake
Grease a 7-8 inch pan and line the pan with parchment paper.
Preheat the oven to 170 degrees Celsius or 350 degrees Fahrenheit.
Sieve the ragi flour, wheat flour, salt, baking powder, baking soda, and cocoa powder. Filter this mixture together at least three times.
Add this mixture in a bowl.
To the bowl, add sugar or jaggery.
Pour milk, vanilla extract, yoghurt, and butter to the bowl. Make sure you whisk the yoghurt before adding it.
Mix everything well until its combined.
Pour this mixture onto the tray and knock it on the countertop until it is even.
Bake for about 25-30 minutes. Insert a skewer in to cake to see if it is done. If it comes out clean, bring the tray out of the oven.
Let the cake cool for about 15 minutes. Handle it gently and slice it only after it cools completely.
For The Chocolate Frosting
Pour milk to a pot or pan, and add the cocoa powder and sugar.
Mix it well and boil the mixture, and keep stirring it.
Once the mixture turns thick, add the vanilla extract and turn the gas off.
The sauce will thicken after cooling.
Place the cake on a serving plate and pour the chocolate sauce over it in smooth motions.
Spread gently with a spatula.
Recipe Tips
Use good quality ragi flour and whole wheat flour. Do not make the cake without sieving the flour.
For the frosting, you can reduce the cocoa powder to 1 tbsp. You will need to reduce the quantity of the milk proportionately too.
Nutrition Information (Per 100 Grams)
| | |
| --- | --- |
| Type | Value |
| Fat | 12 gms |
| Cholesterol | 30 gms |
| Sodium | 183 mg |
| Carbohydrates | 35 gm |
| Protein | 3 gm |
| Fibre | 1 gm |
| Sugar | 22 gms |
| Iron | 2.16 mg |
| Calories | 263 kCal |
| Calcium | 74 mg |
Health Benefits
If you have figured how to make homemade ragi cake with milk, read on to find out its health benefits too:
Ragi is full of calcium, carbohydrates, amino acids, and Vitamin D. It helps to keep the stomach full for longer and also aids digestion.
Whole wheat flour is also fibre rich and useful for bowel movements.
If you substitute the sugar with jaggery, it will enhance the health benefits. Jaggery is good for digestion and contains lesser sucrose levels than sugar as it is not refined.
Buying Guide
Remember this when you go shopping for the ingredients for homemade ragi cake with milk recipe:
Buy full-fat milk. If possible, buy organic milk as it will be free of any chemicals.
When buying ragi flour and whole wheat flour from supermarkets, make sure it is seal packed and check the expiry date.
Cocoa powder also, if used, must be bought in sealed pack and used before the expiry date.
Made of no refined ingredients, this simple homemade ragi cake with milk for babies is a healthy dish and can be served to toddlers as a snack. Try to use butter as it will make the cake soft and spongy. This cake tastes good without the frosting as well, and it is light and delicious.