Walnut Pancake Recipe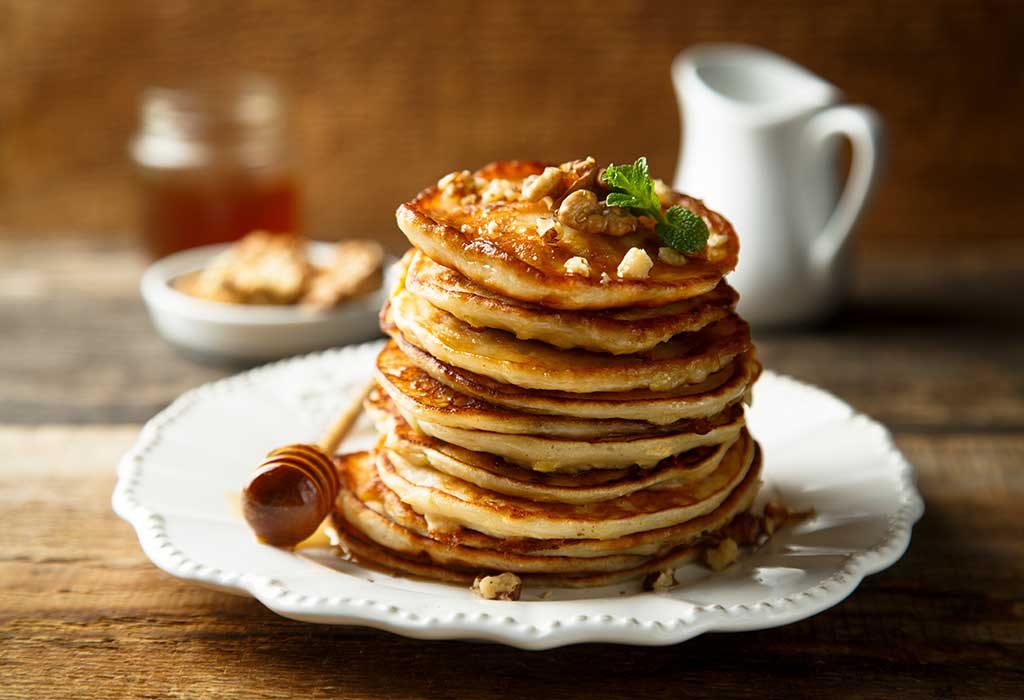 In this Article
When introducing finger foods to your little one, you have to be careful about the foods you choose. You must select something that's soft and tasty, and can be chewed by your munchkin easily. A walnut pancake makes for perfect finger food for babies and toddlers. They are soft and easy to chew and also easy to grab and hold. Pancakes are also healthy as they are free of gluten and refined sugar. Walnut pancakes can be made with bananas, oats, and walnuts (walnut for babies with no teeth) which are healthy for toddlers. They also require very little time to make. If you want to make walnut pancakes for your kids and family, we have a simple recipe that you might like – give it a try!
Cooking Time
| | |
| --- | --- |
| Type | Time (hh:mm:ss) |
| Preparation Time | 00:05:00 |
| Cook Time | 00:05:00 |
| Total Time | 00:10:00 |
Cooking Method
Gas Stove
Type of Meal
Ovo-vegetarian (contains eggs)
Suitable For
Toddlers above 18 months of age
Meal Schedule
Breakfast, Mid-morning snack, Lunch or Evening Snack
Recipe Type
Main Dish or Snack
Ingredients
| | |
| --- | --- |
| Ingredients | Quantity and Volume |
| Egg | 1 |
| Ripe banana (medium-sized) | 1 |
| Butter | 1 to 2 teaspoon |
| Oats | ¼ cup |
| Walnuts (either crushed or powdered) | 2 tbsp |
| Honey (optional) | 1 to 2 tsp |
Instructions
Follow the step-by-step recipe on how to make walnut pancakes to make delicious pancakes for your little one in no time:
Take a perfectly ripe banana and peel it. Then, mash it well using a fork, making sure there are no lumps in it. You can also use a blender to mash the banana and make a fine puree.
Take an egg and beat it well in a bowl. Next, add the mashed banana to the beaten egg and mix it well.
In a separate bowl, mix the oats and walnut powder.
Add the above dry mix to the banana and egg mixture and whisk thoroughly, making sure there are no lumps.
Heat a pan over a medium flame and grease it with some butter.
Pour a ladle full of the pancake mixture on to the pan and spread it to make a pancake.
Cook the pancake from both the sides until it turns golden brown.
Follow the above steps to make more pancakes.
Serve it warm; you can add some honey on top to enhance its flavour.
Things to Remember
Remember the below points while making walnut pancakes for your child.
Make sure your child is not allergic to walnuts. Walnuts should only be given to babies if they have been exposed to nuts before and have had no allergic reactions.
Once you make pancakes, you can store them for a day or two, but make sure you store them in an airtight container.
You can also garnish the pancake with a few small slices of banana if your baby is old enough to chew.
Peel the bananas right before you start making pancakes.
Extra sugar is not required for this recipe. The banana makes the pancake sweet, and if you require extra sweet, use honey as a topping.
Nutrition Information (Per 100 Grams)
| | |
| --- | --- |
| Nutrient | Value |
| Energy | 251 cal |
| Protein | 5.6 g |
| Carbohydrates | 31.6 g |
| Dietary fibre | 3.2 g |
| Fat | 11.3 g |
| Cholesterol | 11 mg |
| Vitamin A | 146 mcg |
| Vitamin B1 | 0.2 mg |
| Vitamin B2 | 0.1 mg |
| Vitamin B3 | 1.3 mg |
| Vitamin C | 1 mg |
| Folic Acid | 21.4 mcg |
| Calcium | 59.8 mg |
| Iron | 1.6 mg |
| Magnesium | 74.7 mg |
| Phosphorus | 156.7 mg |
| Sodium | 39.9 mg |
| Potassium | 157.4 mg |
| Zinc | 0.8 mg |
Health Benefits
Walnut pancakes are not only super easy and quick to make but also healthy for kids and adults alike. Some of the benefits of the homemade walnut pancakes are mentioned below.
Walnuts and bananas are rich in essential nutrients like calcium, vitamins, potassium, etc and help in the proper growth of the child.
Oats and bananas are good sources of fibre and eating walnut pancakes made with oats and bananas and nuts can be good for digestive health.
Oats also contain Vitamin B-6, folate, riboflavin, niacin, etc., and also have antioxidants that can help in building immunity of the child.
Manganese in bananas is good for skin and potassium is great for heart health.
Buying Guide
Make sure you choose a perfectly ripe banana. Raw bananas can spoil the taste of the pancakes.
Buy all ingredients from a reputed store and buy only fresh ingredients.
There you go – you have a very simple recipe for walnut pancakes. So what's the wait? Go ahead and make them and relish them with your kids and family members!