Baked Potato Recipe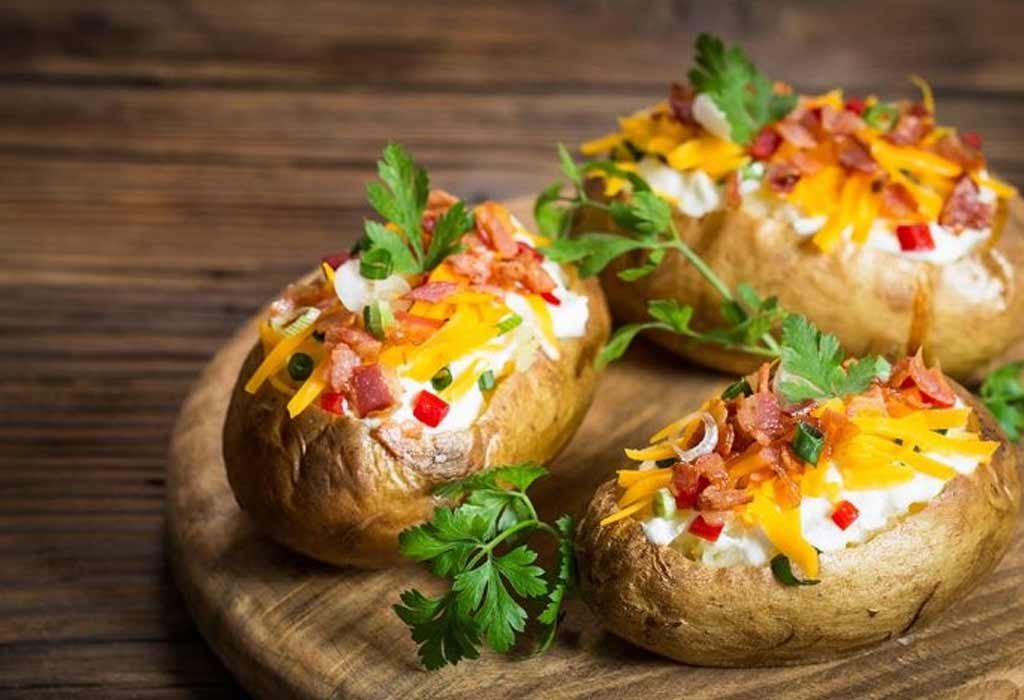 In this Article
Potatoes is perhaps the most loved vegetable across age and regions. This versatile vegetable can be boiled, baked, roasted and microwaved to make numerous nutrition-rich and tasty recipes. Among those umpteen recipes, baked potatoes are one of the most famous and most loved recipes. Baked potatoes are a very versatile dish that can be eaten as it is or can be dressed up with numerous toppings such as sour cream, scallions, bacon, etc. If you have never tried it before but are curious to know how to make baked potatoes, here is a quick guide for you.
Cooking Time:
| | |
| --- | --- |
| Type | Time (hh:mm:ss) |
| Preparation Time | 00:10:00 |
| Cook Time | 01:00:00 |
| Total Time | 01:10:00 |
Cooking Method: Microwave
Type of Meal: Vegan
Great/Suitable For: Toddlers older than 22 months.
Meal Schedule: Breakfast, mid-morning or evening snack
Recipe Type: Main dish
Ingredients:
| | |
| --- | --- |
| Type | Quantity/Volume |
| Potato | 1 medium |
| Oil | 1 tablespoon |
| Salt | 1 teaspoon |
| Butter/Ghee | 1 teaspoon |
| Sourcream | 1 teaspoon |
| Scallions | 1 teaspoon |
Instructions:
When it comes to baked potatoes, the options of dressing them up or down are countless. You can add as many or as few toppings to the baked potatoes, to your and your baby's heart's content. However, it all starts with a basic baked potato recipe. Here is the step by step directions for baking potatoes at home.
Preheat the oven to 180 degrees Celsius.
Wash and scrub the potato under cold running water.
Pat it dry and using a fork, poke 8-10 deep holes all around the potato.
Rub some oil on the potato and then lightly season with salt.
Place the seasoned potato on a baking tray and let it bake for 1 hour or until the skin is brown and crispy and the potato turns soft.
Flip it upside down after 30 minutes if required.
Cut the potato open and scrape out all of the soft flesh in a bowl.
Mash it a little and serve it plain or with your baby's favorite topping.
Recipe Tips:
You can mash the softened baked potatoes with a fork, add some homemade butter or ghee. This will give the potatoes a rich and smooth texture. Potatoes dressed with ghee are easier for younger babies to eat.
You can add a dollop of sour cream, scallions, or any non-vegetarian toppings your kids like.
If you are in a hurry, you can bake a potato in a microwave instead of an oven. Simply wrap the potato in a damp kitchen towel after poking holes in it and cook it on high in a microwave for 4 minutes. Then flip it and cook for another 3 minutes.
You can also replace white potatoes with sweet potatoes. This will add variety to your kid's meals.
Avoid feeding potato peels to your babies.
Nutrition Information ( Serving Per 100 Grams)
| | |
| --- | --- |
| Type | Value |
| Calories | 69.9 kCal |
| Fat | 0.23 g |
| Carbohydrate | 14.89 g |
| Protein | 1.54 g |
| Calcium | 9.52 |
| Iron | 0.57 |
| Potassium | 541 mg |
| Sodium | 4.11 mg |
| Vitamin B1 (Thiamine) | 0.06 mg |
| Vitamin B2 (Riboflavin) | 0.01 mg |
| Vitamin B3 | 1.04 mg |
| Vitamin B9 | 15.51 μg |
Health Benefits:
Being a rich source of carbohydrate, baked potatoes keep the kids full for a longer time.
High calcium content enhances the bone and teeth growth in kids.
Higher potassium and lower sodium ratio help in maintaining a good electrolyte balance in the kids at a young age.
Different vitamins enrich the child's body with necessary nutrients naturally keeping them healthy and active.
Buying Guide:
Buy russet potatoes for homemade baked potatoes baby food recipe, they are easy to bake and owing to lower starch content, they do not fall apart when cooked.
Do not buy potatoes that are greening or sprouting.
Do not buy potatoes that are covered in dirt.
Potatoes should be firm and fresh.
Instead of adding store-bought butter, try topping the baked potato with some homemade ghee.
We love our babies and their good health is our first priority. That is why it is important to feed our babies with fresh and homemade food. Since it is difficult to cook elaborate meals all day every day, a healthy quick fix such as this simple baked potato recipe is a perfect go-to meal. Home-baked potatoes are easy, filling, nutrition when served with love. So go on! Cook a sumptuous, healthy and delightful meal for your little bundle of joy!