Guava Juice Recipe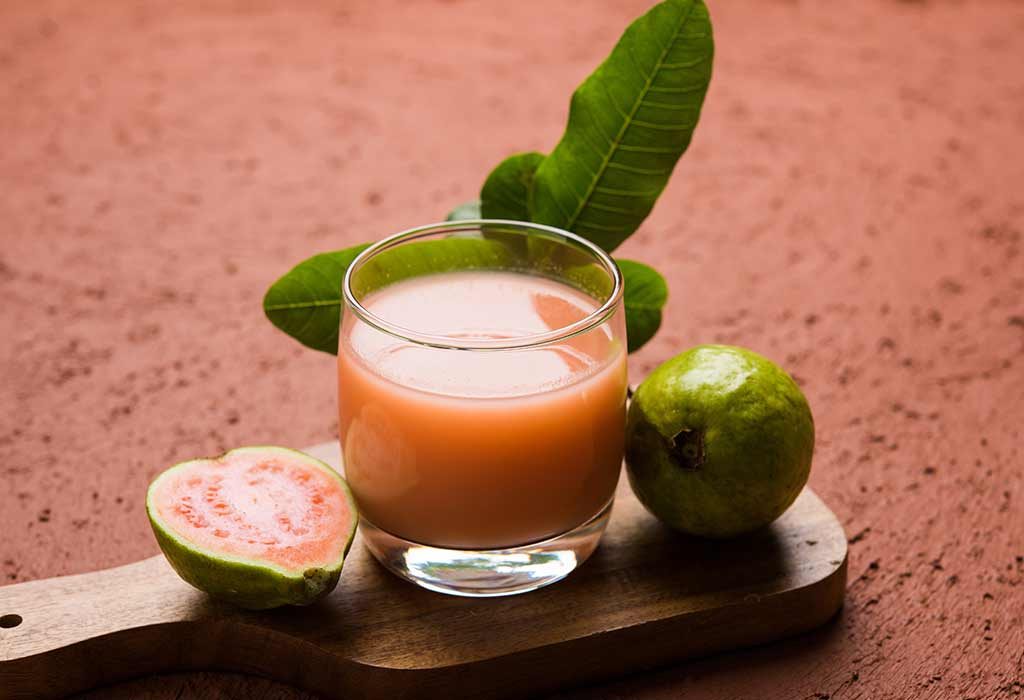 In this Article
When your baby is all set to graduate to the world of taste and flavours, you can begin giving various kinds of fruits and vegetables to your baby! Guavas are yummy, and its sweet and tangy flavour is something that most of us relish and so will your baby! We have an easy Guava juice recipe that you can try at home. If you wish to learn this recipe, read through the procedure given.
Cooking Time
| | |
| --- | --- |
| Type | Time |
| Preparation Time | 00:15:00 |
| Cook Time | 00:00:00 |
| Total Time | 00:15:00 |
Cooking Method
Blending
Type of Meal
Vegetarian
Suitable For
For Toddlers above 17 months of age
Meal Schedule
Mid Morning Snack
Recipe Type
Beverages
Ingredients
| | |
| --- | --- |
| Ingredient | Quantity and Volume |
| Guava (medium-sized) | 3 to 4 |
| Water (or as required) | 2 cups |
| Mint leaves | 6 to 7 |
| Brown sugar (optional) | As required |
Instructions
Here are the step by step directions to make yummy guava juice for your munchkin:
Take the guavas and wash them thoroughly.
Chop the guavas into smaller chunks.
Take a blender jar, put the guava chunks, half a cup of water and mint leaves, churn for a few seconds to make a smooth paste-like consistency.
Remove the guava paste from the blender add more water and sugar. Mix well.
Sieve the juice to get rid of seeds and fruit fibres.
Serve immediately in a sipper cup or glass.
Recipe Tips
Make yummy Guava Juice for babies by keeping in mind these handy recipe tips:
If possible, use pink guavas to make the juice. As these guavas render nice bright colour to the juice.
Sugar can be avoided if guavas are naturally sweet. Adding sugar may work under cases when the juice tastes bland.
Cumin powder and salt can be added to enhance the flavour for older children. Cumin adds a more aromatic flavour and refreshing taste.
Always consume fresh juice, do not store it or keep it lying for long as juice loses its nutritive value.
You can add more fruits such as kiwi, pear, peach, etc. to make a smoothie.
Nutrition Information (Per 100 Grams)
After mastering the technique of how to make Guava Juice, take a look at nutritional information that your munchkin will get from this refreshing juice:
| | |
| --- | --- |
| Nutrition | Value |
| Energy | 80 Cal |
| Carbohydrates | 18 g |
| Sodium | 8 g |
| Potassium | 230 mg |
| Sugar | 14 g |
| Fibre | 3 g |
| Protein | 1.5 g |
| Vitamin A | 350 IU |
| Vitamin C | 140 mg |
| Phosphorus | 20 mg |
| Magnesium | 13 mg |
| Calcium | 13 mg |
The table above shares nutritional information present in approximately 100 grams of guava juice. Actual values may slightly vary.
Health Benefits
Guavas are storehouses of nutrition and a very healthy fruit choice for your munchkin. Thinking how your munchkin can benefit from this homemade Guava Juice baby food recipe? Well, this section talks about some of the many benefits of this miraculous fruit.
Enriched with vitamin C, guavas are great for treating seasonal bouts of colds and flu in babies. Ailments such as scurvy and others, which are caused due to the deficiency of vitamin C, can be prevented by including guavas in your baby's diet.
Loaded with ample dietary fibre, guavas help in treating constipation in babies and also help in improving digestion.
Guavas are great for your little one's brain as it comes with the goodness of host of vitamins and minerals such as vitamin K, Vitamin B3, Vitamin B6, folate, riboflavin, thiamine, etc., which are known for enhancing brain functions and development.
One of the best sources of vitamin C, guavas are great for boosting immunity in babies.
Ample amounts of antioxidants present in guavas help in preventing the growth and development of cancerous cells in the body.
Buying Guide
Buy ripe guavas to make juice as raw ones will not only yield less juice, but it may not also taste that well.
Pick up the ones that have no cuts, marks or bruises on them. Also, avoid buying guavas that are very hard to touch and also have blemishes.
Look for guavas that appear yellow, green, orange or pink. You can gently press to see if it's ripe or not. Pick up the ones that are ripe, as the ripe ones are the sweetest.
The best bet is to pick up organically grown guavas from any of the supermarket or vegetable store.
Do not buy any frozen fruits to make juice; always go in for fresh and seasonal fruits.
Make this easy guava juice along with breakfast or any meal; the kids will relish and enjoy the drink.