Broken Wheat Sheera With Raisins And Almonds Recipe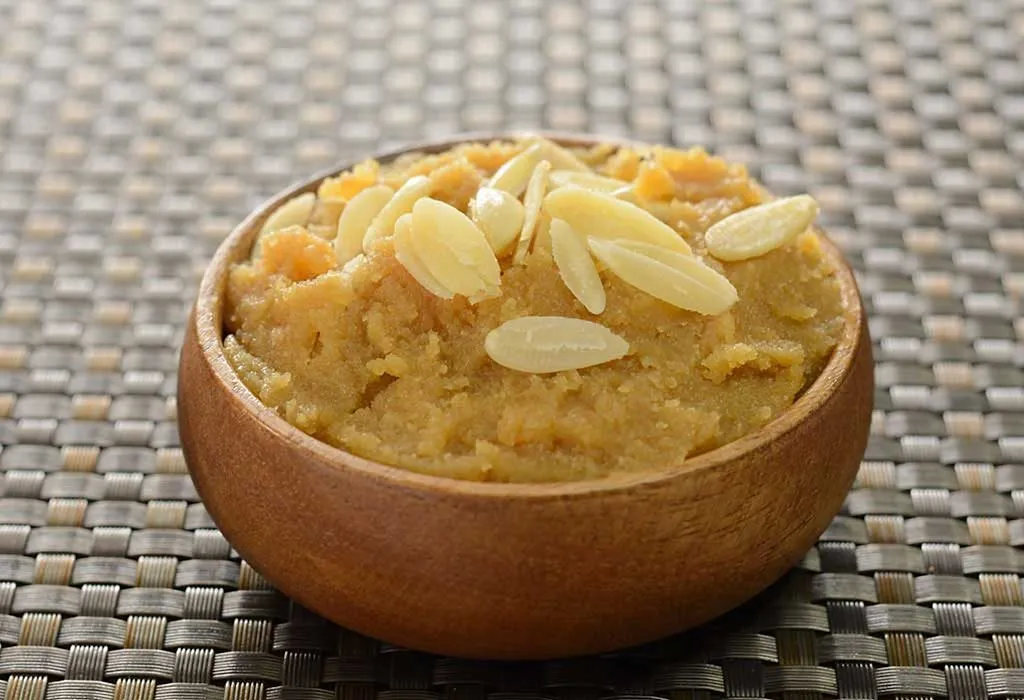 In this Article
Wheat is a cereal grain, source of many nutrients and dietary fibre. It is also an important source of carbohydrates. Broken wheat is made from raw whole wheat without undergoing any process, it has all the nutrition of whole wheat. It is also known as cracked wheat, wheat rawa, dalia, lapsi etc. Sheera can be prepared by broken wheat, which is very easy to prepare and can be given to babies. Adding raisins and almonds enhances taste of this recipe and they are good for health too. It takes very less time to prepare and most importantly, very healthy. It is a traditional dish which can be eaten by all. Wondering how to make broken wheat sheera? Go through it and learn how you can prepare this yummy and easiest recipe in short time.
Cooking time
| | |
| --- | --- |
| Type | Time (hh:mm:ss) |
| Preparation Time | 00:10:00 |
| Cook Time | 00:20:00 |
| Total Time | 00:30:00 |
Cooking Type
Gas stove
Type of Meal
Vegetarian
Suitable For
Any toddler above 18 months of age
Meal Schedule
Breakfast, Mid-morning snack, Lunch or Evening snack.
Recipe Type
Dessert
Ingredients
| | |
| --- | --- |
| Ingredients | Quantity and Volume |
| Broken Wheat | 1 cup |
| Jaggery | 1 cup |
| Water (boiled) | 3 cups |
| Milk | 1 cup |
| Ghee | ¼ cup 4 tsp |
| Raisins | 2 tbsp |
| Almonds | 2 tbsp |
| Cardamom powder | 1 tbsp |
Instructions
You are thinking how to prepare this broken wheat sheera with raisins and almonds recipe. However, the dish is very easy to prepare and doesn't require more time. Here are the step by step directions for preparation of this dish.
Heat ¼ cup of ghee in a wide pan.
Broken wheat is to be added and fry on a medium flame until you get a mild smell.
Add boiled water and mix well.
Add milk and mix thoroughly.
Stir well to mix the ingredients properly and avoid burning at the bottom.
Cook it in a pressure cooker until 3 whistles come.
Add jaggery and mix well.
When you think the preparation is almost done, move a spatula throughout the pan.
Add 4 tsp of ghee and mix well.
Add cardamom powder and mix well.
Garnish with raisins and sliced almonds.
Delicious and yummy Indian dessert recipe is ready to serve.
Serve when it is lukewarm.
Recipe tips
You can use butter/coconut oil instead of ghee to prepare this simple broken wheat sheera.
You can use brown sugar or any other sweetener instead of jaggery.
It can also be cooked directly instead of pressure cooker.
Cashew nuts can also be added for garnishing.
Nutrition Information (Per 100 Grams)
| | |
| --- | --- |
| Nutrient | Value |
| Energy | 389.3 Cal |
| Carbohydrates | 56.01 g |
| Dietary fibre | 6.67 g |
| Fat | 20.16 g |
| Proteins | 11.36 g |
| Vitamin A | 0.0006 mg |
| Vitamin B1 | 0.46 mg |
| Vitamin B2 | 0.61 mg |
| Vitamin C | 2.3 mg |
| Vitamin E | 12.87 mg |
| Vitamin B9 (folate) | 0.024 mg |
| Calcium | 118.6 mg |
| Iron | 9.24 mg |
| Magnesium | 148.6 mg |
| Potassium | 499 mg |
| Zinc | 1.68 mg |
Health benefits
Here are few health benefits of home-made broken wheat sheera with raisins and almonds baby food recipe.
Broken wheat is easily digestible cereal and doesn't harm to babies.
It is very low in calories and fat and has a low hypoglycemic index.
It is a good source of fibre.
Essential nutrients such as carbohydrates and protein are high in broken wheat.
It helps in blood thinning and also helps the heart to perform cardiovascular functions thoroughly.
It possesses anti-inflammatory properties and hence very useful in avoiding chronic inflammatory diseases such as heart problems and diabetes.
Broken wheat is packed with all the essential vitamins and minerals.
It is very low in fat and hence it is a perfect dietary food for people who want to lose weight.
Buying guide
Here are few buying tips that you have to keep in mind while choosing ingredients for broken wheat sheera for your baby.
Buy organic (if possible) and good quality products from a well-known store.
Check for the packing and expiry dates of all ingredients before purchasing it.
Prepare this easiest recipe broken wheat sheera for babies. They would like this very much and will have a big smile on their face. It is very simple to prepare, tasty to eat and good for baby's health.
Our babies are important to us, and all moms want to give their babies the best quality food. So, it is better to give a bowl of tasty and nutritious home-made broken wheat sheera at least two days a week instead of formula food which is available in the market.