Spinach Quinoa Khichadi Recipe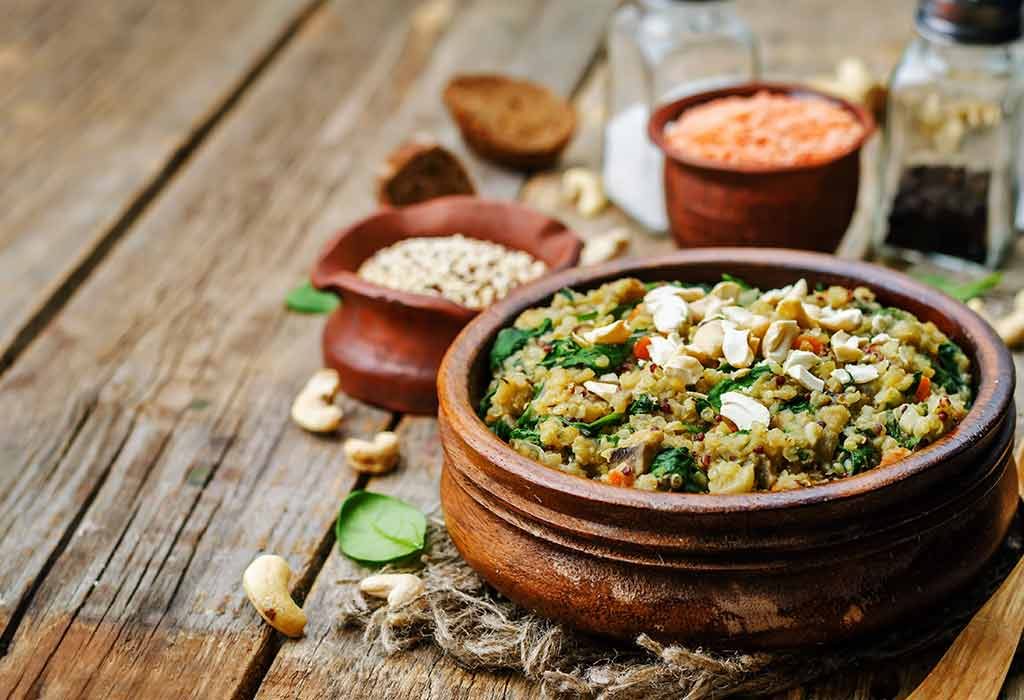 In this Article
Quinoa is considered a super grain because it contains all the nine amino essential acids. It can be boiled or cooked mixed with lentils and veggies according to one's choice to make healthy and tasty dishes. Do you the best thing about this grain? It is gluten-free, i.e., it can be enjoyed by anyone who has a gluten intolerance. If you want to make a simple and healthy dish with quinoa, how about you make spinach quinoa khichadi? It's a quick and healthy alternative to the regular rice khichadi. This nutritious recipe will be a great addition to your baby's diet. Quinoa may be introduced in your baby's diet once he turns 8 months of age.
Cooking Time
| | |
| --- | --- |
| Type | Time (hh:mm:ss) |
| Preparation Time | 00:05:00 |
| Cook Time | 00:10:00 |
| Total Time | 00:15:00 |
Cooking Method
Gas Stove
Type of Meal
Vegetarian
Suitable For
Any toddler above 15 months of age
Meal Schedule
Lunch/dinner
Recipe Type
Main course
Ingredients
| | |
| --- | --- |
| Ingredients | Quantity |
| Quinoa | 1.5 cup |
| Moong dal | 1 cup |
| Ghee | 4tbsp |
| beetroot (chopped) | ½ cup |
| Carrot (chopped) | ½ cup |
| Spinach puree | 1-2 cup |
| Turmeric powder | ½ tbsp |
| Cumin seeds | ½ tsp |
| Water | 3 cups |
Instructions
If you are wondering how to make spinach quinoa khichadi, then check out the following step-by-step instructions.
Firstly, wash and soak quinoa and moong dal in two separate bowls for about 30 minutes.
Wash the spinach leaves, then blanch them. Let them cool then blend to make spinach puree.
Heat some ghee in a pressure cooker.
Once the ghee is hot, add in the veggies and cook until they turn soft.
Next, add in the spinach puree and sauté for a minute.
Add in the soaked moong dal, quinoa along with turmeric, salt, and water. And mix well.
Pressure cook for three whistles on a medium flame.
Once the air releases, mash the khichadi.
Add ghee and serve the yummy khichadi to your baby.
Recipe Tips
Make sure you remember the below-mentioned points before you start preparing this healthy and simple spinach quinoa khichadi for your little one.
You can add an extra ½ to 1 cup of water to make the khichadi soft and mushy.
You can add other vegetables too such as sweet potato, pumpkin, potato, and green peas in this khichadi.
You can use split moong dal without skin or with skin.
If you don't want to make spinach puree, you can make finely chopped spinach.
Adjust the spices and vegetables according to your child's preferences.
Chilli powder or green chillies can be used to spice it up as per your taste.
Nutrition Information per Serving
| | |
| --- | --- |
| Nutrient | Values per Serving |
| Energy | 390cal |
| Protein | 18g |
| Carbohydrates | 55g |
| Fibre | 19g |
| Fat | 9g |
| Cholesterol | 19 mg |
| Vitamin A | 6665IU |
| Vitamin B1 | 0 mg |
| Vitamin B2 | 0 mg |
| Vitamin B3 | 0.2 mg |
| Vitamin C | 25.8mg |
| Folic Acid | 7.7 mcg |
| Calcium | 86mg |
| Iron | 5.7 mg |
| Magnesium | 13.7 mg |
| Phosphorus | 25.9 mg |
| Sodium | 0.5 mg |
| Potassium | 19.6 mg |
| Zinc | 0.5 mg |
Health Benefits
Khichadi is a wholesome meal that can offer a perfect balance of nutrients to babies and kids. This homemade spinach quinoa recipe is a nutritious dish for babies. The combination of quinoa, dal, and spinach will provide your baby with all the required vitamins, minerals, carbohydrates, proteins, fibre, etc.
Quinoa spinach khichadi is rich in several minerals, calcium and phosphorous which are necessary for healthy bones and tissues.
Khichadi can help detoxify and cleanse the body.
Spinach in khichadi enhances its nutrient value as spinach contains a high amount of insoluble fibres, that aid digestion and prevent constipation.
Spinach is also rich in folic acid and vitamins and K1.
As this khichadi does not contain spices, it is a perfect meal for babies. You baby will find it very easy to digest.
Quinoa is a rich source of proteins, iron, dietary fibre, vitamins, and minerals. It has anti-inflammatory properties and helps lower cholesterol and sugar levels. Thus it is ideal for everyone.
Buying Guide
Make sure you buy the organic quinoa grains.
While buying spinach, make sure the leaves are tender.
You want to make sure that your baby eats healthy and nutritious food. And spinach quinoa khichadi is one healthy dish that your baby will like. Make this khichadi for your little one and serve him a bowl full of nutrition.
?>