Bajra-Wheat Roti Recipe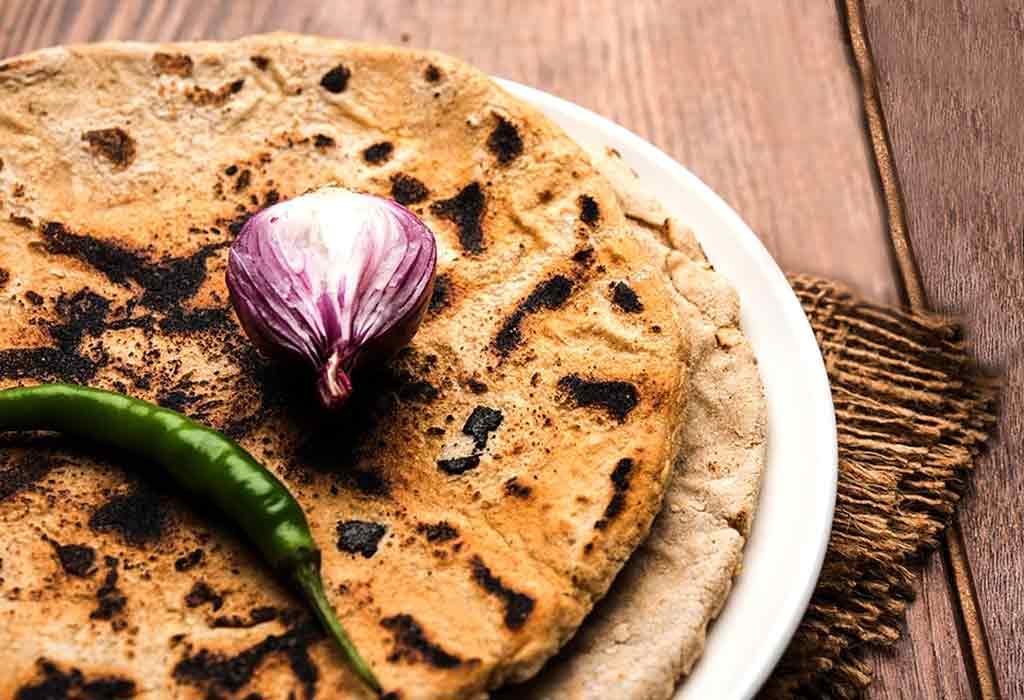 Roti is a favourite in the Indian cuisine and also a staple in many households, making it necessary for parents to get their young ones used to it as early as possible. This bajra-wheat roti recipe is a sure way to make some delicious rotis for your children. Bear in mind that these rotis must be fed to your baby only after he/she can chew food properly. You can team these rotis up with dal or a vegetable preparation and provide a nutritious meal to your little one. Read on to know how to make tasty and healthy bajra-wheat rotis.
Cooking Time
| | |
| --- | --- |
| Type | Time (hh:mm:ss) |
| Preparation Time | 00:10:00 |
| Cook Time | 00:30:00 |
| Total Time | 00:40:00 |

Cooking Method
This homemade bajra-wheat roti baby food recipe can be made on the gas stove or an induction.
Type of Meal
Vegetarian/ Vegan
Suitable For
Toddlers aged 14 months and above.
Meal Schedule
Bajra-wheat roti can be had at any time of the day, you can give this to your child for breakfast, as a snack, for lunch, and even dinner.
Recipe Type
Bajra-wheat roti can be had as a snack or as a part of the main course.
Ingredients:
| | |
| --- | --- |
| Type | Quantity and Volume |
| Rolled Oats | ½ cup |
| Bajra Flour | ½ cup |
| Wholewheat Flour | ½ cup |
| Oil | 1 teaspoon |
| Hot water | ¾ cup or as much as you need |
Instructions:
Here's a step-by-step process of making bajra-wheat rotis:
Grind the oats into a fine powder.
Pour the ground oats into a bowl and add 3/4th cup of hot water.
Stir the mixture well and ensure that there are no lumps.
Allow the mix to sit for five minutes.
To this mix, add the bajra flour and wholewheat flour. Knead the bajra-wheat mixture until it becomes soft and sticky. Add more hot water if required to get a soft, pliable dough.
Add a teaspoon of oil and knead the dough a little more.
Smear a few drops of oil on the dough and then cover it with a damp cloth.
Let the dough sit for about thirty minutes.
Once it has rested, divide the dough into balls of equal sizes. You should be able to make about eight to ten of them. Cover these again with the damp cloth.
Dust the surface you want to roll your rotis on with some wheat flour.
Using a rolling pin, roll each of the little dough balls into a flatbread.
If the roti dough is too sticky, you can sprinkle a little more wheatflour on it, but make sure you sprinkle just enough to rolling smoothly.
Pour some water into a small bowl. Roll a clean cloth into a ball, and dip it into the water.
Heat a tawa or pan and put the roti on it; the floury side up.
Take the damp cloth and gently dampen the roti with it. Do not pour any of the water into the pan or tawa.
When one side is cooked enough, the roti will start coming off the pan. Flip it over and repeat the same process.
Let this side cook too.
Then, flip the roti again on the pan and gently press down with a spatula.
Keep pressing till it puffs up.
Transfer the cooked roti onto a plate or an insulated container.
Cook all the rotis this way.
Recipe Tips
If you want to feed these healthy rotis to your little one who has just started consuming solid foods, you should shred the roti into tiny pieces and soak them in warm milk. This will soften the roti and help your child swallow without any trouble. If required, you may add a little sugar to the milk to make it more appealing to your child.
For children who are slightly older and used to eating solid food, dipping the roti in dal is a good option.
Nutrition Information
| | |
| --- | --- |
| Type | Value |
| Calories | 235 kcal |
| Carbohydrates | 38g |
| Protein | 6g |
| Fat | 6g |
| Sodium | 5mg |
| Potassium | 166mg |
| Fibre | 4g |
| Calcium | 14mg |
| Iron | 2.1mg |
Health Benefits
This easy bajra-wheat roti is a great food option if you want to provide instant energy to your little one. Additionally, the nutrients in the recipe are required to make your kids strong and healthy. While the average roti is a healthy option, this one, made with oats and bajra, is healthier.
Bajra is a great source of vitamin B and other essential nutrients such as phosphorus, iron, calcium, and others.
Oats ensures additional health benefits to your little one. They are packed with Vitamin E, B vitamins, calcium, iron, and other minerals.
This recipe will add fibre to your child's diet and aid digestion.
Buying Guide
While there are multigrain flours available in the market, it is always best to make your own flour mixture at home since you will have more control over how much of each ingredient you are adding.