Egg Paratha Recipe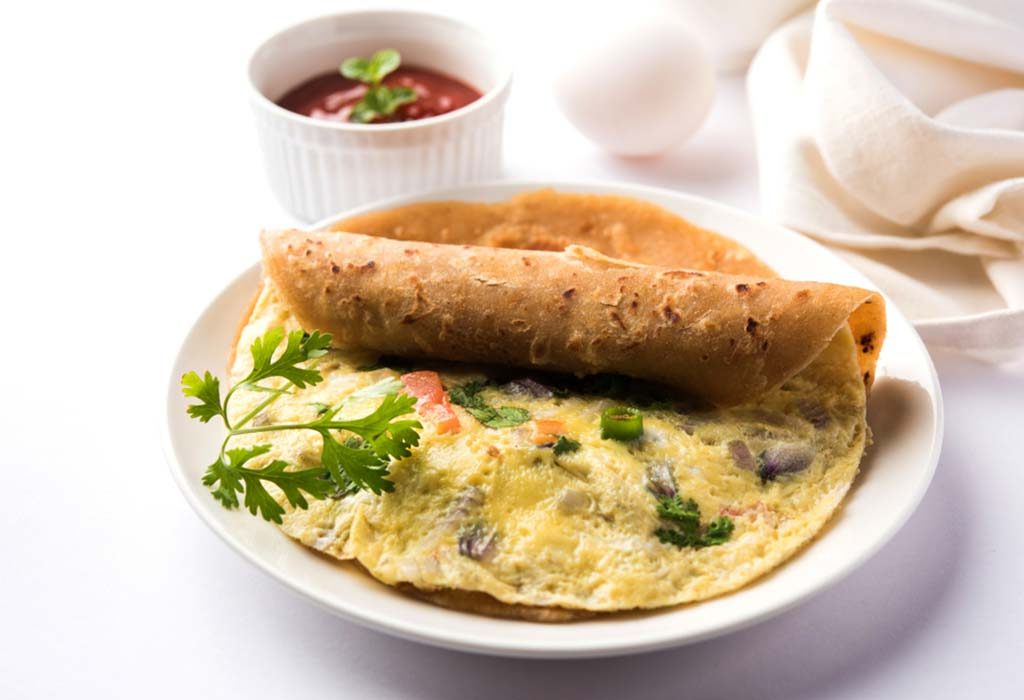 In this Article
Parathas are a staple breakfast in North Indian households. Most parathas are stuffed with vegetables to enhance taste and pack them with essential vitamins, nutrients, and minerals. This chatpata and filing variation of egg paratha for babies is a simple recipe for breakfast, lunch, or dinner. Made of whole wheat and infused with carom seeds and a flavoured egg mixture, the taste is unique and is a fulfilling meal.
Cooking Time
| | |
| --- | --- |
| Type | Time (hh:mm:ss) |
| Preparation Time | 00:15:00 |
| Cook Time | 00:20:00 |
| Total Time | 00:35:00 |
Cooking Method
Gas Stove, Induction
Type of Meal
Vegetarian, Non-Vegetarian
Suitable For
Babies older than 14 month of age
Meal Schedule
Breakfast, Lunch, or Dinner.
Recipe Type
Main Dish
Ingredients
For the paratha
| | |
| --- | --- |
| Ingredients | Quantity |
| Whole wheat flour | ¾ cup |
| Carom seeds or Ajwain | ½ teaspoon |
| Whole wheat flour for rolling | As much needed |
| Ghee | As much needed to make parathas |
For the egg filling
| | |
| --- | --- |
| Ingredients | Quantity |
| Eggs | 3 |
| Onions finely chopped | ¼ cup |
| Tomatoes finely chopped | ¼ cup |
| Coriander finely chopped | 2 tablespoon |
| Green Chillies | 1 teaspoon |
| Salt | As per taste |
| Garam Masala Powder | ¼ teaspoon |
Instructions
Egg paratha or anda paratha is a great way to include protein and carbohydrates in your munchkin's diet. To learn how to make egg paratha for babies simple, follow this step-by-step guide.
For the egg filling:
Take a large bowl and break the eggs into it. Whisk them till they are soft and fluffy.
In a deep kadhai, add some oil and fry the onions. After a few minutes add the green chillies.
Once the onions are done, add the tomatoes and cook until they turn mushy.
Add salt and the garam masala powder.
Now add the whisked eggs and stir it until it mixes well with the mixture.
Once the eggs are cooked, garnish with coriander leaves.
Keep aside and let it cool completely.
For the paratha:
Knead the whole wheat flour with the ajwain seeds in a soft and pliable dough.
Divide the dough into equal portions by making them into small balls.
Take one ball and dust in some flour. Roll it into a roti of the size of 4 inches in diameter.
Place a tablespoon or two of the egg filling in the centre.
Now grab the ends of the roti and bring it together to make a ball.
Dust the ball in some flour and roll it into a roti of about 6 inches in diameter.
Heat a tawa and place the paratha on it. Cook it on a medium flame until you see bubbles on the top part. Apply some ghee and flip it over.
Cook till both sides are cooked well.
Repeat step 3 to step 7 for the rest of the dough.
Recipe Tips
This home-made egg paratha baby food recipe is easy when you make the egg filling as a bhurji and stuff the parathas. Make sure you saute the egg mixture for a while so that it loses all its water content.
The carom seeds will add an extra flavour and taste to the paratha.
You can also add some cheese to the egg filling if you want to make it creamier.
Nutrition Information (Per 100 Grams)
| | |
| --- | --- |
| Type | Value |
| Calories | 432 kCal |
| Carbohydrates | 38.3 grams |
| Protein | 16.4 grams |
| Fat | 24.5 gms |
| Cholesterol | 0 mg |
| Protein | 10 grams |
| Sodium | 14.7 milligram |
| Dietary Fibre | 6.5 grams |
Health Benefits
This simple egg paratha recipe is packed with nutrients that are essential for the healthy growth of your baby. Read on to find out more:
Eggs are rich in protein which are building blocks for cells and muscles.
Eggs contain Omega-3 and Vitamin B12 which are essential for brain development and development of cognitive memory.
Eggs contain Vitamin D which helps in the healthy development of bones.
Tomatoes are rich in Vitamin C, lycopene, and antioxidants for the overall well-being of the body.
Onions are good for digestion and also rich in folic acid.
Buying Guide
Just follow these tips when buying ingredients for Egg Paratha
Buy free-range eggs and preferably organic eggs. Free-range eggs are a sign of protecting the birds and organic eggs are free from pesticides and chemicals. Birds are fed with natural ingredients to give the best quality eggs.
Pick firm and ripe tomatoes. Mushy tomatoes will have more water content and the dish will be difficult to make it there is additional water content.
Onions must be firm and ripe too.
Egg paratha is a delicious meal in itself. It can be served for breakfast, lunch, or dinner and can be had without any accompaniments. If your child likes it, you could serve it with some sauce or dip.