Orange Peach Juice Recipe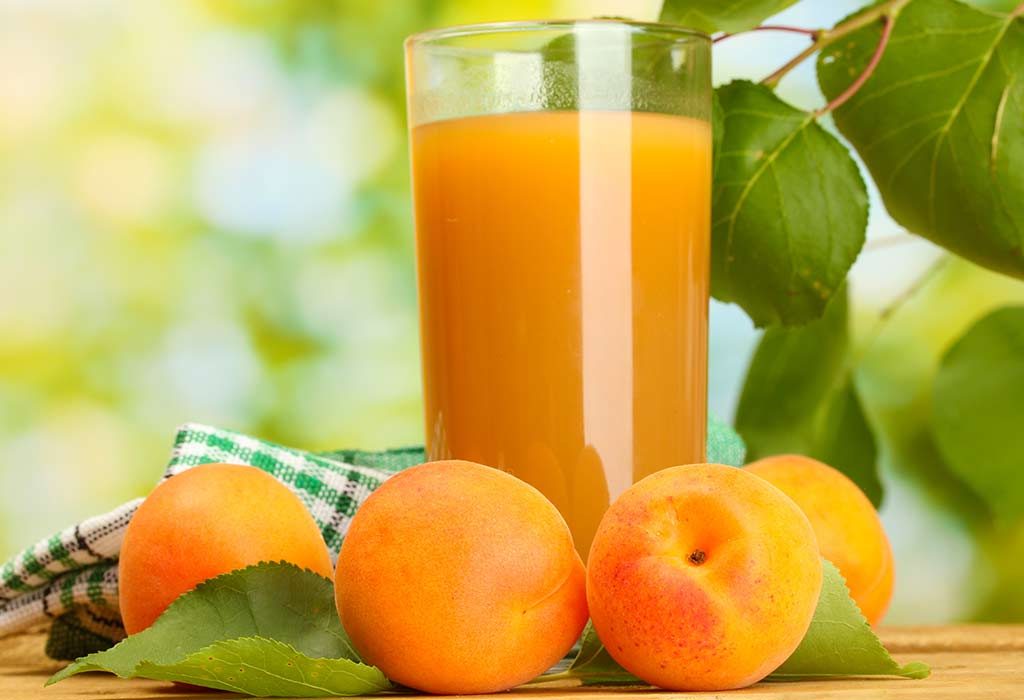 In this Article
If your toddler is ready to try some solids or fruits, peaches and oranges are great options as their unique sweet-and-sour taste will make your babies' taste buds go gaga. Peaches are loaded with a good amount of fibre and are rich in vitamin C and vitamin A. If the baby is constipated, a peach is a great fruit to offer as it is a natural laxative too. You can introduce peach juice for your toddler as one of the first foods because it is easy to digest. Oranges are rich and loaded with vitamin C and antioxidants, which help improving immunity. Oranges are acidic in nature like all other citrus fruits. It is recommended to introduce oranges to your kid when he is at least 10-12 months old. More so, it is better to wait till your kid turns one if he is sensitive to acidic food.
If your kid has no medical issues and can tolerate slightly acidic foods, here's how you can make a serving of the delicious orange peach juice.
Cooking Time:
| | |
| --- | --- |
| Type | Time (hh:mm:ss) |
| Preparation Time | 00:10:00 |
| Cook Time | 00:05:00 |
| Total Time | 00:15:00 |
Cooking Method: Blender
Type of Meal: Fruit
Suitable For: Kids above 12 months
Meal Schedule: Morning/Evening
Recipe Type: Beverage
Ingredients:
Here are the ingredients to make delicious orange peach juice.
| | |
| --- | --- |
| Type | Quantity |
| Peaches | 2 to 3 peaches |
| Orange | ½ Piece, chopped |
| Sugar | 2 tsp |
| Crushed Ice (Optional) | For Serving |
Instructions:
Here are the step-by-step directions to make Orange Peach juice recipe.
Wash the peaches thoroughly in running water.
Take a saucepan, add water and bring it to boil. Then, turn off the flame.
Drop the peaches in hot water carefully and leave them for 2 to 3 minutes.
Then, remove them from the hot water and immediately drop them into a bowl of ice-cold water. Let them sit for a minute or so.
Remove the skin of the peaches using a peeler and cut them into cubes. Remove the seed too.
Transfer the chopped peaches to a juicer and add some sugar. Blend it to a smooth puree. Keep it aside.
Take some fresh sweet oranges, peel the skin off and separate the pulp from the membrane.
Put the orange pulp in a juicer, add some sugar and blend it nicely.
If you prefer, you may also cut the oranges in halves and squeeze all the juice with the help of a hand juicer.
Strain the orange juice into a glass.
Now, pour the peach puree and orange juice into a glass and stir it well. Add some water to adjust the consistency of the juice.
Your easy healthy homemade orange-peach juice is ready to be served to your toddler.
Recipe Tips
Choose fresh ripe peaches for a tastier drink. The best ones to pick are those with a vibrant shade of pink or orange.
Choose fresh and sweet oranges from the market. Avoid oranges with a strong sour taste as the child may not like it.
Wash the peaches thoroughly with plenty of water.
You can skip the sugar or even increase the quantity to suit your babies liking.
You can either give this to your baby as a smoothie or a juice.
Dilute the juice with water when you introduce the juice to your baby.
Prepare fresh homemade juice and avoid ready-made juices available in the market. They contain preservatives and added sugar to enhance the flavour.
It is always advised to consult your child's paediatrician before introducing any new food.
Nutrition Information (Per 100 Grams)
| | |
| --- | --- |
| Calcium | 50 milligram |
| Iron | 0.18 milligram |
| Potassium | 232 milligram |
| Magnesium | 15 milligram |
| Phosphorous | 32 milligram |
| Folate | 0.48 milligram |
| Thiamine | 0.09 milligram |
| Vitamin A | 346 IU |
| Vitamin C | 82 milligram |
| Sodium | 2 milligram |
| Riboflavin | 0.07 milligram |
| Niacin | 0.59 milligram |
Health Benefits
Peaches are a good source of Vitamin A and C, which are good for your baby's eyesight and immunity.
Peaches are also rich in potassium, which is an essential element in improving blood circulation.
Sufficient amounts of calcium and phosphorus in the juice helps build bone strength.
Oranges are loaded with lots of nutrients along with vitamins and minerals, making it a great food for improving physical development.
Oranges and peaches are fibre-rich, and they aid digestion and reduce constipation.
The vitamin C in both the fruits can help prevent the common cold.
If the child is dehydrated, the intake of orange juice helps in restoring lost minerals.
Buying Guide
The right season to buy peaches is in May till October.
It's always a good choice to go for fresh organic food when you are buying for your baby.
Select peaches that don't have any brown spots.
Buy sweet oranges instead of the sour ones.
Don't go for fruit juices available in the stores as they contain preservatives and added sugar.
With this recipe, you can serve easy homemade orange-peach juice to your baby any time you want to add some variety to his/her snack time. This delicious mix of sweet and sour juices is sure to become your child's favourite.