10 Creative Fish Craft Ideas for Kids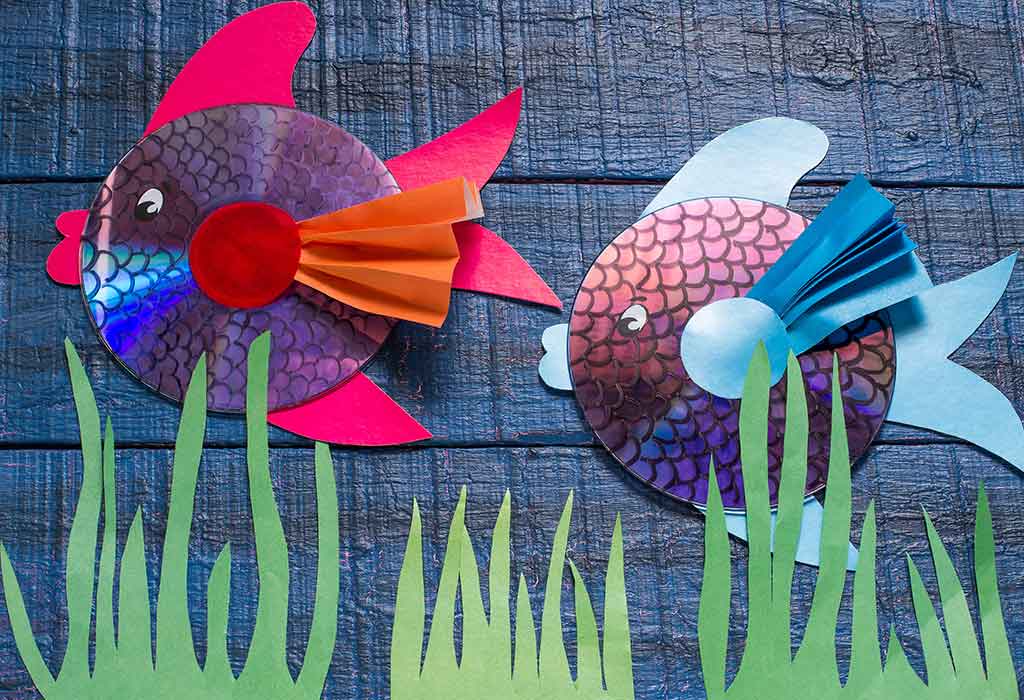 In this Article
Fishes as pets teach children all about compassion and how to have a nurturing spirit, while homemade fish crafts can pique their interest in different marine creatures living in the underwater world.
Cute DIY Fish Crafts for Children
Ocean, coasts, and estuaries are home to diverse marine inhabitants. Understanding their life cycles, habits, habitats, and inter-relationships contribute to our understanding of planet earth as a whole. The earliest vertebrates appeared in the form of fish that live exclusively in water. They are craniate, aquatic and gill-bearing animals that do not have limbs with digits. An important food resource for humans is hunted, bred in wild fisheries, farmed in ponds, cages, and ocean. They are also raised by fishkeepers as pets and exhibited in public aquariums worldwide for recreational purposes. Fishes come in a wide variety of sizes, shapes, and colors that commonly fascinates children. Summer may be the perfect time to spend outdoors for extending learning about the natural world during the vacation. When they observe fishes swimming in the fish tank, aquarium, pond, or at the local pet store, they are sure to be amused and curious watching them flexing their bodies and tail back and forth, gliding and relaxing their muscles effortlessly to create a magnificent sight. Owning and caring for a pet fish offers kids an opportunity to cultivate positive attitudes toward wildlife and teach them about responsibility. However, when you need to take a break from the heat, these delightful fish crafts preschool ideas can add color to your classroom bulletin board or kid's playroom.
1. Woven Fish Craft
This delightfully easy fish craft involves a weaving process that is great for building children's fine motor skills.
What You Will Need
Cardstock
Black marker
Cupcake liners
Glue stick
Paper cutter
Instructions
Download and print out the fish template.
Cut out the fins of the fish and trace the body onto colored cardstock. Cut it out.
Fold the fish into half and cut strips with a paper cutter into the paper.
Leave about an inch of paper all around the sides so that the paper does not tear while weaving.
Fold the fish in half and cut strips into the paper.
Leave about an inch of paper all around the sides so that the paper does not tear while weaving.
Trace the fins that had been previously cut off the template onto the colored cupcake liners and cut them out.
Stick the fins onto the back of the fish.
Add a smile and scale details to the large back fin with a black marker.
2. Fish Puppet Craft
Kids love puppets that they can watch during a story narration or use them for pretend play. This easy craft will help them to make one of their own.
What You Will Need
Pen or pencil
School glue
Scissors,
Googly eyes
Colored rhinestones
Jumbo popsicle sticks – 1 per fish puppet
Colored cardstock
Instructions
Trace out your child's hand on the paper and cut out the design with scissors.
Cut out heart-shaped lips from red cardstock paper and stick them near the handprint cut-outs' palms.
Glue on the googly eyes of the fish.
Add the rhinestones, sequins, or glitter to decorate the fish.
Glue some pop sickle sticks on the back of the fish puppet cut-outs.
Set them aside to dry completely.
Instead of pop sickle sticks, you can also use the cut-outs for beach or aquarium art decorations.
3. Clown Fish Craft
This is an easy fish craft idea that children will love to try, and clownfish are colorful and attractive.
What You Will Need
Paper (long legal-sized paper)
Washable finger paints
Paintbrushes
Painter's tape or masking tape
Black marker
Googly eyes
Instructions
Tape off stripes on your paper. (Make sure the tape is a bit longer than your paper as it allows you to create stripes while securing it to your table so that it doesn't slide off)
Color the entire paper with any bright color paint so their stripes will really pop.
Leave it to dry. Carefully pull the tape off.
Turn the paper over and draw the outline of your clownfish on the back.
Cut the fish out with scissors.
Stick googly eyes and mouth of the fish with a black marker.
4. Rock Painting Fish Craft
Whether you have stones lying around the garden or your little one loves collecting rocks, get creative and turn them into pet fish that they can play with or gift to their friends.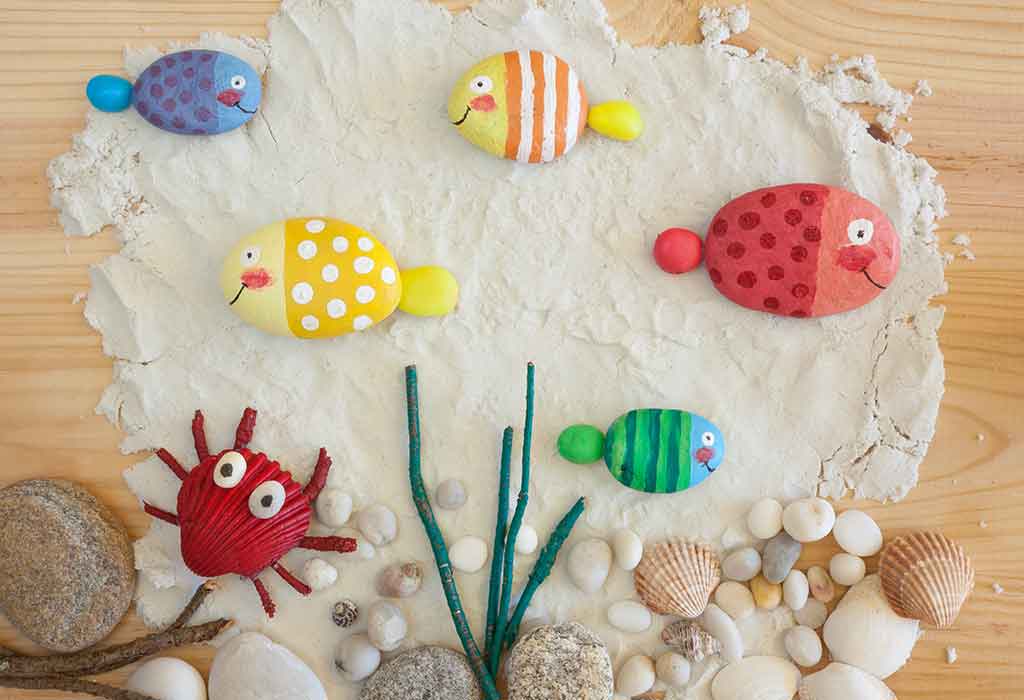 What You Will Need
Googly eyes
White acrylic paint
Chalk pens
Colored felt
Mod podge all in one glue and sealer
Stones
Instructions
Paint the stones in white and leave them to dry.
Make faces, scales, and tail design on them using chalk pens.
Varnish them with sealer and mod podge glue.
Cut out some triangles from felt paper and glue them on the fish to create its tails and fins.
5. Cupcake Liner Fish Craft
Cupcake liners are easy to find as kids never stop craving cupcakes. They come in an array of colors, patterns that make the perfect base for a fish craft or making an adorable ocean fish scene.
What You Will Need
Blue sheet of cardstock paper
Cupcake liner-standard or mini size
Glue stick
Black marker
Blue crayon
White paint/paper straw/ blue sequins/ white binder reinforcement labels (for the bubbles)
Googly eyes
Instructions
Arrange the cupcake liners and fishtails on the blue background paper.
Cut out paper triangles for the tail. If you want a cupcake liner to be a tail, you can cut out one cupcake liner in half and one of those pieces in half again to be the back tail fin.
Cut a small amount off the other quarter piece of a cupcake liner and the triangle tip. Glue all the pieces together on the paper to make a fish.
Stick a googly eye for the fish and draw a mouth with a black marker.
Pour a small amount of white paint on a small paper plate or piece of paper. Dip the end of the paper straw into the white paint and blow out the bubble that covers the straw hole. Press the end of the straw onto the blue background. Repeat the process to cover the entire underwater scene.
6. Popsicle Stick Fish Craft
Use some of the used pop sickle sticks after relishing the favorite ice creams to make a delightful fish craft. By pre-cutting felt in a wide variety of colors can help toddlers to do this activity with ease. Sticking a magnet to the back turns this fish into a fridge magnet or instant party favor gift.
What You Will Need
Jumbo craft sticks – 3 per fish
Googly eyes – 1 per fish
Glue gun
Craft scissors
Small pompoms
Craft felt sheets
Instructions
Place three pop sickle sticks and arrange them together in the shape of a fish.
Set aside to let it dry completely.
Cut out triangular shapes of felt paper and place those within the craft stick frame to be the body of the fish.
Cut out the fish lips, fins, and tail from the felt paper.
Stick all the pieces together to the craft stick frame.
Glue the googly eyes.
Decorate the fish with glitter, pompoms, rhinestones, and buttons for the final touch.
7. Water Gun Painting Fish Craft
When painting with brushes get boring at times, try a new painting technique with a water gun that is budget-friendly and works on fine motor skills for preschoolers.
What You Will Need
Water guns (or spray bottles)
Water (a cup or two)
Washable paint (or liquid watercolor)
Cardstock,
Painters tape
Scissors
Instructions
Tape some cardstock up on a fence outside.
Fill water and washable paint into the water guns. (Shake it thoroughly so that it loosens easily inside the water gun)
Spray the water on the cardstock and watch how the colors drip down to create an artistic design.
Leave the paintings to dry.
Use a fish stencil to cut the paper into fish shapes.
You can even decorate the fish with embellishments.
8. Toilet Paper Roll Fish Crafts
Creative crafts with humble toilet paper rolls are simple to make yet yield great rewards. The kids will learn a valuable lesson about recycling while doing this activity.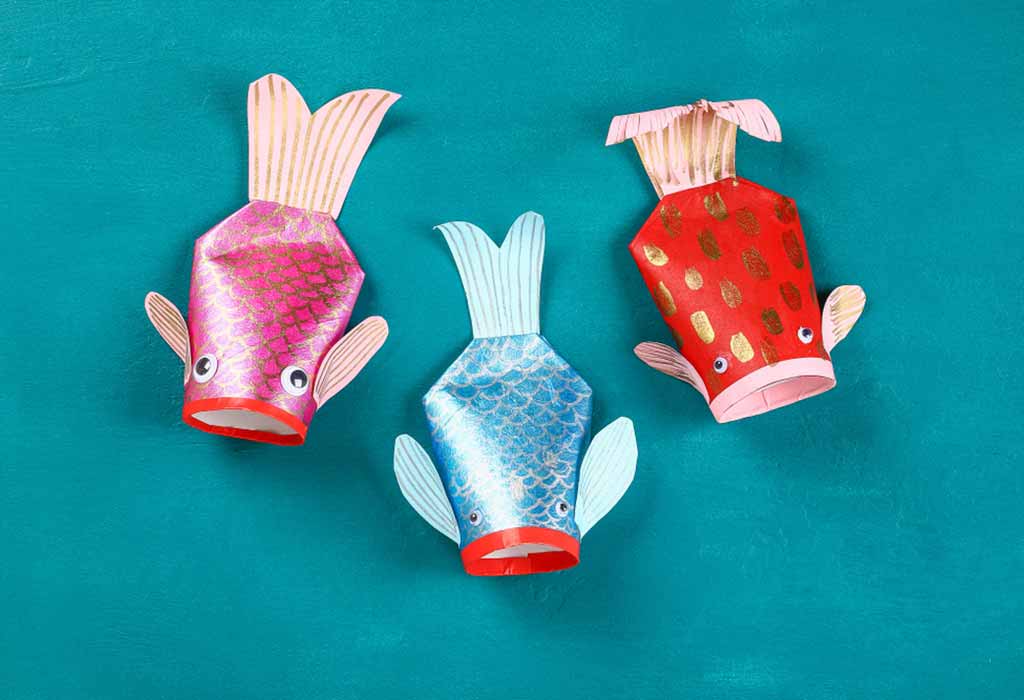 What You Will Need
Toilet paper rolls/ paper towel rolls – cut in half
Paint
Glitter
Dishes for the paint
Paintbrushes
Scissors
Glue
Googly eyes
Instructions
Putting the paint into containers and add glitter.
Paint the tubes.
When the tubes dry, push in the sides of one end of the tube to make a point for the fish's mouth.
Squish the whole tube down to taper it downwards towards the tail.
Make two diagonal cuts at the end of the tube and in the middle.
Add glitter to add texture to the fish.
Stick the googly eyes with glue.
9. Pasta Fish Craft
As pasta comes in various shapes, it can be used in a versatile way and make impressive fish crafts.
What You Will Need
Acrylic paint
Elbow macaroni pasta
Cardboard (cereal box)
Googly eyes
Scissors
Glue
Wax paper or parchment paper
Instructions
Put some paint at the bottom of a sandwich bag.
Pour a handful of pasta into the bag. Seal it shut and squish the pasta around to coat them with paint. Pour them out onto a sheet of wax paper to dry completely. (Use fingers or paintbrush to separate out the pasta that's stuck together).
Cut a fish shape out of the cardboard. (You can take a fish template as a pattern)
Paint it and let it dry.
Glue the googly eyes on the fish along with the pasta to make a fun combination of colors and designs.
10. Paper Plate Tropical Fish Craft
Paper plates are cheap, easy to obtain, and can be used as craft supplies for doing classroom projects related to ocean or sea life units or even these bright, cheery, and vibrant paper plate fish craft.
What You Will Need
Paper plates – 8 miniature size
Googly eyes – 4
Acrylic paints
Glue stick
Craft glue
Scissors
Paintbrush
Instructions
Paint the paper plates in different colors. Leave them to dry.
Trace the patterns onto the other paper plates. Paint the pattern pieces with the appropriate colors.
Cut out the painted fish pieces following the pencil outline.
Cut out a small portion for the mouth.
Attach the fish pieces (tail, fins) to the appropriate plates with glue.
Add stripes or polka dots to decorate them
Glue the googly eye to the fish.
With the proliferation of the internet, kids are largely indulged in electronic gadgets that are adversely affecting their behavioral patterns, social relationships, and academic performances. So, it is imperative to make them aware of the natural environment and sea life conservation. Despite the mess that it generates, fish crafts for toddlers can only be beneficial for kids in a creative and developmental sense. Moreover, creative hobbies help to nurture patience, perseverance, early math, and creative problem-solving skills apart from reduces stress and boosting the self-confidence of kids. Crafting together with kids is one of the best ways to spend quality time with them that will create fond memories to cherish for a lifetime.
Also Read:
Bird Crafts for Children
Clothespin Crafts for Children
Egg Carton Craft Ideas for Children
?>