Super Fun and Creative DIY Robot Costumes for Kids
In this Article
You can easily create a DIY robot costume toddler without stitching or sewing. If you are looking for creative ideas to give your kid the best robot costume, then you are at the right place. It is very easy to bring the unique materials together and make them valuable and interesting. For example, you can make robotic arms and legs using dryer vents. With simple materials, you can also make a passable WALL-E robot costume child DIY, making it a memorable Halloween for your child.
If you want your kid to shine in the crowd of a kid's costume competition or Halloween party, then you must give some effort and provide them with the best costume of all time. Keep reading for some easy but brilliant ideas for a robot costume for your kids this Halloween.
Unique Robot Costume Ideas for Children
Parents try to make extraordinary dresses for their children on occasions, like Halloween or any fashion competition. This results in magic, and everyone appreciates your kid. The Halloween party DIY robot Halloween costume for your kid and yourself can be creative, fun, and influential on social media platforms. Family Halloween is the best time to show your imagination, skill, and creativity.
However, many people find it very difficult to design robot costumes, but actually, it is very easy, as you must have the most materials already in your home. You can skillfully cut and make it of any size. We are here with different creative ideas to help you design the best robot costumes for your kid.
1. Baby Robot Costume
Once you make this costume and make your kid wear it, then you must see their eyes twinkling with happiness and curiosity. This outfit can easily be built with leftover materials. It is a super easy robotic costume to make.
Materials Needed
Full-length grey pajamas or leggings
A top or high neck of full sleeves
A cardboard box in which your kid's upper body can fit comfortably
Lids of plastic bottles
A large silver tape and silver pipe cleaner
Split pin paper clip and box cutter
Silver or grey hair glitters
A hot adhesive to paste these things
Silver or grey boots (optional)
Instructions
Let your little kid wear the grey or silver legging and full-sleeved top to give the robotic effect.
Start with the box, and then use silver duct tape to tape up the whole box.
Cut the box from the bottom and tape all the edges to ensure that the box is held tightly to the kid.
Now to make the robot's limbs, cut out the head part according to your kid's head size, and make armholes with the box cutter.
Once your child perfectly fits the box, go ahead with the decorating ideas.
Cover the top and bottom of the box with multiple layers of duct tape, and then use the colorful bottle lids to make a dial pad and make it look cooler; you can add a dial screen.
Now that you have decorated the box, it's time to put it on your kid. Highlight your child's hair with the silver hair glitters, and make them wear silver or grey boots.
2. Optimus Prime G1 Costume

Do you want your kid to look different from all others on Halloween and any fashion competition? If yes, design it for your kid from the household things like cereal boxes, paint, and glue. Moreover, this costume costs only 50 dollars.
Materials Needed
Grey and red duct tape
Cardboard boxes
Spray paint
Foamboard
Deadly helmet
Instructions
Take the cardboard box of different sizes, and cut them according to your shoulder and limbs.
Wrap them with duct tape, and then color them red using spray paint.
Use foam boards to create designs on costumes.
Give your kid a helmet to wear on the costume.
3. Astronaut Robot Costume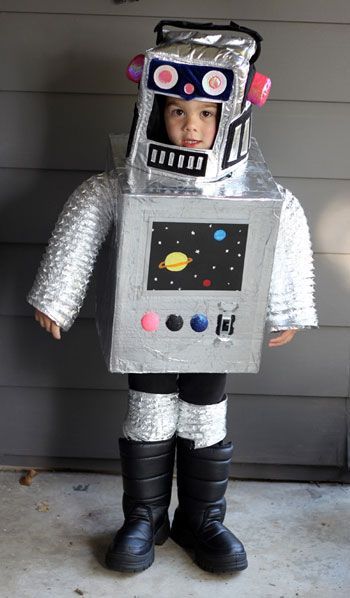 It is better to create a handy costume for your kid, this astronaut robotic costume is one of them. To make this DIY cardboard robot costume look cute and even better, you have to start with just a few things.
Materials Needed
Colored felt
Pillowcase
Silver foil paper and duct tape
Colored tape
Glue
Plastic caps
Instructions
To make an Astronaut Robot Costume for your kid, you need to follow the below-given instructions.
Half-fold the pillowcase, then cut the neck opening using scissors from the front to give the astronaut effect.
Make armholes and remove the binding of the pillowcase from the bottom.
Cut the designs from felts and place them on the pillowcase using glue.
Insert the arms of foil paper and cover it with silver duct tapes.
Add colored duct tape for decoration.
Make the eye of the robot by cutting down the foil or boxes.
Add the plastic caps to each side of the robot head to make ears.
4. Caterpillar Robot Costume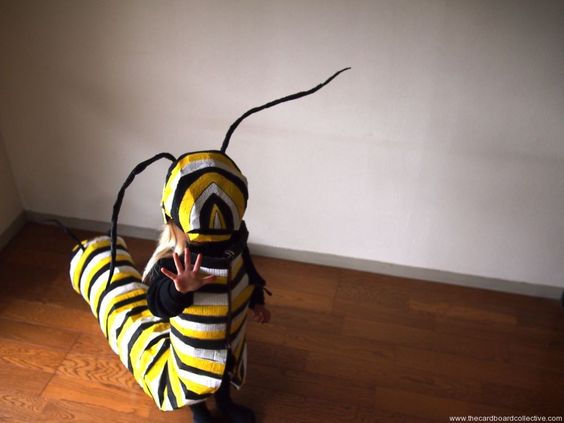 This costume is not difficult to design. Furthermore, parents can make it with kids. Your kid will love this costume, and if you ask them to help you with it, they will feel more attached to it. Moreover, your kids will become more creative and closer to you by doing these activities.
Materials Needed
Cardboard boxes
Duct tape
Knife
Glue
Spray paint, any blue or silver color paint
Dryer vent
Instructions
Get the box that fits your child perfectly. For example, the big diaper box or any big amazon box will work.
Once you get the box, cut down the neck opening from the top for your child's head.
If it perfectly fits your child, continue by making the box hard. And to do so, add the pieces of cardboard to it.
Cover the box using duct tape and then spray paint on all the edges and sides.
Do the multiple coating so that every side is covered, and then dry the box thoroughly.
Get all the robotic items, like plastic lids, colorful tubes, electric circuits, etc.
Cut and paste all those items using scissors and glue.
Place the dryer vent, cover it with foil and make your child's arms.
Paint it with spray.
Get your kid the same color legging and top.
If you have rain boots at home, make sure your kid wears them.
5. Light-up Robot Costume
You can make a traditional cardboard robot with multiple lights and buttons to give more visual effect to your costume. Let's see how you can build one such costume.
Materials Needed
Cardboard
Scissor
Glue
Plastic bottle caps of different colors
Duct tape
Box of two different sizes, one for the head and one for the body
Dryer vents
Chart paper
Battery
LED lights
Color or paints
Instructions
Cut the box for the head in square shape using scissors or a blade, and ensure that your kid's head perfectly fits in it.
Add cardboard pieces to make the box hard and wrap it with silver foil or chart paper.
Make the eyes using different color chart paper, and put the bottle cap on it.
Make the mouth, nose, and ear using the foils, and then paint them accordingly.
Get the rectangular box, and measure it according to your kid's length.
Cover it with foil or chart paper, and decorate it with caps and buttons.
Design separate spaces for control system and battery powers.
Put the LED lights inside the caps to glow and give a more robotic effect to your costume.
Paint the outlines and edges to highlight the parts.
Make limbs using the dryer vents.
Paint those dryer vents using spray paint.
Give your kid the rusty color shoes and gloves.
6. WALL-E Robot Costume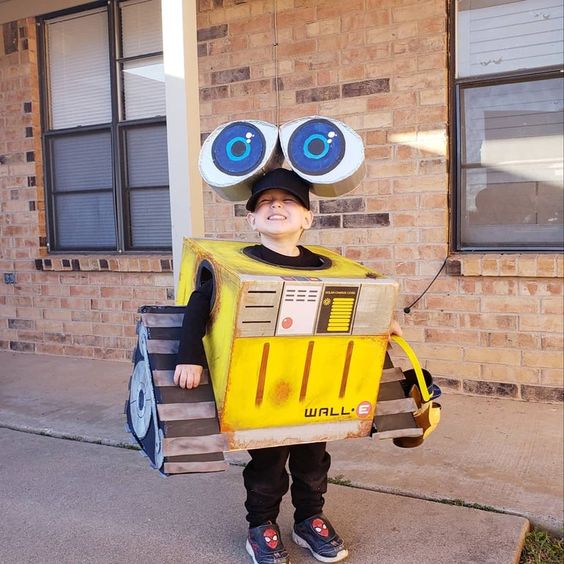 WALL-E and eve robot costumes are some of the favorite Halloween dresses for kids. It is a piece of art creatively made from recyclable items of home or leftover school crafts. To design this costume, you must know what things are required to make it.
Materials Needed
CDs
Cardboard
Boxes
Chart paper
Black inner and lowers
LED lights
Scissor
Glue
Dryer vents
Instructions
Let your child wear a sweatshirt and full-length leggings.
Get the rectangular box and cut it using scissors according to the child's body size.
Cover it with the chart paper, and add the cardboard inside the boxes to reinforce it.
Put CDs as the eyes, or add two CDs together to make a full face shape.
Place the two LED lights inside the disk to make the glowing eyes of the robot.
Make designs on chart paper pieces and paste them on the body parts using hot glue to make it look like a robot's operating system.
Put chart papers on the hands and legs, or you can use the dryer vents to create the limbs, as done in previous ones.
DIY robot costumes will not only make your child happy but will also save you a lot of money that you would have spent on buying a robot costume from a store. It also allows you to create a customized dress for your kid for all occasions, whether Halloween or any fashion competition.
Also Read:
Easy DIY Halloween Costume Ideas for Children
Unique Fancy Dress Costume Ideas for Kids
Best Book Character Dress Up Ideas for Children