Fun and Creative Button Crafts Ideas for Kids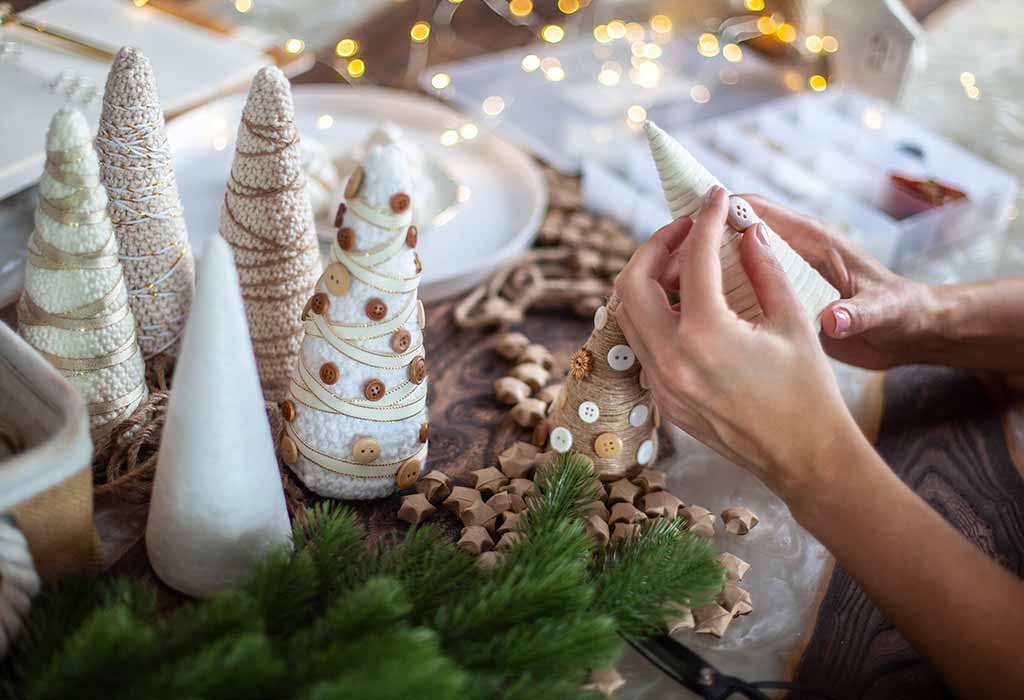 In this Article
Buttons are a popular choice for many people, and this is no longer a surprising finding. It's difficult to say no to them because button crafts and art projects are visually appealing. Many options are available if you're looking for innovative ways to recycle old buttons while creating new and exciting crafts.
Here are a few suggestions. Button-based DIY projects can be both simple and imaginative simultaneously, depending on the materials used. Following your viewing of these items, you may decide to purchase additional items. Christmas button crafts ideas in the following gallery are ideal for a quick and easy handmade gift or some eye-catching new home décor and are sure to please.
Adorable Button Craft Ideas for Children
Buttons are a staple in many children's craft projects because of their versatility as a crafting element. Creative projects may combine a wide range of colors since many options are available. Because the choices for button art are almost limitless, we choose to focus on name recognition to add some educational merit to the mix. These button projects are easy to make and keep kids busy and engaged all year long.
A few simple supplies, such as a glue stick and a few buttons, are all that's needed for a fun day of little button craft creative experimentation. Learn how to make these lovely button crafts with the step-by-step directions provided.
1. The Button Caterpillar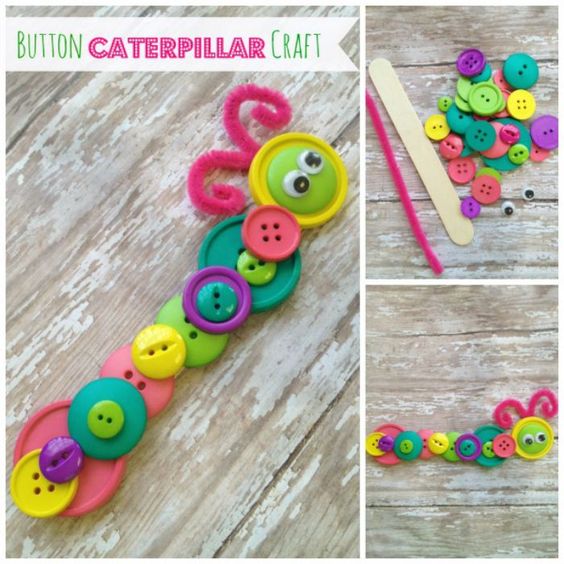 A beautiful caterpillar resting on a leaf does an excellent homemade craft project, and nothing beats it.
Make a leaf shape out of a green foam sheet by cutting it out in the form of a leaf.
Use a green marker to draw lines on the leaf to make it visually appealing.
Attach a 1-inch pom-pom to the front of your leaf with sticky glue to finish it off.
Place a line of buttons behind the pom to form the caterpillar's body.
With a piece of tape, attach googly eyes to the front of your pom caterpillar's face to complete the look.
2. Paper Plate Snail Craft Using Buttons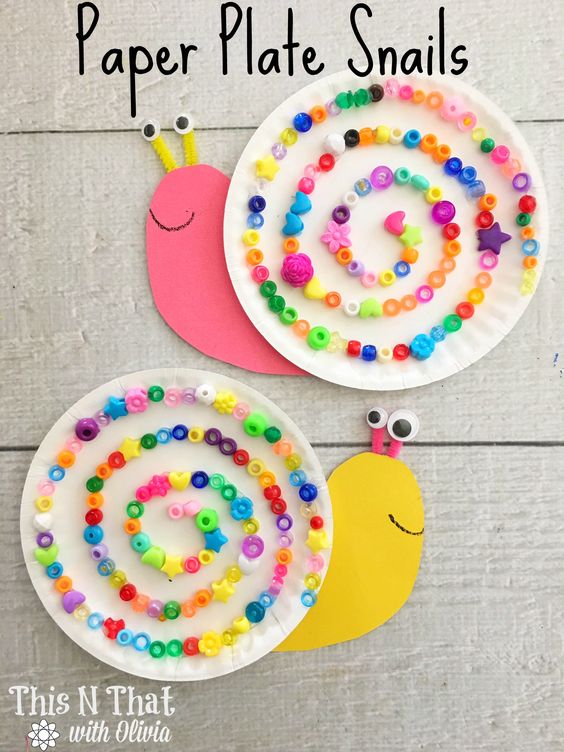 This bright and cheerful paper-plate snail activity will be a success for the youngsters!
Attach self-adhesive buttons in the shape of a swirl design to the bottom side of a white paper plate, starting at one end and working your way up.
To construct the snail's body, you can use colored cardstock paper.
Attach the paper plate to the snail's body by running a line of adhesive around the bottom of the plate and attaching it to the snail's body with sticky glue.
Make a hole in the top of the snail's head with a hole punch, and insert it into the hole.
By cutting a portion of a chenille stem, you can make an antenna for your creature.
It is necessary to place it in the hole, bend it in half, and wrap it over to prevent it from falling out again.
Use a black marker to draw a slight grin across the top of your snail's shell once the googly eye has been placed on the snail's head.
3. Button and Flower Collage

Button flower craft can create beautiful flower arrangements, which is fun!
Reducing the size of a sheet of light blue cardstock paper in half will result in an overall sheet measuring 6 inches by 12 inches.
Make grass by placing a line of green buttons across the bottom of your paper to represent the ground.
Floral arrangements can be created by placing a yellow button in the center and six additional buttons around it.
Create a variety of flowers on the light blue cardboard and arrange them all over the surface—the completed product.
Add a line of green buttons to the bottom of each flower to create stems for your collage Craft to finish it off completely.
4. Making a Button Tree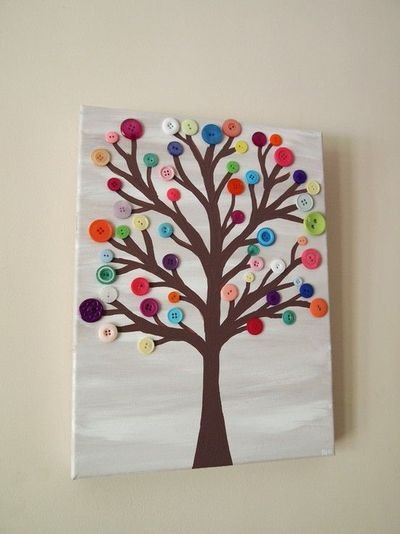 This bright-colored button tree art is simple enough for children to complete, and you can use as many different colors as you want to make it unique to your own home or classroom.
To finish the craft project, glue a tree trunk made of brown cardstock paper to a light blue piece of cardstock to form a tree trunk.
Attach the buttons around the trunk of your tree to finish off the treetop design. You can create a tree for each season by using different colors or create a one-of-a-kind rainbow-colored tree by combining several different hues.
5. Artistic Buttons and Sun Craft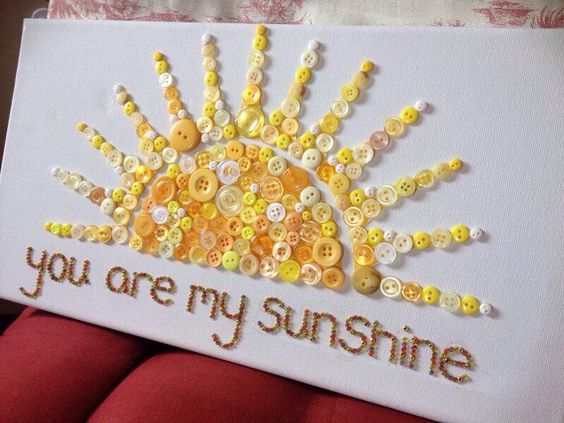 This adorable sun project can bring a little sunshine into your home!
Take a bright yellow sticky foam sheet and cut out two circles with a diameter of approximately 5 inches.
Peel the backing off of a yellow circle and arrange eight yellow craft sticks around the inner perimeter of the circle on a piece of paper using the adhesive side of the circle.
Once the backing has been peeled away from the first yellow circle, you should place the second yellow circle on top of the first yellow circle over the craft sticks.
Each craft stick sunbeams should have a yellow button attached to it, just like the real thing.
Stick two googly eyes and a charming little grin drawn on with a black permanent marker in the middle of your sun to make it more interesting.
6. Rainbow Button Craft
This brightly colored rainbow activity will appeal to children as young as infants and pre-schoolers, who will have a great time practicing their color recognition skills.
Remove the backing from the colorful buttons.
Arrange them in rainbow order on a piece of blue cardstock paper in the shape of a rainbow.
Scissors and a sharp blade cut out the button rainbow from the blue cardboard.
Using a white foam sheet, cut out clouds.
Attach them to the ends of your rainbow to finish off your design.
7. Scrapbook Cover With Buttons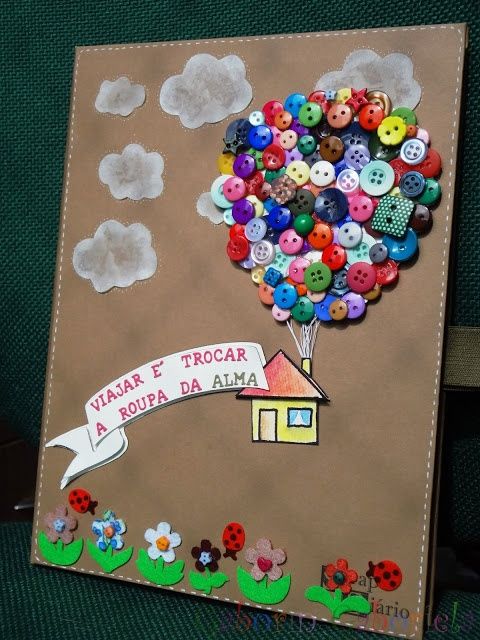 For those of you who have crafty children, it's a good bet that they would enjoy making and decorating a scrapbook cover for their collection of photos and memories.
Instruct your child to create strips for you using a variety of printed items, such as printed paper, worn-out printed clothing, discarded wrapping paper, and even colorful stripes ripped from old magazines.
It is also possible to use the borders from old shirts, lace, and other materials.
Cut out attractive pictures from magazines and apply bright stickers.
Ask your child to attach the stripes and cut-outs to the scrapbook's cover.
Following that, your child can personalize the cover by sticking bright buttons of various sizes in random locations on the front and back.
8. Finger-N-Toe Button Rings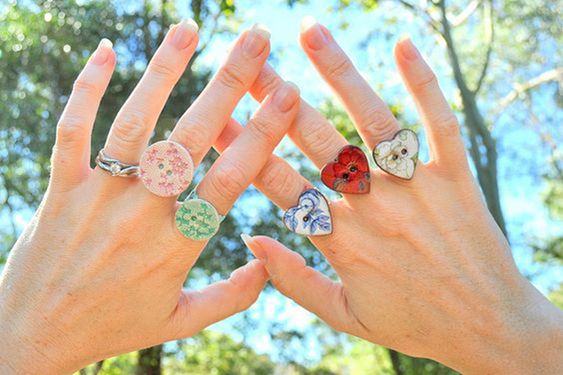 Your youngster will enjoy making Finger-N-Toe Button Ring crafts. An excellent technique to educate children about finger isolation and the significance of keeping their fingers together is via the process of building a finger-n-toe button ring. Here are a few pointers to get you started:
Give your child a couple of basic finger rings with a flat circular base to wear on their fingers and feet.
After that, instruct your child to choose a variety of buttons in various colors and sizes that will fit on the flat base of the rings and glue them on the flat bottom.
Alternatively, your child might utilize the same color scheme as you or experiment with other combinations of color.
Remove the rings from the water and allow them to dry completely. If adjustable, the rings may also be used as toe rings.
9. Hot Air Balloon With Buttons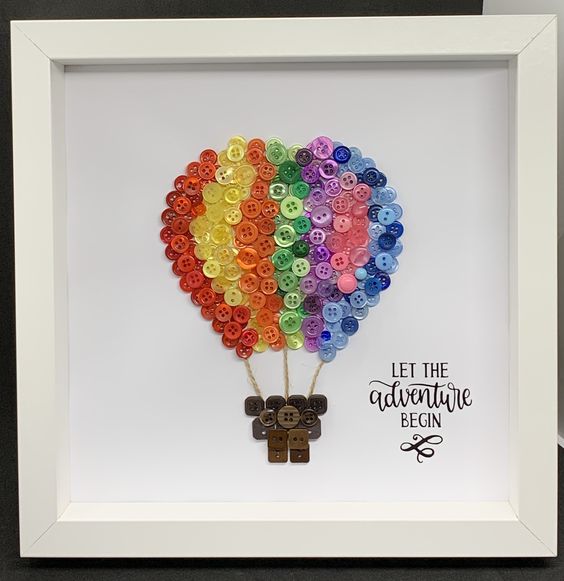 This Hot Air Balloon project is an excellent activity for children to participate in and learn about the weather. Assemble a card with buttons and a few fluffy cloud shapes to complete this project. Allowing your preschooler to express their imagination with this craft is a great opportunity!
Assist your child in cutting a foundation form for their button hot air balloon from an old piece of fabric that you have laying around the house.
It would help if you glued the buttons on when it had dried completely.
You can create the balloon's strings by tying a few threads with the same material.
You may now hang the balloon on the ceiling hooks provided.
Decorate the card with your favorite stickers once you have adhered to all the buttons.
10. Button Bracelet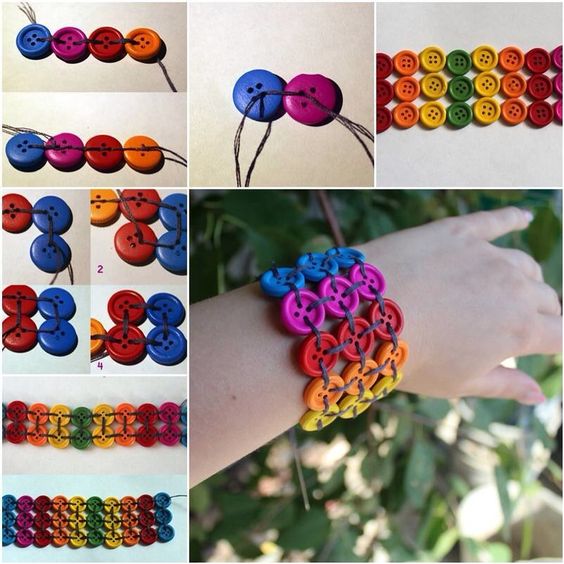 You may use whatever color button you choose and an additional set of controls for this bracelet if you'd like to give it an eclectic look.
Instruct your child to sew buttons onto a piece of fabric long enough to wrap around their wrist and tie a knot at the end of the material.
Velcro sheets should be attached at both ends of the bag to make it easier to close.
Hopefully, you and your kids had fun making these cute crafts using buttons ideas! People worldwide are interested in your children's favorite ones because they are unique! Don't forget to make these adorable button crafts for your little angels, too!
Also Read:
Origami Crafts Ideas for Kids
Paper Mache Craft Ideas for Children
Easy Puppet Craft Making Ideas for Children