Teaching Your Kids Embroidery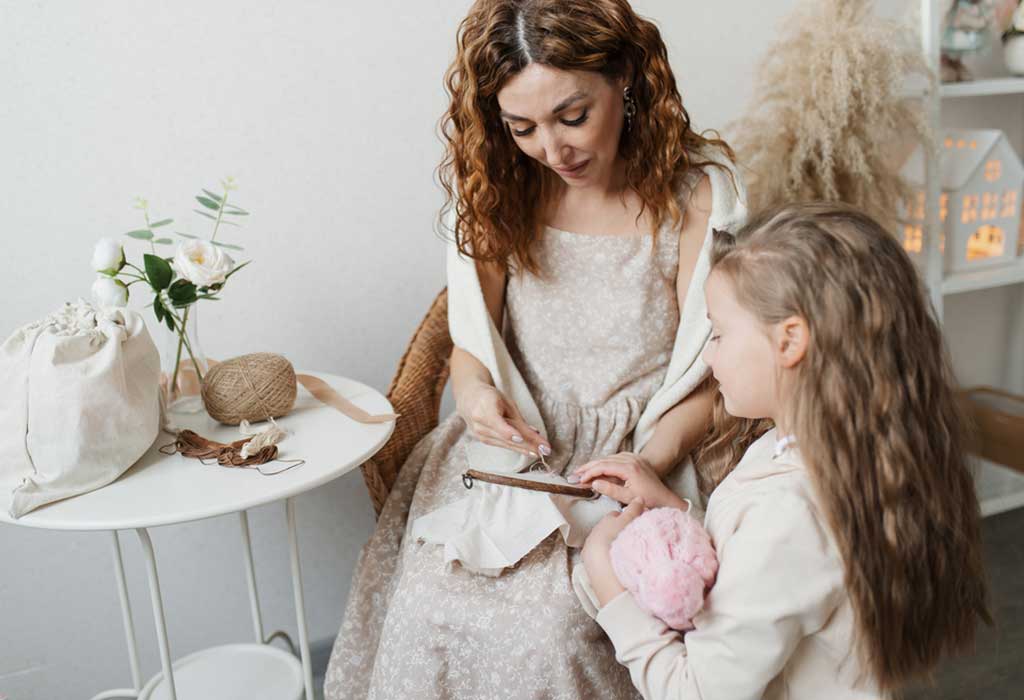 Embroidery is a great way to inspire creativity in your child and help them innovative. Getting your child excited about embroidery reaps a multitude of benefits. Let us learn some amazing embroidery that can keep your child engaged with creativity.
Introducing Your Kids to Embroidery Step by Step Procedure
Children are pure souls with wild and vast imaginations. Thus, as parents, our job is to ensure that our children find the ideal outlet to express their creativity. Our duty is to foster their ideas and expression and provide them with a fun, safe, and stimulating environment to grow in. Embroidery helps inculcate it all. Embroidery is essentially the process of decorating a piece of cloth by creating patterns using a thread. One can decorate multiple articles such as tablecloths, pillow covers, bags, etc., with exciting colors and patterns. The activity is rather neat and family-friendly. It is a great hobby to get your babies into to teach them important lessons like those of coordination and patience. In a world of technology, handiwork becomes a major way of distracting children from the house of screens and allow them to explore the depths of their imagination.
Embroidery is a relaxing and fun activity that you or your child can do anytime and anywhere. It will also build on their hand-eye coordination, motor skills and inculcate creativity. The activity will also help them become focused and increase concentration. Not only does it foster growth, but their ability to embroider will also help pump your child's self-esteem by making them feel accomplished with a sense of achievement. This will further increase confidence in other spheres of their lives. It also provides you with a chance to spend more time and bond with your child, especially when the household adults are working individuals. Start slow with basic concepts and methods and make your way up to more complex designs, almost like levels in a game. This will make the activity even more fun and intriguing. You can set up embroidery projects for kids to do such as, "create a fruit" or "portrait of your pet."
What will you need
To begin your adventures, you need a set of basic supplies, which are listed below. With each subsequent level of expertise, you can add to your collection of items.
An embroidery hoop

Burlap fabric

Plastic large-eye sewing needles (to ensure minimum injuries and simplify the annoying process of threading the needle)

Various Yarns (in multiple colors)
You can also add more items to make the process extra fun, such as beads, buttons, and glitter!
Instructions to follow
It is always best to start with simple embroidery for kids with broad patterns as they are easy to understand and create. Follow a basic set of instructions to simplify the process. A demonstration is essential as children tend to learn best from actions.
Pull the embroidery loop and place the burlap inside. Now fix it back together.

Thread the plastic needle with a yarn of your choice.

Add a knot at the end of the yarn after the needle penetrates the burlap. This allows the thread to stay in place and not slip out of the burlap as children (especially younger ones) tend to be more rough and heavy-handed.

In the case of young children, stick to simple broad patterns and begin from the back of the hoop, poke and then pull the needle through.

Older and slightly more experienced kids can turn to more complex and thought-provoking designs.

You can also design the work on the burlap with a chalk piece before beginning with the thread to have more precise dimensions and guidance.
Tips and Tricks to Introduce Embroidery to Children
When introducing a new skill, it is important to pace oneself. Thus, we present a few cautionary and important measures that you must take through the journey of teaching your children the art of embroidery.
1. Make sure the basics are clear
Teaching children how to fasten the burlap and some basic stitches is necessary to ensure they have a strong base. The running stitch, backstitch, and cross stitch are examples of simple stitches that you can begin with. Allow them to perform a few practice stitches on scrap paper and use a slightly thicker yarn to make it easier.
2. Keep the instructions short and precise
Children have a short attention span, so in the case of embroidery for preschoolers, i.e., tiny children, keep the lessons short and give a small set of instructions, thereby understanding the lesson well maintaining their interest in the activity.
3. Make learning fun
Keep the classes fun by introducing fun-themed embroidery ideas for kids, such as creating a rainbow or an animal or doing a baby boy embroidery. Keep the patterns easy and doable using fun, bright colors. Encourage group activities. It is important to associate the activity with an exciting experience to stem a long-lasting interest.
4. Safety First
Put safety above all else. Ensure that tools such as needles and scissors are used under supervision as they can be sharp and dangerous. Store them safely and out of your child's reach.
5. Encourage and applause
Always praise children for their artworks. The praise encourages them to do better and improvise on their skills. Reward a job well done by presenting the child with a gift such as a new embroidery set.
6. Promote combined learning
Invite friends from the neighborhood to participate in the activity along with your own child. Children enjoy the company and learn better as an interactive group. This helps keep the lessons light and exciting.
Learning the art of embroidery can be a fun and enriching experience for children. It allows your child to build a new set of skills that will forever be useful in their lives. Using these tips and tricks, you can foster a growing talent. Embroidery is calming, relaxing, and omnipresent as you can carry the kit anywhere. It produces a healthy outlet for your child's emotions and can also help deal with stressors like examination pressure or performance anxiety. By following these few steps and precautions, you can make embroidery sessions a great way to bond and create memories that you will cherish forever. Turn your kids to embroidery now and believe me, you will not regret it!
Also Read:
How To Make Paper Flowers For Kids
Easy Spring Craft For Kids
Simple and Unique Handmade Greeting Card Ideas For Kids