54 Best Fancy Dress Costume Ideas for Boys & Girls
Even though times have changed, there are some things about parenthood that will probably be the same. Sating the curiosity of your kids about everything related to grown-ups and flashy things is one of them. And this holiday season, we have several suggestions for you.
List of Fancy Dress Competition Ideas & Themes for Kids
One of the best ways to nail best fancy dress themes is to make something rather than to use something that's readily available from the shops. Using your imagination along with some smart moves can ensure that your kids will rock any event that revolves around fancy dress party themes. Firstly you should aim to draw inspiration from your kid's life to create costumes.
Nothing will delight your kid and you more than creating something from scratch rather than renting or buying something from the stands. After all, these formative years are some of the best memories that you and your kid will cherish. Might as well make it worthwhile.
As far as inspirations are concerned, there are so many that you may be spoiled for choice. From food items to cartoon characters, to mythological characters, to items of everyday use to unique ideas that will certainly excite your kid- the possibilities are endless. If you, as a parent, are invited to the event, a unique suggestion would also be to create a couple's costume where you team up with your kid and create some wonderful memories.
Let's explore some crazy options for fancy dress costumes that will help you stand out.
Homemade & Best Out-of-Waste
1. Snail Costume Out-Of-Waste
Yes ladies, gentlemen and kids! One of the best ideas for fancy dress costumes made at home. Nothing quite comes close to creating a snail, with the shell and everything included. Read on to find out what is required and what kind of routine can go with it.
Requirements
Headband, lots of glue, waste paper, preferably in brown, sellotape or masking tape, ribbon, soft balls, styrofoam preferred, cardboard pieces.
How To Make
The basic idea is to wear the shell of the snail as a backpack. To make the shell, crumple as much of the waste paper as you can in an outward round motion. For obvious reasons, make sure that the shell stands out. Use the tape to make sure that the structure remains in place. Ensure that the rolled and crumpled paper looks like a shell. The size is up to you. Make sure to tape and firmly glue everything. Once the shell is ready, use the ribbon to make it look like a backpack and fix it in place with the cardboard in a firm manner. Lastly, make the headband by crumpling two sets of the paper in the shape of an antenna. Crumple the paper in a manner that it stays stiff and can stand on its own. Don't forget to stick the balls with glue at the end of these crumpled pieces so that it stands out. Now paste this into the headband and voila, your snail costume is ready.
Dialogue
Here again you can make use of your own or your kid's creativity. Nevertheless, here is a suggestion; "I am a slimy snail that leaves no trail."
2. Candy Costumes
Next up on fancy dress theme best out-of-waste is, of course, creating boxes of your kid's favourite candy. This can be one of the simplest costumes to make and is hands down the most popular.
Requirements
Befitting cardboard boxes sized as per your kid's structure. Paints, acrylic preferably. Latex and lots of craft paper in desired colours. Pencils and pens.
How To Make: The trick is to modify the box to fit your kid's body. Cut out sections for your kid's head and hands. Ensure that this cardboard box can be worn as a vest by your kid. Once the box has been modified as per your kid's proportions, cover the box in suitable craft paper, be it marble or velvet, of your kid's favourite chocolate. After that, use the pencil or the pen to draw the name and other details across the body of the box. Next paint them with colours to make it look as close to the real thing as possible. You can also use glitter for an added effect.
Dialogue
There is little room for imagination here as most candy companies have their theme songs or one-liners that are used for marketing. However, you can use your imagination and come up with something.
3. Bat Costume with a Recycled Umbrella
The next fancy dress costume from waste material is not only simple to make, but looks lovely and can certainly win your sweetie awards. And the best part? It takes almost no time to create.
Requirements
A black umbrella, preferably black since bats are black. Of course feel free to improve it with patchwork. Electrical black tape, a pair of scissors, 25 mm wide black ribbon, 2 to 3 meters. Side or wire cutters.
How To Make
Be prepared to do a lot of cutting and taping folks! While this is an easy costume to make, the big challenge is also to make it safe. Open the umbrella fully and position it upside down. Now begin with cutting the middle triangles in a neat manner. Next up, cut the joiners as well as the metal supports with the wire cutter. Don't forget to cut the handle of the umbrella as well. Make it look like bat wings by taping any of the sharp edges. Basically dissect the entire umbrella to make it safe for your child. Now use the ribbon so that it can be tied to your child's wrists. And your bat costume is ready!
Dialogue: You can practice with your kid to recite a couple of lines from the cartoon or make up your own routine for added effect.
4. Human Rocket
Yes children and parents alike, here is an easy breezy technique to don and rock the human jet pack. This may or may not make 'wealth out of waste' fancy dress but is sure to win you the best parent award for some time to come.
Requirements
Cylindrical looking 2-litre bottles of soft drinks, 2 in number. Spray paint, silver preferable. Cardboard, red and orange coloured felt. A waste cloth similar to the texture of felt can also be used. Webbing and buckles, preferably from old school bags and glue, hot preferable.
How To Make
Take the piece of cardboard, big and wide enough to fit the width of your kid's back, and host the webbing. You can use either hot glue or staples to adjust the webbing to the cardboard and also so that it fits your kid's body snugly. Now use the spray paint to colour the bottles silver. Let it dry a bit. Meanwhile you can make the rocket fire by cutting the pieces of red and orange cloth in the shape of fire. You can also use tinsel or streamers to make it fancier. Attach these cut pieces to the spout of the bottles. Now use hot glue to attach the bottles to the cardboard piece with webbing and there you have it.
Dialogue
There is no hard and fast rule here, and for once your kid will have a routine prepared, especially if she or he likes science.
5. Ghost

This last idea for a kid's costume is seriously a no-brainer. Pop culture, as well as media around the world, has made it easy enough to carry and create. And the best part is that this is the easiest to create at any given time.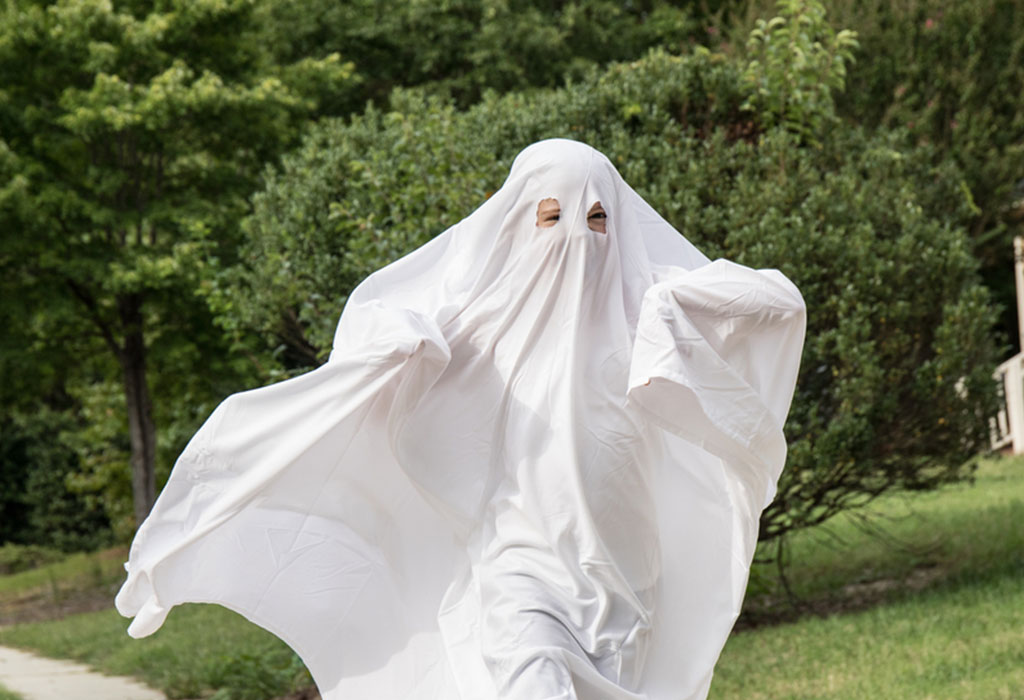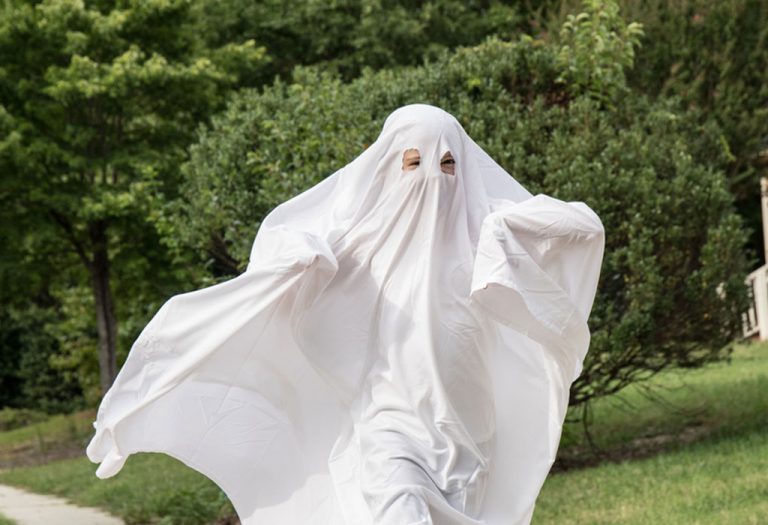 Requirements
An unused bed sheet, white. A pair of scissors and marker pens.
How To Make
Cut out pieces of the bed sheet for eyes, nose and mouth. For added effect, you can also make patterns of different sorts with your marker. In fact, you can use glow-in-the-dark markers for creating a story on the white sheet, just for an added effect.
Dialogue
Here you can certainly make your kid prepare a routine of her or his liking or simply draw from stories around.
Nature & Environment
Fancy dress ideas for kids is also a wonderful time to include real themes of our surroundings. Nothing promotes education as real issues mixed with fun. Here is also a chance for you to raise a responsible kid with the following fancy dress ideas for kids save the environment.
1. Dressing up as a Tree
Nothing sends a stronger message than to dress up as the one thing that will protect humankind as a whole. This is, in fact, one of the easiest and best costumes that you and your kid can flaunt at fancy dress events.
Requirements
Cardboard, paints and glue. In fact, to make the look festive as well as educational, you can rent a Christmas tree to send your message across. Otherwise, you can stick to making branches and leaves with the cardboard and paint and dress your kid to kill.
Dialogues
A suggestion would be, cutting me will cut your oxygen, conserve nature even if free because I am a tree.
2. Cloud
One of the best ideas for fancy dress competition on nature is to dress your kid as a cloud. Clouds are easy to make and create a good impression, but more importantly can be crucial in helping you send a message across with the costume.
Requirements
Cardboard, pens, a pair of scissors, ribbon. You can, of course, make it even fancier with white paints and polystyrene sheet. This again is easy enough to cut out and attach with the ribbons on the back of the child. You can also make two cardboard cutouts and attach them on both sides of the kid's body for better effect.
Dialogue
A suggestion would be, keep living plain so that I can continue to rain.
3. Earth
This may be the most obvious choice for a kid's costume part, especially if you are sending a message about the environment and the planet earth.
Requirements
The easiest and most effective way to recreate Mother Earth would be to keep your kid's body as the axis. You can either recreate the globe on a flat surface and use pens, paint and works in a way that can be suitable. Or you can cut out circular pieces of cardboard and attach them to your kid's body and recreate the map of the world for effect.
Dialogue
"Save me Save you" would probably be an excellent suggestion to use in this category.
4. Recycling Bins
This may come across as weird for fancy dress competition ideas on global warming. However, nothing will drive the point home easier and make your kids overnight stars. In fact, if you have twins or triplets, here is your chance to create a story that meets with the current requirement of recycling.
Requirements
Cardboard boxes, or rectangular cardboard pieces. Craft paper or paper that can be painted on. Paint in colours as per the usual recycling bin colours. Pens and pencils to write it across the body of the bin. There are endless ways to use your imagination to recreate recycling bins.
Dialogue
Keep it simple and effective, such as "feed me paper and I will savour, feed me glass and I will be crass" or something that is short and rhymes.
5. Sun
Another extremely simple to create costume that is layered as a message and a lesson in education. For one, sustenance on earth is impossible with the sun, the warmth and the light that it creates. Here follows the easiest way to make it.
Requirements
Cut some cardboard into a round shape, use some paint to make it yellow, simple! Unless of course, you are planning to go even fancier and may want to use a polystyrene sheet and use ribbons to hold or wear it.
Dialogue
The suggestions for sun themed fancy dresses include, "I am warm and I give life, save me or sufferance will get rife."
Indian National Leaders & Freedom Fighters
A genuine favourite throughout the year and especially during national holidays such as Independence Day or Republic Day. The Indian fancy dress ideas surrounding national leaders are the easiest to recreate and make costumes for. The more important aspect of dressing up an Indian national leader or freedom fighter is recreating and working through the dialogs for fancy dress competition for kids. Here are some nice ideas to work on.
1. APJ Abdul Kalam
The late former president of India is a youth icon and national hero for all ages and stations of life. The dress is easy enough to recreate. The hard work will be the mastering the talking style and gait. He was a scientist and of course related closely to education. So let's take a look at how to recreate it.
Requirements
A white wig that is easily and widely available in stores across India. APJ Abdul Kalam was known to be a simple dresser, so a safari suit, a kurta pajama or even a normal suit with a tie can help nail the look.
Dialogue
Out of a plethora of dialogues to choose from, young aspiring kids can quote "You have to dream if you want your dreams to come true" for a wonderful effect.
2. Bhagat Singh
No list of fancy dress competition for kids national leaders is ever complete without including this amazing freedom fighter. This charismatic national hero was a true revolutionary who was executed at the age of 23. Recreating his style is easy and of course comfortable. Let's explore the following option for fancy dress competition Indian freedom fighters.
Requirements
Fancy dress costumes for Bhagat Singh are easily available in kids' sizes across stores in India. If you want to put the costume together on your own, you will need a formal white shirt, a formal black pant, all in cotton, a hat styled in the manner Singh used to don and finally the moustache. In case, you don't want to invest a moustache, you can also use paints or kohl to draw it on your kid's upper lip.
Dialogue
The best dialogue that makes Singh such an icon can, of course, be delivered duly by your kid, "They may kill me, but they cannot kill my ideas. They can crush my body, but they will not be able to crush my spirit."
3. Indira Gandhi

This distinguished Prime Minister of India was not only an amazing politician but also quite the style statement. Indira Gandhi's policies may be up for debate, but nothing can undermine the fact that she has always been a popular choice for kids' fancy dress competitions.
Requirements
A saree, cotton or polyester, preferably in white with thin borders. You can also choose simple formal sarees in hues of brown, maybe checkered and simple flat shoes. For the hair, you can always use a simple black wig cut in blunt style, with a streak of white. Better still you can use some talcum powder to recreate the look.
Dialogue
There are plenty of dialogues available from the iron lady of India. A suggestion here is posted; "You cannot shake hands with a clenched fist."
4. Rani Lakshmi Bai
When it comes to fancy dress ideas for independence days, Rani Lakshmi Bai might be quite the off beat choice. While not quite always recreated, here is a chance you for you to dress your precious daughter as a princess, for real. Also, your daughter can go wild with colours and jewellery for a better effect.
Requirements
The fancy dress for this mean-spirited Rani is widely available for rent as well as sale in stores all across India. Nevertheless, you can just as easily recreate this look with a nice saree in a bright colour. You can team this saree with colourful jewellery. The saree must, however, be draped in typical Marathi style that resembles that of a pant. Don't forget to add a fake sword and shield for added effect.
Dialogue
Imagine how cute your kid will look while raising her sword and quoting Lakhsmi Bai with words such as "I shall not part with my Jhansi". Rani's quotes are widely available to refer from.
5. Netaji Subhas Chandra Bose
And lastly, let's round off with another popular choice for kids' fancy dress costume events. This man has been known to contribute a lot to the history of India's Independence. Also putting together this look is easy and comfortable.
Requirements
A hat, a pair of spectacles, round frame preferably. A typical uniform in brown or khaki. Good boots/shoes.
Dialogue
With quotes such as "Give me blood and I will give you freedom" this choice of costume will never go wrong.
Professional Theme
As an inspiration for a fancy dress can come from any avenue of life, why not take real life and create some memories. Professional fancy dress ideas can be a wonderful dry run for what your kid is aspiring to be as well. So let's play with a few ideas.
1. Police
One of the most popular and easiest to create, police fancy dress promotes all kinds of goodwill in any competition or fancy dress event.
Requirements
To get a complete feel of this costume, the best choice would be to rent. Nevertheless, you can choose khaki fabric pants and shirts to flaunt this costume. Don't forget to add a nice belt, good shoes as well as a toy gun and some badges.
Dialogue
You can use any amount of imagination to make some dialogue that helps with the image of the controller of law breakers. A suggestion would be, "Let's fight crime together with honesty."
2. Doctor
One of the noblest and sought after professions in the world, it's hardly a surprise that this choice features in this list. A doctor fancy dress is not only fun to recreate but also sends a strong message about the choice of professions.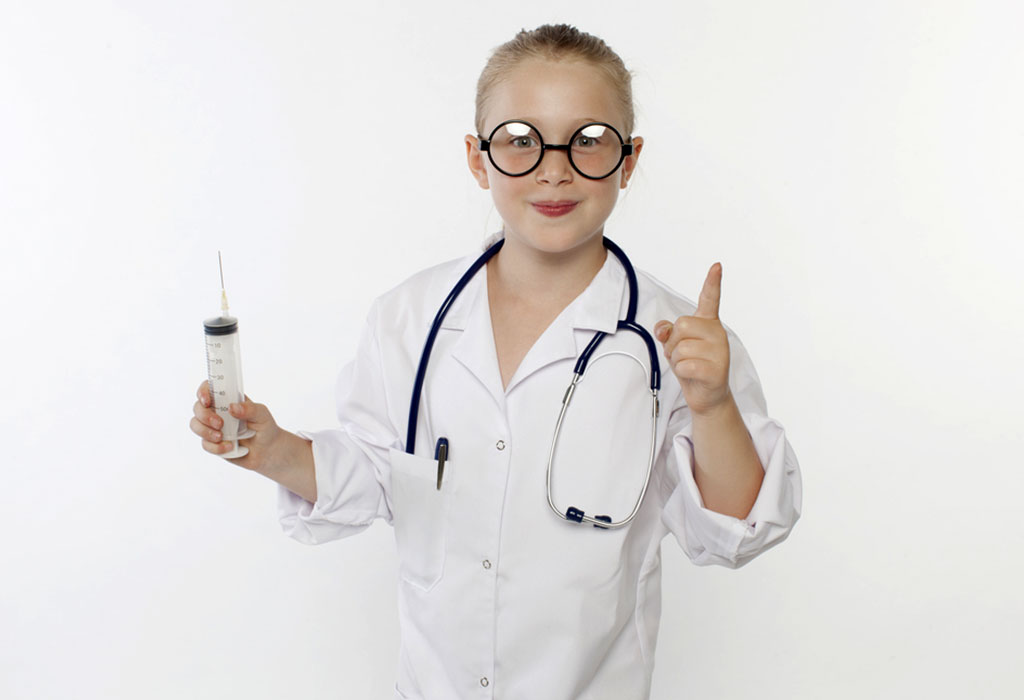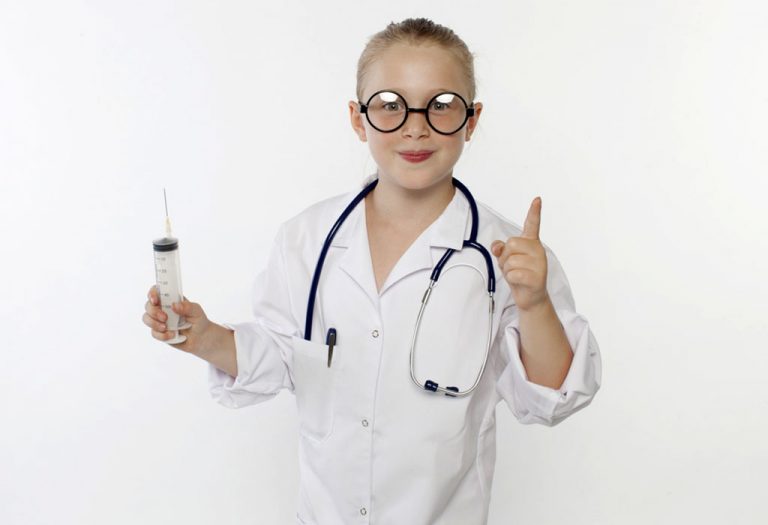 Requirements
Regardless of what your child wears, make sure to team it with a white lab coat and a stethoscope. For added effect, you can also create a cute doctor's bag with all kinds of medical devices such as a thermometer, forceps etc.
Dialogue
A doctor's dialogue can go something like, "let's eradicate germs and promote healthy living."
3. Nurse

Continuing with the list of professional fancy dress costumes, here is another favourite choice to be reckoned with. For fancy dress costume ideas especially, recreating the uniform of a nurse is certainly one of the easiest and most attractive.
Requirements
A cute little dress in white, preferably white. A nurse's cap, white stockings and white shoes. For added effect, you can also add the tray of a nurse which contains several items such as first aid items, a pair of scissors etc.
Dialogue
A nice dialogue for the role of the nurse would be, "My sole purpose in life is to look after the sick and wounded."
4. Teacher
This choice of costume is hands down a varied choice in any competition or event. For one, kids can easily create the look of their favourite teacher from school. Otherwise, you can rely on the basic look with what the job entails.
Requirements
A teacher's costume can be anything simple and formal. Formal clothes include sarees and formal pant and shirt. Adding glasses can accentuate the look. Another addition could be books of the favourite subject of your teacher.
Dialogue
Since there are no set rules for choosing a dialogue of a teacher, feel free to use your imagination to think of one.
5. Military
This choice is of course not only smart but also offers options to young kids. The range includes dressing up as a soldier, to a defence pilot to being in the Marine Corp.
Requirements
This choice is again something best served from rented stores. Nevertheless, investing in a smart uniform can create a very nice effect. The easiest choice would be to buy camouflage pants and a proper tee to go with it, finishing off with heavy duty boots.
Dialogue
My religion and duty are to protect and serve my country could be an idea for dialogue.
Fruits & Vegetables: Food for Thought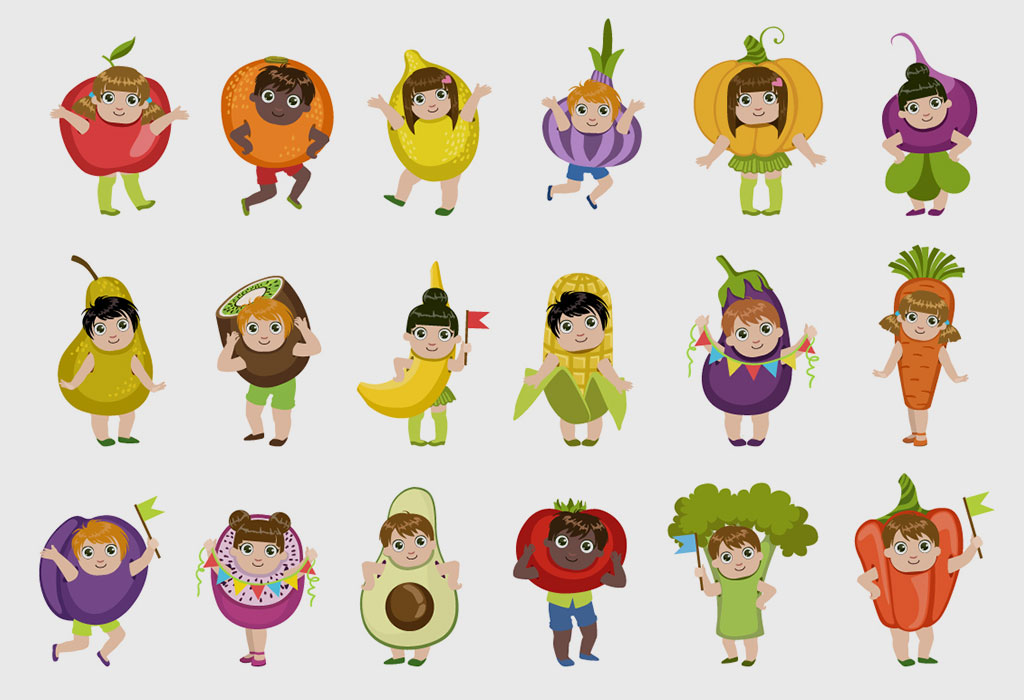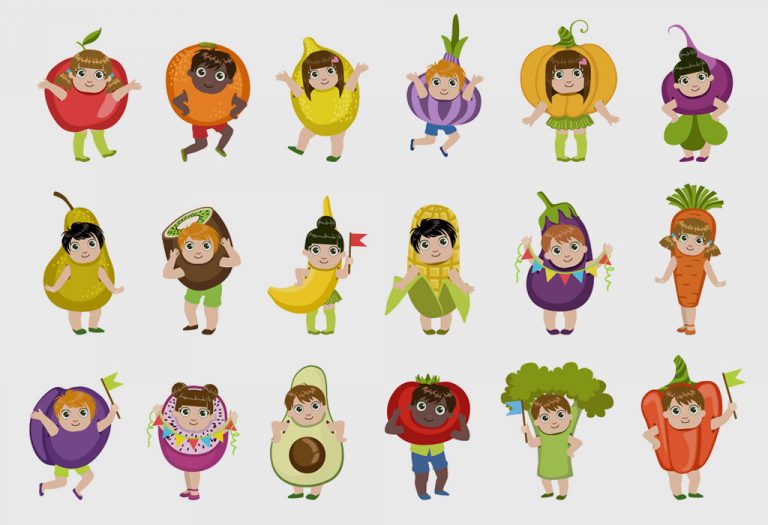 You are what you eat. Therefore, dressing up as a favourite vegetable or fruit is always a good idea that promotes a healthy lifestyle as well as sends a positive lesson for life.
1. Pumpkin
Not only is pumpkin a very good choice from a variety of vegetable fancy dress ideas for your kid but is also extremely healthy to eat. More importantly, the costume can surely win your kid some admiration as it's both colourful and cute.
Requirement
Cardboard, a pair of scissors and paints can prove effective to make a pumpkin. Apart from making a pumpkin cutout, you can also sew a pumpkin costume with felt, mixing both orange and green coloured felts.
Dialogue
Small poems written from your kid's perspective can help nail this look. A simple dialogue would be "I am a giant orange pumpkin, not eating me is a sin."
2. Watermelon
This fruit is among the top choices for fruit fancy dress ideas. It's not only a fruit that is widely loved, but the natural colours of this fruit make for a colourful choice of costume.
Requirement
This fruit as a costume can be made either as a cardboard cutout or with polystyrene sheets. This costume can be made either as a whole fruit or as half a fruit. So have fun experimenting.
Dialogue
I am a yummy watermelon, I can cool you in the summer, can be a dialogue idea for this costume.
3. Pear
This fruit again is a wonderful idea for kids of almost any age. Making this fruit is easy and you can have some fun with your kid while making it.
Requirements
You can any day rent this costume as it is widely available in stores. Nevertheless, this is an extremely easy fruit to make cutouts from a piece of cardboard. Use pale green coloured paint on the body and brown coloured to use on the twig for a cute effect.
Dialogue
It can go something like, "A pear-shaped world that can just as easily twirl".
4. Eggplant

This is again a very colourful and cute choice for kids of almost all ages. Though you can also choose green for the costume, the best choice to stick to would be purple and green.
Requirement: This costume can be effectively sewed together with felt and padding, using purple colour for the body and green for the stem. Nevertheless, you can make cardboard cutouts that can be coloured by your kid with paints.
Dialogue: A small rhyme such as "I am a happy eggplant that can swim, sing and not get tanned."
5. Apple
Apart from being the first letter of the alphabet, apple is a fruit that is generally liked by kids of all ages. The bright hues of the fruit add an extra charm to the costume.
Requirements
An apple costume can easily be made with some cardboard, paints and some ribbons to attach it to your kid's body.
Dialogues
Ditching the usual quote for apples, try something new such as "Eat an apple and find the strength to grapple."
Indian Mythological Characters
When it comes to mythological fancy dress ideas, you don't have to look much further than the Vedas to create some nice costumes.
1. Lord Krishna Fancy Dress Ideas
Depiction of this character is one of the most popular choices among kids and parents alike.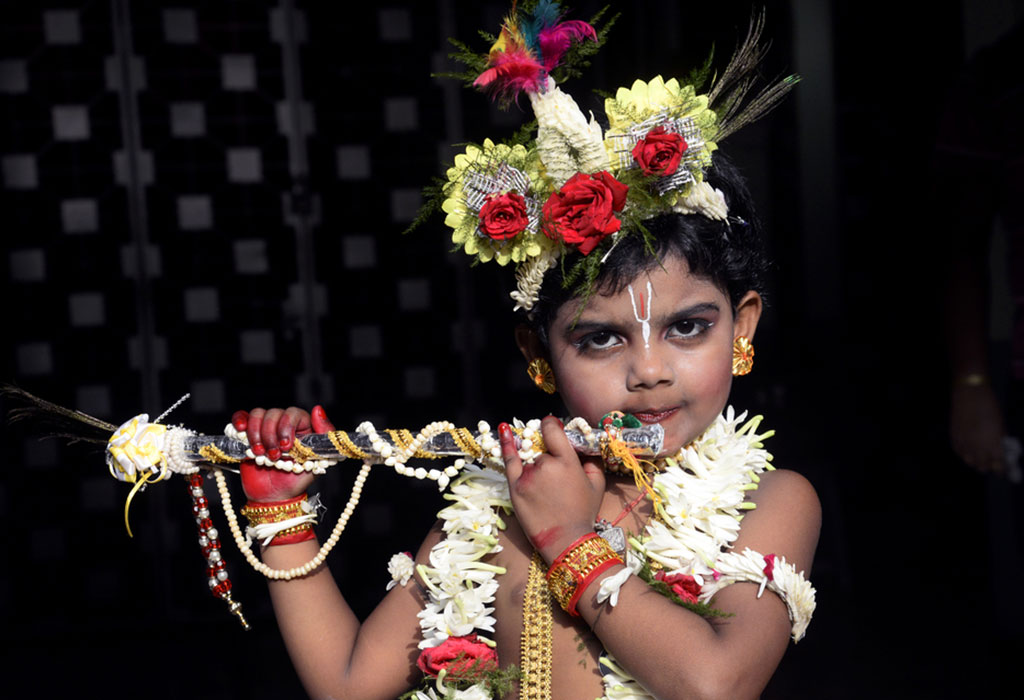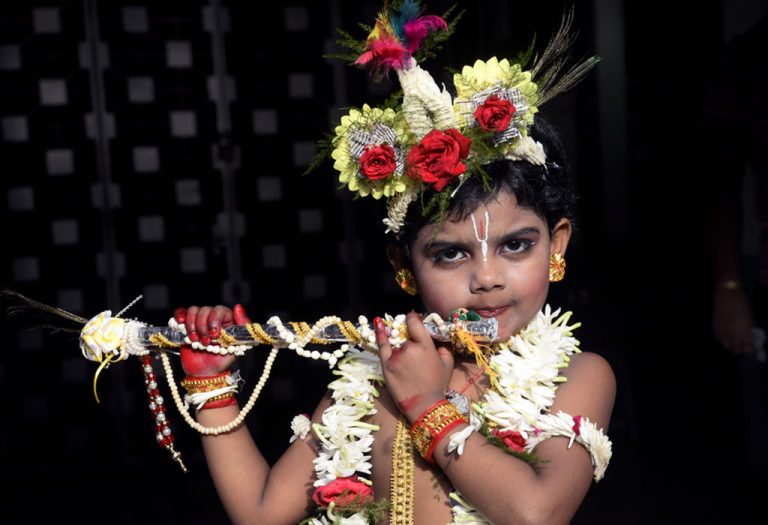 Requirements
Here again there is a choice, you can either dress your kid as an infant Krishna or create a costume as a Krishna in teens. For the teen Krishna, you can keep it simple with a dhoti, peacock feather, a few neck pieces and a small crown. Don't forget the flute as a prop and the blue body paint.
Dialogue
You can make your kid quote any snippet of the Bhagvad Gita or make her/him recite the Gayatri Mantra.
2. Lord Shiva

Here is the depiction of a character than you and your kid will both have fun working on. Don't forget to add some prop to add to the look.
Requirements
A plastic snake. A huge stick and of course a bark printed onesie kind of dress that is best sewn at home. Don't forget to add a few rudraksha knock-off peck pieces to adorn the look.
Dialogue
Again, here is your chance to improvise and Shiva has never been known to say much. Quotes about Shiva are widely available to choose from.
3. Hanuman
Another choice of popular costume ideas, Hanuman is easy to recreate.
Requirements
A dhoti, a crown and a mace. Here is your chance to go crazy with some makeup for a better look.
Dialogues
A few lines from the Hanuman Chalisa should surely hope to win your kid prizes.
4. Maa Durga
Known by different names in different parts of India, Maa Durga is again a popular choice for kids of any age to be dressed as.
Requirements
A colourful saree, a trident, a big crown and of course some nice jewellery. Don't forget a long-haired wig for added effect. Besides that, you can also play around with some nice eye makeup.
Dialogue
Here again is a chance for you to improvise a suitable dialogue for your kid.
5. Maa Saraswati
A popular choice again is a goddess identified with education and performing arts.
Requirements
A saree in white or sunny yellow paired with some pretty jewellery and the Veena and the lotus flowers as props can help nail this look.
Dialogue
Any snippet of the Saraswati Vandana or any improvised few lines can go wonderfully with this costume.
Animal Fancy Dress Costume Ideas
Animal fancy dress costumes for kids are generally popular with the younger kids who are learning about the animal kingdom. Of course, the following ideas for animal costumes for kids are welcome to be used for kids of all age.
1. Lion/Lioness
The King or Queen of the jungle can excite young kids without a doubt.
Requirements
You can either rent a costume or simply make cardboard cutouts using yellow and black paints to adorn the costume. Another idea could be to sew it using felt. Don't forget to add a snout and tail to complete the loo.
Dialogue
"I have courage and power but I am also just so no need to cower" is an idea.
2. Snake
This is also a relatively easy costume to put together. Also, you get to play with makeup.
Requirements
You can make cardboard cutouts and use paints to colour coordinate. Or you can simply sew a felt costume which your kid can get into. Add sparkle the look with some shimmery material on the head.
Dialogue
"I am a snake that can charm but I am also nice so keep your calm" is a suggestion.
3. Turtle/Tortoise
This is an option where you can stick to the normal animal or use ideas from Teenage Mutant Ninja Turtles. A combination of both can certainly make for a nice look.
Requirements
The usual cardboard cutout routine with green and black paints works without fail. However, you can improvise by building a shell the same way you built the shell of a snail. Making that into a backpack and using green and colourful eye pieces can help win.
Dialogues
"I'm and steady and slow but I can help you in a quick flow" could be an idea.
4. Rabbit

This fast and adorable animal is always a wonderful choice for any costume or fancy dress event.
Requirements
A homemade suit in felt is always a great idea for this category. However, you can always make cardboard cutouts. Don't forget the snout and the cute tail for a complete look.
Dialogue
"Fast and easy, this rabbit is cute and crazy" is a mere suggestion.
5. Butterfly
This is hands down a favourite, especially among the girl kids across all ages. This is a simple costume to make and certainly has to be colourful to fit the bill.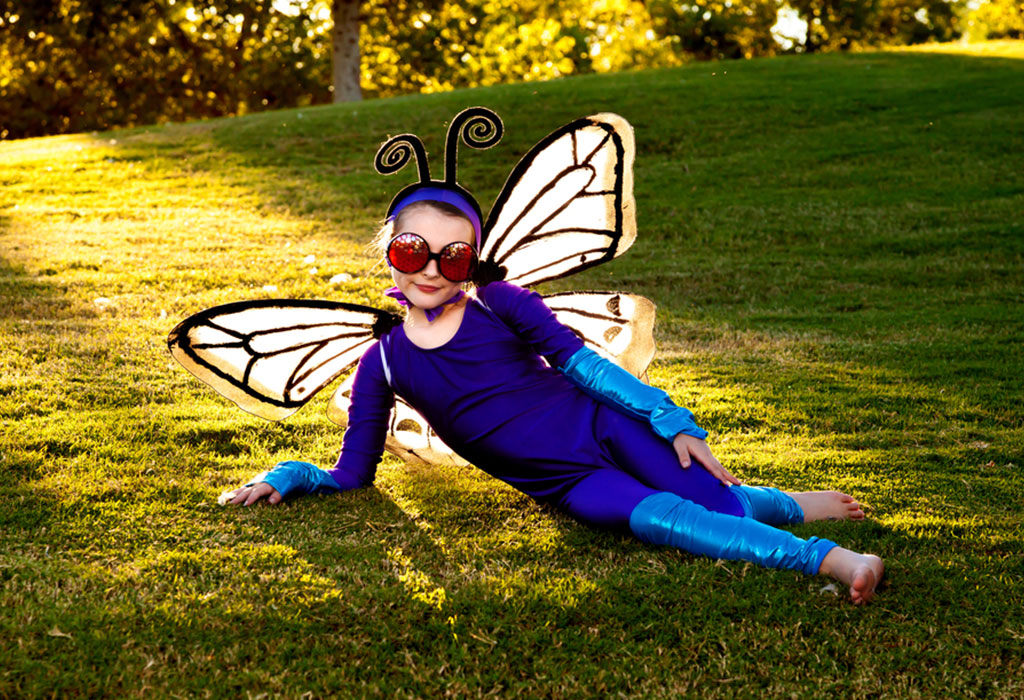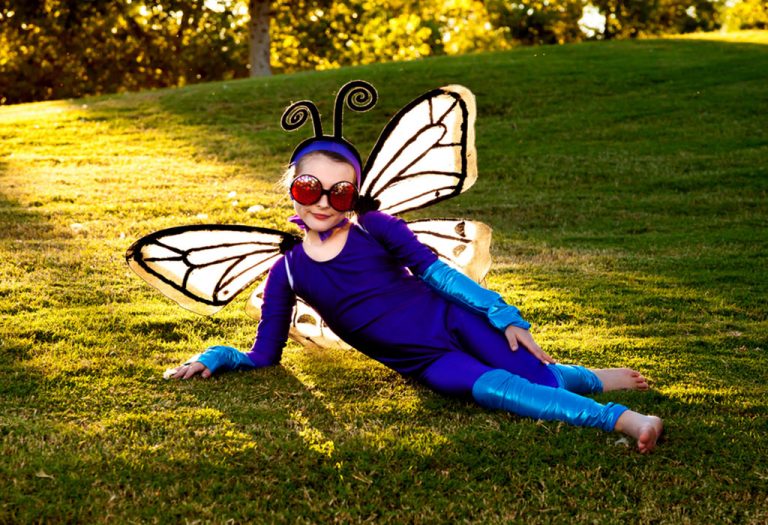 Requirements
Your kid can handpick the most colourful dress that she or he has and don a colourful headband with antennae for an added effect. You can also get creative by using the umbrella bat costume idea shared earlier; except, use a colourful or printed umbrella instead of a black one.
Dialogue
"I am a free-flying butterfly, but I am kind and not sly." is a suggestion.
Cartoon Characters: Children's Favourite
This is, of course, a category that gives you major brownie points as a parent. To dress your kid as his or her favourite character in the world is easy and an exercise in bonding. Here are some easy cartoon character fancy dress ideas for your tiny tot.
1. The Mask
One of the classic choices for cartoon characters fancy dress ideas for kids, this look is easy to put together and has a lot of room for improvisation.
Requirements
A formal suit in yellow, a felt hat with one proper feather and of course some green body paint.
Dialogue
Your kid can quote some favourite dialogue such as "Somebody stop me!"
2. Tom or Jerry
Another classic idea for fancy dress costumes, this also falls under easy cartoon fancy dress ideas.
Requirements
You can make cutouts with cardboard for a good effect, using paints to nail the look. You can also sew this costume at home with felt.
Dialogue
This again is an area where you can improvise. For Jerry, you can write something about his love for cheese.
3. Doraemon

This adorable cat has taken the nation by storm and is also an easy look to bring together.
Requirements
You can make this costume at home with some proper felt and add the bell around the neck and a cute tail to complete the look. Cardboard cutouts are also a great idea for the same.
Dialogue
Your kid can quote Doraemon directly with lines such as "If you do not at least try, you will never change" etc.
4. Fred Flintstone

A classic and yet one of the easiest costumes to put together.
Requirements
For this, you might want to either rent or make this at home. For once, your kid can also roam around barefoot for added effect. Take some printed fur in the classic colours and don't forget to add a blue tie for best effect.
Dialogue
Quote Fred directly with "Yabadadoo" with some actions for best effect.
5. Popeye
No list of costumes for kids is ever complete without this famed sailor man who loves to eat spinach.
Requirements
There is a lot of room for improvisation here. For starters, your kid can wear a sailor man's suit readily available. You can make a cutout of a can of spinach and don't forget the sailor cap, an eye patch and a pipe for the best effect.
Dialogue
Quote Popeye directly with the theme song that goes like "I'm Popeye the sailor man, I'm strong to the fin-ich cause I eats me spi-nach" for best effect.
Fairytales & Princess Theme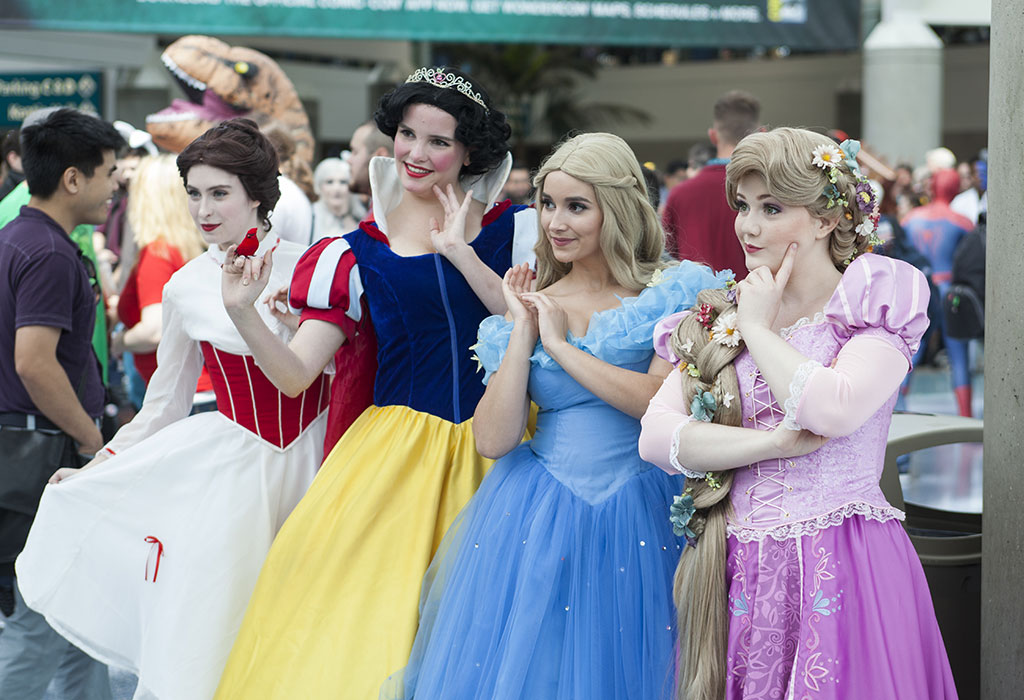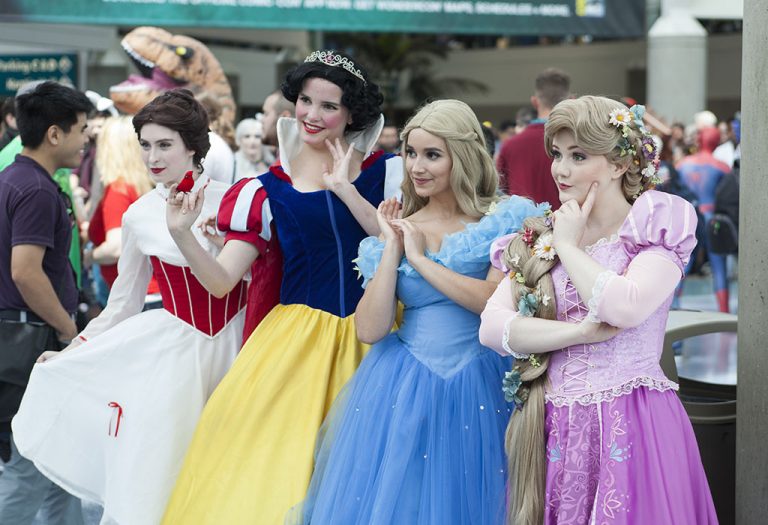 There is no going wrong with this choice as this has been, still is and will continue to be the rage for all times to come.
1. Belle

This beloved character from Beauty and the Beast is a classic choice and will certainly help your kid go places.
Requirements
A beautiful big gown, preferably in yellow and matching shoes. You can totally add to the look with some jewellery and books since Belle loved to read.
Dialogue
You can quote a few lines from the songs that this character sings such as "There must be more than this provincial life" etc.
2. Elsa

This beloved character from Frozen has been on top of the charts for costumes since its release in 2013. Also, this is an easy enough look to put together.
Requirement
A pretty sequinned layered gown in blue and matching shoes and gloves. You can, in fact, add to this by installing some user-friendly lights in places that can be switched on with a hidden switch within the costume.
Dialogue
"Let it go" is a signature statement in itself. You can also practice with your kid to sing a few lines along the way.
3. Olaf
Since we were onto Frozen anyways, this beloved character is a wonderful choice for any fairy tale themed costume event.
Requirements
Since Olaf is an adorable snowman, this look is easy enough to recreate with cardboard cutouts, white paper covering and black to draw on the buttons and eyes. You can also sew this easy costume at home. Don't forget to add the droopy eyes, the carrot stick nose and twigs for hands and feet for a complete look.
Dialogue
"I am Olaf and I love summer" may be the easiest line to remember. Feel free to choose other quotes.
4. Shrek

This giant green ogre with a lovely heart is, of course, one of the best ideas for a kid's fancy dress event. Check the following tips to compile this look.
Requirements
Green coloured body paint, brown and white coloured shirt and pant with a brown half sleeved jacket is all you really need. For the ears, cardboard cutouts can be used.
Dialogue
"Ogres like onions have layers Donkey" may be a nice paraphrased line that your kid can use.
5. Moana

Moana of Motunui is perhaps one of the freshest characters and is steadily becoming a highly popular one in fairy tale themed costume events.
Requirements
A simple, colourful skirt that reaches the knees. A tube top again colourful and of course a beaded necklace to complete the look. For added effect, you can curl your kid's hairs or use a wig for the same.
Dialogue
"I am Moana of Motunui and I will sail to Te Fiti" might be slightly paraphrased but does the job with flying colours.
Famous Personalities & Celebrities
This will probably be your kid's second choice in any costume party that she/he will participate in. Read on to explore some of the best and easiest celebrity fancy dress costumes ideas.
1. Amitabh Bachchan

Any list of fancy dress ideas of famous personalities will be incomplete without including this distinguished personality.
Requirements
A suit and tie, preferably in dark tones. To complete the look, team it with a white and black wig as sported by Mr. Bachchan.
Dialogue
A few lines from KBC is all your kid needs to nail the recreation such as "You have won 1 lac rupees".
2. Sachin Tendulkar

The choice of this character is again a classic and easy enough to recreate.
Requirements
A nice cricket bat, a cricket helmet, and of course the usual player's uniform in blue.
Dialogue
Dialogues by this master blaster is widely available. "And that is the reason why this victory is great because different players have made contributions to the win" is a suggestion.
3. Vijender Singh
This famous boxed who competed in the Olympics is, of course, an off beat choice but an easy look to recreate.
Requirements
You and your kid can buy the normal uniform and some nice shoes to complement it. You can play around with the hair a bit.
Dialogue
You can directly complement the look by quoting "Scrutiny has never scared me" etc.
4. Michael Jackson
If your kid has some sweet moves, here is your chance to pull off a wonderful look for fancy dress costume parties.
Requirements
For Michael Jackson's, a suit or normal jeans and tee with a leather jacket. Make sure that the pants are shorter to show off the ankles. To complete the look, you can add a wig or simply curl your kid's hairs for a dramatic effect.
Dialogues
Your kid could croon lines from any of his hits such as "All I know is that they don't really care about us."
Superheroes
Generally, this is what most kids in recent times want to dress up in for any fancy dress related event.
1. Spiderman

This beloved hero created by Stan Lee has been the rage for quite long now. Let's see how to recreate the look.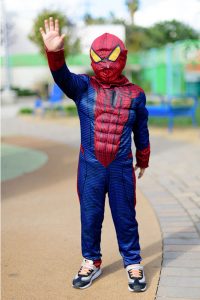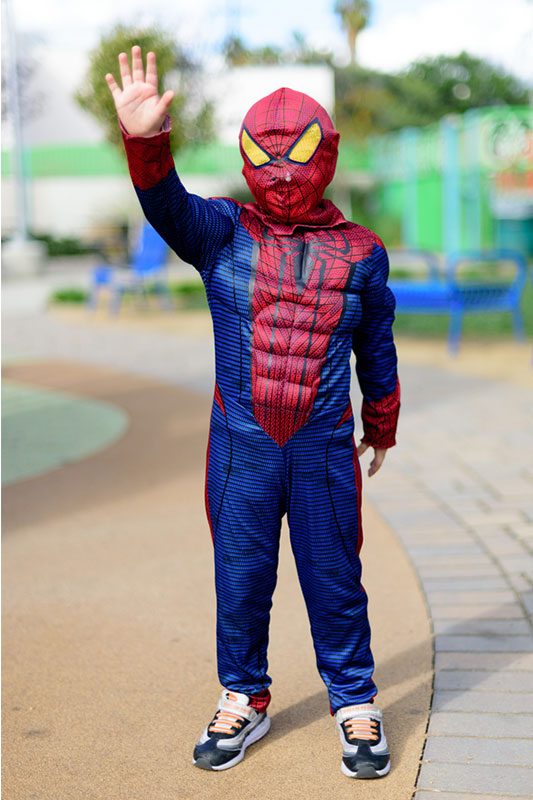 Requirements
As the real Spiderman does, you and your kid can sew a costume at home using some glossy fabric in blue and red. You can also choose some readymade unitard as the costume. For better effect, don't forget to create a mask. Cutouts made of cardboard can also be a wonderful idea.
Dialogue
"With great power comes great responsibility" is a timeless dialogue tat your kid can recite.
2. Baymax
This adorable marshmallow styled robot has been all the rage since its release in 2014. Recreating the look is not that difficult.
Requirements
You can buy an inflatable costume that's easily available and customize it according to your kid's proportions. For better effect, you can sew a costume with white felt and sew some black buttons to create the look.
Dialogue
Best to stick to the basic "Hi, I'm Baymax, your healthcare companion".
3. Super Girl
The counterpart of Superman who was sent from Krypton to protect her cousin is quite the rage among kids of all ages.
Requirements
Super girl costumes are easily available. You can also put together a costume in red and blue, a skirt and top, and complement it with a small cape.
Dialogue
"I'm Super Girl and I am here to protect my cousin Superman" may well be an idea.
4. The Hulk

Though an offbeat choice, creating this look is a lot of fun and will help you bond over tasks as never before.
Requirements
Green coloured body paint, a pair of pants and a normal t-shirt.
Dialogue
"These legs aren't just for decoration" can be a cheeky suggestion.
5. Deadpool
Another off beat choice as the recreation of this character is slightly darker. Nevertheless, it's easy to carry.
Requirements
A red and black unitard with slits for mouth, nose and eyes. This costume can also be created easily at home by sewing the fabric together. You can add fake swords to complete the look.
Dialogue
The best suggestion " You don't need to be a superhero to get the girl, the right girl will bring out the hero in you" can nail the look.
Other Unique Fancy Dress Ideas
Fancy dress ideas can be made into a non-exhaustive list. Here are some more ideas that you can try.
For starters, aliens are an excellent choice for unique costume ideas. Recreating looks of adorable aliens such as E.T. or Jadoo are fairly easy and will definitely add spark to the competition.
Other options include making costumes to match electronic devices. Such exercises are generally fun to compile and easy to depict. Ideas such as calculators, cell phones, satellites, television sets are pretty awesome to recreate and display.
Happy creating and recreating folks!
Also Read: Amazing Halloween Costume Ideas for Kids