10 Hocus Pocus Costumes for Everyone to Wear This Halloween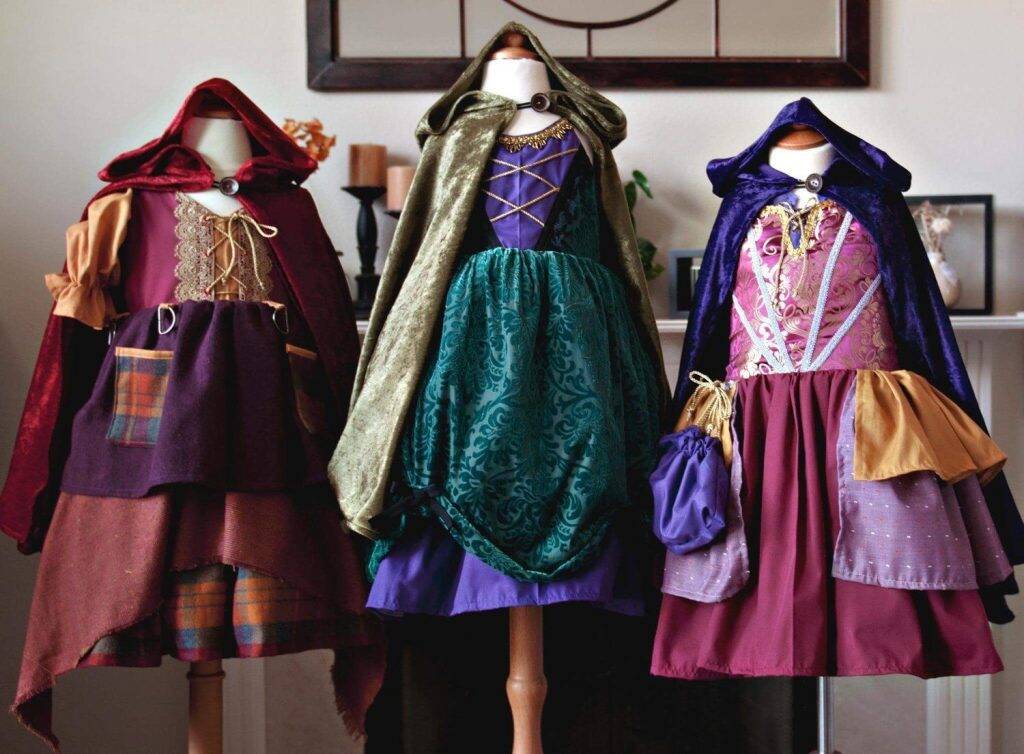 Hocus Pocus, the hit film of 1993, is an all-time Halloween favorite film. The name conjures up three faces- Winifred, Mary, and Sarah Sanderson, who played resurrected 17th-century witches. A family film, Hocus Pocus, has become a tradition that is celebrated every Halloween. With glamorous witches as comedians and a sharp repertoire of wit, they seem to be a top choice to dress up as on Halloween-be it- adults, tweens, or kids. The look is inspired heavily by Disney characters and inputs from the real-life actors who played the part. Whatever be the history, Hocus Pocus Halloween costumes could be the perfect choice for this season.
Story Behind Hocus Pocus Costumes
The witches played by Bette Midler, Kathy Najimy, and Sarah Jessica Parke are a seasonal treat, and apart from sucking the blood out of all children in Salem, they are fairly tame. Comic and glamorous, the sartorial element of the characters was created by Mary Vogt. Midler played a huge part in influencing the color looks, while Disney princesses inspired Sarah's look. Some interesting trivia about the costumes and look of the characters are listed below:
Costumes were designed keeping in mind the personalities of the actors who played the part.
The zombie character was meant to look like any other Halloween character with a coat, boots, and all black and white.
Symbols on Bette Midler's costume were meant to be vague. Inspired by the rune alphabet, Stonehenge, and a line, it was ambiguous with no reference to anything.
Sarah's costumes were meant to resemble a Disney princess, whilst Kathy was more an alchemist and was made to look like a baker.
Dani was dressed up to look like her mother had dressed her and was made to stand out with her burst of color.
Important Details of Hocus Pocus Costumes
Whether you watch Hocus Pocus for an uproaring comedy, nostalgic references to the '90s, or the camaraderie of the characters, there is one thing that you for sure cannot miss- the fabulous costumes. The iconic and colorful costumes of the Sanderson Sisters have made it the go-to Halloween costume. However, here are some important facts that you may have missed about the costumes:
The make-up was intentionally kept minimal so that the movie could appeal to all audiences. The Sanderson sisters were meant to look funny and light-hearted than pure evil.
The bulk of the costume budget was put into designing the look of the sisters.
Winifred's spellbook was a complex work of art. It appeared as it was made of human skin stitched together decorated with serpents. It had three versions-one with the "eye "closed, one with "eye" open, and the other where it was manipulated with remote control.
The costumes had to accommodate flying as some shots showed the sisters flying. They were also referred to as the Wizard of Oz with several references to the color green.
Three sets of costumes needed to be made as stunt doubles shot many action shots.
The brooms of the Sanderson sisters in the film reflected their personalities- strong and determined for Winifred, enthralled and carefree for Sarah, and cautious and klutz for Mary.
The costumes were made voluminous so that they could move to the erratic movements of the characters.
Hocus Pocus Costume Ideas
Recreate the magic of the film with Hocus pocus witches' costumes this Halloween. Wigs, caps, gowns, and color is all you need to resemble the three glamorous and fun witches from the movie. A few DIY Hocus Pocus costumes that could spruce up your Halloween night.
1. Winifred Sanderson Costume
Undoubtedly the most brazen among the Sanderson sisters, the Winifred Sanderson Hocus Pocus costumes for adults are perfect to twin with your children. All you need is a green gown with some bright make-up on.
2. Billy Butcherson
All you need to put this together is a pair of black pants, a shirt, and a jacket. Then, just rent a wig with some scruffy hair and use cream and powder to recreate the face. Finally, add in some black accents to add more detail.
3. Sarah Sanderson
An easy costume to put together, you need something in purple, red and white. Begin with a white corset and create a blush color for the face. Next, use sashes and drapey fabric to create the flowy look and cut off the ends of a pair of fishnet stockings to create sleeves.
4. Mary Sanderson
Another easy one to create, you need a red dress or cloak. Just let the hair down with some flowy curls at the end and keep saying "Amuck, Amuck" all night long.
5. Zombie Billy
A perfect kid's Hocus Pocus costume, all you need is some tattered pieces of clothing. Then, use some yarn to shut the mask, which was sewn shut by Winnie.
6. Wigs
Each of the sisters had a unique hairdo. Try getting the auburn hair wig if you want to resemble Winifred, the wired standing braid for Mary, and Sarah's blonde wig. The hairdos for each of the sisters were specific, and you could re-create that look easily.
7. Billy Butcherson Mask
Just wear a Billy Butcherson Mask to look the scariest on the block, even more, spooky than a witch. Team it with a pair of black trousers and a t-shirt.
8. Thackery Binx
Don a pair of black onesies or jumpsuit. Add in a tail to dress as the man turned black cat.
9. Winifred Spell Book
If you are a creator, you could use some card paper, googly eyes, and other craft material to create the Winifred spellbook. Use as much material to make it look as spooky as the one in the movie.
10. Props
Bring every costume to life with the props that were carried by the characters. For example, make sure to carry a vacuum cleaner if dressed as Mary, wear rich gemstones like amethyst and emerald for Winnie and, don and fishnet stockings for Sarah, who was the diva of the lot.
The Sanderson sisters were fashionistas in their own right and served as a wonderful example to dress up as for Halloween. So if you are going to recreate the look, the above tips and ideas could help. Take a look at the characters and their dressing sense to understand how you could work things out for yourself with what you have at lying at home.
Also Read:
DIY Halloween Angel Costumes Ideas
Halloween Costume Ideas for Children
Homemade Halloween Costume Ideas for Children