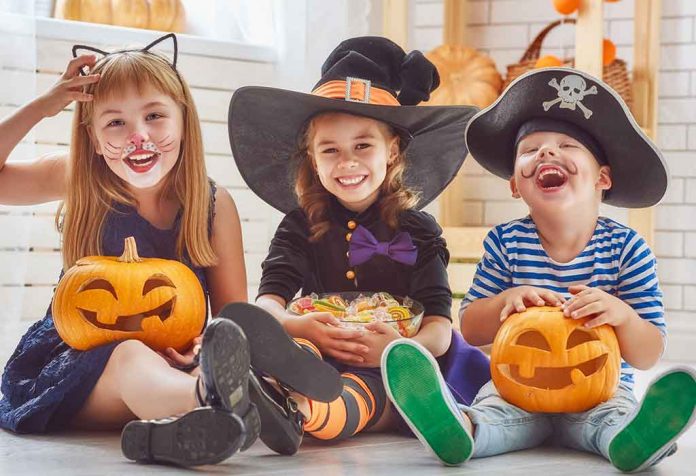 Last Updated on
Halloween is a treat for most children, quite literally. Dressing up in costumes and going Trick-or-Treating is something that is looked forward to with enthusiasm. Unfortunately, trying to find good costumes in the store is not always the best idea. They cost a lot and don't last very long either. The best way to go is to DIY Halloween costumes for children.
Simple Homemade Halloween Costume Ideas for Kids
Here we have some easy and cute DIY Halloween costumes for toddlers and children.
1. Pineapple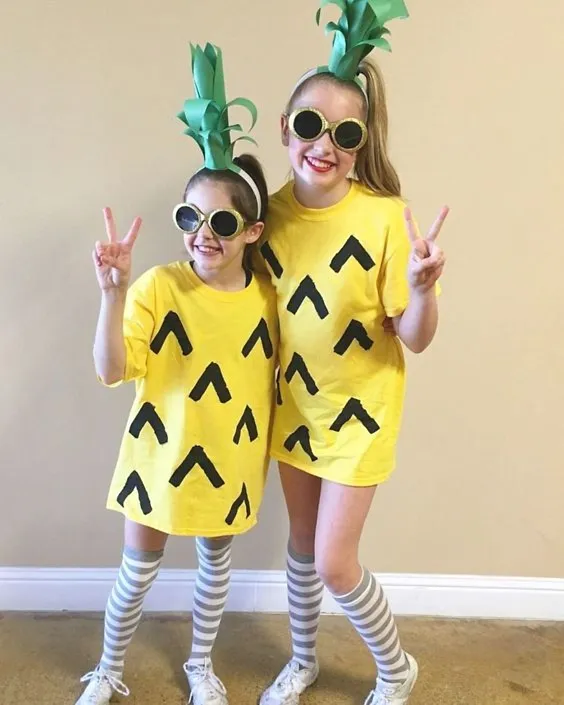 All you need for this is a yellow T-shirt, green chart or poster paper and some green headbands.
Instructions
Sew black upside-down Vs onto a yellow shirt. You can use black fabric paint if you don't have time to sew. The T-shirt should be large sized.
Use green chart paper to cut out different levels to resemble the spikey pineapple tops. Roll this up and use some glue to stick it onto the headband.
You can accessorise with a pair of shades.
2. Spaghetti With Meatballs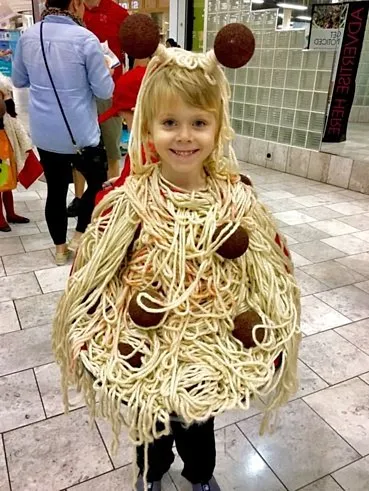 It sounds delicious, but a little complicated. It isn't though.
Instructions
Get some foam balls and enough brown-red fabric to cover each of them with. If you don't want to use fabric, you can just paint the balls to look similar to meatballs.
For the spaghetti, you will need beige yarn. Lots of it! Start glueing your spaghetti to an old T-shirt. Make sure you glue of enough so it looks like a full plate and the shirt is covered completely.
3. Witch Hat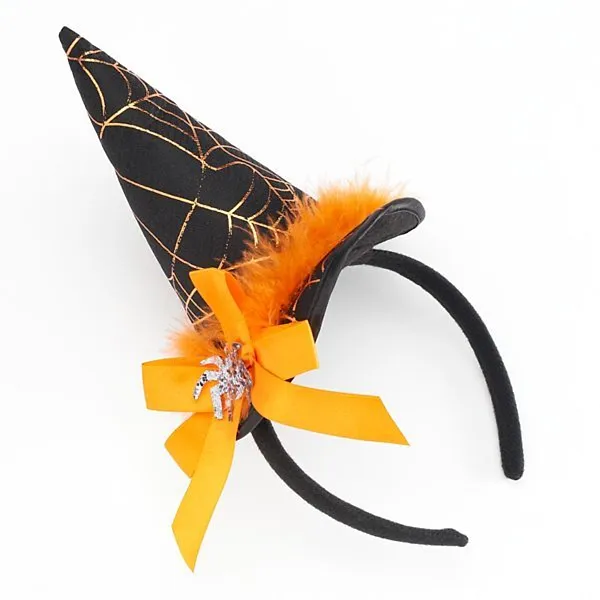 Source: Pinterest
The entire witchy outfit is pretty easy to make, and the witches' hat is the cherry on top.
Instructions
Grab a broad headband and wrap a ribbon around it.
Take the little witches' hat that you have purchased and start decorating. If you don't have a hat, you can make one with black craft paper.
Fix a bow or any ribbon pattern of your choice onto the hat with a glue gun.
Add a brooch to make it look fancier. Glue it to the centre of the bow.
Add a little black cat to make it more witchy.
4. Candy Corn Costume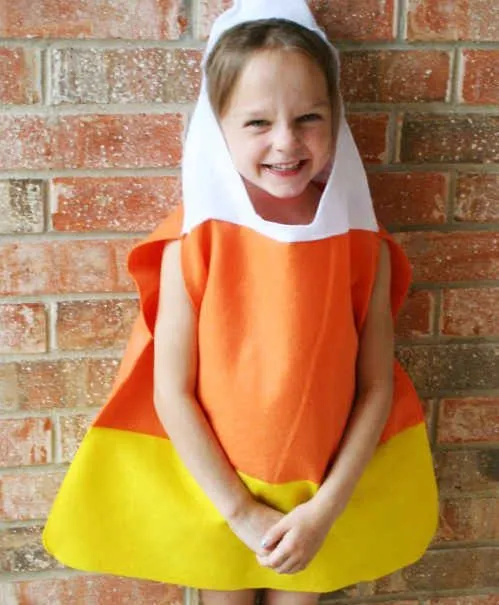 This is a simple costume to make, though it does involve some sewing. You will need 1/2 yard of yellow, white and orange felt material. They should be cut into the same size, taking into consideration how long you want the costume to be.
Instructions
You will need to sew all the strips together. Make the colours in the order of yellow, orange and white.
With a small plate, trace out a hole to cut out for the face.
Once you have stitched the three together, fold it in half and then cut out the shape of candy corn to fit your child's body.
You will need to do the same for the piece that covers the back.
Stitch the front and back pieces together but leave holes for the arms.
5. Raining Cats and Dogs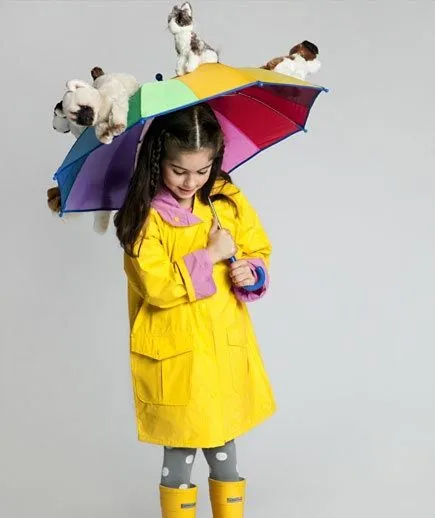 Source: Pinterest
This is one of the easy Halloween costumes for kids.
Instructions
Cut silhouettes of cats and dogs out of craft paper. You could also use stuffed toys.
Get an umbrella that suits your child's size.
Stick or stitch the toys or silhouettes to the umbrella.
Dress your child in a raincoat with some rainboots and you have an easy outfit ready to go.
6. Rainbow Connection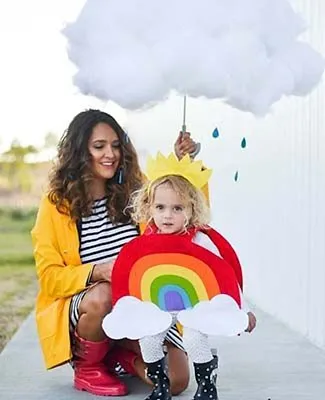 Making this rainbow costume is quite easy to make and one of the great last-minute Halloween costumes.
Instructions
Grab two pieces of cardboard. You will need to get sizes according to how big you want the rainbow to be.
Cut out the rainbow shape.
First paint the cardboard white, this will help to get more vibrant rainbow colours.
Paint the rainbow onto the cut-outs.
With another cardboard piece, cut out and paint the clouds.
You can use hot glue to stick them to the ends of each rainbow.
Join the front and back pieces together by using a red ribbon.
Make the crown out of yellow or gold craft paper.
Cut the shape out and secure it onto a headband so it stands still and doesn't come off easily.
7. Lego Blocks Costume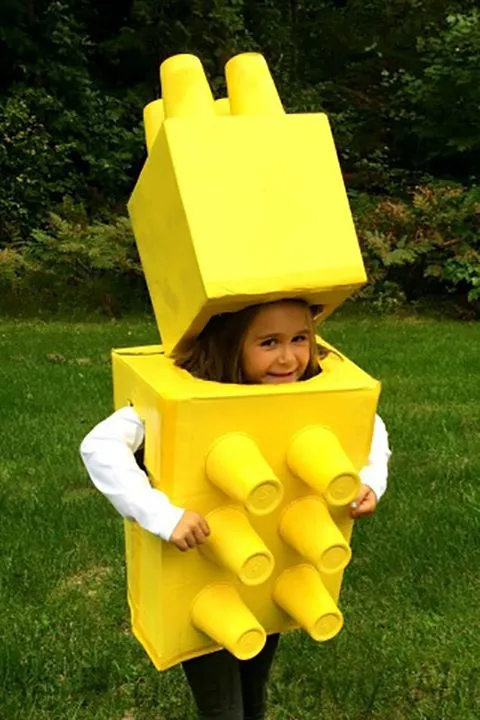 If you have kids who love Legos, then this one is for you!
Instructions
Remove any stickers, etc. from your boxes.
Cut round holes in the square box. You should cut a hole at the bottom the size of your child's head. This will be the headpiece.
Glue four of the solo cups onto the top of the box.
On the rectangular box, cut a hole for the head to go through. Make the armholes here as well.
Glue some solo cups on the front side of the body rectangle box.
Once everything has been cut and glued, spray paint the boxes the Lego colour of your kid's choice.
8. Pac Man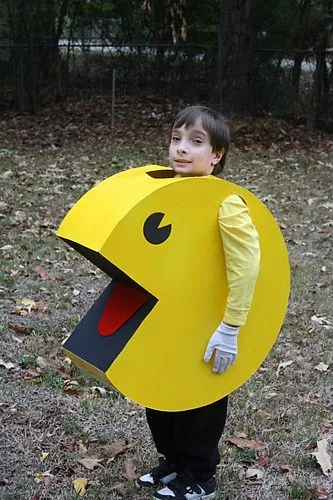 Little gamer children who want to stand out will love getting dressed as PAC Man. You will need a Cardboard box to make this costume with.
Instructions
Use a hula hoop to draw your large circle out.
Find out where the centre of the circle is and then make a mouth for your PAC Man by forming a triangle.
Make appropriate arm hole sizes on each side of your PAC Man.
You will need to measure your child's shoulder width so you know how thick to make the PAC Man.
You will need more cardboard cutouts to glue both the side pieces together.
For the gaping mouth, your cardboard cuts should be of thicker quality.
Once you have cut and taped everything together, you can start painting your PAC Man.
9. Octopus Costume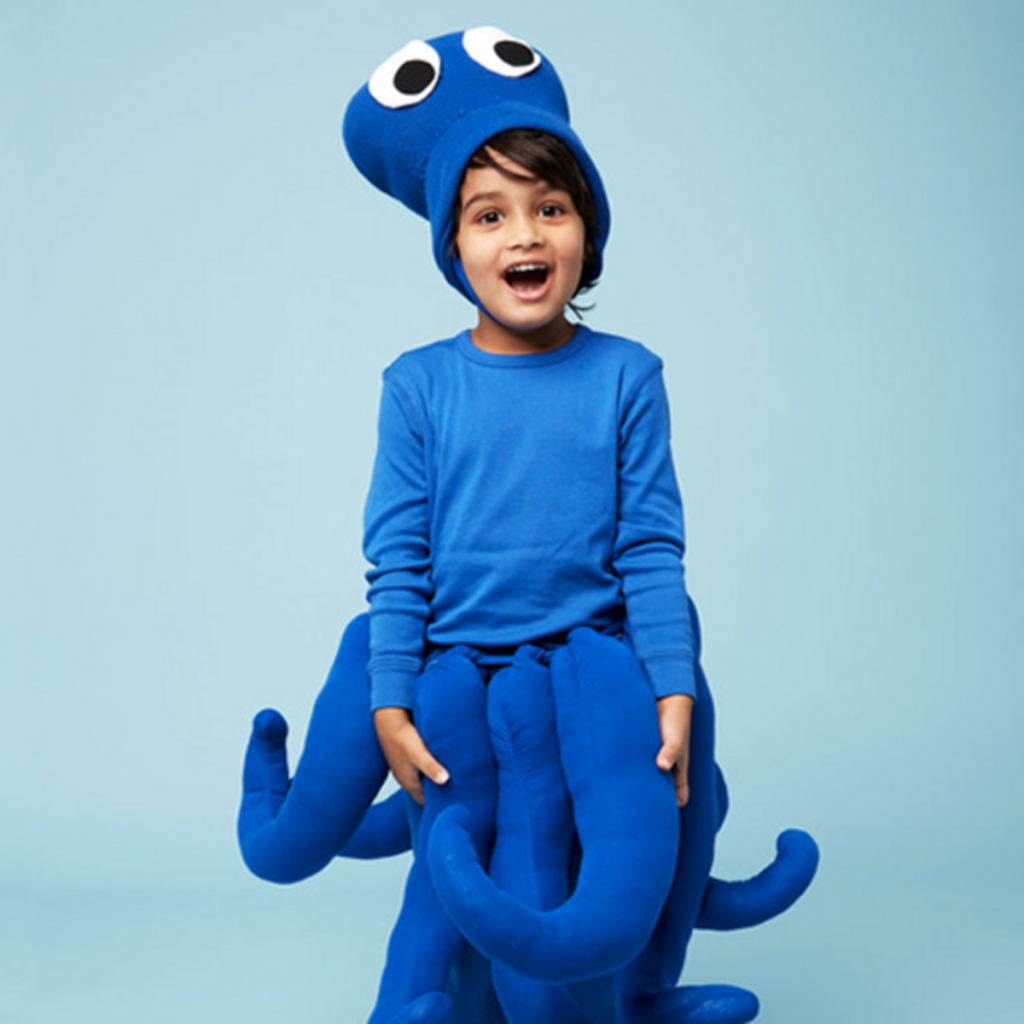 Source: Pinterest
For a little under the sea fun, you can make this simple octopus Halloween costume. It is very easy and does not involve any sewing.
Instructions
You will need four pairs of tights in the size of your child. Stuff three of them with cotton stuffing. Stuff them until just above the crotch area.
Lay a belt down flat and wrap the top of each pair of stuffed tights around the belt. You can keep them in place by using safety pins.
Get a hat that matches the tights. Cut out some eyes to stick onto the hat. Use white and black cloths.
Get a matching shirt to go along with the four tights so it all looks the same colour wise.
Once your child has worn the shirt and last pair of tights, you can fasten the belt around the waist.
Once the hat is on, you have your cute little octopus ready to go trick or treating.
10. Snowball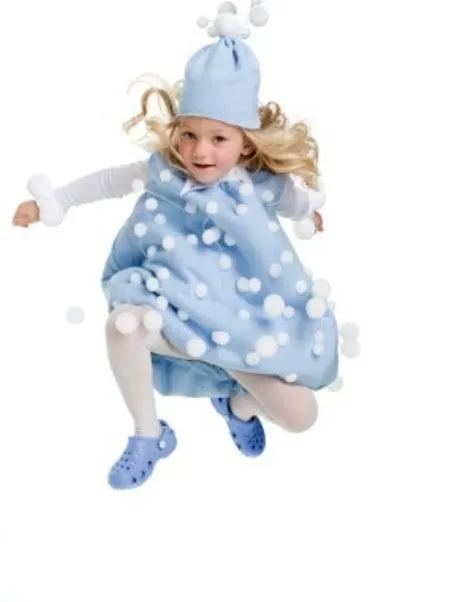 All you need to put together this lovely Halloween costume is a large light sweatshirt in light blue, a matching winters hat, some Styrofoam or cotton balls and a few other things.
Instructions
Take the Styrofoam balls and glue them on a light blue sweatshirt and matching hat.
Accessorize with matching blue shoes and white stockings.
11. Chimney Sweep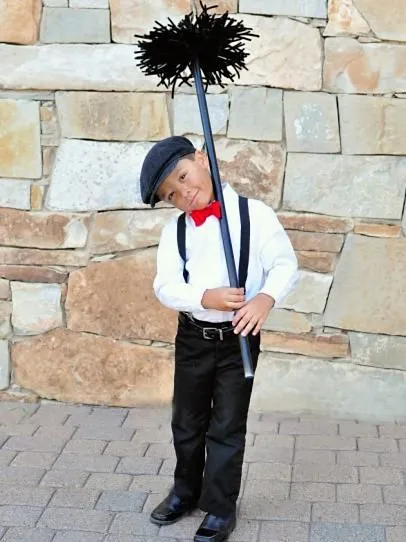 This one is a classic and your little one will look quite charming as a chimney sweep.
Instructions
You will need a wooden dowel and some pipe cleaners.
Start sticking the pipe cleaners on one end of the dowel.
Stick them in an X shape.
Keep repeating this process but by sticking each cross on the other way.
Once you are done glueing the pipe cleaners, you should glue a black felt on the centre so that all the glue is not seen.
Spray paint the dowel to black.
Clothe your little one in black trousers, a white shirt with black suspenders, a newsboy cap and some smudges on the face to make it look like soot.
12. Peter Pan's Shadow
You will need to get a morph suit and black cloth to work with.
Instructions
You will need to make the tunic with some black felt material.
Measure your child so you have a rough idea of the measurements you need.
Cut the neck area and feather out the sleeves and bottom to resemble Peter Pan's tunic.
When you put it on your child, use a black sash to hold it together.
You can make the hat yourself by cutting out two triangles and glueing them together. Fold the edges and attach a black feather.
13. Olaf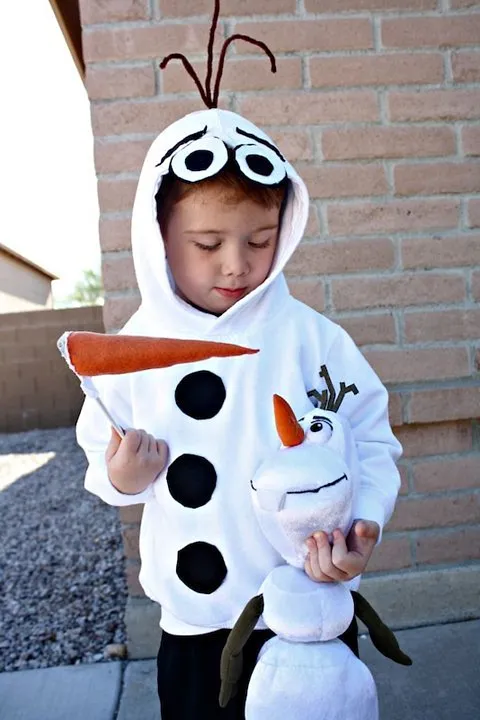 Source: Pinterest
This Olaf costume is a great pick for those frozen fans. It is simple, involving mainly a white sweatshirt.
Instructions
Use some black felt material to cut out Olaf's eyebrows.
Cut out large black circles and small black circles with black felt, and a white circle to go between the two black circles for the eyes.
Cut out the buttons with black felt and glue it on the sweatshirt.
Make Olaf's hair with five pipe cleaners.
The nose can be made simply with orange craft paper, or you can use orange felt stuffed with cotton.
14. Lightning Bolt
While girls will like this costume idea too, it is a huge hit with the young boys.
Instructions
Cut the lightening bold shapes out of the cardboard or foam boards. You can make as many or as little as possible.
You will need silver material to cover all the lightning bolts with. The material can be stapled to the foam boards or cardboard, so don't worry if you don't have sewing skills.
You can then staple these lightning bolts to a plain all-black outfit so they stand out.
15. Static Electricity
If you have a glue gun at home, you will find that this is one of the quick Halloween costumes for kids.
Instructions
Grab an outfit you don't mind ruining and glue some random clothing items to it in random places.
The clothing can be colourful socks, tank tops, baby clothes. Using some good hair gel, spike your child's hair up as though they have been shocked by electricity.
Instead of a bag, you can use a laundry basket for collecting treats.
Halloween dress up ideas for kids is easy and making Halloween costumes are great fun. For some of these, the kids can join in. Instead of buying from the store, create memories of homemade costumes and teach your kids to be creative.
Also Read:
Halloween Makeup Ideas for Children
Halloween Party Games Ideas for Children
Best Halloween Movies for Children