Unique Rainbow-themed Nursery Decor Ideas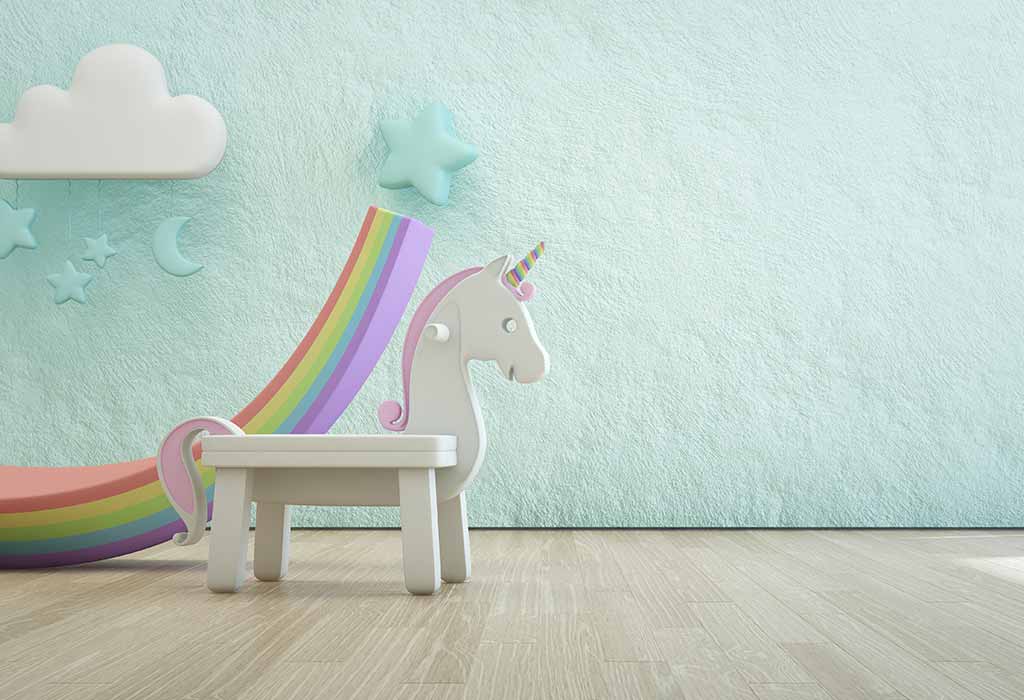 In this Article
A nursery is a place where a baby grows; as a parent, you would be interested in adding all the colors into your child's life. Make your mind and provide them with a colorful and vibrant environment rather than a normal-looking nursery. You can decorate a rainbow-themed nursery through murals, alluring artworks on the wall, bedding, furniture, and many more.
Beautiful Rainbow-themed Nursery Ideas
We will discuss various ideas to decorate your baby's nursery with a rainbow theme. A rainbow signifies hope and beauty; let's give a touch of the rainbow to your child's nursery using these amazing ideas:
1. Boho Rainbow Nursery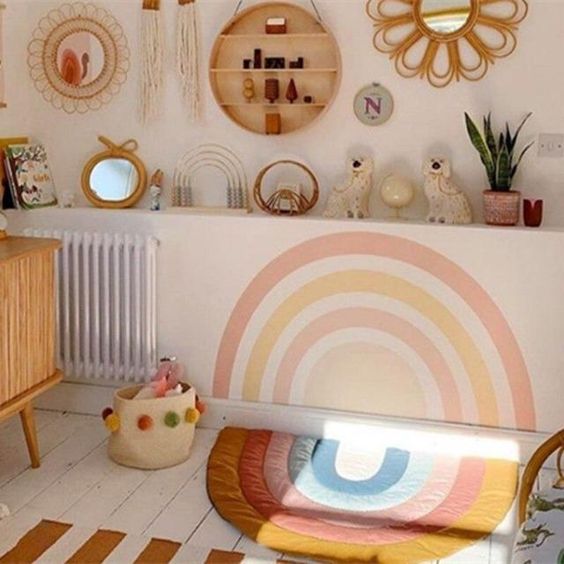 One of the most popular rainbow-style nursery décor ideas is bohemian-style. Boho rainbow nursery décor ideas will take the ambiance of your baby's nursery to the next level. Adding gorgeous furniture and hanging rattan chairs will make the nursery look even more amazing. This idea usually works for the décor of a baby girls' nursery.
2. Rainbow Nursery Details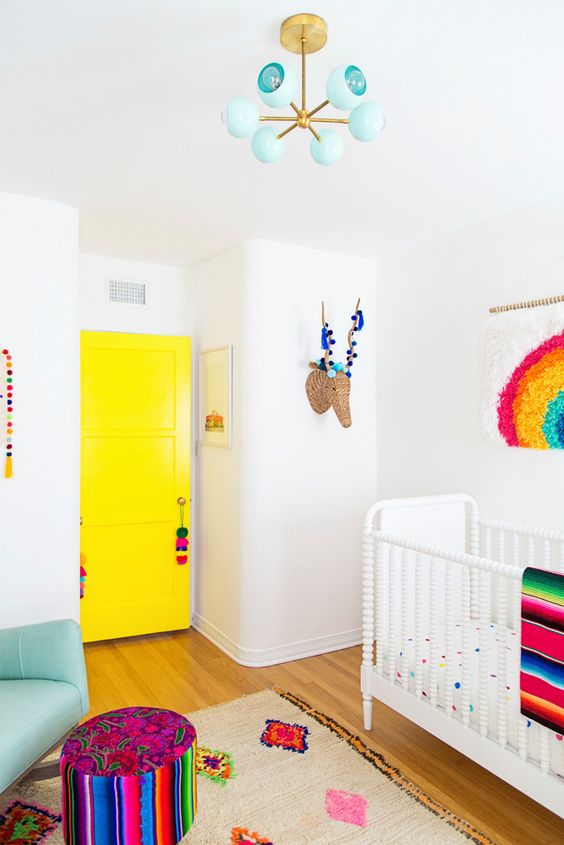 This rainbow-themed nursery idea is simple and easy to implement. In this, you need to add colors of rainbows to accessories placed in your baby's nursery. Install a DIY-rainbow-themed dresser, or get rainbow pattern drawers to give it an astonishing look.
3. Rainbow Nursery Wall Art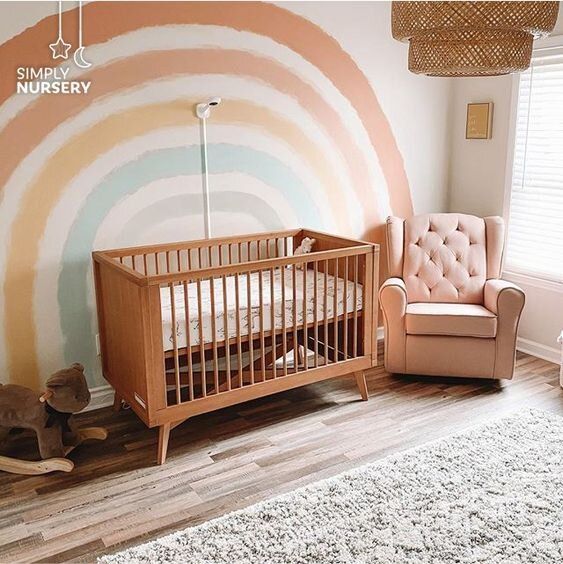 This rainbow wall-art décor idea will bring a total change to your kids' nursery. Here, adding gorgeous-looking rainbow art on walls will give a beautiful change to the walls of your kids' nursery. The best part about it is you can change them easily with other artworks as your kid's preferences change as they grow.
4. Rainbow Wall Murals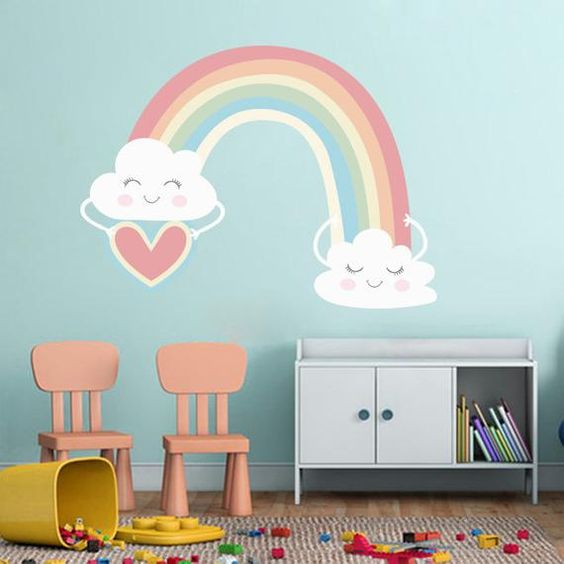 One of the easiest and most beautiful rainbow-themed nursery décor ideas is creating rainbow wall murals. Choose a wall near your baby's crib, then get a rainbow mural painted on that wall. This small step will change the whole atmosphere and look of the nursery. You will surely appreciate the idea of rainbow wall murals.
5. Pastel Rainbow Nursery Décor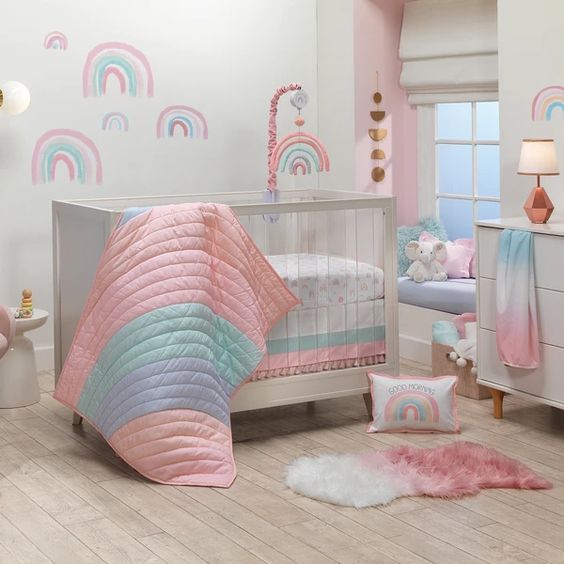 This nursery décor looks simple yet classic and beautiful. In this, you need to use objects of light rainbow colors. Don't make things too vibrant. You can stick clouds and rainbow stickers of pastel rainbow shade. Pastel rainbow nursery décor contains a very big category of ideas related to nursery décor, but all are quite similar.
6. Mobile Rainbow Nursery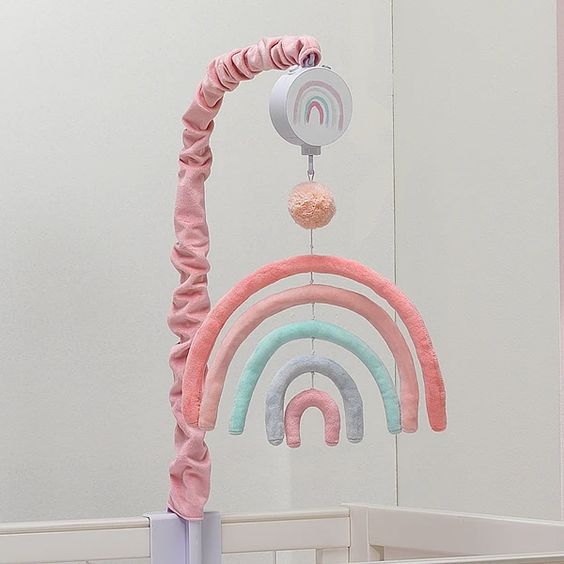 A mobile rainbow nursery is an amazing idea for those who can't or doesn't wish to change their baby's nursery to be fully rainbow-themed. Just attach any mobile cute rainbow-colored accessories over your baby's crib; you can remove it whenever you wish and add some other accessories in its place.
7. A Color-exploding Vibrant Nursery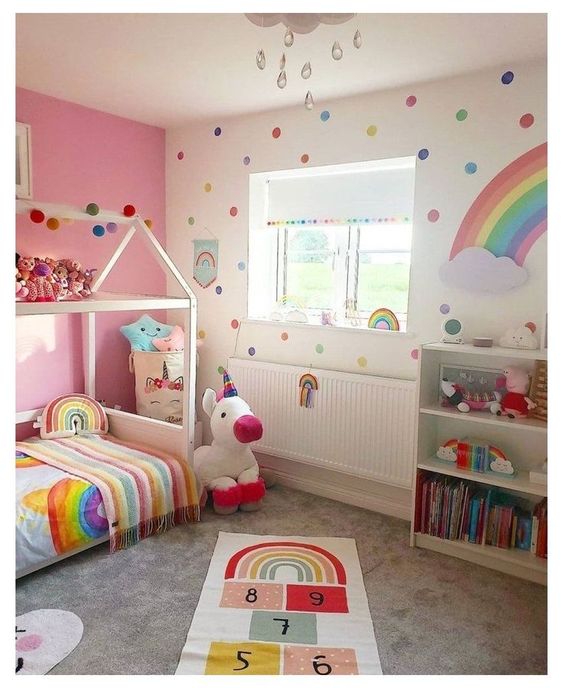 Adding vibrant and colorful accessories, giving a colorful touch to drawers in the order of rainbow colors, rainbow-colored polka dots on walls, vibrant hangings are all relevant while implementing this idea. Kids only play with the toys around them; if you want to decorate your kids' room in a rainbow theme, then add toys of vibrant, beautiful colors. This idea includes vibrant colors and will create an embracing atmosphere in your kids' nursery when executed properly.
8. Rainbow Nursery Corner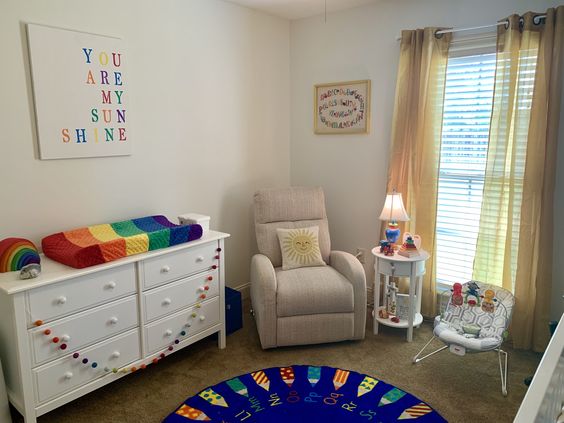 Instead of changing the whole nursery into rainbow themes, you can choose one of the corners of your kids' nursery and accessorize it with various rainbow-based ornaments. Using this décor idea, you can create a multi-themed nursery for your baby by decorating different corners with different ideas.
9. Rainbow Nursery Bookshelf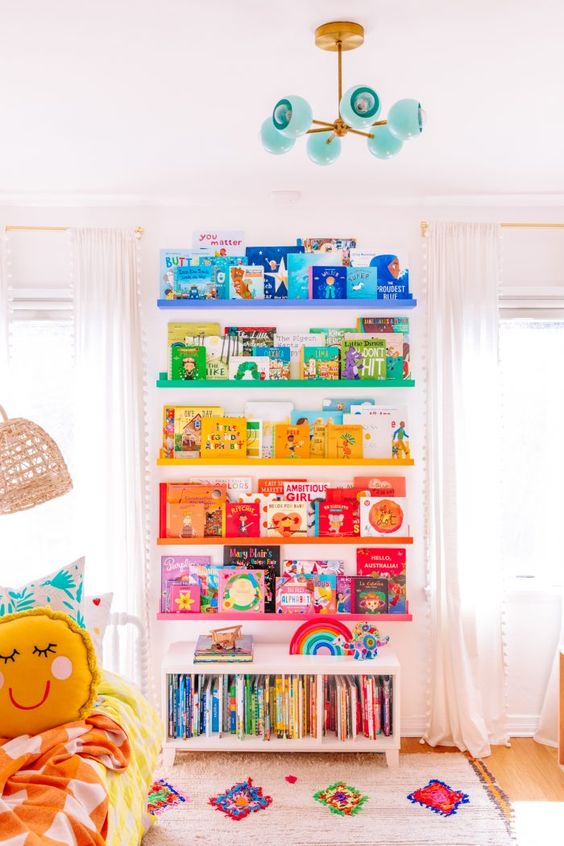 Doesn't this sound amazing for a bookshelf that will have racks based on rainbow colors? Yes, and it looks equally amazing. Place picture books, comics, cartoons, coloring books, etc., on that bookshelf and make sure that those books have vibrant colors on their cover, and the colors on racks must be in actual order of rainbow colors.
10. Small Rainbow Nursery Motifs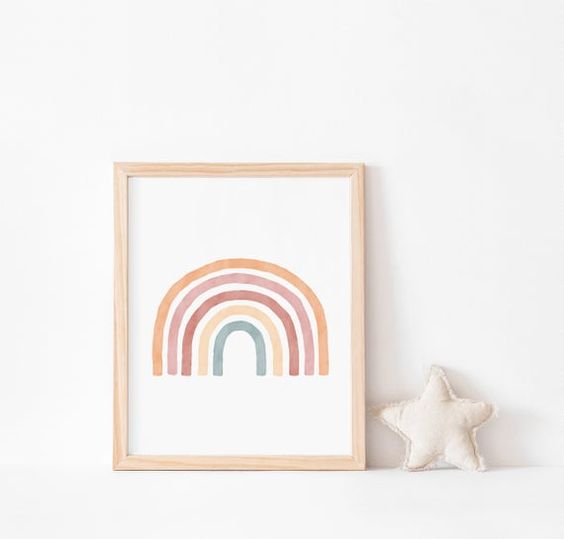 Placing creative mini motifs of the rainbow will give your kids' nursery a beautiful touch. This rainbow-themed décor idea of placing small rainbow motifs is an example of a neutral rainbow nursery. It will make a minimal change to the décor of your kids' nursery yet will positively impact the nursery's atmosphere. This idea applies to all genders.
11. Rainbow Nursery Rug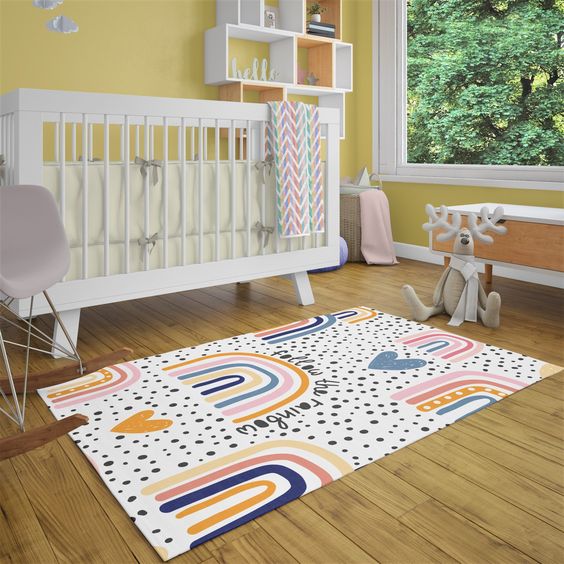 A rug of rainbow colors will look very alluring in your kids' nursery, and it looks as amazing as the rainbow-colored painted walls. Embrace your baby's nursery with this unique rainbow-themed nursery décor idea. This rainbow décor idea is a neutral rainbow nursery idea; hence you can use this for your baby irrespective of whether your baby is a boy or a girl.
12. Rainbow Nursery Blues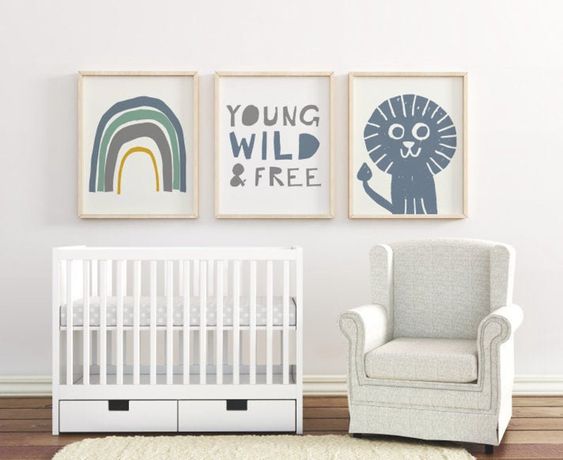 The décor mentioned above ideas were gender-neutral, but this one is especially for a baby boy's nursery décor. Create a rainbow-themed nursery, but put more emphasis on blue color. Add curtains of blue color, place hangings of blue clouds with a rainbow on walls, a blue-colored crib; all will contribute to making a blue rainbow nursery
13. Black and White Rainbow Nursery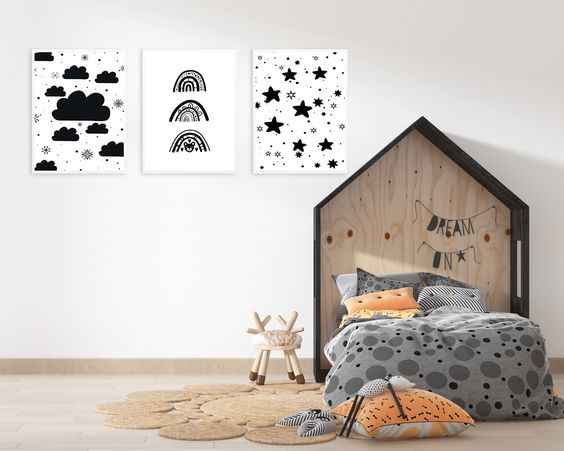 How about decorating the nursery with the black and white rainbow theme? Keep everything in black, white, and gray shades. This nursery décor idea will give a classic and impressive look to your baby's nursery.
14. Wooden Rainbow Nursery Décor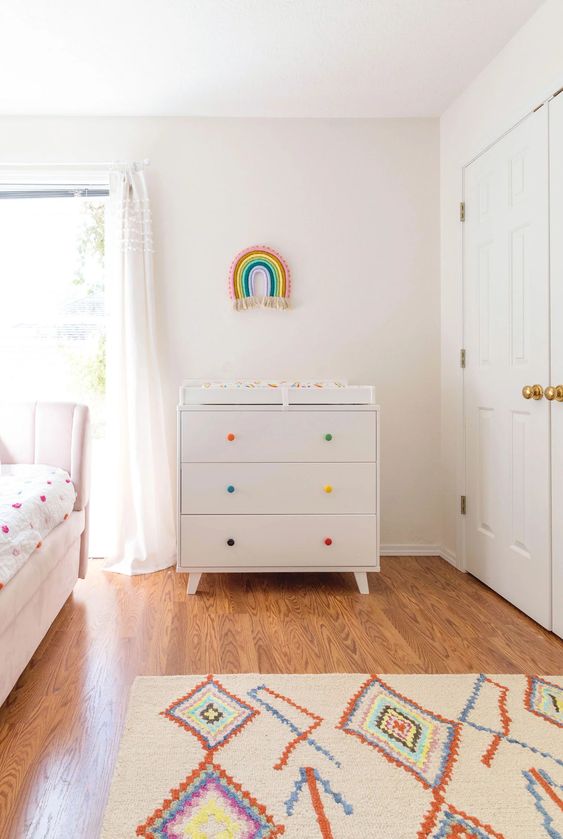 Wooden furniture is an integral part of a room, but when it comes to adding wooden objects in a nursery, it isn't very clear to decide what to choose. For wooden rainbow nursery décor, add small study tables, wooden cribs, bookshelf, and all must be of rainbow colors.
You can also place playable hangings on the crib or just rainbow-colored balls.
15. Rainbow Nursery Crib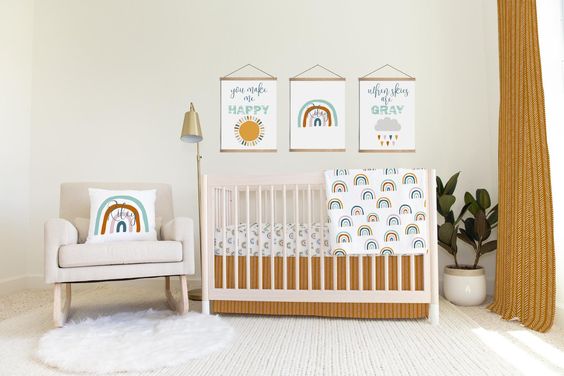 What will be more amazing than decorating a place where your baby sleeps. Decorating the crib with rainbow colors will change the vibe of your kids' nursery. Hang some soft toys of vibrant colors, stick rainbow stickers on the crib for a cute look.
It cannot be very clear to decide on a theme for decorating a kid's nursery, and the rainbow theme will be best if you're thinking of giving a beautiful look to your baby's nursery. Rainbow-themed nursery décor ideas will help you in creating a bright, happy, cheering, and colorful atmosphere in the place where your baby will grow. This can help instill creativity in your child's mind early in life. The above-mentioned rainbow-themed décor ideas are good to use and easy to implement. Just putting in some little effort will make your kids' nursery look astonishing and delightful for both you and the baby. Make sure to go through the design details and the required material before going hands-on with a particular design.
Also Read:
Tips and Ideas for Nursery Organization
Woodland Themed Nursery Ideas for Baby Room
Best Ideas for a Green Themed Nursery Baby Room