Stunning Gender-Neutral Nursery Ideas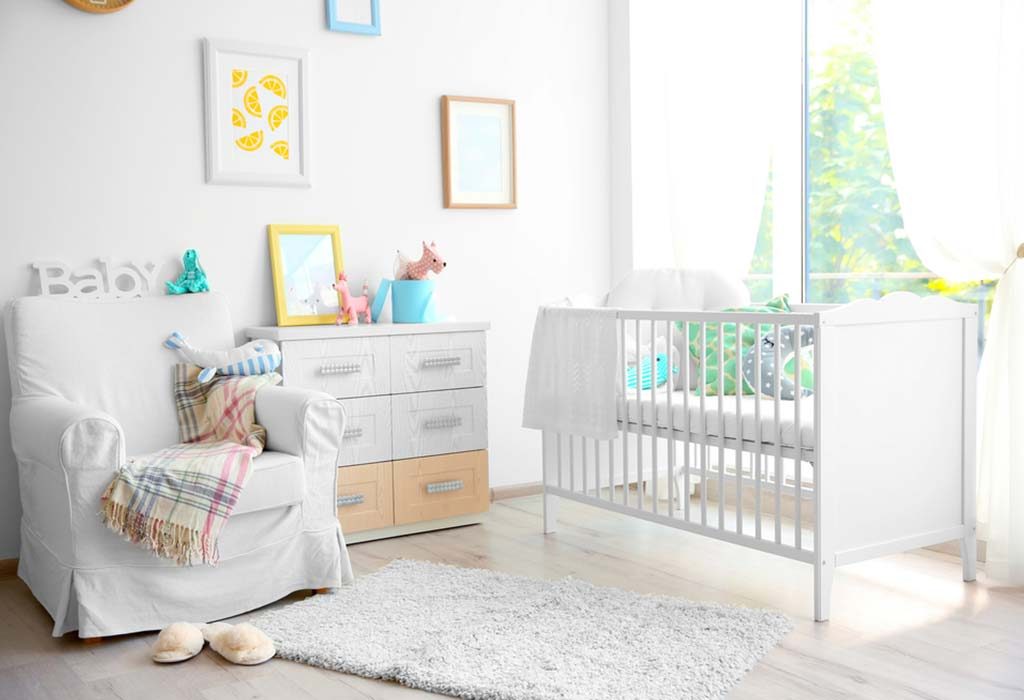 In this Article
Parents are moving away from pink and blue to more gender-neutral themes for baby nurseries. Do you know why? It's because gender-neutral themes give you more flexibility. If you're tired of traditional colour palettes and want themes that are more versatile or adaptive, going for a gender-neutral nursery theme is a terrific choice. Not only can you play around with elements, but you can change the wall decals and visuals based on your changing interests. Even if you don't know whether it's a boy or girl, it doesn't matter – these themes will work for you!
If you're looking for inspiration, you've come to the right place. Take a look at our list and get those creative juices flowing!
Gender-Neutral Nursery Ideas That Are Really Adorable
Below you will find many gender-neutral nursery ideas and themes that aren't just cute, but are downright adorable! Go through them and get creative with the designs by adding your own spin.
Colour Scheme Ideas
The colour schemes you use on your walls will set the mood and backdrop for the rest of your visual elements. There are many options you can go for, but the most popular gender-neutral colour schemes parents prefer are:
1. Grey
Dark greys go well with the furniture and wooden elements. If you're opting for grey and using it as the main colour, make sure you go with lighter shades.
2. Cream
Cream colour schemes give rooms a pleasant and cheerful vibe. Black and white geometric patterns can work well with cream. If you combine cream with white, it will make the room airy and add the feeling of space.
3. Teal
Teal is a wonderful gender-neutral colour that goes well with a variety of textures. You can combine light neutrals like green and yellow with this. A blue-green combo pairs perfectly with furniture and wall elements in nurseries.
4. Green
From pastel green to lime green, green colour schemes are easy on the eyes and work well with a variety of nursery themes.
5. Yellow
Yellows are great if you're trying to make your room look bright and cheerful. They pop up your room's ambience and make it warm and inviting. Use accents of yellow if you plan on pairing this with another gender-neutral colour scheme.
Theme Ideas
If you're looking for gender-neutral nursery ideas, you're in for a treat. We've curated a list of delightful themes for your child's nursery. These work wonderfully with different colour palettes and match perfectly with neutrals.
1. Jungle Theme
A jungle theme includes wildlife and tons of animals. Giraffes, rhinos, zebras, and monkeys go perfectly with gender-neutral colorus like grey, yellow, and brown.
2. Ocean Theme
Feeling the call of the seaside? Why not bring it to your home with an ocean theme? Ocean artwork is all about working with elements like clams, seashells, beach artwork, and brightly-coloured wall decals. You can use blue or teal as the main colour, but if you want to make it gender-neutral, use lighter accents of pink, orange, or peach.
3. Story Theme
Do you like comic books and want your characters to fly straight from the pages onto your child's walls? Try storytelling or story boarding themes. These involve characters like Winnie the Pooh, Spiderman, and any of your favourite heroes and more. The sky is the limit, and you can turn your child's nursery into modern art by bringing their worlds into your home.
4. Sunshine Theme
Blue walls go well with bright yellow accents. You can turn your room into a ray of sunshine by adding pillows and sheets with cute quotes. Use soft rugs for the floor and any artwork depicting the sun and clouds for a cheery vibe.
5. Rainbow ABCs
Kids love their alphabets when they come in rainbow colours. Decorate your room with rainbow ABCs. Use different colours for different alphabets and add a splash of white in the background to compliment the setting. Your kids are going to love it through to their preschool years.
6. Dreamy White
Pair your soft white furniture with a dreamy beige backdrop. It's simple, cozy, and looks delightful. Minimalism design at its best!
7. Forest Theme
If you're strapped for time and want quick ideas, try going for fern and eucalyptus wall decals. You can use forest-themed stickers and nature elements to quickly whip up a serene backdrop. Pair those with a splash of lime green and you get a nice focal point with the trees.
8. Rustic Wood
Wooden colours and themes create a calming and rustic environment. You can add geometric patterns and use natural wood furniture to create a modern yet medieval setting. If you're going for a contemporary look, try this.
9. Country Love
If you'd like to bring the countryside to your nursery, you can do that today. Use classic blue toile de Jouy wallpaper and mix it up with white furnishings. Add a few farmhouse elements using wall decals, and use a black-black tone for the wooden elements to create a really unique look.
10. World Theme
Turn your room into beautiful blue Earth with vibrant accents. Use colours like blue and green, and give it a travel vibe by adding in stuffed toys and wall decals.
11. Adventures in the Woods
Take the grey gender-neutral nursery theme colour and pair it with pictures of foxes, deer, owls, and trees. Use hand-stitched curtains and natural elements like trees for the backdrop, and you'll be set.
12. Hello, Dr. Seuss
If you enjoyed The Cat In The Hat and would like to bring that into your room, you now can. Use blue and chevron stripes and paint the furniture with characters from his book. You can use posters for the walls, too.
13. Vintage Times
For those who like to revisit the past, the vintage theme is perfect. You can use old furniture and pair it with gloomy colour schemes to give it a traditional feel. Use rocking chairs, books, and vintage art to bring out the allure.
14. Count the Sheep
Teach your kids how to count sheep and drift off into Dreamland in no time. Use pictures of flying sheep for the walls and scatter stuffed animals around the room. Use brightly coloured accents for the walls to make the room pop.
15. Library
Among unisex nursery ideas for themes, this is by far one of the easiest. Pick a colour scheme and pair it with posters or pictures of book covers for the walls. You can use bookshelves and stuffed toys for a natural complement.
Furniture and Flooring Ideas
The furniture and flooring will make or break your designs. Complete the look by trying these out and combining with your gender-neutral nursery paint colours.
1. Baby Closet
From books, stuffed toys, and accessories – these require storage space. Get storage racks or a baby closet to keep the floor organized.
2. Night Lights
Night lamps or lights will make it easy for your baby to fall asleep during the nights.
3. Carpet
Carpet is a really popular choice for handling the baby's flooring. It's comfy and kids can crawl or roll on it.
4. Wooden Flooring
If you are going with bright colour palettes and posters for the room's design, use wooden flooring for a nice complement.
5. Bamboo Flooring
For parents who are environmental-friendly when it comes to making flooring choices, bamboo flooring is a beautiful yet practical alternative to traditional hardwood.
Remember to first think about the vibe you want your room to exude, and then start with the colour. You can play around with the wall and flooring elements when you've got that down first!
Also Read:
Interesting Ideas to Decorate Your Baby's Room
Nursery Theme Ideas For Baby Girls' Room!
Unique Ideas For Baby Boys' Room