Wonderful Woodland Themed Nursery Ideas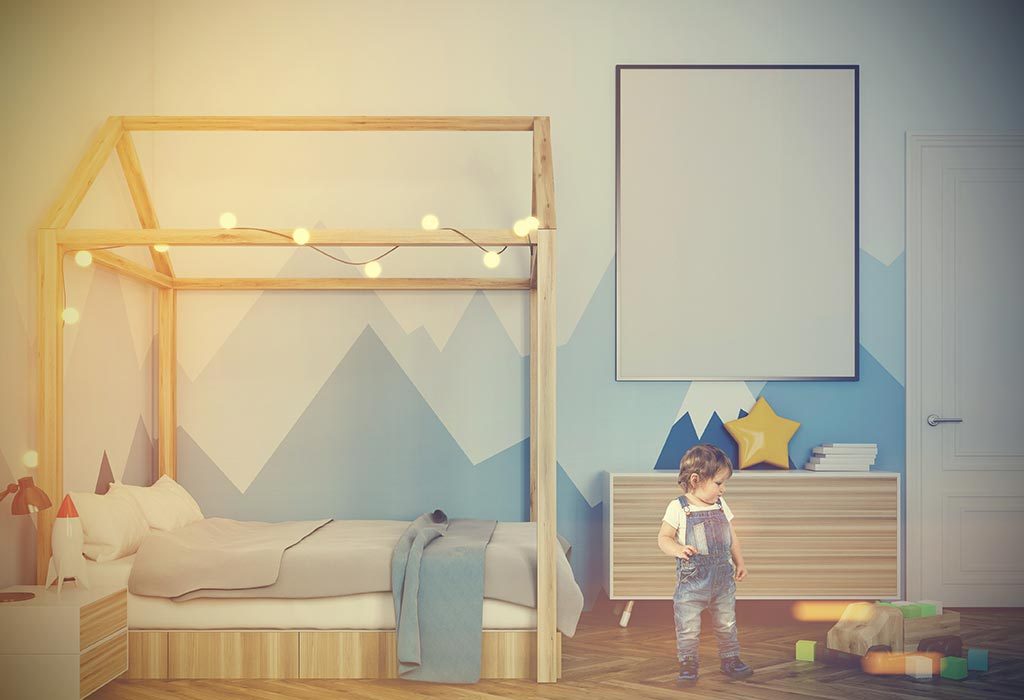 In this Article
Decorating the nursery is one of the most fun, but tiring, activities when it comes to preparing for the arrival of your little one. While there is nothing wrong in having a plain, cosy, and functional nursery, choosing a theme will take it to another level. Themes can take you into another world. Then, how about decorating your baby nursery in the woodland theme? Read on for some rustic, woodland-themed nursery ideas.
Woodland-Themed Nursery Ideas
A gender-neutral woodland nursery is a way to go if you are not keen on making the room too feminine or masculine. This is a great option even when you want to decorate your baby's room, but don't want to know your baby's gender beforehand. Here are some adorable woodland themed ideas that you should consider.
1. Woodland Nursery Letters
Grab yourself some adorable little wooden alphabets and spell out your little one's name. It will bring in some woodland charm even if you don't go all out with the theme.
2. Woodland Gallery Wall
A woodland gallery wall is another good choice if you like the theme but don't want to go too far. Dedicate one wall to your theme and put up different items related to it. You can use wooden decor and animal motifs to give it more of a woodland feel.
3. Black and White Woodland Nursery Ideas
Grab some black and white cushion covers, sheets, and carpets for making your woodland-themed nursery come to life. You can also add a black and white teepee along with a wallpaper that looks like wood. This will result in a sober and calming woodland baby nursery.
4. Woodland Nursery Shelf
All nurseries need shelves to hold the baby essentials. Making a wall shelf in the shape of a tree will add a great focal point in the nursery. Even as your child grows, this will come in handy and also be something nice for your little one to look at.
5. Wooden Nursery Wall Paint
To make a woodland-themed nursery, you can paint an accent wall with woodland colours such as green and brown. If you are really creative, draw some trees, or hang up a few frames with the photos or printouts of woodland animals, like in the image given above.
6. Pink and Blue Nursery
This will make a wonderful baby girl woodland nursery. Add soft pastel pinks and blues in the room. You can paint the walls a pastel blue and add pink cushions and lampshades. Don't forget to add in some woodland animals through plushies and perhaps some wall decor.
7. Woodland Mountain Nursery Ideas
This particular woodland theme gives an adventurous vibe. You add the mountains by painting them onto the walls. The rest of the decor can be simple but in the relevant colour scheme. Your cushion covers can be flannel, which is associated strongly with camping. A few other mountain decorations can don the walls, and some plushies of mountain animals can be placed in the room to complete the look.
8. Woodland Camping Nursery Ideas
This one is more for toddlers than infants. It is creative and will make your child feel like they are outdoors. One of the biggest things that you can do to get your nursery to look like a camping trip is to go for a tent-like canopy over the bed. Add a lantern as a nightstand lamp, and some wooden, rustic-looking furniture.
9. Woodland Footprint Décor
Lots of parents love to have footprints of their little ones framed. It is a wonderful memory to have because babies grow up so fast. If you want to get a woodland feel to this accent, you can always border the footprints with some antlers and frame it in a rustic wooden frame.
10. Woodland Crib Nursery Bedding
An effortless way of adding the woodland theme to your nursery without going through too much trouble is to pick out the cutest woodland bedding for your baby's crib that you can find. Deer, owls, bears, rabbits, and foxes are some of the popular woodland animals used. Plushies are good decorations, too, but they should always be taken out of the crib when your baby is asleep.
11. Woodland Nursery Curtain
Curtains can really make a huge impact on what a room looks like. This idea is great if you want your nursery to have a woodland theme without doing much work. Curtains that have some trees and woodland animals are the best way to go.
12. Woodland Bear Rug
A bear rug can make a good floor piece if you want some good woodland animal nursery décor. It will accentuate all the other woodland decor that you have, and also provide a very comfortable area on the floor to play.
Having a themed nursery doesn't have to be complicated. If you don't have much to invest, you can always opt for doing up a wall, or going for themed bedding or curtains. You can get as creative as you like when doing up your own nursery but keep comfort and practicality in mind as well.
Also Read:
Adorable Pink Nursery Ideas for Baby Room
Creative Baby Boy Room Decoration Ideas
Gender Neutral Nursery Ideas for Your Child's Room