14 Best and Cutest Nursery Theme Ideas For Your Baby Girl's Room!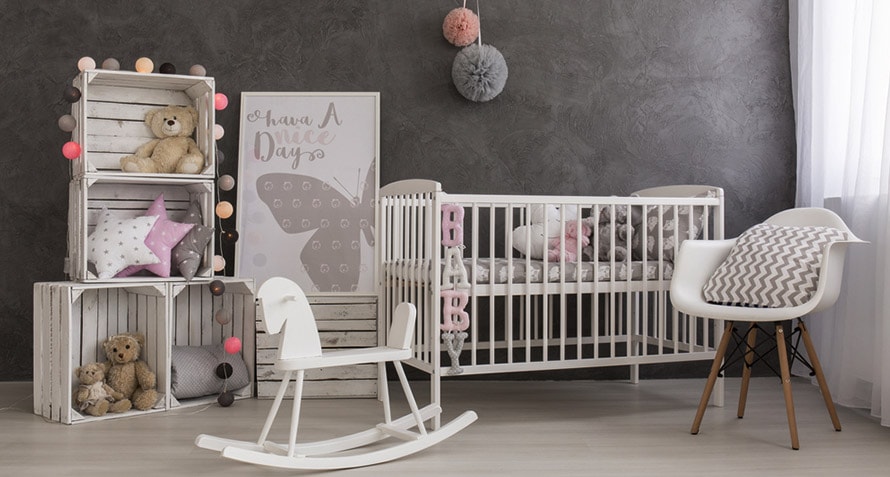 Your baby girl is the centre of your universe, the queen of your heart, and the apple of your eyes – she is your everything. It is no wonder then that, after she comes home, you want the whole house to reflect the joy you feel inside your heart! Whether you have a nursery room for her, or are decorating your bedroom for her, you'd want to add that element of special magic…
We have put together for you some really cute baby girl nursery themes that are any mother's delight! Check them out for your little daughter as you go about decorating the house for your darling:

1. My Little Princess
Your little girl is your princess, right? Why not give her the royal treatment with a princess theme nursery using a combination of brown, white and gold? A carriage-shaped crib, some candle holder-shaped lights, and a crown shaped chandelier are sure to make your little one feel royal as she sleeps through the night!
2. Nautical Theme
As your child sets sail into the world, the nautical theme will be perfect to help her navigate through the first few years! A combo of white and blue with subtle touches of wood will provide a cool and comforting environment for your baby! Anchors and compasses can be central to the nautical themed nursery of your child!
3. Under The Sea
If not navigating the shores of life, take a dive under water with an under the sea theme for your little one. Use the beautiful coral reefs and sea life as your inspiration and create a nursery to inspire a sense of wonder in your little one's life!
4. Enchanted Forest
The enchanted forests are the premise of a ton of beautiful fairy tales – why not transport your little one into a magical world with an enchanted forest themed nursery? With a combination of fairy lights and wooden textures, build a whole new world – just for your baby girl!
5. The Mighty Mountains
Bring the mighty mountains within your child's reach with this theme. With pretty decals, and themed bedding, your little one will surely feel safe as the mighty mountains comfort her through sleep.
6. Sports Theme
Who says sports-themes are only for baby boys? Many little girls we know are super keen on sports and physical activities! Share your love for sports with your little daughter with a sports themed nursery. From basketball to baseball, every sport-related distinctive element can be brought together beautifully for a stylish nursery.
7. Floral Theme
Take your inspiration from nature as you bring in a floral theme for your child's nursery. Bring in elements of nature like butterflies, different flowers, and rainbows for a whimsical touch to soothe your little one through the night.
8. Playful Planets
Give your budding astronaut a headstart with a solar system themed nursery. Use neutral tones like gray with pops of yellow and planetary decals and mobile to reinforce the solar system theme.
9. A Sky Full Of Stars
Inspire your little one to reach for the stars with a starry theme for her nursery. Give the ceiling a makeover with some twinkling lights and use the inky blue night sky colours to highlight the soothing lights that will have your little one dreaming of the stars as she sleeps.
10. Vintage Carnival
Take your little one on a trip back in time with a vintage carnival themed nursery! A muted colour theme with pops of bright colours and stripes for furniture pieces will do the trick perfectly! Don't forget the range of stuffed animals!
11. Rainbow Range
Get your child to follow the rainbows with a rainbow themed nursery. Use a neutral base colour for the walls with rainbow accents to spruce it up and celebrate the arrival of your little one in a blast of colours!
12. Storybook Theme
Share your love for your favourite storybook character with your little one with a storybook-themed nursery. From 'Alice in Wonderland' to 'Winnie the Pooh', go wild with your imagination as you go about creating a whole new world for your little one!
13. Music Maestro
Music is considered to be food for the soul – make sure your little one is enriched with the beauty of music by creating a music themed nursery. From musical notes and instruments to mix-tapes and records, use a combination of musical elements to create the perfect environment for your budding music maestro!
14. Minimalist Theme
Finally, minimalism is the theme to go for if you want to keep things simple. Use neutral colours for your baby's nursery and keep the furniture to a minimum and make sure they complement each other well. There's a lot of beauty in simplicity.