7 Crucial Precautions to Observe When Kids Learn to Use Scissors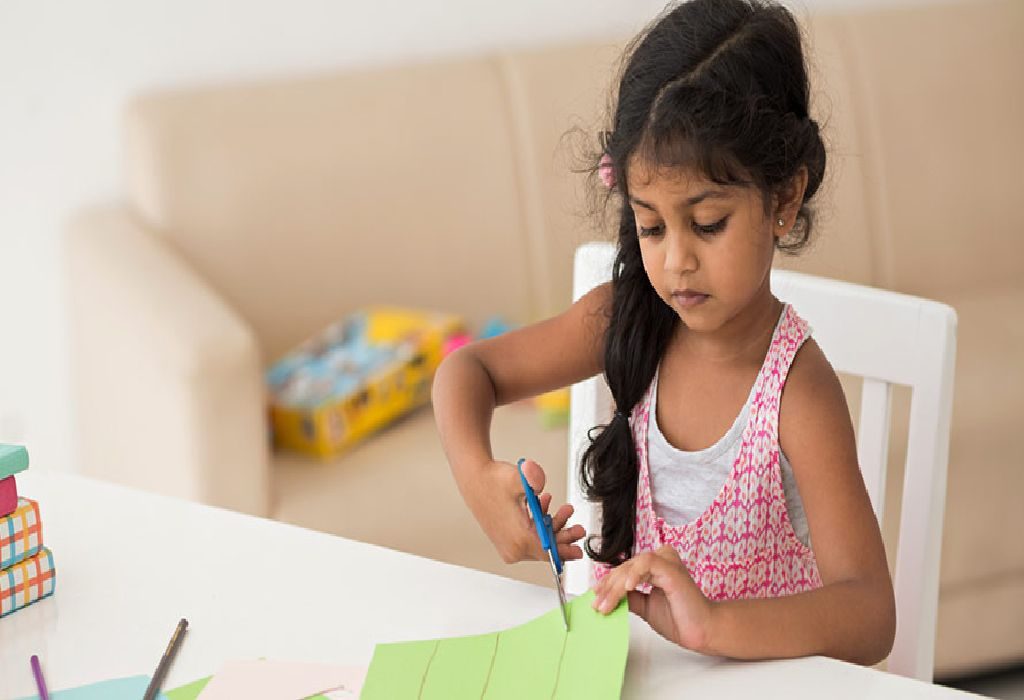 As your little one gets more involved in craft, he will wish to start using scissors independently and reach for them without you around at times! Therefore, it's important to follow certain precautions to ensure your child's safety as he learns to use scissors.
Scissors are sharp tools which can harm your dear little one if he uses it inappropriately, but they also help develop fine motor skills in your child as they involve the use of the thumb, index finger and middle finger separately. Thus, encouraging independent use of scissors in a safe way will be beneficial to your child's fine motor skills development. A few crucial precautions will come in handy as your child learns to use scissors.
1. Use Scissors Properly
Train your child to use scissors to cut a paper or any other stuff in forward direction only and away from his body, legs, hands, fingers, and arms. Tell your kid to focus on his cutting activity when using a pair of scissors. If your child is right handed, tell him to cut from right to left. If your kid is left-handed, guide him to cut from left to right as it helps him cut easily. Strictly instruct your child to stop using scissors if anytime he needs to look up during the cutting activity.
2. Hold Scissors In the Correct Way
Tell your child to use his third finger to hold scissors as it is the most correct manner. Middle and index fingers do not provide sufficient support to help you use scissors efficiently and safely, so avoid using them to hold scissors. Placing the shears or scissors against a broad table helps you exercise a better control over your cutting skills.
3. Pass Scissors Safely
Always pass scissors handle first to another kid. Make sure the blades of the scissors are closed and lapping over each other. You can hold the lapped blades of the scissors in your palm by wrapping your hands over it and pass the handle to other kid safely. Instruct your kids never to try to catch a dropped or bounced scissors, no matter whether the blades are lapping or not. Allow the scissors to fall on the ground and then pick it up.
4. Avoid Multiple Uses of Scissors
Tell your kids to use scissors only for the intended cutting task. Instruct kids not to use a pair of scissors for scraping, digging, screwing, or pounding. Initially, the scissors need to be used only to cut paper and thin cloth. Your kid can gradually use them to cut other materials once he gets a better control of using them.
5. Select the Right Type of Scissors
Choose an appropriate type of scissors of every different type of cutting task. For instance, prefer to use pinking shears (special scissors for cloth) for cutting a medium sized cloth and cut small loose threads by choosing small, thin trimming scissors. Guide your kids to cut away from their body in small, regular cutting strokes when using shears.
6. Practice Proper Posture while Using Scissors
Make sure your child sits in a good posture when using a pair of scissors. Prevent your kid from bending over a board or table while performing cutting activity by using scissors. Make it a practice to use scissors by positioning your wrist in a neutral position. Avoid bending your wrist at inappropriate angles and positions. Strictly forbid your kids from running, jumping, and climbing while carrying scissors in their hands.
7. Maintain Scissors Well
Keeping scissors sharp helps your kids to cut using lesser hand force than that would be required with blunt scissors. So, maintain the inner blades of the scissors sharp. Oil the screw slot as well as hinge joint with some oil periodically to ensure its smoothing functioning. Regularly clean the dirt, dust, fluff, and fragments accumulated on the blades and edges of the scissors. Store the scissors in an assigned storage area and not anywhere else for better safety and to avoid the risk of getting hurt.
Do you have any safety tips for teaching kids to use scissors to share with us? Share them with other caring moms by leaving a comment below.