Must-Have Art Supplies for Kids
One of the best ways to nurture children's creative skills is to offer them art supplies so they express themselves in many different forms. Art goes beyond the usual sketch in the book and consists of paintings and models made with the dozens of supplies available for creative work. In this article, we have put together a list of must-have art supplies that your kids would love to work with.
How to Choose the Best Art Supplies for Children
Artistic ideas are never linear and often take on unexpected twists and turns in expression. So here are some ideas on how to choose the best art supplies for children:
When choosing children's art supplies, make sure they have a variety of things to work with.
Make a cupboard or an art table area that is stocked with a range of supplies, including colour pencils, paints, art paper, felt, glue and adhesives, pom poms, googly eyes, popsicle sticks, construction paper, etc.
Always offer your child supplies that fall out of their domain of interest along with the usual so it stimulates their creativity.
Check for proper labels and go for brands that are certified as non-toxic and safe
Avoid solvent-based adhesives, products that can stain clothing or skin, and products that contain chemicals like bleach, alkalis, or acids.
Avoid permanent markers and instant paper-mache as they can contain toxic substances.
Important Art and Craft Essentials for Kids
Here is our list of art stuff for kids that we know works for any idea they can come up with.
Painting Essentials
Painting is one of the foundational activities in art, so ensure your kids have these at hand:
1. Water Colours
Watercolours are simple to use and perfect for children to learn how to paint. You can wash them quite easily from their clothes and wipe them off the table.
2. Acrylic Paint
Acrylic paints are slightly advanced and best suited for more experienced children who take their paintings quite seriously. These come in tubes or tubs made for large volume consumption.
3. Tempera Paint
Tempra paints are bright and non-toxic. Their shelf life is relatively smaller so pick them only before special projects.
4. Face Paint
Face paints are for those special days such as birthdays and competitions where the kids need a paint that is skin-friendly. They are available in all colours.
5. Paint Brush Set
An assortment of brushes enables your child to use the exact brush type for the strokes they need to make perfect paintings.
6. Paint Palette
For the budding artist in your house, paint palettes are absolutely essential to mix and experiment with colour combinations. These are for older kids with more experience in painting.
7. Canvas Panels
There are no masterpieces without a canvas panel! They would need these as they transition from colouring books.
8. Paint Apron
Paint aprons keep their clothes tidy and there's less mess for you to scrub later. These are surprisingly more useful than you can imagine.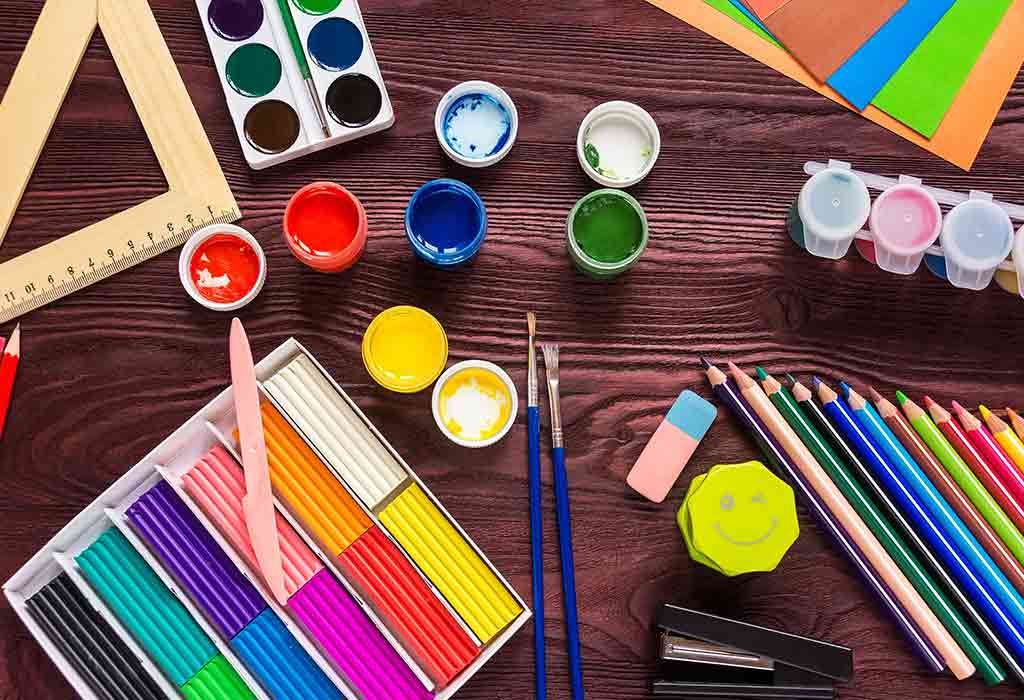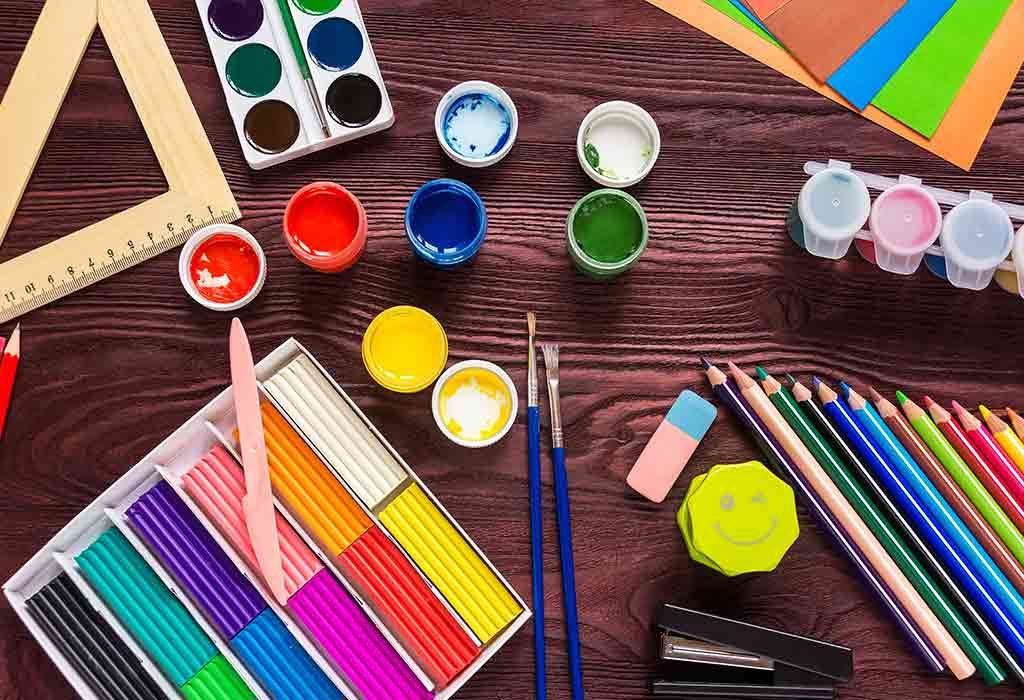 Drawing Essentials
These are what kids need to have in their drawing kits:
1. Classic Markers
A set of markers is what children need to draw outlines and figures on their drawing books. They are also great for colouring books.
2. Fine Line markers
Fine line markers are for drawing thinner lines and general purpose drawing. They are essential in all drawing kits.
3. Crayon Collections
No drawing kit is complete without a big set of crayons. With varying shades of every colour, crayons will keep your children engaged for hours.
4. Glitter Crayons
When they wish to add that extra sparkle to their princess sketch, glitter crayons are what they need. Every drawing is better with glitter!
5. Scented Markers
Kids love scented stationery items and markers are no different. These will add a special feel to every drawing they make.
6. Sketching Pencils
A high-quality sketching pencil is a delight to sketch with. Sketching is an advanced activity and these are absolutely essential for your budding artist.
7. Colour Pencils
Colour pencils give a better definition to their drawings better than crayon can. They are good for colouring within thin borders and give a crisp glossy finish.
8. Gel Pens
There will come a time when colour pencils just won't cut it and they will need gel pens for the depth of colour. Available in all shades, these are essential for the advanced artist.
Writing Essentials
A variety of paper is available in the world of art. Here are the essentials:
1. White Paper
A thick white paper is where all art begins. Everything from sketch pens to oil pastels goes on these and you will need them in plenty. A good stack of white paper will last for months.
2. Construction Paper
Construction paper is a multipurpose paper that children can use for cutting, crafts, pasting, sketching and anything they fancy. They come in a range of colours and are perfect for all ages.
3. Coloured Paper
Coloured paper is useful not only for children but also for adults to make fliers and coloured documents. These are great for the family as a whole.
4. Tracing Paper
A lot of sketching activities involve tracing. These translucent sheets help children make an accurate trace of any complicated drawing. It's also useful for a number of other projects.
5. Butcher Paper
Also known as kraft paper, these sheets have countless uses in the world of creative arts. You can use them to make cut-outs, crumple them up to make landscapes or use them to wrap other items.
6. Tissue Paper
Tissue paper is useful for a range of artwork and to finally clean up the mess afterwards. You will need these in your supplies wherever you go.
7. Poster Board
Poster boards are excellent for making display boards or to even cut them into smaller shapes to be used in other activities.
8. Sketching Pad
A sketch pad is a handy item for all artists to quickly sketch any new idea. It will also become your kids' favourite one as they will be able to carry it around everywhere.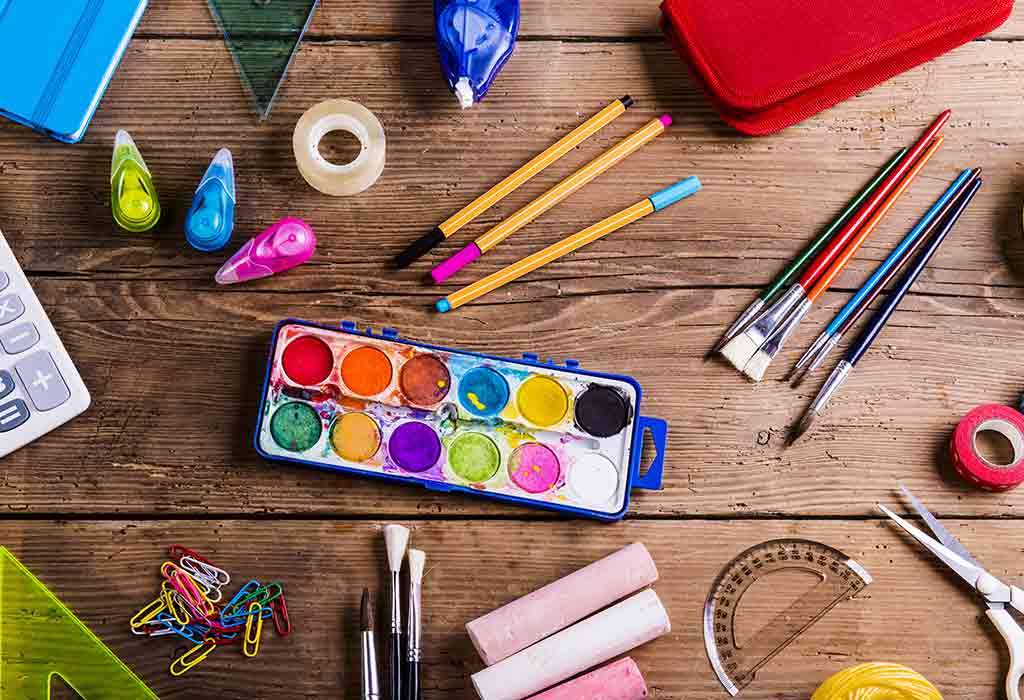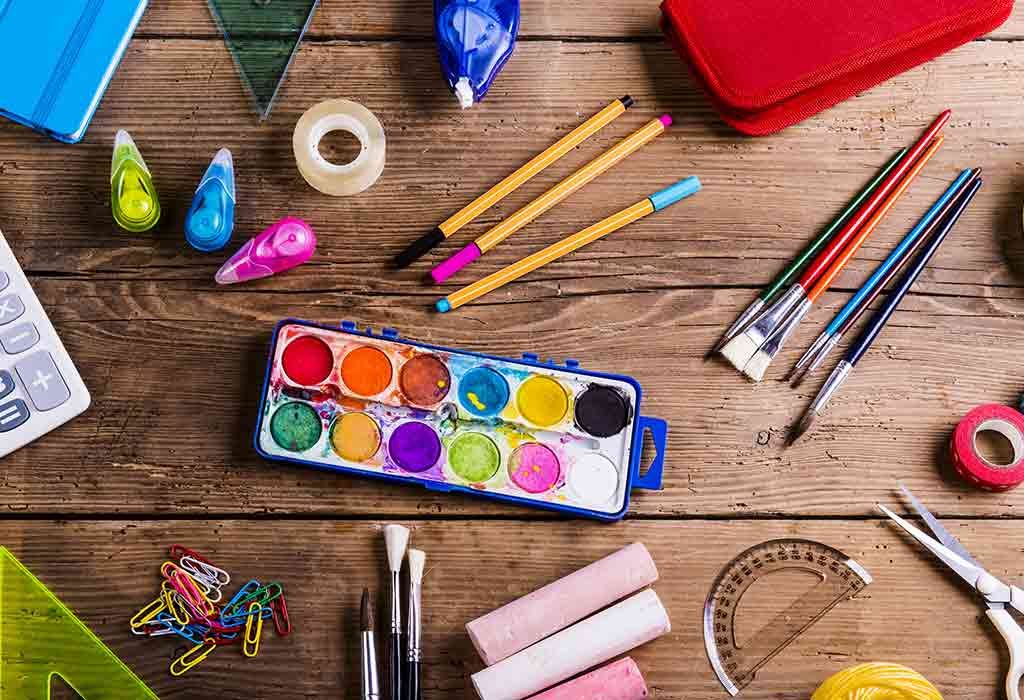 Adhesives
Glue is essential for all art projects. Here are the different types of glue and where they would be useful:
1. Liquid Glue
Also called white glue, it is one of the most versatile adhesives suitable for all kinds of activities from sticking paper to wood and plastic. It is strong and non-toxic.
2. Glue Sticks
This adhesive is fairly weak but perfect for sticking paper. They are not as messy as the other types of adhesives and can be carried around in the backpack with other stationery.
3. Hot Glue Gun
Hot melt glue is very strong and particularly useful for making models. They are best used under adult supervision.
4. Clear Tape
Clear tape is useful for sticking together paper, wood, plastic items and to hold things together in a model.
5. Masking Tape
Masking tapes are strong and come in a range of colours. Since they are reusable, they can be used in a wide range of projects.
6. Washi Tape
These colourful tapes are available in different designs and patterns that are mainly for decorative purposes.
7. Decoupage Glue
This thicker glue can also be used as a sealant in fairly advanced artwork.
8. Clear Contact Paper
This is a transparent sheet of paper with a strong pressure-sensitive glue that can be used for a variety of artwork.
Other Art Necessities
Here are other essential supplies for the arts:
1. Scissors
Craft grade scissors have a blunt end on either side making them relatively safe.
2. Craft Foam
Craft foam is a relatively inexpensive foam that can be easily cut and glued.
3. Toothpicks
Toothpicks can be used as a part of art models or as a tool to poke holes in paper, foam or clay.
4. Double-Sided Tape
This tape is excellent to use when you are making a poster board display and don't wish to glue things to it permanent.
5. Pom Poms
Pom poms are great for decorative displays and using in counting and sorting activities.
6. Googly Eyes
Although not an essential item, googly eyes make everything fun. So you can keep it in your stash when you need to create something funny.
7. Plastic Cups
These are perfect for mixing paints, holing water, glitter or as a container for any other item.
8. Modelling Clay
Modelling clay is fun by themselves but can be used in combination with other artwork.
9. Popsicle Sticks
They are essential in model making and to use as a stirring or spreading tool.
10. Cardboard Boxes
Any box such as a shoebox, biscuit pack or any other box made out of thick cardboard can be useful in countless ways.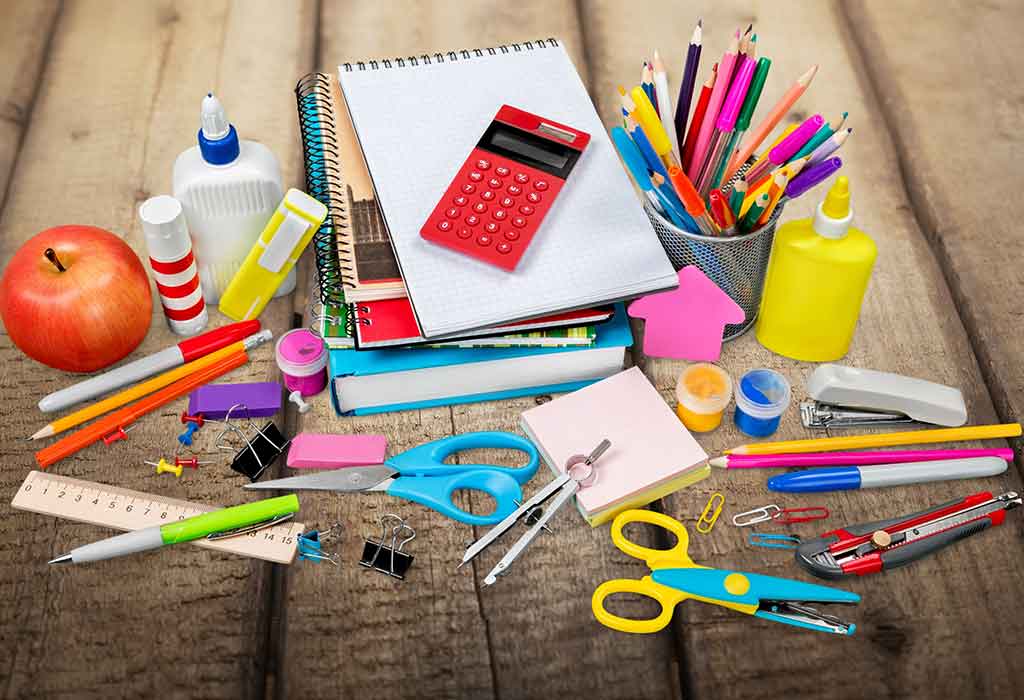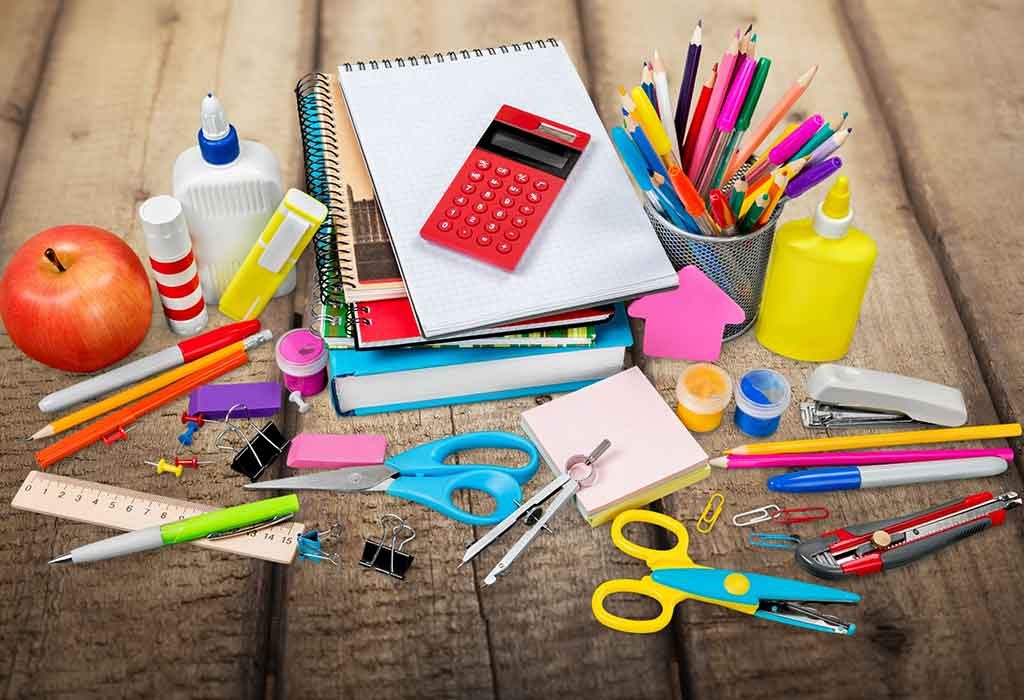 Art Supplies Safety for Kids
It's easy to overlook safety when buying art materials. Here are a few tips to make it safer for the children:
Look for proper labels on all the items. An ACMI (Art and Creative Materials Institute) certification is a good start when picking art materials for toddlers and older children.
Paints and colours need to be picked such that they do not contain any solvents and are mostly water-based.
Adhesives don't often come with safety-approved for child use. Any solvent containing adhesive must be avoided or used only by the adult in a well-ventilated space.
Hot melt glue guns, scissors and craft knives should only be used under adult supervision.
Always keep the items in their original packaging. Avoid transferring them to different containers as much as possible.
Whether you are buying art supplies for preschoolers or older children, there are common items that are useful for all ages. Build your child's art station or cupboard by filling it with a range of items that they can get to immediately as their creative ideas flow.
Also Read: Importance of Art in Child's Development