Unique Birthday Party Ideas For a 8-Year-Old Child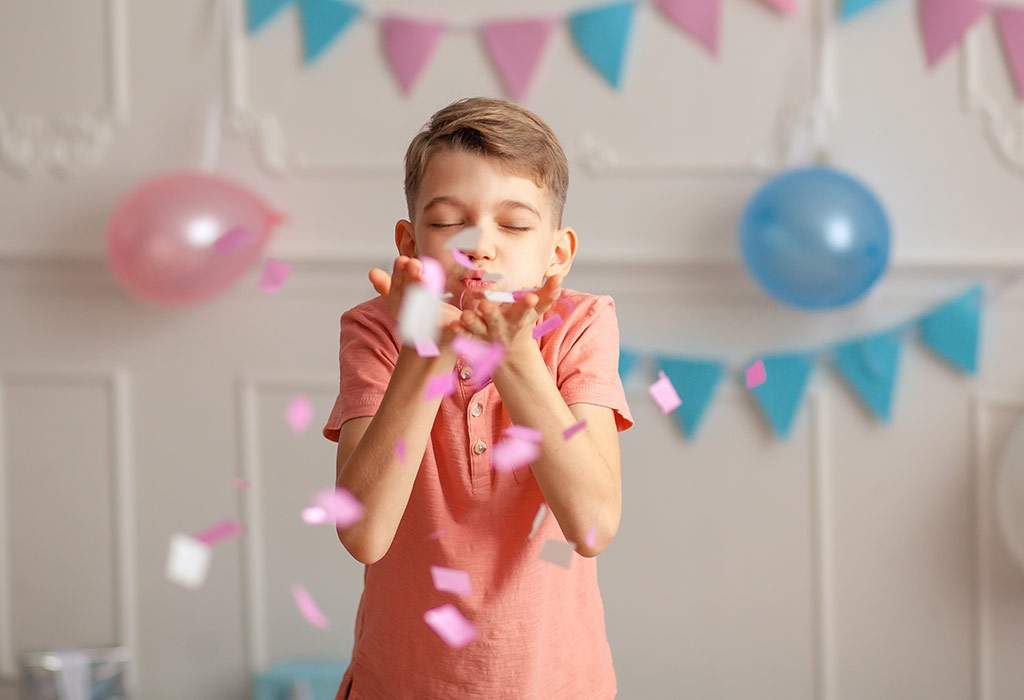 In this Article
Your 8-year-old is nearly approaching his tweens and is sure to have a good set of friends or peer groups who are all excited about birthday celebrations. It's important to them that you plan a great party with lots of fun and games, delicious food and an amazing cake that they would talk about for months to come.
Amusing Party Ideas for 8-year-Old Child
Here are some 8th-year-old birthday party ideas for both boys and girls. This guide should help you plan the event well and make it enjoyable for all.
8th Birthday Party Guest Invite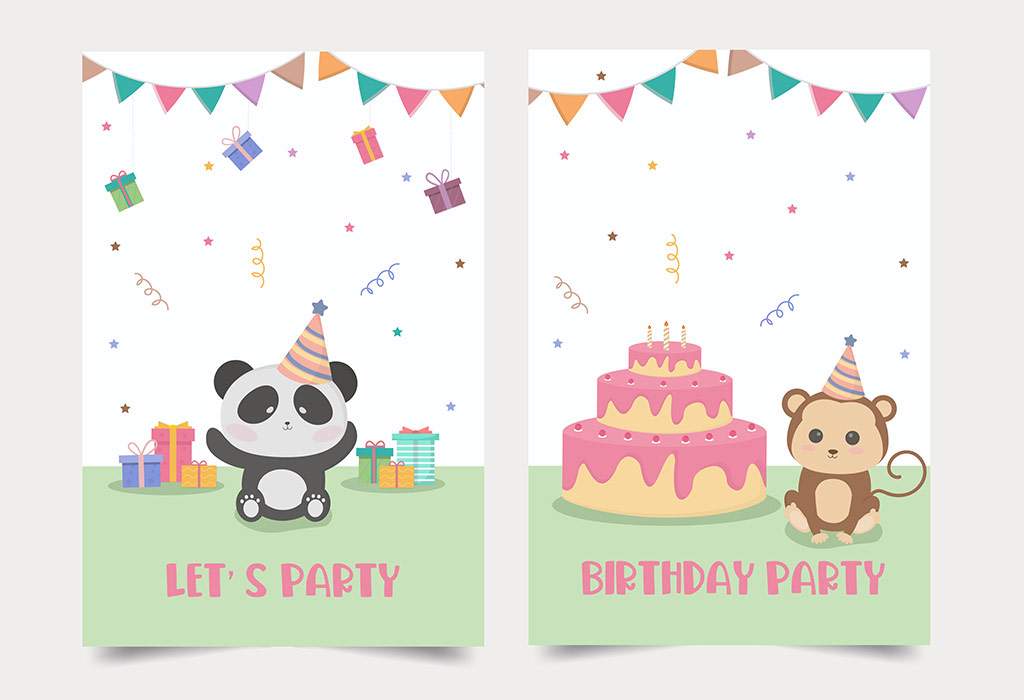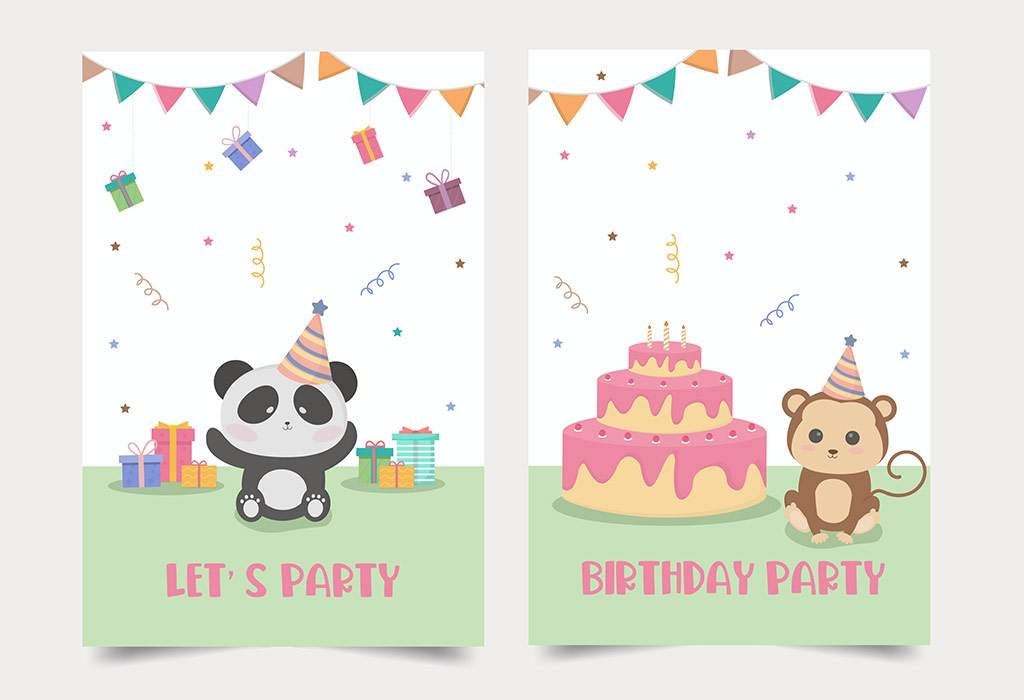 Here are the four essentials that go into planning a birthday party:
1. How to Write a Party Invitation
Your invite should give all the basic details for the guests in a concise format. It should include:
Date– Write the date and preferably the day of the week for example; Sunday April 12, 2020
Time– Give the exact start and end time without a buffer. For example: 3:00-5:00 PM.
Place– Your house address or the venue if you're celebrating outside. Include a map on the back of the invitation for clarity.
For– The name of your child and age. For example, Lindsey's 8th birthday celebration!
2. RSVP
To make it sound more welcoming, add a line in the invitation that goes something like – "Please let us know if you will be joining us so we can prepare enough food". You can also add a line such as "Please respond with how many of you we can expect by ­­­___(date)"
3. Venue Details
Keep the parents informed of the specifics of your venue.
Include details of outside venue if you are planning for something like the mall, movies or a kids zone
Include any finer details that the parents might find useful such as an admission price
If you're picking birthday party places for an 8-year-old boy such as the zoo or a baseball game be sure to add the extra costs that may be incurred
4. Party Details
Any information that the parents or children need to know before they arrive must be added such as:
Dress code- if it's a themed party and a clear description of what is expected. You can also add tips on how to create the look you're expecting.
Meals- Let the parents know if you'll be serving lunch or dinner and even what's on the menu so they can be warned about possible food allergies
What to bring- Based on the activities suggest things to bring such as swimsuit, pillows, sleeping bags or old clothes if you have a painting session
Surprise guests- If the party is specifically for the friends of your child and others of their age group, add a note tactfully stating not to send siblings.
For parents- Also add a note for the parents asking them to stay for the party or to come to pick up their kids at the end of it
8 Year Old Kids Birthday Party Theme Ideas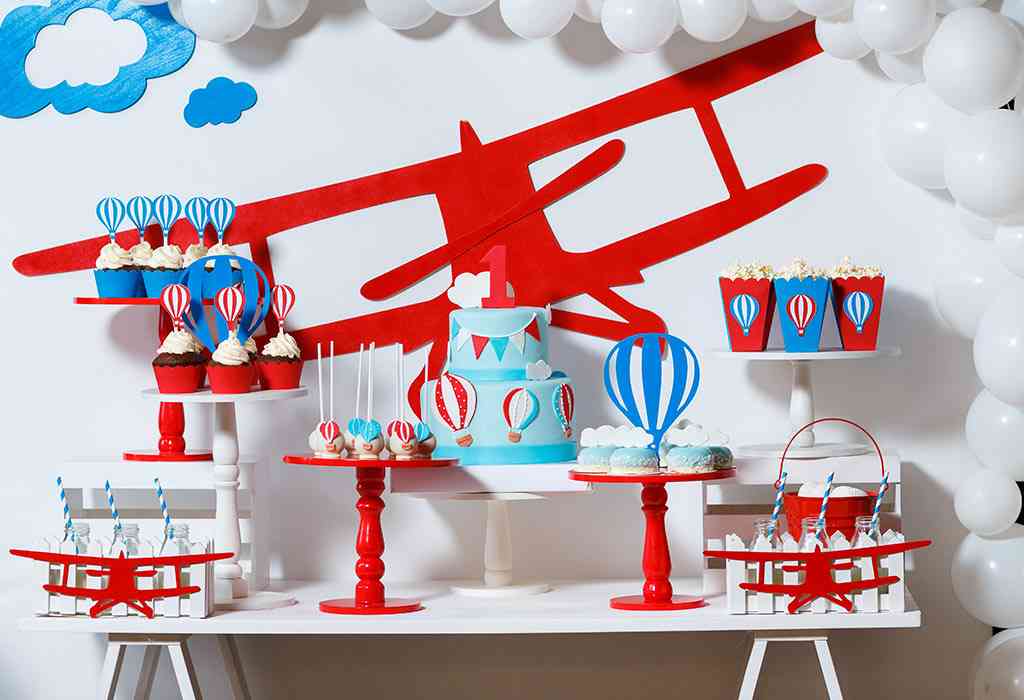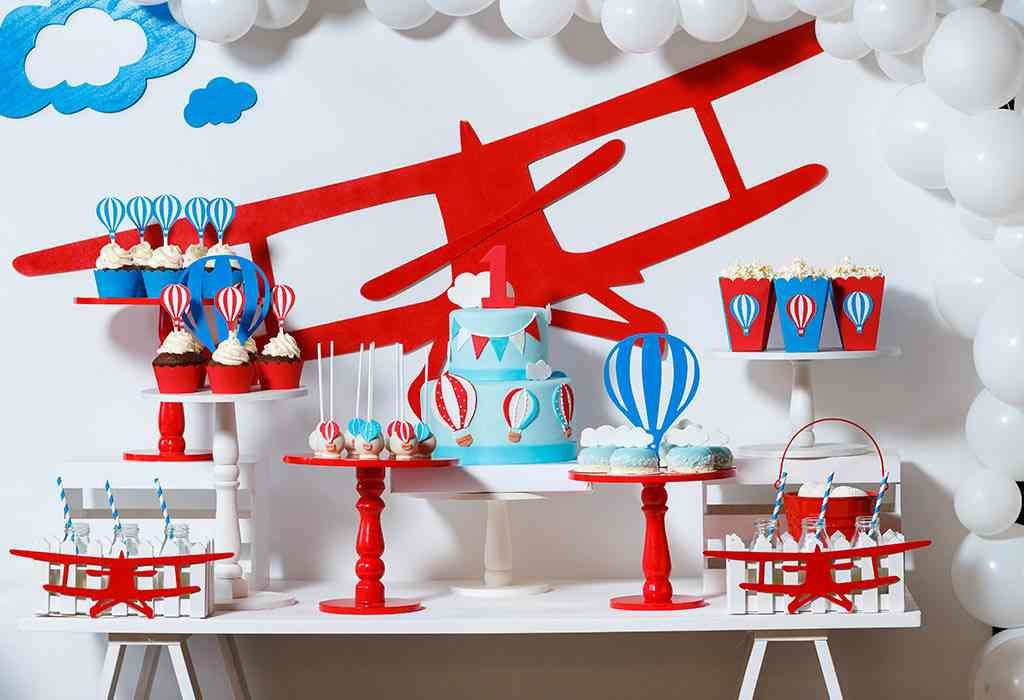 Birthday parties are a whole lot of fun with a theme. Here are some ideas for both boys and girls.
Birthday Party Ideas for Boys
1. Mad Scientist Party Theme
This is one of the coolest 8-year-old boy birthday party theme ideas around because who wouldn't love mad science! Let the dress code involve an apron, safety glasses and hand gloves. Gather up a bunch of science experiments that can be safely done at home and let them have a blast! Match the decoration to go with the theme such as hanging rubber gloves from the wall and metallic curtains made out of crepe paper. The cake can be an exploding volcano with lots of flavours and colours.
2. Backyard Amusement Park Theme
If you have a spacious backyard all you need to do is rent a trampoline, an inflatable castle and an inflatable pool to create your own amusement park in the backyard. There's nothing that boys like more than to involve in physical play bouncing and flipping on trampolines or taking a splash in the pool. Ensure you give them plenty of sugary treats to keep the energy levels up! Safety is also a concern; therefore inform parents the finer details of your party.
3. HandCraft Party Theme
This one is on the more creative side for your 8-year-old boy who is nerdy and likes to build things. Gather around his geeky friends and supply them with all the stationery and craft items they would need to build things like a car, house or aeroplane. The most neatly made model is the winner. This is a great activity if you are going to have parents over for the party as well. This is cool winter birthday party ideas for 8-year-old boy as everybody gets to stay indoors.
4. Tree House Party Theme
A tree house is one of the most fun 8-year-old boy birthday party ideas. If your boy actually has a tree house in the yard that can safely fit in 3-5 kids then it's just perfect! Have his closest friends come over for the party and let them have their cake and food in the tree house. Have a couple of pillows and blankets ready if it's going to get cold. You can also build a temporary tree house in the backyard or the garage and decorate with special lights.
Birthday Party Ideas for Girls
1. Princess Party Theme
Be it eight or eighteen, the desire to be a princess runs deep for all girls so this should be at the top of your list of 8-year-old girl birthday party themes. Have a castle cake ordered from the best cake makers in town so the detail is flawless. Mention the dress code and colour for the party on the invite so the looks and feel of the party can be real. The decorations remain royal and a throne for your little princess is a must-have.
2. Ice Skating Theme
One of the most fun places you can take your daughter and her girls are ice skating for her 8th-year-old birthday. Whether they are good at it or not, being in a nice costume and a pair of fancy ice skates is an enjoyable experience for the girls. Even if they are completely new to it, they'd have trainers to help them out. Arrange for a party at the venue and have their parents come over and pick them up at the end.
3. Train Ride Theme
There are few things out there that are as much fun as a train ride. So, if you can pull it off, this should definitely be among the top 8-year-old birthday party ideas girl. Since this one can take a lot of time, plan accordingly with the permission of the parents. Plan a route that has a stop at a town/ picnic destination where you can spend a few hours having a party and take the returning train. To kick it up a few notches make it a two-day birthday outing!
4. Harry Potter Theme
When it comes to the best birthday party ideas for 8-year-old daughter at home, Harry Potter tops the list. Get the guests to arrive dressed a pre-determined harry potter character. Get creative with the food items and their colouring to reflect the theme. Match the decoration of the interiors to reflect Hogwarts as much as possible. You can even buy a sorting hat online and have candles hung from the ceiling with thin invisible metal wires.
Fun Games and Activities for 8th Birthday Party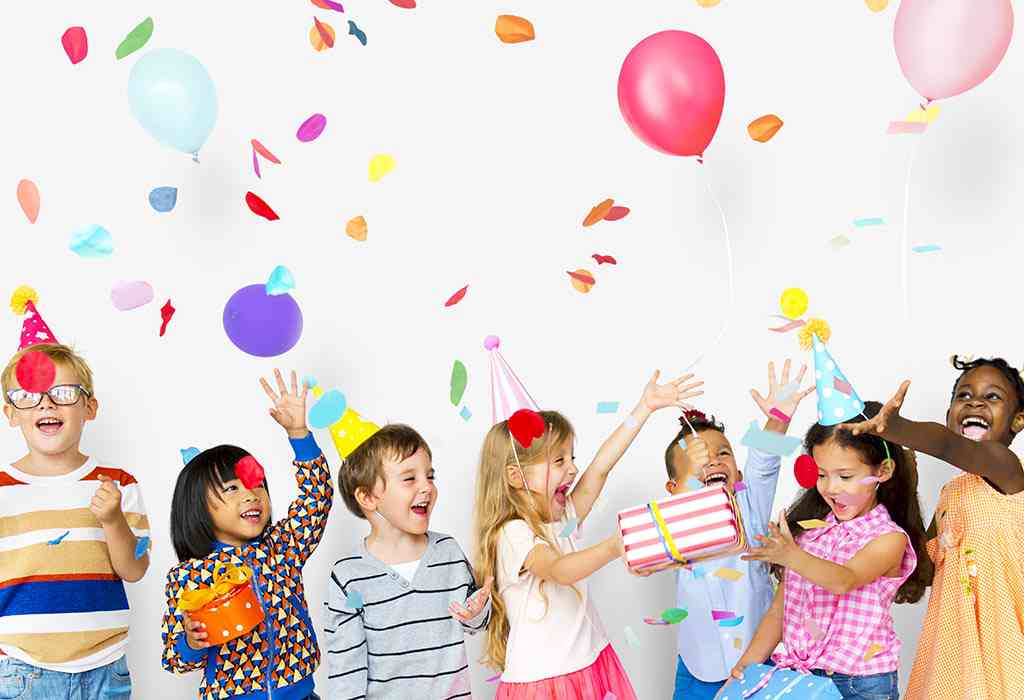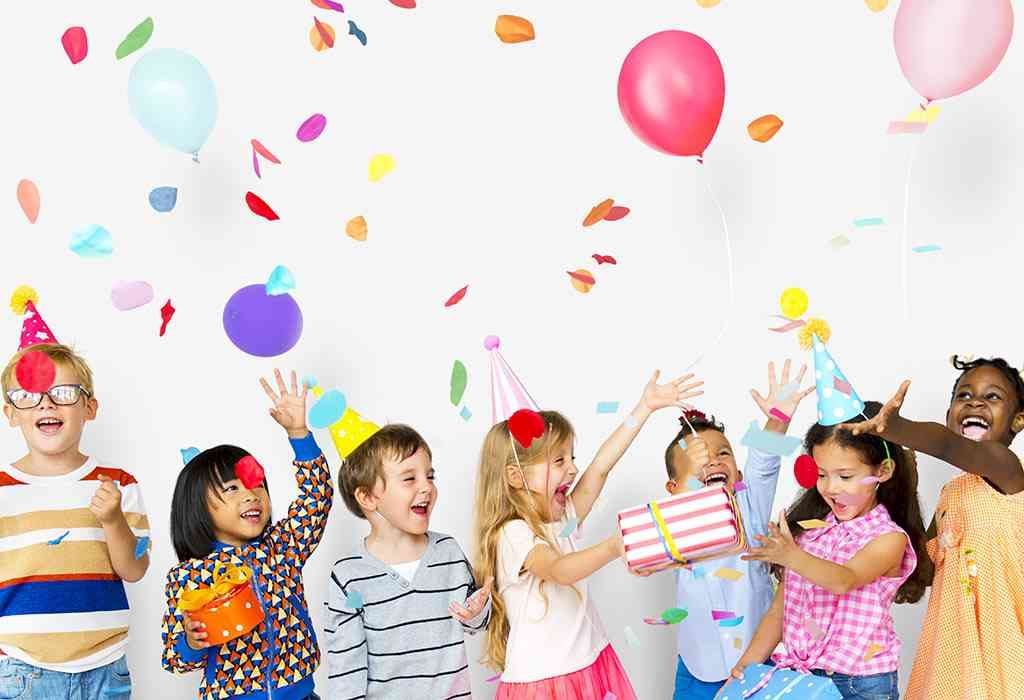 Here are some birthday party activities for 8-year-olds that are sure to keep the fun going:
1. Flour Cake Lolly
Make a flour cake by tightly packing a shallow bowl with flour. Invert the bowl to release the flour cake and place a lolly at its centre. Get the players to sit around the cake and explain to them that they need to take turns to cut slices out of the cake without letting the lolly fall. Whoever gets the lolly to fall has to eat it with only their teeth. Whoever wins will still get a face full of flour! To make it tougher blindfold the players.
2. Mystery Fishing Game
For this game, you'd need some toys, gifts and candy (enough for all the kids) and a bamboo stick to act as the fishing pole. The pole needs to have a long string tied to one end to act as the fishing line. A volunteer "fish" hides behind a blue veil across the room or behind a large decorated appliance box. On the other side, the players take turns to throw the fishing line across and wait for the fish to attach something to it and pull it out. They get to keep whatever they fish out.
3. Sweet Sucker
To play this game you will need some bowls and straws and lots of sweets such as pebbles and M&M's. Each child gets two bowls and straw with one bowl filled with some sweets. The game is to suck the sweet to get it to stick to one end of the straw and transfer it to the other bowl. All the children get to keep their lollies but whoever transfers them the fastest is the winner.
4. Rattlesnake Tag
If you have a lot of space in your backyard or the party is at an outside venue, this is a lot of fun to play. All the guests will stand in a line holding each other's hand to form a giant rattlesnake and cannot let go of the hands at any cost. The first person at the line is the snake's head and the last person is the rattle. The game is for the first person to tag the rattle if he succeeds, the rattle then becomes the new head and tries to tag the new rattle.
5. The Memory Game
This game requires some great memory to get it right, so the kids who claim to have the best memory get to stand at the end of the line. You child is at the start and begins with "At my birthday I want… "a list of whatever they wish to have. The second child picks up and starts with everything the previous child said and adds items of his own. The sequence continues with more items added to the list and goes in a full circle. Play the game with teams and have a prize for teams that make it a full circle without missing words.
6. Water Relay Game
This one's a great summer game where parents and their children or teams of children have to move water from one bucket to other using spoons, cups with a hole at the bottom of sponges. Whoever transports most water without spilling too much wins.
7. Who Am I?
On a stick note, write the name of an animal or a famous person or even places and stick it to the player. Each player goes around the room, asking questions to the audience trying to figure out what he/she is. If you have a themed party, you can write the names of things related to the theme to make it easier for the children to guess.
8. Balloon Bulls Eye
For this, you need a light target placed on a table such as a stack of paper cups and lots of balloons. The kids blow up their balloons without tying up the neck and launch it at the target like a rocket. Whoever gets the stack first wins. The game can be played for however long it keeps them amused.
Yummy Cake Ideas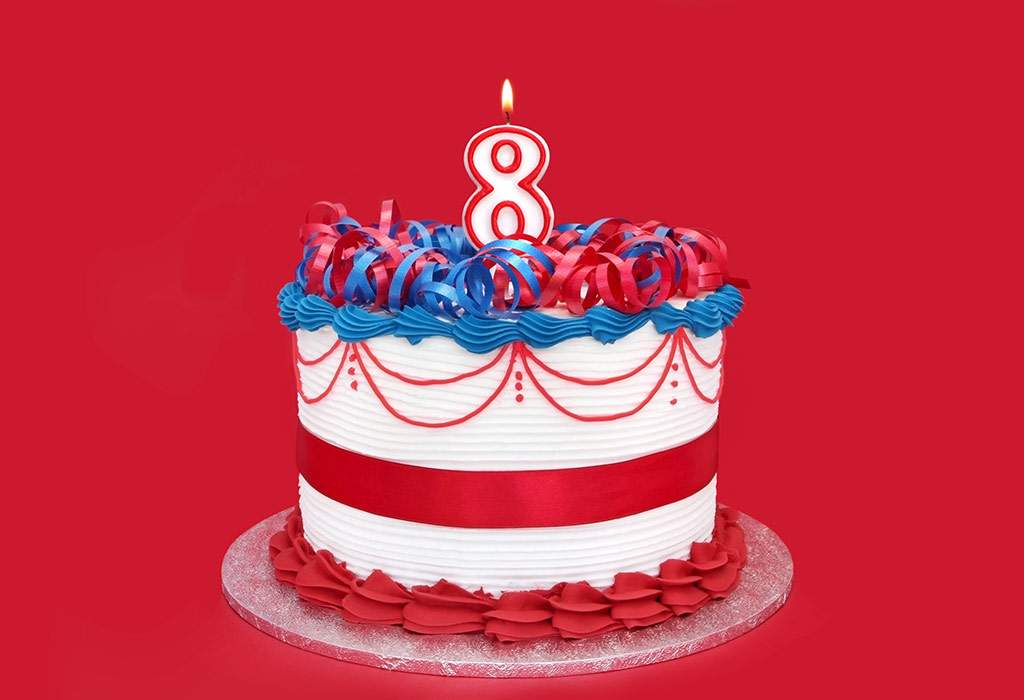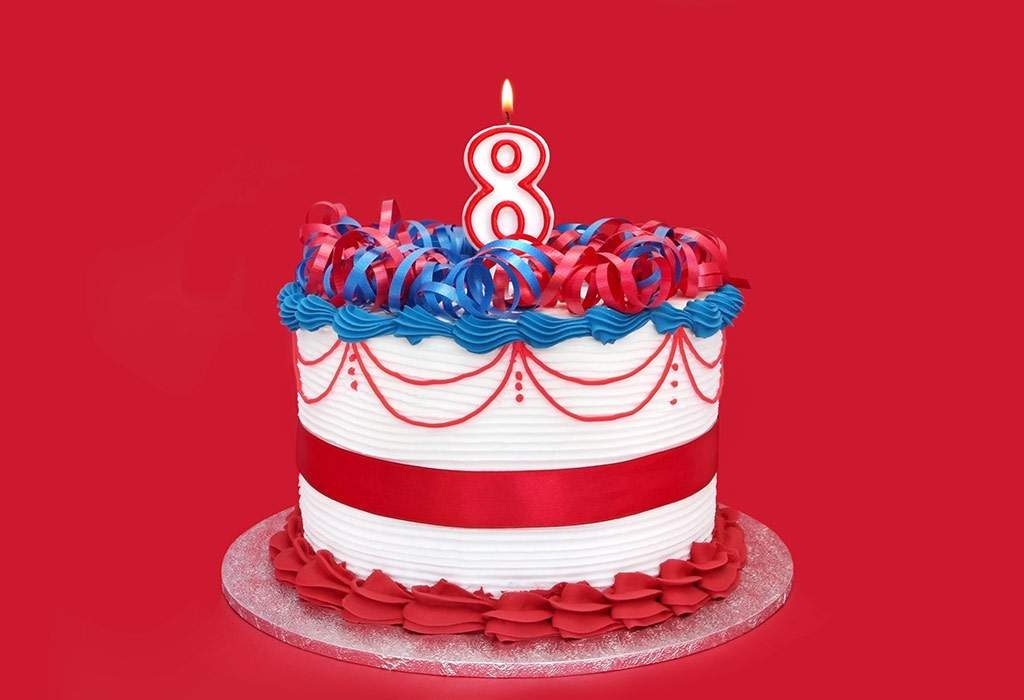 If you're having a themed birthday for your 8-year-old, then a cake that goes with it is mandatory. However, if you want to try new things, you can give these a shot:
Give a bowl of ice cream to each guest and let them choose their toppings
Bake giant sugar cookies and offer different frostings that they can use for icing their cookie
Bake an individual cake that each guest can decorate on their own. Give them the option to add their own chocolate, sprinkles, and candies.
Delicious Food Ideas For Kids 8th Birthday Party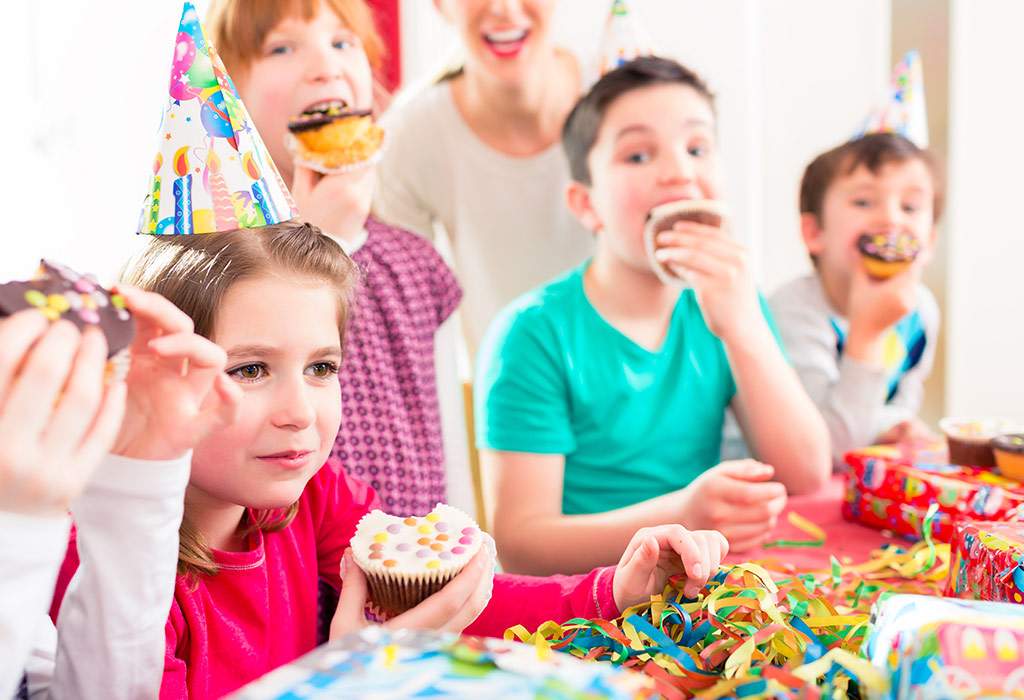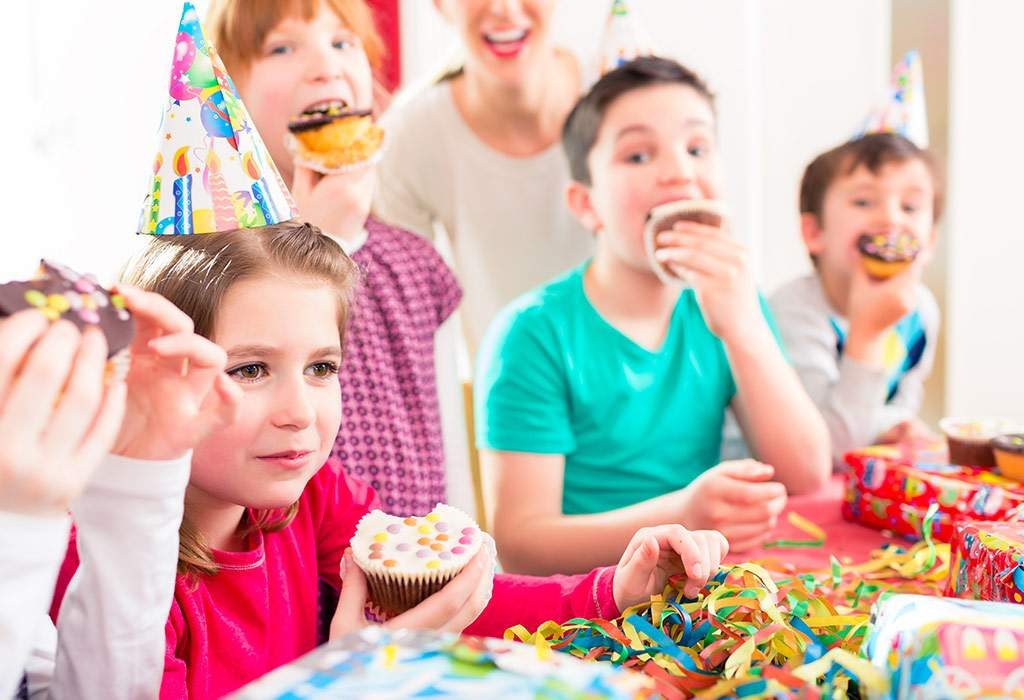 Great food can make or break a party, so here are some ideas to keep their taste buds lit.
Mystery Dinner: The guests are shown a menu with a list of items, so they know what to expect, but they can never know what will get until it arrives.
Spaghetti: Offer a selection of pasta and noodles with different sauces, cheese, and breadsticks.
Pizza: The ultimate filling food, you can even have the children make their own as well. Offer them a list of toppings and even give them a chef's hat.
Salads: The parents would appreciate this! Set out bowls with two or three types of lettuce, shredded carrots, sunflower seeds, black olives, raisins, and more.
Chocolate Fountain: It's needless to say how awesome these things are. Your 8-year-old girl would love to have one at her party.
Festival Foods: You can have some nachos, funnel cakes, fried dough, cotton candy, and corndogs throughout the party.
Hot Dogs: Kids would love to fix up their own hot dog. Have some onions, mustard, melted cheese alongside some chips at the stand.
Themes Cold Cuts: Give the option for guests to make their own sandwiches with cheese and cold cuts you made with a theme-based cookie cutter.
Hamburgers: Hamburgers with customizable toppings set out on the table is also a great idea. Cut the cheese slices with a cookie cutter that goes with your theme.
Candy Buffet: Who wouldn't love a candy buffet! Throw in plenty of sugar treats to complement your theme.
These birthday party ideas should give you plenty to work with while planning for your 8 year old's birthday. Ensure you have all the detail noted down, so everything stays on budget, and nothing goes waste.
Also Read:
Unique Birthday Party Ideas for Children
Food Menu Ideas for Kid's Birthday Party
Fun Filled Birthday Party Games Ideas for Children