40 Unique Kids Birthday Party Ideas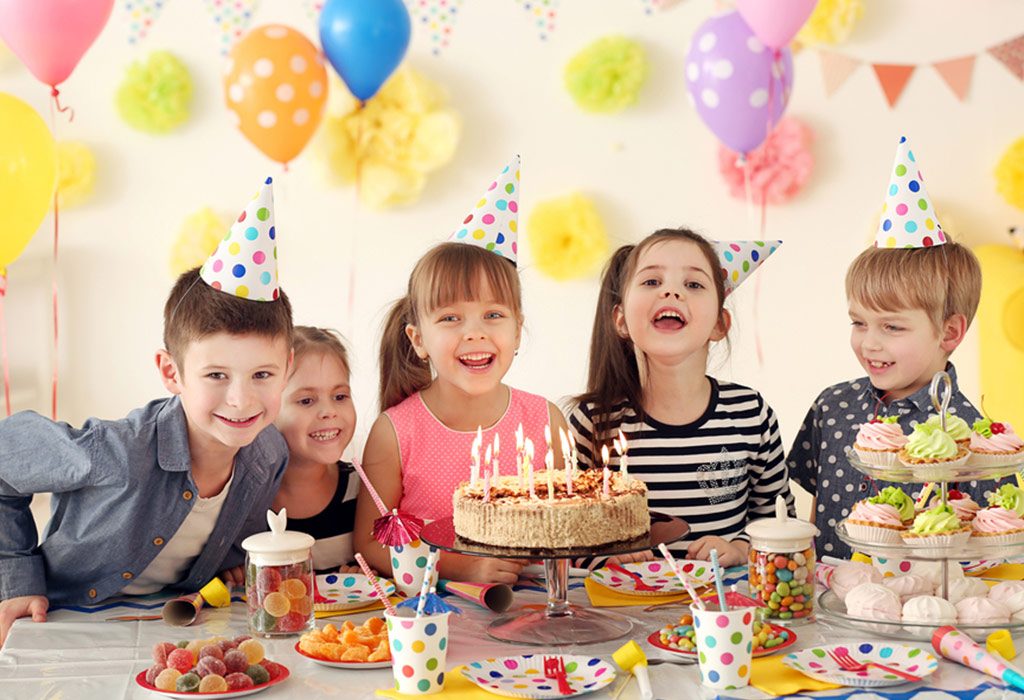 For every parent, their child's birthday is a special occasion. They may want to organise a fun, exciting birthday party that is likely to bring a big smile to their child's face and create lasting memories. So, if you are looking forward to throwing an awesome party and searching for birthday ideas for a children's party, here we are at your service. We have covered some amazing birthday celebration ideas for kid's parties below. Let's read!
How Do You Make Birthday Special for Kids?
Let's read how you, as a parent, can make a birthday special for your little one.
Make gift opening time fun for them by increasing their anticipation. You can make them play a scavenger hunt game to find their birthday presents by leaving clues around the house leading to their gift.
Make a special birthday chair for your little one to sit on by attaching balloons and other decorative items.
Decorate your child's room with balloons. You can use helium balloons that will float around the room and give it a mesmerising look.
Sit with your child and tell them the story of when they were born. Show them their baby and infant photos. Children love hearing stories about themselves!
Birthdays are special occasions for kids. Make it extra special for them by allowing them to pick their birthday meal. You can also make this a new birthday tradition!
Children Birthday Party Ideas
To create a birthday celebration that your child remembers for years to come you need not look for expensive options. The simplest kids birthday party ideas at home can be just as fun and exciting.
For 1 Year Old
Listed below are a few great ideas:
1. Special Party Hat
You can plan a mad hat themed based birthday party. All the other kids can come dressed in different hats of their choice.
2. Musical Party
You can play some popular nursery rhymes or songs and let the kids enjoy dancing or singing along those numbers.
3. Special Cake
Cake cutting time can be the highlight of the party. You can design a cake based on your child's favourite colour or animal. You can have a musical cake as well.
4. Blowing Bubbles
You can help the kids to blow bubbles or blow the bubbles yourself. Kids can have a wild time chasing the bubbles, trying to catch or blow them out.
5. Bring Your Favourite Stuffed Toy
1st birthday party ideas for boys can include asking all the guest kids to bring along their favourite teddy bear or stuffed animal. Each kid then gets a new stuffed animal friend for their toy as a return gift. The party activities can consist of "pin the tail on the animal", colouring animal pictures or simply enjoying play time with their stuffed animal.
For 2 Years Old
Some exciting party ideas for 2-year-old can be:
1. Glow-in-the-dark Party
You can convert your living room into an exciting place by adding some glow sticks or stickers, a strobe light and tunes. Kids can enjoy painting themselves or each other's faces with glow-in-the-dark colours. Glow-in-the-dark play-dough can be a good take away gift.
2. Mud Run Party
You can organise some muddy fun for your kid and his friends as most kids love to play in the mud. In an open space, you can set up several obstacles and let the kids race and have a blast getting dirty.
3. Bugs Crazy Party
Kids of this age tend to love bugs. You can design colourful invites by cutting oval shapes out of decorative paper and glueing it on the card. Draw head, antennae, and legs with a coloured pen to create a bug. As a party activity, kids can make easy DIY bug magnets by glueing pom-poms or coloured cut-outs on craft sticks. They can add googly eyes too.
4. Rock-and-Roll Musical Party
You can make a homemade party invite by pasting coloured copies of your kid's photo on the card's cover along with party details. Structured yet simple games like passing the parcel, musical statue work well. The birthday cake can be your child's favourite musical instrument. Child-sized inflatable guitars or saxophone can make good return gifts.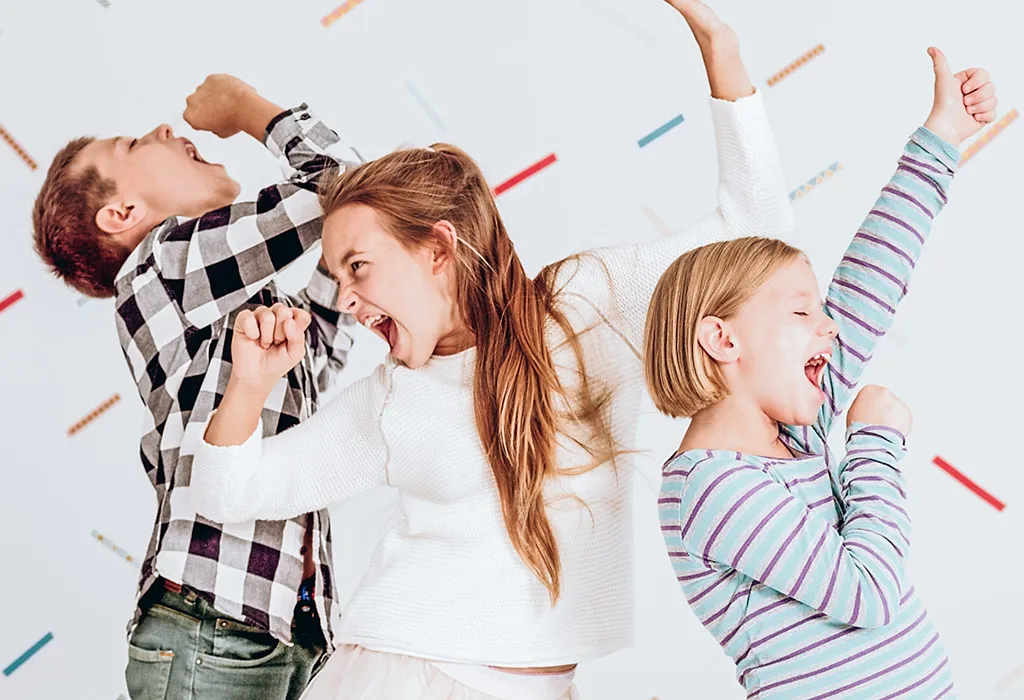 5. Party-Based on Shapes
Kids of this age understand simple shapes like a circle. A circle birthday party can include polka dots, lots of balloons, bubbles, cheerios. Kids can splash in an inflatable kiddie pool filled with colourful plastic balls or can have some noisy fun with bubble wrap.
For 3 Years Old
You can incorporate the following ideas while planning a birthday party for a 3-year-old kid:
1. Jungle Theme
A jungle themed birthday party is always a hit with the kids. You can ask the kids to come dressed in animal costumes, have animal-shaped food and even create a mini zoo. Kids can be distributed animal paper masks for them to wear.
2. A Puppet Show or Magic Show
You can consider hiring a clown or a local magician to organise a show for the kids. A puppet show may also prove to be very entertaining for the kids.
3. A Fancy Dress Party
Kids can come dressed as their favourite cartoon character, superhero, favourite storybook character. Keep in mind to give ample notice for the guest to prepare the costumes. You can play a game of "10 questions" to guess each guest's identity.
4. Freeze or Statue Dancing
Play some music and let the kids start dancing. When the music stops playing the kids must stand still like a statue or "freeze". You can also make a CD of different kinds of music and have the kids change their steps according to the different music styles.
5. Balloon Bursting
You can fill big balloons with candies and little treats. These can be inflated and hung all over venue where they are easily accessible. The kids can have fun bursting the balloons and collecting the goodies.
For 4 Years Old
A birthday party for 4-year-olds can include the following ideas:
1. Messy Party Themes
Messy party themes are very popular among kids. You can organise stations with silly strings, play dough, paint, cupcake decorating supplies. The kids can enjoy being messy and creative at the same time.
2. Treasure Hunts
Treasure hunts are always a winner with kids. Bear in mind to keep age-appropriate clues and the trail not too difficult to solve.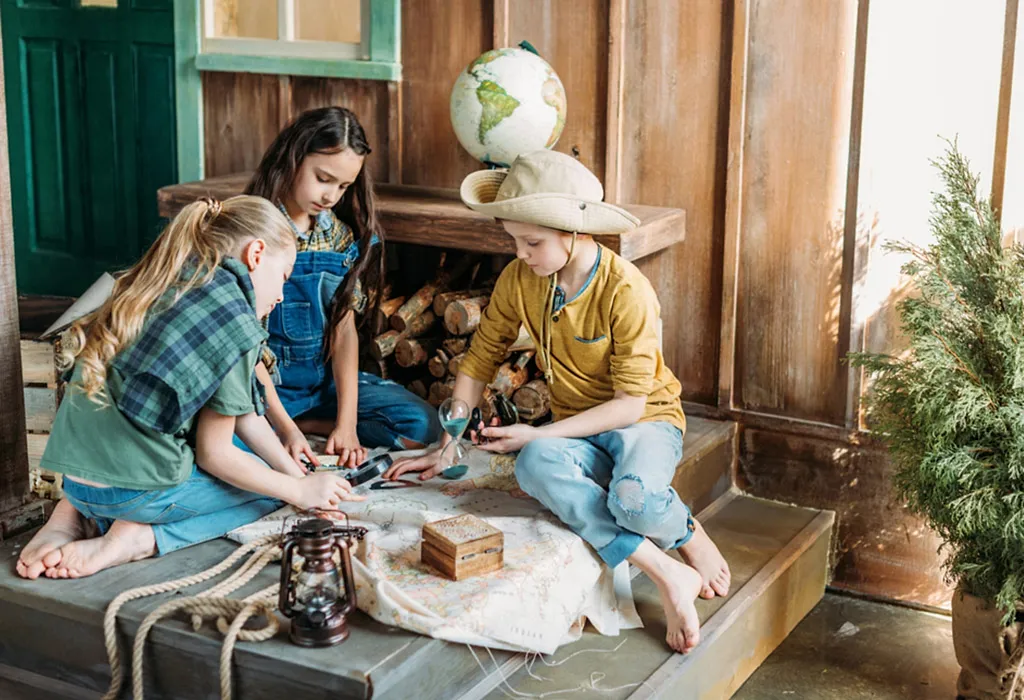 3. Craft party
You can supply the kids with items like pots, plastic plates, t-shirts, bags, picture frames umbrellas and materials like poster colours, stickers, glitters, glue, paint brushes and ask them to paint them.
4. Chocolate-Making party
Most kids like making treats. You can provide the kids with different fun moulds and flavours of chocolate. You can help them melt the chocolate in the microwave and let them enjoy pouring into the moulds. They can get creative while decorating and wrapping the chocolates.
5. Circus party
A circus themed birthday party is very enjoyable for the kids. You can design homemade entry tickets, lemonade booths, the vintage popcorn tins and cotton candy, polka dots cups and plates, straws with moustaches toppers, whirly pops and even hire a clown to entertain the kids.
For 5 Years Old
The following children's birthday party ideas can prove useful:
1. Backyard Carnival
You can create a festive carnival feel in your backyard by setting up different stations like the tattoo station, popcorn and cotton candy stand, face painting, hotdog/ burger stands. Various games stalls like ring toss on bottles, a mini-golf course, a bean bag toss, stack and tumble game can also be set up.
2. Camping
5 year old boy birthday party ideas can include camping. You can pitch tents in an open space and invite young campers to participate in a host of exciting outdoor activities. You can take the kids for an adventure walk during which they can collect interesting rocks, leaves and explore nature closely. And lastly, don't forget to provide the kids with s'mores for extra fun!
3. Rainbow Party
You can throw a colourful rainbow party for your kid. You can organize a multi-coloured extravaganza with colourful party streamers, balloons, rainbow cake, rainbow paint station, rainbow lollipops. Kids can make friendships bands or headbands with multi-coloured beads.
4. Lego Birthday Party
Lego is currently very popular with kids. You can build towers using Lego bricks and ask the kids to knock them down with a toy car or a ball. You can put Lego bricks in a jar and ask the kids to guess the correct number. Lego bricks can be used for decoration purposes also like making a cupcake stand or a napkin holder.
5. Firefighting's Party
You can entertain the kids by engaging them in fun activities like water play, making fireman truck out of cardboard boxes, fire hydrant ring toss games. You can have a tutorial on how to make a firefighter's hat.
For 6 Years Old
Try and have lots of activities so that kids can win many prizes. Some party ideas can be:
1. Sports Themed Party
Guests can dress in their favourite sports gear or like their favourite sports star. Kids can joyfully be engaged in sports activities like racing, mini golf, marshmallows soccer, croquet or you can even use cardboard boxes to fashion an obstacle course.
2. Disco Party
You can play all the popular musical numbers and let the kids enjoy some freestyle dancing.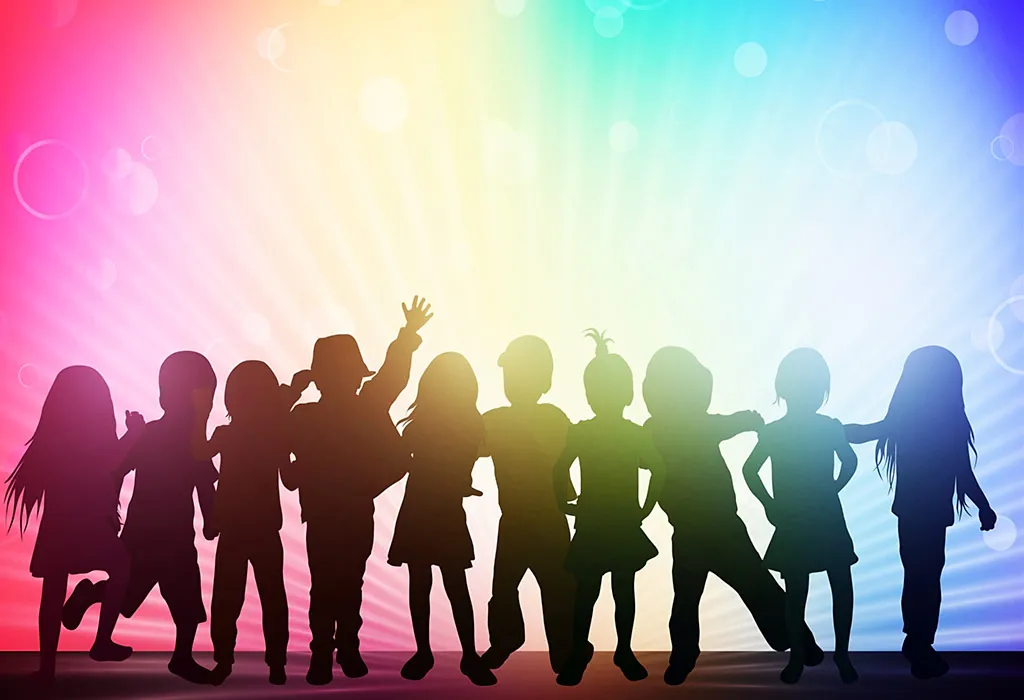 3. Dragon Party
Kids can dress up as dragons, damsels in gowns and knights with swords and indulge in some role-playing.
4. Movie Themed Party
You can give the kids an experience of the movie theatre by organizing a screening of their favourite movie. You can provide every kid with a movie theatre snack box which they can enjoy while watching the movie.
5. Scavenger Hunt
A scavenger hunt can be very thrilling for the kids. Do pay attention to the things that you will be hiding. Try to create some sneaky clues like you can put the message in the form of a poem in a bottle. Divide the kids into groups and let them race against each other to find the buried treasure.
For 7 Years Old
A kid of 7 years may have certain definite ideas for the birthday party. At this stage, it is quite normal for the kids to want gender specific parties like an all-boys bash or an all-girls bash.
1. Classic Party Games
You can organise classic party games for the kids like musical chair, charades, twister, ring toss, freeze dancing, telephone game. 7 year old boy birthday party ideas can include parties based on popular series like the Harry Potter or superheroes like Superman, Batman, Ironman.
2. Fishing the Prizes
Collect small prizes like coloured markers, fancy erasers, small notepads and attach them to huge paper clips. You can place all these prizes in a "fish pond" which can be a big box or even a rug. Each kid gets a fishing rod which has a magnet at line's end. The kids can have a great time fishing for their prizes.
3. Cowboy Party
You can get creative with homemade wanted posters. You can have horse riding races, balloon stampede, lasso toss, rodeo rides to rustle up some entertainment for the kids. Kids can wear cowboy hats, bandanas and boots.
4. Hula Hoopla Party
Kids can have amazing fun spinning the hula hoops. You can organise contests between the kids like who can spin the hula hoop for the maximum time.
5. Mummy Wrap Game
Mummy wrap game can be lots of fun. You can split the kids into two groups. The groups then compete with each other to see who can finish wrapping their chosen "mummy" in toilet paper first.
For 8 Years Old
With this age group, it may become a bit of a challenge to keep them entertained. You may have to think of newer games and themes. 8-year-old kids can comprehend more complex instructions and rules. Kids birthday party decoration ideas can be according to the chosen theme, and you may not go overboard with it. Some exciting birthday party ideas can be:
1. Team Sports
You can organise team games like three-legged races, relay races, blind man's bluff, spoon race games, for the kids.
2. Mad Science Party
You can hire a professional to demonstrate easy science experiments and teach the kids some DIY projects as well.
3. Charades
It is better to follow a theme like a movie, an action or a word. You can divide the kids into two groups. One group will have to enact the word while the other group needs to guess it correctly within the given time.
4. Sleepover Party
You can host a sleepover party or a pyjama party for the kids where guests are invited to stay overnight. Kids may stay awake whole night playing games, watching a movie or simply talking.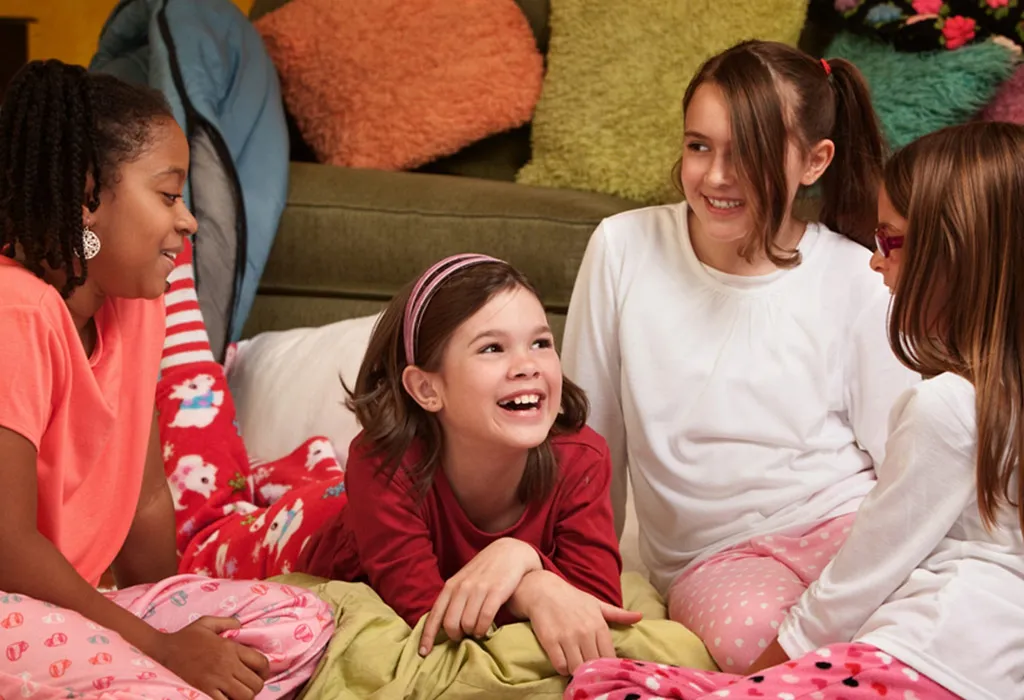 5. Memory Game
Kids of this age have good retention power. You can create interesting memory games where the kids are shown certain things at the beginning of the party. And later you may ask the kids to recall those things.
It is important to plan out the budget of the party first. Picking a theme for your child's birthday party makes it easier to decide other party details like the location, invitations, food and fun-filled party games. It is possible to create enjoyable party games, beautiful invites and decorations by being creative and imaginative without spending much.
Also Read:
Birthday Party Themes Ideas for Girls
Birthday Party Themes Ideas for Boys
Menu Plan and Foods to Serve in Kid's Birthday Party