Rajgira Puff Milkshake Recipe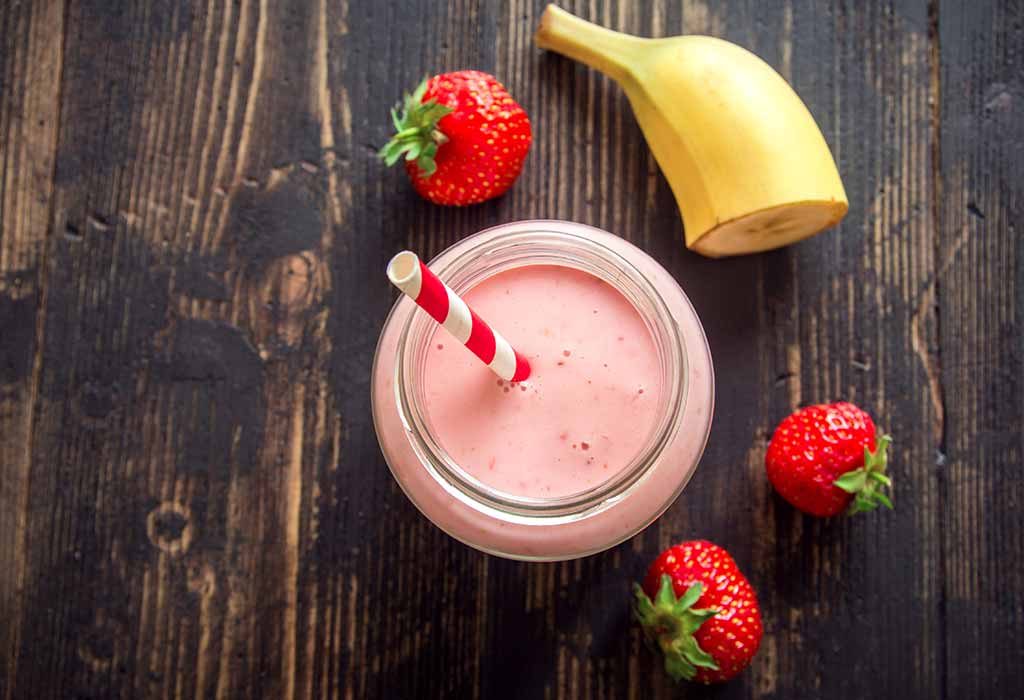 In this Article
A native crop to Peru, amaranth or rajgira has been used as a nutritional punch for ages in our country. If you are looking for some interesting ways of including these highly nutritious seeds in your child's diet, we have just the kind of recipe that your kid may relish! It is a milkshake recipe made with puffed rajgira. Read on below to learn how to make homemade rajgira puff milkshake baby food recipe!
Cooking Time
| | |
| --- | --- |
| Type | Time |
| Preparation Time | 00:10:00 |
| Cook Time | 00:02:00 |
| Total Time | 00:12:00 |
Cooking Method
Blender
Type of Meal
Vegetarian
Suitable For
Toddlers over 13 months of age
Meal Schedule
Mid-morning snack or evening snack
Recipe Type
Beverage
Ingredients
Following are the main ingredients that go into making rajgira puff milkshake for toddlers:
| | |
| --- | --- |
| Type | Quantity/ Volume |
| Puffed rajgira | 1 to 2 tablespoons |
| Banana (sliced) | 1 medium-sized |
| Strawberries (chopped) | 4 to 5 |
| Milk | 1 ½ cup |
| Honey (optional) | 1 to 2 tablespoon |
Instructions
These are the step-by-step directions to make rajgira puff milkshake:
Put all the fruits along with puffed rajgira seeds in a blender jar, add few tablespoons of milk and churn all the ingredients into a smooth paste.
Once you get a smooth paste without any lumps, add remaining milk and blend for some more time.
Add honey (if you feel the milkshake is not sweet enough) and blend for a few seconds.
Pour the milkshake in a tall glass or sipper cup and serve it to your kid.
Recipe Tips
To master the technique of making the rajgira puff milkshake, you can follow these simple recipe tips:
You can use date sugar or brown sugar in place of honey. However, if you find the shake is sweet enough, you can skip adding any kind of sweeteners.
If you have raw rajgira seeds, you can roast them in a heavy-bottomed pan on low heat until they puff.
You can add soaked nuts such as almonds, pistachios or cashew nuts to add a creamier texture to the milkshake.
You can add other fruit options such as cranberries, blueberries or any other fruits of your choice to give an added twist.
Nutrition Information (serving per 100 grams)
| | |
| --- | --- |
| Type | Value |
| Energy | 300 calories |
| Carbohydrates | 60 grams |
| Protein | 10 grams |
| Fat | 9 grams |
Please note that the actual nutritional content may vary sometimes.
Health Benefits
Amaranth or rajgira includes many health benefits for your growing kid. Here are some of the many benefits:
Rajgira seeds contain good amounts of protein in them, which helps in the growth of new cells and tissues in your baby's body. An ample amount of protein is not only beneficial for metabolic functionality, but it also helps in aiding immediate energy requirements.
Rajgira seeds are regarded as superfoods because of the presence of high amounts of calcium in them. Including these seeds in your baby's regular diet can aid in the optimum development and strength of bones and teeth.
Your baby can avail of many gastrointestinal health benefits by eating these seeds, as the high amounts of fiber can keep your baby's digestive system healthy.
Rajgira does not contain gluten, which means it is a healthy food alternative for babies with gluten sensitivity.
Including these nutritious seeds in your baby's regular diet may help in ensuring protection against damage that can be caused by free radicals.
Amaranth has anti-inflammatory properties, which may provide relief against any kind of inflammation resulting from infection or injury.
Buying Guide
Keep a tab on some of the following things while buying ingredients for making rajgira puff milkshake for your little one:
Go organic whenever buying any kinds of seeds, pulses, nuts, etc for your baby.
Also, ensure that you check the date of packing or manufacturing on the label to avoid picking up stale or expired products.
Preferably, buy toned milk to make the milkshake.
Next time you are looking for refreshing and yummy beverage options for your little one, try this milkshake recipe!
?>