Methi Malai Mutter Recipe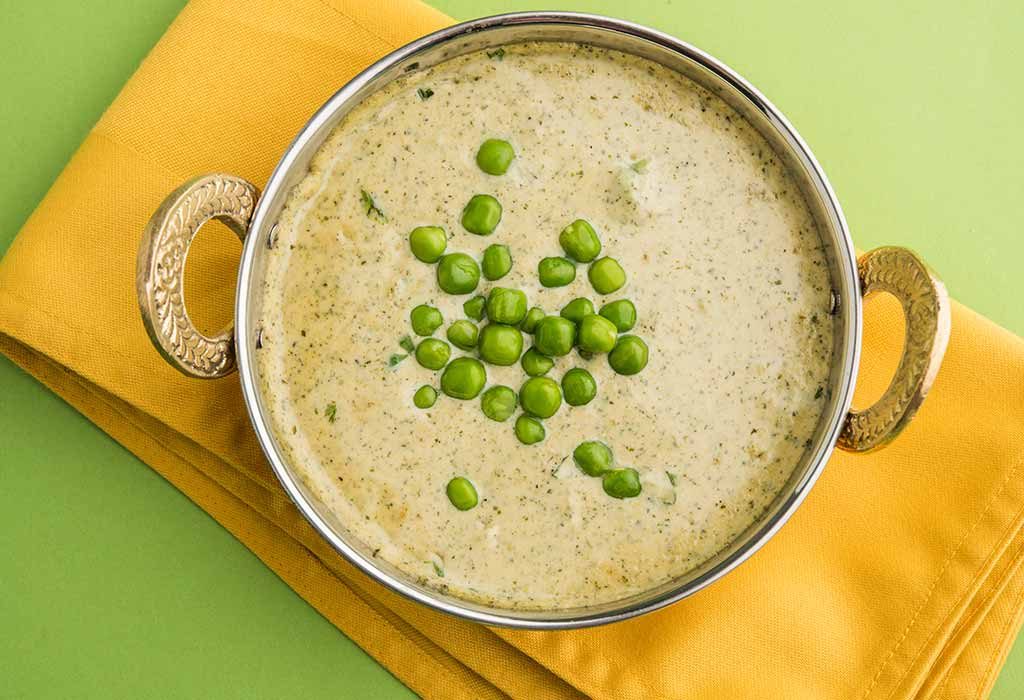 In this Article
Need a sure shot winter recipe to treat your child and your entire family? Methi malai mutter can be the right choice due to its delicious taste and health benefits associated with it. This creamy North Indian style recipe is most easy to cook and can be ideally served with flatbread like roti, chapatti, naan or even rice. Made with fenugreek leaves, cream and peas, it offers a combination of mildly sweet, spicy and bitter taste that will surely tantalise your child's developing taste buds. If you're wondering how to make methi malai mutter, then the recipe given below will guide you to prepare an authentic and rich gravy with a lingering aroma.
Cooking Time
| | |
| --- | --- |
| Type | Time (hh:mm:ss) |
| Preparation Time | 00:10:00 |
| Cook Time | 00:20:00 |
| Total Time | 00:30:00 |
Cooking Method:
Gas
Type of Meal:
Vegetarian
Suitable For:
Toddlers older than 17 months of age
Meal Schedule:
Lunch or dinner
Recipe Type:
Side Dish
Ingredients
| | |
| --- | --- |
| Type | Quantity |
| Oil | 2 tsp |
| Onion | 1 Sliced |
| Ginger Garlic Paste | 1 tsp |
| Cashew | ¼ Cup |
| Cumin Seeds | 1 tsp |
| Fenugreek Leaves | 2 Cup |
| Water | 1 Cup |
| Sugar | ½ tsp |
| Salt | As Per taste |
| Garam Masala | ¼ tsp |
| Peas | 1 Cup |
| Fresh Cream | ½ Cup |
| Sugar | ½ tsp |
| Green Peas | 1 cup |
Instructions
The step by step directions given here will surely aid mothers to create a flavourful methi malai mutter dish for their little munchkin to dig into.
Saute one chopped onion in 2 tsp of oil in a kadai. Once it shrinks slightly, put one tsp ginger garlic paste to it.
Sauté well until the oil is separated from the sides and raw aroma disappears.
Cool the mixture and transfer it to the blender.
Mix ½ cup pre-soaked cashew together with the masala paste and a little water in a blender until smooth.
Put cumin seeds in 3 tsp of oil in a kadai and let it splutter. Now put the masala paste into the kadai and saute well until Add in 2 cup fenugreek and sauté for another 2 minutes.
Add in 1 cup water and ½ cup cream.
Now throw in the peas and boil with ½ cup water for 8-10 minutes until they are soft and cooked well.
Simmer the gravy for 3 to 4 minutes and wait till it turns creamy.
Add ½ tsp of sugar and 3/4th tsp of salt to the gravy.
Add the garam masala and garnish with coriander leaves.
Mix well and your methi malai mutter is ready to be served hot with paratha or chapatti.
Recipe Tips
This simple methi malai mutter recipe can be made more tastier by using butter instead of oil for frying.
Add finely chopped fenugreek or else the consistency of the gravy will not be uniform.
If you do not like the bitterness of the fenugreek then blanching the leaves before cooking might be a good idea.
This homemade methi malai mutter baby food recipe can be made more tasty by spicing it up with green chillies for older children
Sprinkle salt into fenugreek leaves and keep aside for 15 minutes. Squeeze out the water and the bitterness escapes.
There's no need to whip or beat the cream if you're using ready-made cream.
Instead of fresh cream, you can choose soy milk if your baby is lactose intolerant.
Nutrition Information (Per serving)
| | |
| --- | --- |
| Type | Value |
| Carbohydrates | 11 gm |
| Energy | 138 kcal |
| Protein | 5 gm |
| Sodium | 606 mg |
| Fibre | 2 gm |
| Fat | 21 gm |
| Potassium | 839 gm |
| Calcium | 30 gm |
| Vitamin A | 775 IU |
| Vitamin C | 8.7 mg |
| Sugar | 2 gm |
| Iron | 2.3 gm |
| Vitamin A | 775 IU |
| Cholesterol | 57 mg |
Health Benefits
The ingredients used in making methi malai has high nutritional value. Their health benefits need to be considered for the best interest of your baby:
Fenugreek leaves are rich in iron which is good for blood formation and Vitamin K which is good for bone metabolism.
Methi leaves improves the digestion system of babies.
As green peas are a good source of vegetarian protein it keeps your child's tummy full for a longer time. It is also high in vitamin C which protects the immune system of babies.
Green peas are a source of bone-building Vitamin K and manganese that is important for the growth of babies.
Onions are a great anti-oxidant that fight inflammation and protect against blood clots.
Rich in magnesium, phosphorus and copper, cashews are required for maintaining a healthy bone-structure.
Fresh cream is an energy booster that helps babies to regain their lost energy. Its phosphorous content is essential for brain functionalities, maintaining eye health and hair health.
Buying Guide
The buying tips listed here helps consumers to make an informed choice about the products that you are going to buy for preparing this recipe.
It is advisable to check the expiry date of fresh cream or frozen peas that are bought from a store.
Check for the freshness of the fenugreek leaves so that they're not wilted or dried up.
Buy spices in small quantities.
Check the evidence of moisture or insects while buying packaged cashews.
The mildly sweet taste of Methi malai mutter for babies complemented by the strong fenugreek leaves and luscious cream makes it a mouth-watering dish that no children can refuse to eat.