Hara Bhara Kebab Recipe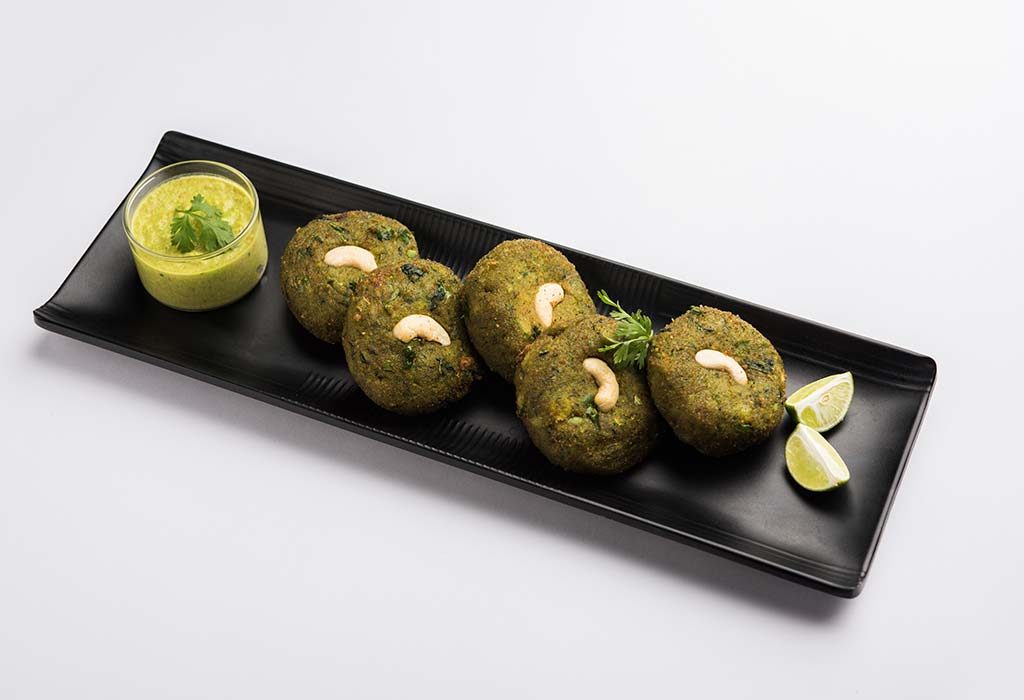 In this Article
If you wish to make your child fall in love with green veggies, making the very tasty hara bhara kebab for him once a while would be a great option! Kebabs are a popular Asian snack that can have a variety of filling – both vegetarian and non-vegetarian. Here we will tell you how to make hard bhara kebab! They can be pan-fried, baked, or grilled over hot charcoal or tandoori fire. They taste delicious, no matter how you cook them. Made with a stuffing of spinach, green peas, some flavoured spices, mashed potatoes, it's simply hard to say no to them. Hara bhara kebabs can be the perfect answer to your child's hunger pangs on weekends. Without further ado, check out the recipe of hara bhara kebab!
Cooking Time
| | |
| --- | --- |
| Type | Time (hh:mm:ss) |
| Preparation Time | 00:25:00 |
| Cook Time | 00:15:00 |
| Total Time | 00:40:00 |
Cooking Method
Gas
Type of Meal
Vegetarian
Suitable For
Toddler older than 15 months of age
Meal Schedule
Lunch or dinner
Recipe Type
Snack
Ingredients
| | |
| --- | --- |
| Type | Quantity |
| Oil | 2-3 tsp |
| Potatoes | 300 gram |
| Green peas | 1 cup |
| Coriander leaves | ½ cup |
| Salt | As per taste |
| Bread crumbs | ¼ cup |
| Garam masala | ½ tsp |
| Ginger garlic paste | 1 ½ tsp |
| Lemon juice | 1 tbsp |
| Chaat masala | 1 tsp |
| Cumin seeds | 2 tsp |
| Cornstarch | 1 tbsp |
| Spinach | 2 cup |
Instructions
Keep the step by step directions given here in mind to make the yummiest Hara bara kebab for your little munchkin.
Wash spinach and put it in a pan on medium heat.
Add 1 tablespoon of water and cook for 2-3 minutes till the leaves shrivel.
Boil potatoes with green peas and keep aside.
Heat 1 tsp oil in a pan and sauté ginger-garlic paste in it until the raw smell disappears.
Add palak and sauté till it wilts off. Add the boiled green peas, salt, chaat masala, and gram masala. Stir fry for a minute until it emanates a nice aroma.
Cool completely and blend the mixture in a grinder to form a paste. Do not add water.
Mash the potatoes and mix them with the palak paste.
Mix cornstarch to the mixture to form a non-sticky dough. Add bread crumbs to absorb any excess moisture.
Add in the lemon juice and mix well. Then divide the dough to make 10 kababs. Flatten them with hand to form patties.
Heat 2 tbsp. of oil in a pan. Place the patties on the pan and pan-fry till golden brown.
Flip on both sides and serve hot.
Recipe Tips
Follow the recipe tips given below to make sure that you make the tastiest hara bhara kebabs ever!
You can add green chillies simple hara bhara kebab recipe can be used to spice up using green chillies for older children.
You can use besan in place of cornstarch to bind the dough.
Frying in ghee instead of oil can enhance the taste of your hara bhara kebab.
Add cashew nuts to the mixture to increase the nutritional value of the kebabs.
You can fry coriander seeds along with cumin seeds in oil before adding the ginger garlic paste.
Bake the kebabs in the oven if you do not want to fry them. Preheat the oven for 15 minutes at 180 degrees C, and grill for 10 minutes on each side after greasing the pan with oil.
Nutrition Information (Per 1 kabab)
| | |
| --- | --- |
| Type | Value |
| Carbohydrates | 16gram |
| Calories | 101 kcal |
| Protein | 5gram |
| Sodium | 61mg |
| Fibre | 3gram |
| Fat | 3gram |
| Potassium | 797mg |
| Calcium | 179mg |
| Vitamin C | 79.6mg |
| Iron | 6.9mg |
| Vitamin A | 21% |
| Vitamin B2 | 9% |
| Vitamin B3 | 2% |
| Vitamin C | 5.4% |
| Vitamin E | 0.3mg |
| Folic Acid | 14% |
| Magnesium | 6% |
| Phosphorous | 5% |
| Potassium | 2% |
| Zinc | 1% |
Health Benefits
Hara bhara kebabs have the goodness of greens and ghee. Each vegetable that goes in the hara bhara kebab has its nutrition value. Let's find out how the ingredients that go in the hara bhara kebab can benefit a child.
Spinach is abundant in flavonoids that protect the body from free radicals. Considered as healthy brain food, spinach contains essential minerals like Vitamin A, C, magnesium, and folic acid.
The dietary fibre in the vegetables used in this dish helps in digestion and reduces constipation in kids. Potatoes are an excellent source of potassium that plays a good role in a healthy cardiovascular system. Green peas contain Vitamin C, k, folate that maintains good eye, brain, and bone health.
Cumin seeds promote digestion and reduce symptoms of irritable bowel syndrome.
Buying Guide
This buying guide has been formulated keeping the best interest of the consumer and your kid's health in mind:
Look for fresh dark green leaves while buying the spinach.
Look for the expiry date of branded edible oil before buying.
It is always better to choose vegetables that are grown organically and free from harmful pesticides.
Homemade hara bhara kebabs for babies can be a tasty finger snack that you can make for your child and give a few to him in his lunch box. You can even make them as a birthday-party snack. These lip-smacking cutlets are delicious enough to tempt your kids every time you want to perk up their mood. No matter what the occasion, they're sure to love them.