Egg Pulav Recipe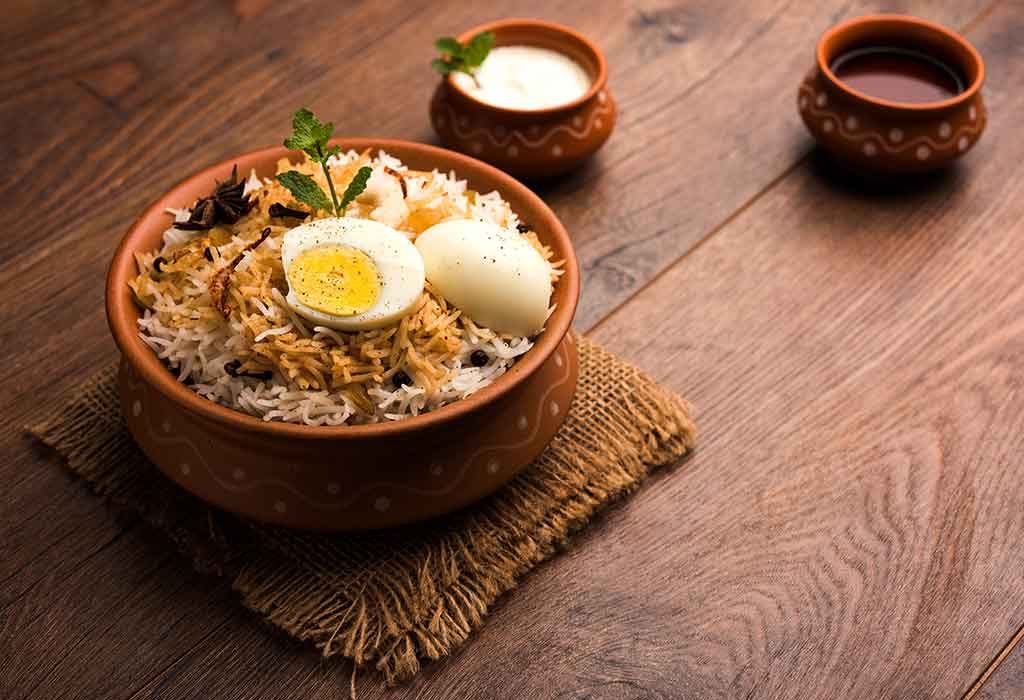 In this Article
A pot of egg pulav, made with rice, eggs, and vegetables, is a wholesome and tasty meal for toddlers and kids, which can be prepared in no time. It tastes mildly spicy and is loaded with the goodness of eggs and vegetables, this recipe can be given to the babies of one year old or more. Try this egg pulav recipe at home, and it will soon become his favourite. Refer to the below information to learn how to easily make egg pulav for babies and toddlers.
Cooking Time
| | |
| --- | --- |
| Type | Time (hh:mm:ss) |
| Preparation Time | 00:10:00 |
| Cook Time | 00:15:00 |
| Total Time | 00:25:00 |
Cooking Method
Gas Stove or Induction
Type of Meal
Vegetarian, Non-Vegetarian
Suitable For
For toddlers above 17 months of age
Meal Schedule
Lunch or Dinner.
Recipe Type
Main Dish
Ingredients
| | |
| --- | --- |
| Ingredients | Quantity |
| Rice | 1 cup |
| Onion | 1 medium-sized |
| Chopped vegetables (carrots, beans) | ¾ cup |
| Eggs | 2 |
| Green Chillies | 2 |
| Salt | As per taste |
| Pepper Powder | ½ teaspoon |
| Garlic | 4 cloves |
| Oil | 1 tablespoon |
| Water | 1.5 cups |
| Lemon juice | 1 tablespoon |
| Cumin seeds | ¼ tablespoon |
| Ghee | 1 tablespoon |
Instructions
Egg pulav is a great way to include protein and carbohydrates in your baby's diet. To learn how to make Egg pulav for babies just simply follow this step-by-step guide.
For Egg Pulav:
Start with washing the rice at least twice and soak it in a pan for 10 minutes. Then, add water and a drop of oil and pressure cook it for 2-3 whistles on medium flame.
Finely chop all the vegetables.
Now, crack and open the eggs in a bowl and add a little salt, pepper powder. Mix it well.
Take a thick bottomed pan with some oil and heat it. Add in the mixture of eggs. Fry the eggs until they are cooked well and soft and remove from the pan.
Use the same pan to heat ghee. Add cumin seeds. Once they start spluttering, add chopped garlic, and saute till they get light brown. Then, add onions. Saute them nicely until they turn golden brown.
Now, you can add all the chopped vegetables in the pan with some salt. And saute on a medium flame for 5 minutes until the vegetables are well-cooked.
Once the vegetables are cooked and soft, add the scrambled eggs, followed by boiled rice.
Mix them well and keep cooking on a medium flame for 2 to 3 minutes, stirring occasionally.
Once done, add the lemon juice, mix well and top it with ghee and serve!
Recipe Tips
To get this simple homemade egg pulav baby food recipe right, just follow these simple tips:
While cooking rice, make sure they don't get too mushy.
Make sure the eggs are well-cooked and not too dry.
You can also add some green peas, potatoes, or sweet corn along with carrots and beans to enhance the taste.
Nutrition Information (Per 100 Grams)
| | |
| --- | --- |
| Type | Value |
| Calories | 185 kCal |
| Carbohydrates | 37.9 grams |
| Potassium | 240.49 milligram |
| Fat | 14.53 grams |
| Cholesterol | 124.33 milligram |
| Protein | 6.19 grams |
| Sodium | 95.72 milligram |
| Dietary fibre | 2.28 grams |
| Vitamin C | 11.2 milligram |
| Calcium | 44 milligram |
| Iron | 1.3 milligram |
Health Benefits
This simple egg pulav recipe is packed with nutrients that are essential for the healthy growth of your baby. Just read below to find out more:
Eggs contain Vitamin B12 and Omega-3, which are essential for brain development and the development of cognitive memory.
Eggs are rich in protein, which are building blocks for cells as well as muscles.
Eggs contain Vitamin D, which also helps in the healthy development of bones in babies.
Onions are rich in folic acid and also good for digestion.
Rice is rich in protein and carbohydrates, which helps in the growth of a child.
Vegetables like carrots are packed with several vitamins and minerals, like biotin, potassium, and vitamins A (from beta carotene), B6, and K1 (phylloquinone) and are good for eyesight.
Beans are also a great source of folate, vitamin C, dietary fibre, silicon, and vitamin K, which are essential for healthy bones, skin, and hair.
Buying Guide
You must follow these tips when buying ingredients for Egg Pulav recipe:
Buy fresh and preferably organic eggs. Free-range eggs are a sign of protection of birds, and organic eggs are free from pesticides and harmful chemicals. To produce the best quality eggs, the birds are fed with natural ingredients.
Pick only fresh, organic, and chemical-free vegetables to make this recipe for your baby.
Egg Pulav is a wholesome and delicious meal in itself. It can be served for either lunch or dinner. If your child likes to eat it, you could serve it with some mild homemade sauce or dip.