Dates and Peanuts Ladoo Recipe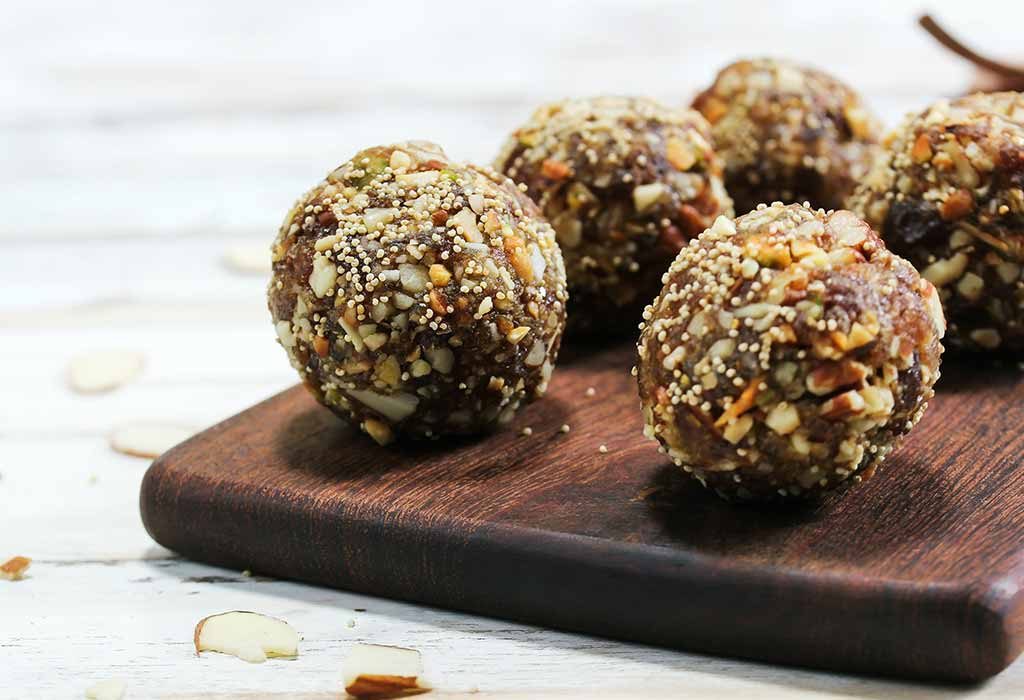 In this Article
Dates and peanut ladoos will become your child's favourite dessert as it's a perfect balance of taste and texture. They not only taste great, but are also highly nutritious and densely packed with many essential minerals, protein, healthy fats, and carbohydrates that will keep kids energized all day. This sugar-free delicacy is healthy and super easy to prepare without needing any fancy equipment. One batch can make enough dates and peanuts ladoos for toddlers that will last a whole week while giving them a healthy alternative to satisfy their sweet tooth.
Cooking Time
| | |
| --- | --- |
| Type | Time (hh:mm:ss) |
| Preparation Time | 00:15:00 |
| Cook Time | 00:15:00 |
| Total Time | 00:30:00 |

Cooking Method
Gas stove, microwave oven
Total Servings
15 medium-sized ladoos or 20 small ones.
Type of Meal
Vegetarian
Suitable For
Children over 17 months old for nutritional needs
Meal Schedule
Snack
Recipe Type
Dessert
Ingredients
| | |
| --- | --- |
| Ingredient | Quantity |
| Dates | 200 grams |
| Peanuts (roasted) | ½ cup |
| Ghee | 1 tablespoon |
| Desiccated coconut shavings (optional) | ¼ cup |
Instructions
Step by step directions to prepare the ladoo
Deseed the dry dates and finely dice them on a chopping board.
Set a heavy iron pan on the stove on medium flame and slightly roast the peanuts on it.
Throw the roast peanuts in a blender and blend them finely or coarsely depending on how you'd like the texture to be.
Microwave the dry chopped dates to soften them a little bit to prepare them for the next step.
In a saucepan or a thick bottom kadai, heat the ghee on low flame until it melts completely.
Add the soft chopped dates to the kadai and continue stirring until they start coming apart.
Add the peanuts to the mix and stir until they are finely dispersed.
It is essential to continue stirring the mix to avoid burning it, if it overheats, turn off the flame.
Allow the mix to cool until it can be touched and you can hold it, but not cool enough to harden.
While still warm, pick up chunks and roll them into small-sized ladoos.
Recipe Tips
You could also use wet dates and refrigerate the ladoos for a different taste and texture. The cold, chewy dessert is also soothing for babies who are teething.
As a final step, you could roll the ladoos in dried coconut flakes or powder for some extra flavour and texture. Powdered sugar is also a good idea at this step to make it sweeter for older children and adults.
You could make a variation to your simple dates and peanuts ladoo recipe by adding other nuts.
Nutrition Information (Serving Per 100 Grams)
| | |
| --- | --- |
| Nutrient | Value |
| Calories | 235.4 Kcal |
| Total Fat | 18.8 gm |
| Cholesterol | 1.0 mg |
| Total Carbohydrate | 12.1 g |
| Protein | 8.6 g |
| Dietary Fiber | 2.9 g |
| Sugars | 5.7 g |
| Sodium | 2.2 mg |
| Potassium | 240.3 mg |
Health Benefits
Peanuts and dates together are densely packed with nutrition, which makes them similar to a nutrition bar. They are great food alternatives for children who are picky eaters.
Peanuts are rich in macro nutrients such as proteins, carbohydrates, fibres and sugars. They are also a rich source of good fats, which is essential for brain development in infants.
Dates are rich in essential vitamins and minerals along with antioxidants that are important for development of the brain.
Another advantage of this homemade dates and peanuts ladoo baby food recipe is that it contains ingredients in quantities small enough to help children build resistance to allergies.
Buying Guide
When preparing the dessert with the dates, it's essential to look for a few key factors before buying them, such as the surface texture and hardness.
Fresh dates have wrinkled skin, but it is glossy and not too hard, and you can press your nail into them with ease.
Dates that are overly hard with a white coating are often old and should be avoided.
Wet dates are a great alternative to the dry ones all you need to look out for is the expiry date.
Peanuts should preferably be fully round without wrinkles or signs of decay or fungus.