Mint Parathas Recipe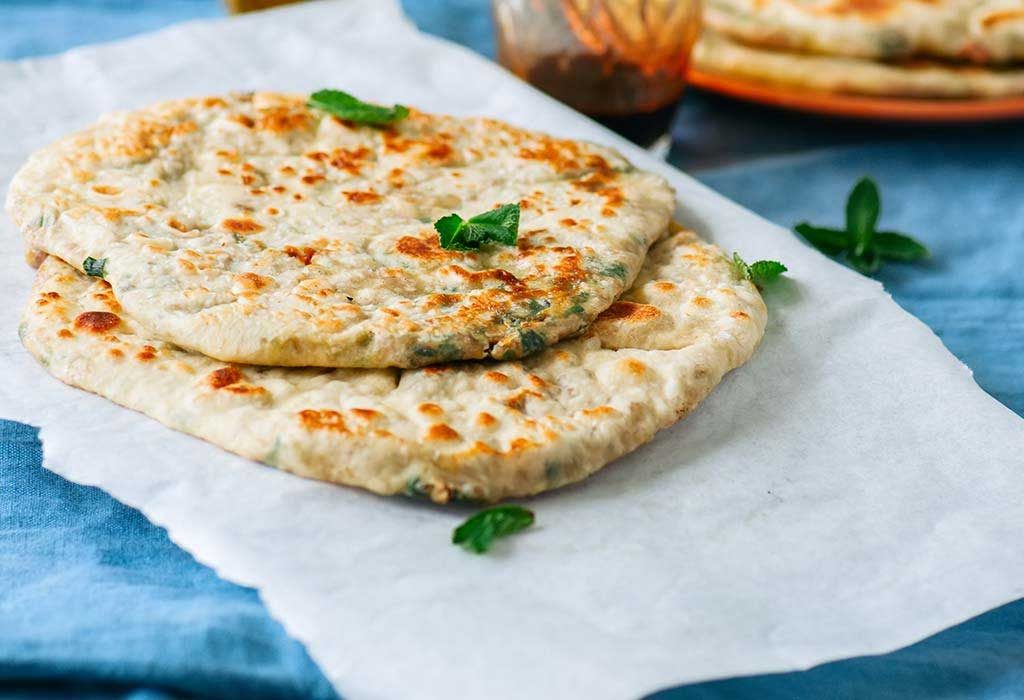 Paratha is one of the most common food in Indian cuisine. It can be made with anything; it will taste great always. It can be enjoyed as a snack, as breakfast or as a main course. Not all children eat vegetables, and moms have to struggle hard to get the right nutrition into their meals. These parathas make a hassle-free toddler food as these can be enjoyed without any parental supervision and can also be filled with vegetables that your kid is fussy about. These can be served with any chutneys, curd, jam, raita or pickle.
Cooking Time:
| | |
| --- | --- |
| Type | Time(hh:mm:ss) |
| Preparation time | 00:15:00 |
| Cook time | 00:10:00 |
| Total time | 00:25:00 |
Cooking Method
Gas
Type of Meal
Vegetarian
Suitable for
Toddlers above 17 months of age
Meal Schedule
Breakfast, lunch, dinner or snack
Recipe Type
Main dish
Ingredients:
| | |
| --- | --- |
| Ingredients | Quantity |
| Mint leaves(pureed) | 2 tbsp |
| Whole wheat flour | 1/2 cup |
| Pure ghee | 2 tsp |
| Salt | 1/4 tsp |
| cumin powder | 1/2 tsp |
| Whole wheat flour | for rolling |
| Ghee (for cooking) | 1 tsp |
| Warm water | for kneading |
Instructions
Here we present to you a simple mint paratha recipe. Mint paratha, also known as pudhina paratha, is made of two healthy ingredients – whole wheat flour and mint leaves combined with Indian spices. The step by step instructions to make this healthy and wholesome Mint Paratha is mentioned below –
To make mint paratha, combine all the ingredients in a deep bowl.
Add water slowly and make it into a soft dough.
Divide the dough into small golf ball sized portions.
Roll the dough into a thin circle using whole wheat flour.
Apply a little ghee evenly for greasing.
Now fold it into half and then again half to make a triangle shape.
Now back roll into a thin circle.
Heat the griddle nicely and then put the rolled paratha into it.
Roast it carefully with ghee on both sides.
Serve lukewarm with curd or jam.
Recipe Tips
There are several types of homemade mint paratha baby food recipes available with ground mint leaves, finely chopped mint leaves, mint powder, etc.
You can make other varieties of parathas like cheese paratha, potato paratha, spinach paratha, mint paratha for babies which would fulfil the nutritional requirements for your growing babies.
You can also add variations with mint paratha, like adding boiled, mashed potatoes along with mint leaves or using grated paneer with mint leaves and believe me your kids would love these soft and flavourful parathas.
Spinach, fenugreek, mint and other leafy vegetables are awesome ways to sneak some greens into your baby's meal.
If you want the paratha to be more nutritious for your kid, you can use multigrain flour, millet flour, ragi or even chickpea flour.
As you are preparing paratha for babies, do not put excess spices.
You can even add curd while kneading the flour, as it adds flavour and gives easy chewable texture to the paratha.
The dough should be soft but not too soft; else, it will be difficult to roll.
Nutrition Information:
| | |
| --- | --- |
| Nutrient | Value per paratha |
| Energy | 143 cal |
| Protein | 2.7 gm |
| Carbohydrate | 15.9 gm |
| Fat | 7.9 gm |
| Fiber | 2.8 gm |
| Cholesterol | 0 mg |
| sodium | 1.3 mg |
| calcium | 15.4 mg |
| Vitamin A | 108.6 mcg |
| Vitamin C | 0.7 mg |
| Vitamin E | 0.2 mg |
Health Benefits
Parathas are a staple food in an Indian household. They are apt for all fancy occasions and fit for all lunch boxes. It is traditionally synonymous with the mother's warmth and cares to satisfy and fulfil holistic nutritional needs. The flavorful and straightforward mint paratha is full of nutritive value for your baby.
Mint (pudhina) is rich in Vitamin A and Vitamin C, which helps to boosts up your baby's immune system and bring relief from cough, cold and sore throat.
Whole wheat flour is full of nutrients and also very versatile. It is rich in minerals and fibre that would keep your kid's digestive tract happy.
Buying Guide
Always buy fresh mint leaves as they are loaded with nutrition. You will know the leaves are fresh when they are bright green and not yellow.
If you do not have fresh mint leaves, you can use dried mint powder also.
Make sure that the spices are not past their expiry date when buying.
We hope we have helped you guys understand how to make mint paratha easily at home for your little bundle of joy.